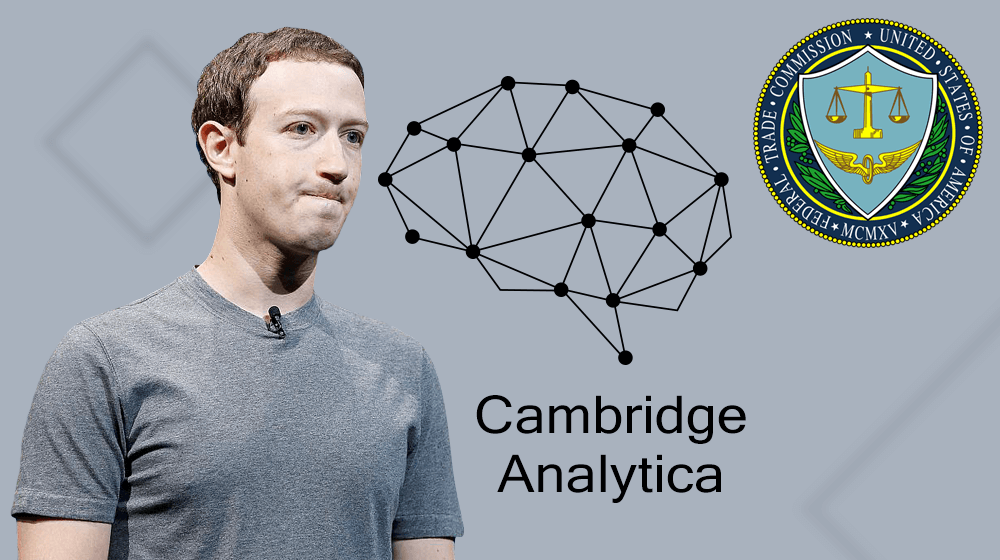 The giant of Social Media Facebook is now under the surveillance of The Federal Trade Commission. They are analysing Facebook's privacy practices along with checking on their data scandals. Facebook has signed on an agreement which stated a consent decree to provide security and protection to the user's privacy for each violation. In that case, Federal Trade may demand Facebook to pay high penalties if they are found to violate that decree.
FTC found that Facebook has used the entire user's information publicly without permission from the users. On contrary to this, as per the decree signed by Facebook it was mandatory for Facebook to ask for the consent of the users before sharing their information to the third parties. FTC still under the process of investigation of various privacy practices of Facebook after they have come across the Cambridge Analytica Debacle.
FTC is intensely scrutinising Facebook so as to get exact details on their Cambridge Analytical Scandal. FTC is working to identify if Facebook has violated the decree it has signed six years ago. As per their reports it was found that Cambridge Analytica was established as a data consultancy with the motive of helping businesses and political parties to change the audience behaviour. During their work process, they somehow came across data of more than ten million facebook users. This entire data was extracted through an app named as Kogan which was developed by University of Cambridge. To clarify it was stated by Mark Zuckerberg CEO of Facebook that Kogan app was installed by more than 3,00,000 people which allowed Kogan to get a direct access to the data of their friends too.
Facebook since a long time has made certain commitments on maintaining the privacy of the users and after all these scandals coming out, trusting Facebook has now become difficult. Facebook did not well manage their data and also has misued it to some extent; this was identified through a quiz which was conducted.
Also Read: Facebook could hurt publishers
Zuckerberg has taken responsibility of this scandal and have stated that he will investigate all the apps containing the entire information and will proceed further with those apps only after conducting an audit of all the suspicious activities. Even after this Zuckerberg had to face calls which forced Facebook to testify before Congress.
There are 37 state attorneys general who have sent a letter to Facebook specifically demanding answers from Facebook on certain questions which are as follows:
Were the terms and conditions focusing on the security of the data was clearly mentioned for the users to understand?
Were users even made to read all those terms and conditions?
What type of Controls and access to various data were given to the developers by Facebook?
In what ways, Facebook identified that how did developers use the data they have collected?
Did Facebook make some provisions for conducting the audits regularly so as to keep a check on data not being misused by the developers?
When did Facebook come across with Breach of Policy protections?
How many users were impacted by this activity?
After the Cambridge Analytica Scandal came out, the shares of Facebook broke down by almost 14%.