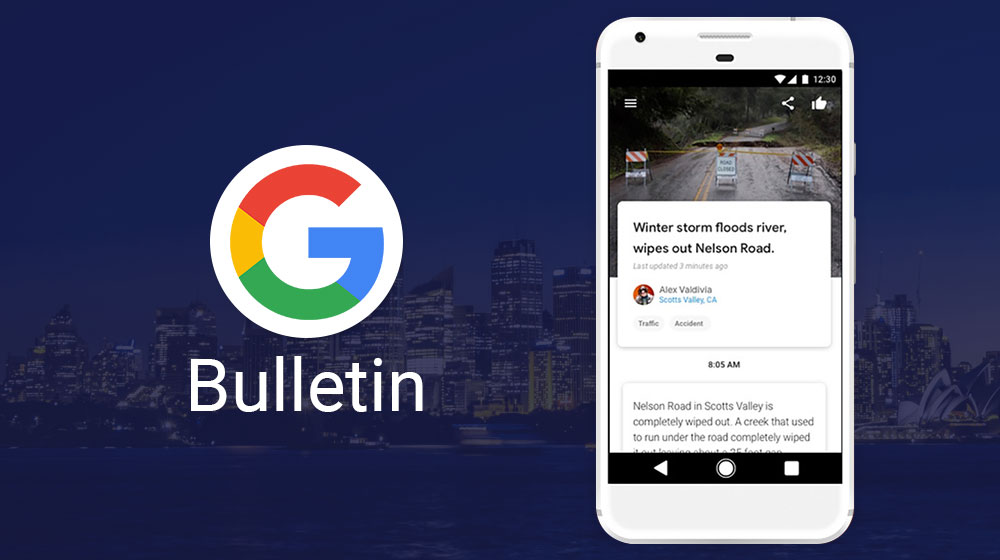 Google is experimenting their hands on new app named as Bulletin. This application has been developed with the motive of displaying the hyper local news. It will enable any of us to share neighbourhood stories and occasions. With the use of this app, it will be possible for not only the journalists but also for the common people like us to create a story using text, photos, videos etc. This app is actively operating in Nashville and Oakland.
Bulletin app can be used to post stories directly from your phone. It does not demand to create your blog, website etc to post stories. It is light weight app created for the people to experience storytelling. The stories posted via Bulletin will go live publicly and anyone can access it through Google Search, social media networks and also links can be sent via phones or messaging apps. This app is open and will be available for both iOS and Android.
During its launch at Nashville, Google also stated that they wish to associate with some local news organizations who can help them to discover some stories which can then be posted to the Bulletin displaying the name of the author.
Google believes that there are some untold stories in the world which can be a major source of inspiration for many people. Through this app, Google wish to put such untold stories on the Bulletin. To put down some news in public, people usually tweet or live stream it. Some news are also being broadcasted via Facebook page.
This initiative of Google named as Bulletin has proven to be helpful not only for the reporters but also other news operators as they have got closer view to all the stories. It is even effective and impactful for the local communities to bring some local stories in spotlight. Google is still trying to make its own space in this field against the major giants like Twitter and Patch . The major competition of Google is going to be Twitter as it has already made its name in the market, but Google is bringing something very different when compared to the concept of Twitter. Google is confident enough about Bulletin's acceptance and success in the market.
Google loves to experiment and it keeps on innovating with some or the other new products. This product of Google is still on limited pilot testing and is expected to be soon launched in other areas of the world.
Also read:- The Google app's new personalized feed might just drag you off Facebook