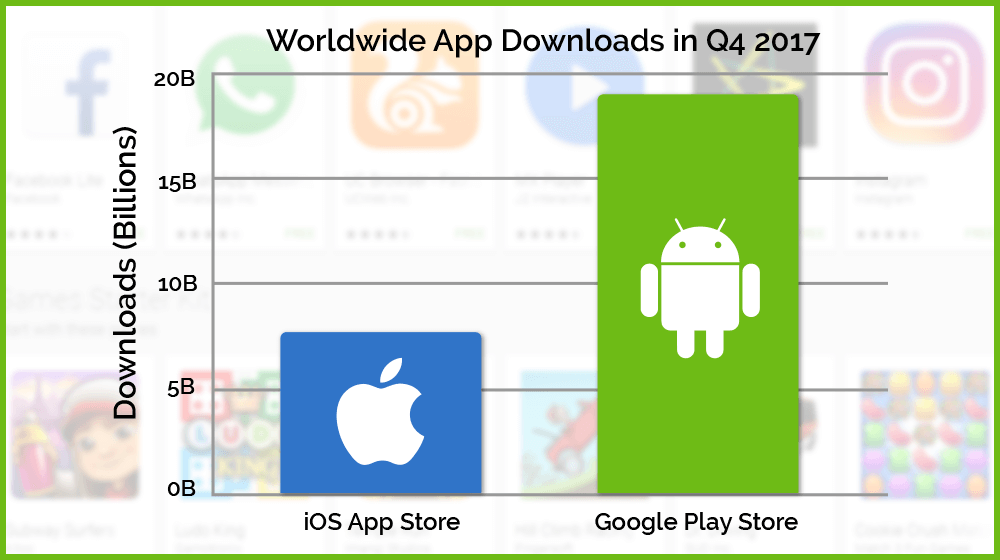 There has been a great increase in the number of applications in the market. With so many options available in the market, people have got an ease in deciding the right type of application as per their need. This has rapidly increased the downloads of the application and especially there has been a tremendous downloads of games app. People are now fond of downloading various games and other applications in their smartphones.
Nowadays majority of the people carry a smartphone with them. Wide variety of smartphones available in the market has now made it possible for even the low class families to buy smartphones at cheaper price. The combination of smartphones and huge number of applications have witnessed highest number of apps downloads in Google Play. To put down in exact number, Google Play hit record 19 billion+ downloads in Q4 2017, its highest quarter ever.
The major reason of growth in the figure in a higher proportion is some new downloads. New markets of increased new downloads are India, Indonesia and Brazil who have contributed. Due to new emerging markets there has been 10% growth. The most surprising point here is that India has even surpassed U.S. in the category of combined iOS and Android downloads. This has happened for the first time in Q4.
Also read:- How to submit an Android App to Google Play Store
The most popular categories where majority of downloads have taken place is Games, Personalization and Finance and all these 3 categories have grown in Q4. As the users have now shifted all their banking and investment activities to mobile phones due to this, the popularity of finance apps has been much in iOS which has made it to rank second when it comes to the downloads in Q4. Finance is expected to grow even higher n Q1 2018 due to the tax season and introduction of new finance centric apps.
There has been an overall growth of 20% of consumer spending worldwide for Q4 2017 in both Play store and App Store as well. US have seen a robust growth. After US, South Korea has witnessed tremendous increase in the downloads in the Play store and Taiwan for App Store. On third position, Germany is placed in both Play store and App store as well.
Even Entertainment Category has seen increase in the app downloads and people are willing spending on this category. The app industry has grown four times from 2015 to 2017. Other industry that has seen tremendous hike is the gaming industry. The revenue in this industry has been generated by the publishers headquartered in China. The revenue has witnessed a growth of around 100%.
Also read:- How to submit an iOS app to App Store