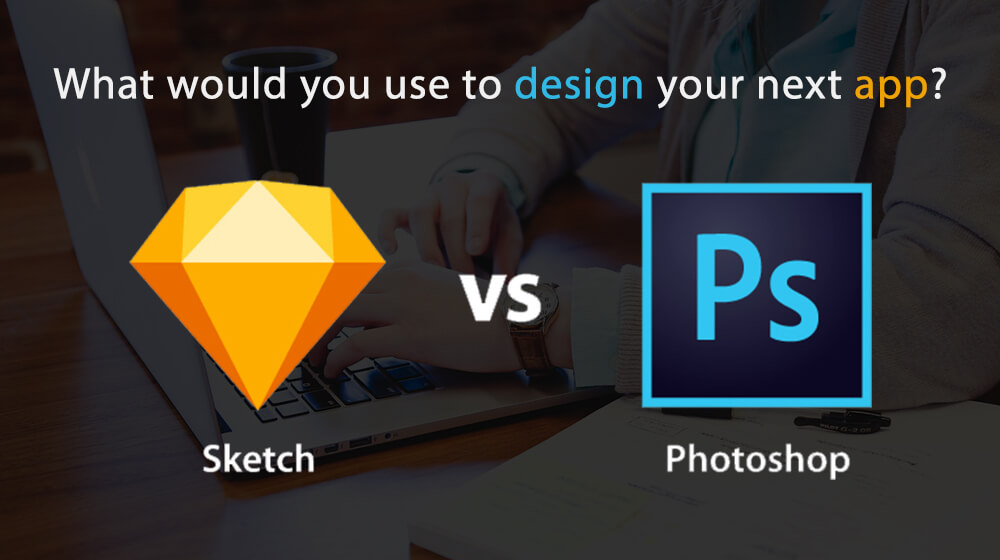 Photoshop has now become a popular tool and is being used by hundreds of web and graphic designers though it wasn't created with a thought of offering services to the designers. Loaded with multiple options, Photoshop now is a form of UI and helps in the creation of website pages. But as we all can witness the increasing competition is leading to the introduction of new technology every now and then. To give a tough competition to Photoshop cam the Sketch App from Bohemian coding and to our surprise, Sketch proved itself to be more flexible and easy to use.
But the actual fact is Photoshop and Sketch both are unique in its own way and choosing one of them is quiet difficult. Sketch is found to be leading in some aspects and in the other Photoshop leads Sketch. Lets now see how it goes:
| | | | |
| --- | --- | --- | --- |
| Sr. No | Feature | Photoshop | Sketch |
| 1. | Definition | It is called to be the best designing app and is the core of every creative project | It is a professional designing tool and is developed by Bohemian Coding |
| 2. | Invention | Photoshop was created by Thomas and John Knoll in the year 1988 | Sketch was introduced in the year 2008 |
| 3. | Cost | Photoshop is quite expensive with an offering of 30 days trial | Sketch is cheaper when compared to Photoshop with 30 days trial |
| 4. | OS | Photoshop is accessible for Windows 7,8,10 and also for Mac | Sketch is accessible only and only for Mac |
| 5. | Weight | Photoshop weighs to around 1GB and is considered to be heavy | Sketch is comparatively light weight and weighs around 41 MB |
| 6. | Speed | Photoshop requires a lot of RAM pertaining to which its processing is slow | Sketch due to less weight offers with a speedy processing |
| 7. | ToolBar | The tool bar is completely visible always | With the tools sticked to each other the toolbar is not visible initially |
| 8. | Keyboard Shortcuts | Photoshop has got lot of keyboard shortcuts to make the work easy | Sketch is lacking in having the keyboard shortcuts |
| 9. | Focus | Photoshop is focused on the Website, Photo editing and many other jobs at once can be done, but it lacks in the web app and UI design | Sketch is majorly focused on Website, Interfaces and Icon Designing |
| 10. | Menu | The menu list of photoshop is cluttered which creates confusion | minimal with limited options which gives us a better clarity |
| 11. | Grids | Grids needs to be created by the Designer | Grids are built in |
| 12. | Added Feature | Multiple Artboards have been introduced recently | Mutiple Artboards ws already a feature |
| 13. | Storage | It stores all the file in a folder | It stores all the files in one document which makes the viewing screens side by side and is easier to make changes |
| 14. | Vector | Creating separate files including the file assets and storing it all is quiet tedious | Everything is Vector by default |
| 15. | File Formats | Photoshop can save files in varied formats which leads to a confusion | Sketch offers with an exporting button and the file can be saved in the format of our choice |
| 16. | Colour Management | Photoshop has a great color management | Sketch is lacking in managing h colour well |
| 17. | Measurement Tool | Photoshop has got Ruler as a measurement tool which is cumbersome and difficult to understand | Sketch has got advanced measurement tool named marquee which is easy to use |
If your major focus point is UI and app designing, it is advisable to choose Sketch in that case. Photoshop can be chosen if you wish to explore yourself more as graphic designer.