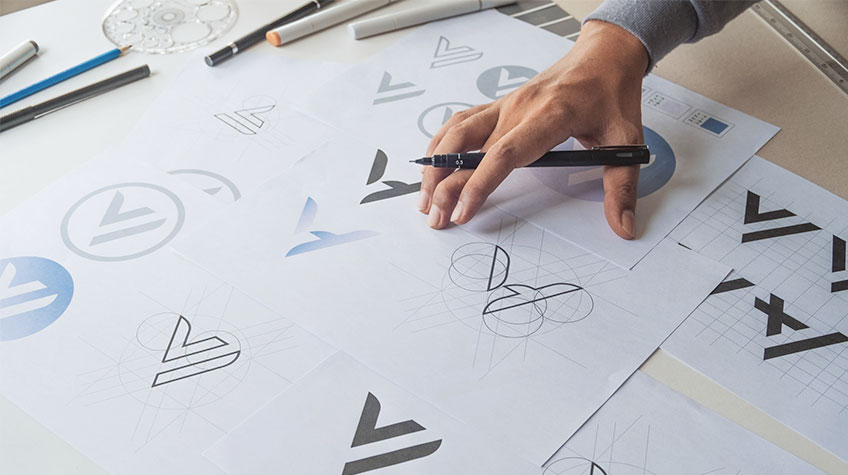 Whether you're planning to rebrand or start a new business, creating the perfect logo is essential. Your logo helps to make your business stand out from the crowd and makes you known and popular. While you might come up with plenty of amazing ideas, it'll be helpful to adapt to the latest trends to make your business more relevant and modern.
As you create a logo, you can hire a professional or use a logo maker free tool. But if you'd like things to be more customizable and professional-looking, then hiring an artist would be your best bet. Alternatively, you can always try to make your own logo if you have a creative touch.
Nonetheless, whichever method you use, you must allow it to be trendy and relevant. With that, listed below are some logo design trends to watch out for in 2023:
1. Minimalist Design
Logos designed in minimalism is still a trend for this new year.
Many companies and brands have changed their logos from complex to more simplified designs. This doesn't mean that they put effortless work into their new design. It just shows how creative they can get to clear out all the loud elements from their previous logo resulting in a soft bare-naked design that still conveys the same message.
A minimalist design is visually more appealing, especially on small screens. That's why a lot of brands have made this transition. Although it's already the new year, less will always still be more.
2. Creative Monograms
Monograms are a simple way of creating a logo that takes up less space but shows a lot of meaning. It's a creative combination of two or more letters that can deliver the initials of a brand. Most fashion luxury brands use this type of design, but nowadays, almost any company or brand opts for this design.
Especially in this new year, many businesses anticipate that companies and brands might change their logos or up-and-coming brands would use monograms. The more brands choose to go down this path; the more decorative and personalized designs will be showcased.
3. Lowercase Fonts
A lot of typefaces are graceful and decorative on their own, especially when they're in lowercase. That's why a lot of companies are already using this type of design, so it's expected that this will also be the case in this new year.
Lowercase font designs are simple yet elegant, whether serif or sans-serif font types. It can tell a story about your company or brand, so it's important to select a typeface that suits you best because, with this simple logo, you are creating a representation of your brand. This design allows your logo to convey a message and speak out for itself softly and stylishly.
4. Playful Gradients
Playing with color gradients expresses visual creativity that can surely leave a mark on the audience. It's expected that this design will become more popular in the new year as this design can help companies and brands incorporate their service with it. Using different kinds of hues and gradients shows a brand's creativity and can also reflect what type of business they are. Gradients are an excellent way to make a logo visually stand out and convey a brand message.
5. Hidden Meaning
Logos with hidden meanings is a good way of adding messages to a logo. Some companies hide their brand name on the logo itself, which is a nice touch. At first, the logo is just a logo, but many messages are conveyed underneath it. This is a perfect way to have a logo represent your brand at any level since it can speak a lot for itself.
Hidden meanings can be anything, from the service they offer to a product they sell or something that stands out to tell the story of a company. Also, when people find out that a logo has a hidden meaning, they start speculating about it all over the internet. That results in free advertising. It can even be a part of your digital marketing campaign, but allow it to be subtle but swift.
6. Geometric Patterns
Including geometric patterns is a simple yet unique way of designing a logo. It shows how much you can break down your company into simple geometric patterns that can still clearly represent and establish the identity of your brand or company. As this design is expected to be used in the new year, many variations will come into play, such as combining geometric patterns with text or different icons, which could create a visually graphic symbol. These geometric shapes allow the logo to strongly affect the audience and make your company reliable and trusted.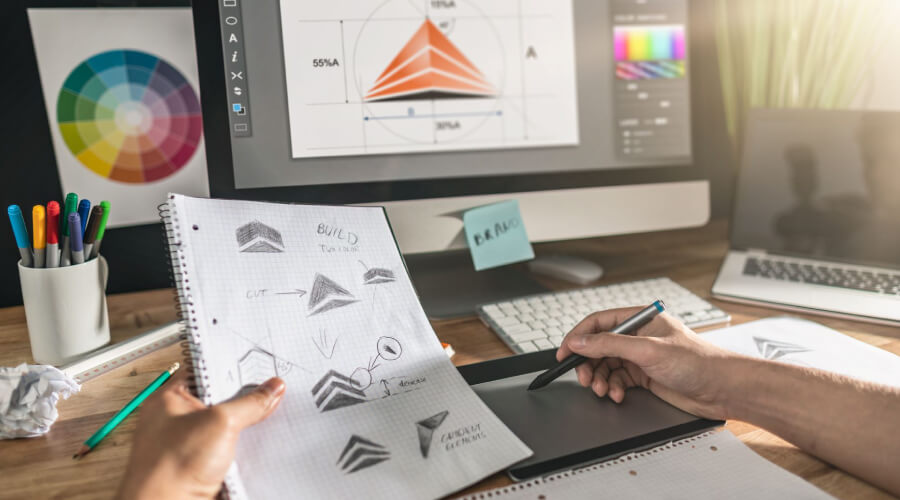 7. Playful Doodles
Including doodles on a logo make it feel more personalized and fun. It can clearly show off a brand's personality just by looking at the logo. This is an easy way to communicate with the audience since the logo can clearly speak out for itself and represent the brand clearly and positively since doodles on a logo give off that friendly and nostalgic vibe. A perfect combination of color palette and good doodle art would surely give an appealing look to the logo.
8. Glitch Effect
A glitch effect on a logo adds a techy feel that could be great for any company or brand. Although you may usually see this in the tech, gaming, and music industry, it's expected that other industries will decide to use this type of design in the new year.
This type of design also adds a futuristic look to a logo, and it can also make it appear that the logo is moving. With this, the audience would surely be captivated by just looking at it. It also kind of adds a mysterious look to the logo, making the viewer curious and exploring more about the brand.
9. Fading Texts Or Objects
Having a fade effect on a logo is surely something that people will remember. In the new year, it's expected that this type of design will be utilized more. Making some part of a logo disappear or fade out could bring out a story that can impact anyone who sees it. Although this type of design also appeals to the tech, gaming, and computing industries, having this type of effect on a logo makes it easier to animate it, so it'd be assumed that other industries would make the transition to this as well.
10. Illusive Logos
This design would make the audience look twice as they are not quite sure what they are looking at. Illusive logos allows the viewers to spend a lot of time deciphering a logo, enabling them to be more curious and open about what the brand or company is offering.
Plus, illusive logos can be a way to add hidden meaning to a logo, as optical illusions are fun and fascinating. With this, it's possible that the company or brand could be the talk of the town due to its mysterious logo.
Takeaway
With the number of logo trends that'll emerge this 2023, you'll surely find something that best matches your brand. You can play with various trends and see which one would best fit what kind of image you're trying to convey. While some might be a bit harder to create than it looks, if it's something that'll help make your company stand out, it'll make everything worthwhile.