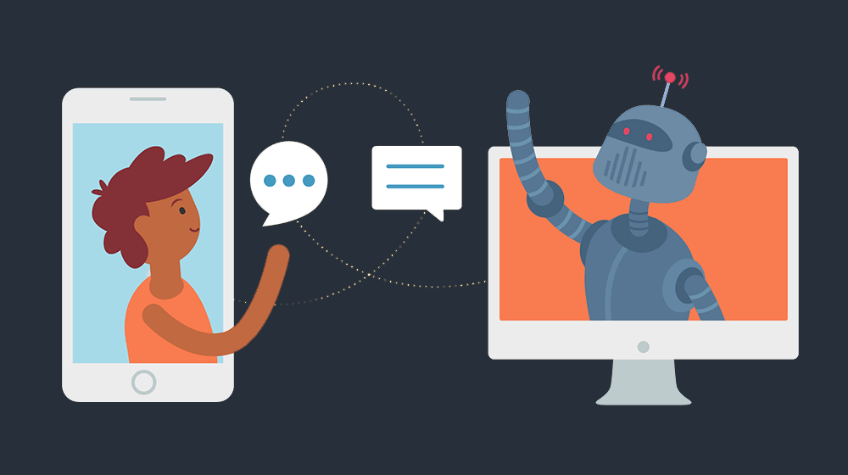 Ever since its launch, ChatGPT has been in the mainstream. OpenAI has published ChatGPT, their prototype artificial intelligence chatbot, which has earned enormous popularity among the general public. ChatGPTs are able to respond to questions in a human-like manner and in great detail (such as drafting a pact between an artist and producer and creating complex code). After its huge popularity, numerous ChatGPT Alternatives have been developed.
Not only does ChatGPT provide users with links to browse through, but it also solves complex problems and provides nuanced answers to inquiries. It has the potential to transform the way in which people use search engines completely.
So, if you are looking for ChatGPT alternatives and competitors, then you're reading the right article.
Table of Contents
You will find a list of the top 24 ChatGPT alternatives in this article. Just scroll down to read the full article.
What exactly is the ChatGPT?
ChatGPT is a natural language processing AI-driven tool that was developed by OpenAI, a firm that specializes in AI and research. This tool enables you to hold human-like conversations and engage in a variety of other activities with a chatbot.
The language model can provide you with answers to your inquiries and help you with tasks such as the composition of emails, essays, and code.
The artificial intelligence-driven ChatGPT chatbot has been made available to the general public for testing. According to Open AI, researchers have trained ChatGPT to communicate with users in a "conversational style." In addition, ChatGPT can assist developers in writing code for websites and applications in a matter of seconds. Moreover, ChatGPT is capable of resolving code issues in an effortless and cost-free manner.
When it comes to the management of digital information, AI writing tools such as ChatGPT and ChaptGPT alternatives come in handy. They can help you save both time and effort.
Here we go…
Top 20+ ChatGPT Alternatives and Competitors for 2023
Competitors to Google in the artificial intelligence industry abound. Microsoft has come with an improved version of its Bing AI search engine.
The new search engine is supported by ChatGPT's fourth generation, which was originally referred to as the "Prometheus model." Microsoft asserts that the new model is far quicker and more precise than previous versions.
In addition to traditional search results, the new Bing also features a Talk mode where users may ask questions based on web inquiries. Like ChatGPT, Bing lets its users do several things, such as planning trips, getting recipes, getting advice, and much more.
Bing is now in a preview phase, but once it is released, it will be available to the public at no cost. This fantastic alternative to ChatGPT, which was previously only accessible via a waitlist, is now available to all stable users via the Edge browser.
Google recently launched the ChatGPT alternative, which is already generating excitement among users. According to Google, Google Bard is an experimental conversational AI service. It is powered on Google's own next-generation language and conversation model, LaMDA, although a lightweight model version of LaMDA.
Bard seeks to integrate the breadth of the world's knowledge with the strength, intelligence, and creativity of its language models. The tech giant has not commented on whether or not it expects to implement Bard into its search engine, although it does intend to introduce new AI-powered capabilities to Google Search in the near future.
Quick solutions to your problems will soon be displayed prominently in search engine results.
In some regions, users can now join up for early access to Google Bard AI.
Also Read: How to Use Bard AI and the Benefits of Using Google Bard AI
One of the newest and most comprehensive alternatives to ChatGPT that has been making the rounds is Chatsonic. Since it was developed on top of ChatGPT, it benefits from that platform's extensive capabilities. In addition, it has more capabilities and a bigger knowledge base than its predecessor.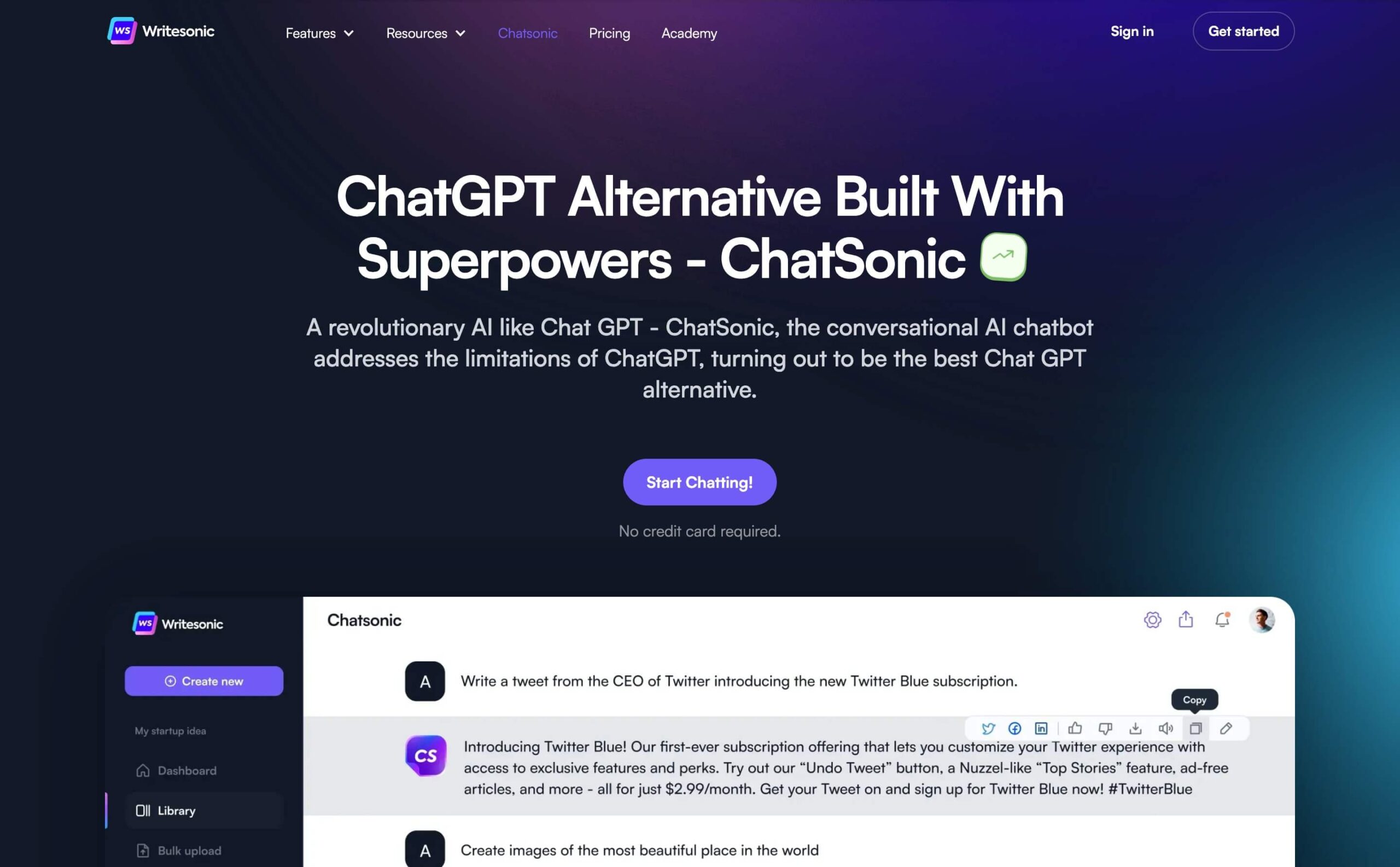 It features a built-in image generator that produces reasonably good visuals based on your prompts in addition to text.
Chatsonic's capacity to disseminate proper information, thanks to its use of internet search results, makes it slightly less prone to errors. The AI retains discussions in its memory and uses them as a springboard for further discussion.
Unlike ChatGPT, you can talk with the AI into your microphone (similar to how Google Assistant and Siri work). When the conversation is over, you have the option of sending everyone involved a link to the chat or a Word or PDF document with everyone's responses.
All in all, ChatSonic is superior to ChatGPT because it has the ability to access the Internet and provide up-to-date information but ChatGPT internet access is not there.
The bot isn't free, but you get 25 free generations every day; after that, you'll need to use your Writesonic word balance to make new photos.
The paid plan starts at just $12.67 per month.
YouChat, like ChatGPT, is an excellent artificial intelligence chatbot. This ChatGPT alternative is embedded into a search engine of the same name.
YouChat can now have chats with complete Internet access thanks to its training on an improved large language ChatGPT model.
It makes communication as simple as talking to a friend. To start a conversation, simply visit the chat page and enter your question into the text box.
Because of its ability to link to external sources, the bot can provide up-to-date information and accurate responses in both conversation and search results.
Aside from that, it can also write code, offer advice, simplify complex ideas, and summarise books. Using YouChat is as simple as going to the website and clicking the "Start Chatting" button. The best part is that it is a reliable and up-to-date chatbot; however, it occasionally has technical difficulties and won't respond.
Jasper Chat is an amazing ChatGPt alternative. It was developed in collaboration with OpenAI and is based on GPT 3.5, among other language models.
While ChatGPT is accessible to virtually anybody, JasperChat was developed specifically for usage in commercial settings.
Anyone in need of an AI chatbot like ChatGPT can quickly and easily implement Jasper Chat. Jasper Chat can converse in 29 different languages.
The added power of Google search data is accessible via a simple toggle. You can reuse prompts with Jasper since it has contextual memory.
Although Jasper Chat is free, the full set of capabilities is only available to subscribers of the Jasper Boss or Business plans. The monthly cost of the Boss Plan begins at $59.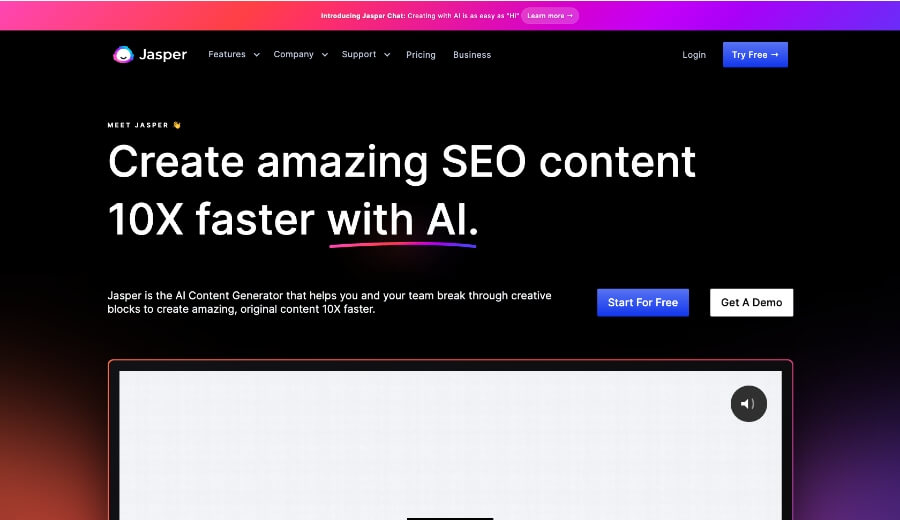 Perplexity AI is yet another wonderful ChaGPT alternative. Like ChatGPT, it has been trained on OpenAI's API and so provides satisfactory results. The AI uses Wikipedia-style endnote citations and develops its own information whenever it is questioned.
The website's layout is simple, making it easy for even novice users to navigate.
The application has features similar to ChatGPT, such as the capacity to carry on discussions and respond to questions with either simple or sophisticated answers.
Yet, unlike ChatGPT, Perplexity actually gives you a list of the references it used to figure out the answers to your questions.
You don't need to sign up for an account to use Perplexity AI. You can have a conversation using this program that is similar to
ChatGPT and also read some of the references it provides.
It is a FREE bot.
Character AI is yet another wonderful ChatGPT alternative based on neural language models. The best part about Character AI is that it allows users to choose from a variety of personas.
It offers a plethora of characters, which makes conversing a breeze. The finest feature is that the AI's conversational style adapts to the person you select. The character AI can be fed audio via a microphone and will respond in the player's chosen voice.
The AI is equipped with an image generator that can be used to make avatars. When you're finished, you can begin conversing immediately and even forward it to your friends.
Character AI is a tad sluggish in comparison to ChatGPT and other services like it.
While Character AI is totally free to use, you will need to create an account to use this bot.
Open AI Playground is yet another significant ChatGPT alternative. If you don't have access to ChatGPT but would still like to try out some of its features, OpenAI Playground is the place to do so.
Several features may be familiar from ChatGPT; however, this web program provides more options for personalization, such as selecting a different language model to evaluate.
After settling on a model, tweaks can be made to settings like randomization, token count, frequency penalty, halt sequences, and more.
Expert users who wish to experiment with several models before building an AI tool can do so to a great extent with the help of this tool.
Depending on the language model, the bot can accept input and respond very accurately. Playground responds instantly and doesn't lag behind like some other AI bots.
To use it for FREE, you'll need to create an account.
Related Post: Chatgpt vs GPT-4: Everything About OpenAI's New Update
GitHub Copilot X is an amazing tool that provides real-time suggestions and full functions to aid programmers. It works with all of the most well-known IDEs, including VS Code, Visual Studio, Neovim, and JetBrains.
This user-friendly substitute for ChatGPT may also produce syntax for other languages, such as JavaScript, PHP, BASH, and more.
Powered by OpenAI's most recent GPT-4 model, which was trained using millions of lines of code, GitHub Copilot X is a great tool for creating codes.
If you ask Copilot X for suggestions on how to improve your code, it will provide them instantly. Developers may now provide spoken, natural-language prompts in a manner similar to ChatGPT using this tool.
Aside from that, it also analyses and explains individual blocks of code for its users. It allows developers to make pull requests, get their queries about documentation answered, and enjoy a tailored experience.
Individuals can subscribe to Copilot for $10 per month, while corporations can do so for $19 per user each month.
Also See: GitHub Copilot vs ChatGPT: What is the Main Difference
Chinchilla AI is a linguistic model developed by Google's DeepMind division. This ChatGPT alternative is distinct from Google Bard. Deepmind claims that Chinchilla is far superior to other LLMs, including the current market leader GPT-3.
Chinchilla utilizes the same computing budget as Gopher despite having 70 billion more parameters and four times the input volume. It consistently and significantly outperforms Gopher, GPT-3, Jurassic-1, and Megatron-Turing NLG across a wide range of downstream evaluation tasks.
It greatly simplifies future applications because fine-tuning and inference require significantly lesser processing resources. Chinchilla's average accuracy on the MMLU benchmark was 67.5%, a 7% improvement over Gopher's performance.
Chinchilla AI is not yet available to the general public. Anyone interested in using ChatGPT as an alternative will have to wait for a while.
Also See: Google Launches Bard, A ChatGPT Rival
LaMDA stands for Language Models for Dialog Applications. The development of LaMDA entails the fine-tuning of a family of Transformer-based neural language models tailored specifically for conversation, with a total of up to 137 billion model parameters, and the teaching of the models to make use of information obtained from other places.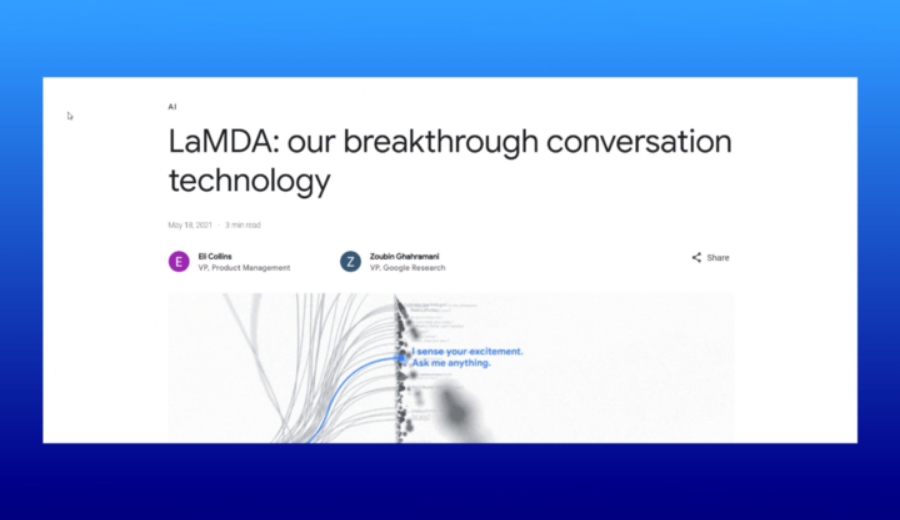 Socratic is a great AI-powered tool developed by Google, the industry leader in search engines. This is a great application for students as it can help them with their assignments. Whether you have a query regarding a mathematical equation or a chemistry problem, you can just scan the question using the Socratic app, and Google will utilize its artificial intelligence to find an answer to that issue in a matter of seconds.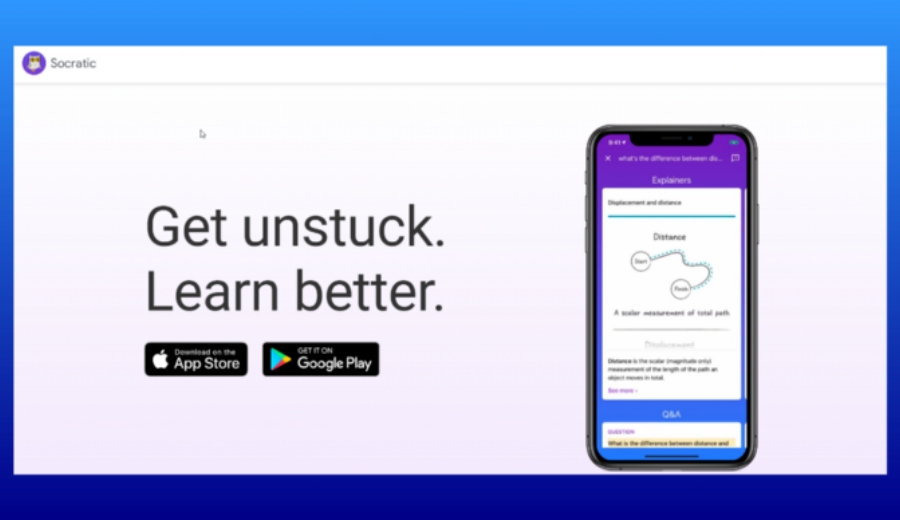 Megatron Turing NLG is among the most popular language models and ranks high on the list of Chat GPT alternatives. Megatron Turing NLG is a product that was built by NVIDIA and Microsoft. It has 530 billion different parameters. It has been trained on the Selene supercomputer, which is powered by NVIDIA DGX SuperPOD and is considered to be one of the most powerful models of the English language.
Also Read: What Is OpenAI's ChatGPT, And How Can You Use It?
Writesonic is an AI-driven tool that can be used to write blogs, articles, Facebook ads, Google ads, Quora answers, and so on. This tool can help marketers to boost clicks, conversions, and sales by writing SEO-optimized content. You can even generate landing page copy that converts well with little effort on your part. In addition, you can even make use of a growth ideas generator to obtain original strategies for expanding your company.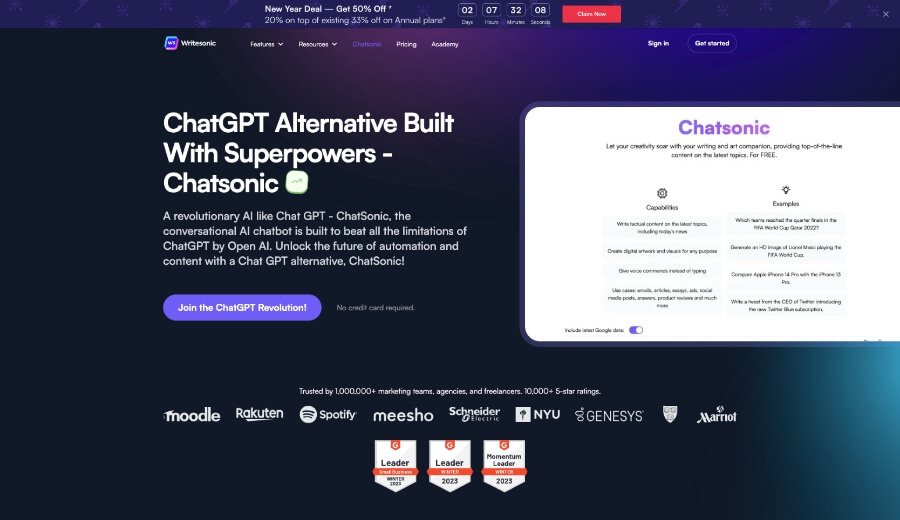 15. Caktus AI
Caktus AI is a student-specific ChatGPT alternative. It focuses solely on the needs of its user base, the students. The business claims that Caktus is the first artificial intelligence (AI) tool in education, allowing students to automate their schoolwork and free up time for other pursuits.
As such, it includes a suite of resources designed specifically for teaching and learning. They range from the more common essay and paragraph writers to more involved tasks like discussing, questioning, and even coding.
Also, it has a professional resume editor and private language tutoring for students. Caktus's numerous tools function admirably when it comes to dish out outputs speedily. Caktus gives citations to students.
Caktus AI can be a great resource for students looking for ChatGPT alternatives.
Caktus AI is not a free service.
Its Premium plan comes at $9.99/month. You get access to all features of the plan and can use an unlimited number of characters.
Rytr is a well-regarded artificial intelligence writing tool. It does this by employing a form of artificial intelligence to compose articles on your behalf.
Its algorithms are trained on historical data, which is why it is able to generate unique and appealing articles for you that have the appropriate tone, style, and grammar. Rytr can help you generate unique content without the assistance of a person.
Replika is one of the first Chabots in the market. This AI-powered chatbot was primarily designed for companionship and building interpersonal bonds.
The GPT-3 language model that drives Replika is autoregressive, meaning it learns from its past mistakes in order to improve (in this case, your prompts). Replika emphasizes deep conversations. This means that it can learn from your inputs and adjust its behavior accordingly.
To begin, you'll first need to make a Replika character, give it a name, and give it some personal touches. After that, you can start chatting with it. This ChatGPT alternative works on both web browsers and mobile platforms, including Android and iOS.
As for the subject matter of your conversation, Replika can handle it all. Thus, you can ask it about your day, share your sentiments, or just ask it some strange facts. It maintains a digital journal, updating it after certain conversations. You may video chat with the AI, play games with it, and even talk about your horoscopes with it.
The starting price for a Pro membership on Replika is $19.99 per month, and it gets you access to features like video calling the AI and unlocking relationships.
Peppertype is an AI-powered copywriting software tool that can help you write more effectively and quickly. It's just like having your very own personal assistant to write material for you! Using PepperType, you can create appealing and engaging content for your audience.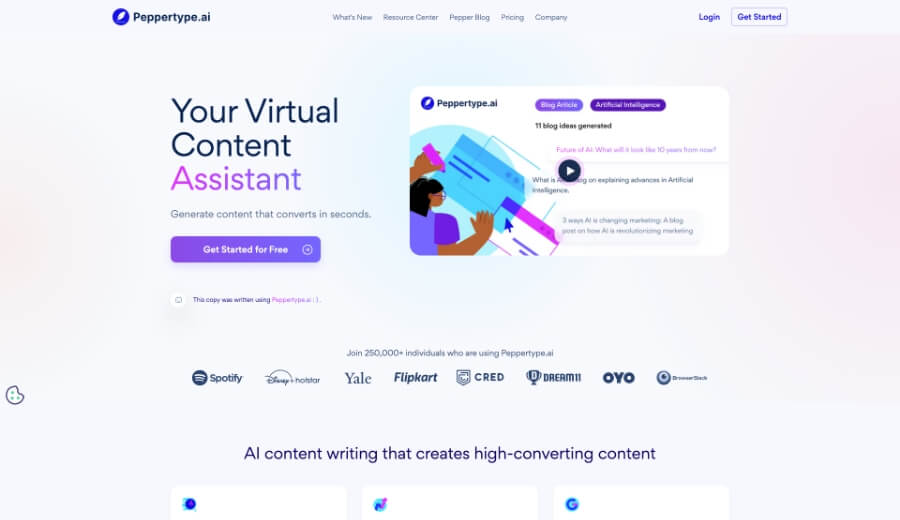 It assists organizations in automating the process of content ideation and creation. It does an in-depth analysis of your business processes, learns your brand and target audience, and then generates original content on your behalf using the most advanced artificial intelligence and machine learning technology.
FaceApp is one of the most useful Chat GPT alternatives. It is an excellent photo editing app that is available for free download on both the Android and iOS platforms. Even though it may sound like a tool for editing photos, this program actually offers a great deal more than that. Within a matter of seconds, images taken with FaceApp can be modified to have different face traits and be shared on social media.
FaceBook AI released BlenderBot 2.0, one of the best chatbots known for it to carry on longer, more knowledgeable, and factually consistent conversations across numerous sessions. The advancements BlenderBot has achieved in its conversational abilities have made it a formidable competitor in the field of artificial intelligence study.
Conversational data is stored in the AI model's long-term memory. Each conversation's worth of material is kept in its own file. This model's ability to read and react in real-time makes it useful for monitoring events as they unfold. It can search the internet for fresh data to have a more up-to-date discussion.
ELSA stands for "English Language Speech Assistant." It is a language-learning app powered by artificial intelligence. It analyses user speech using AI and then provides the user with a set of tasks that the user can easily comprehend. Elsa is downloadable for use on mobile devices powered by Android as well as those powered by Apple's iOS.
LongShot is a wonderful AI-powered tool you can use to boost your Google rankings with informative posts. It is an automated writing helper to produce substantial, search-engine-optimized material. With LongShot, you can quickly go from idea to research to generation to search engine optimization. This AI writer will guarantee freshly written, thoroughly researched, and SEO-friendly articles. Moreover, LongShot also makes finding the right keywords a breeze.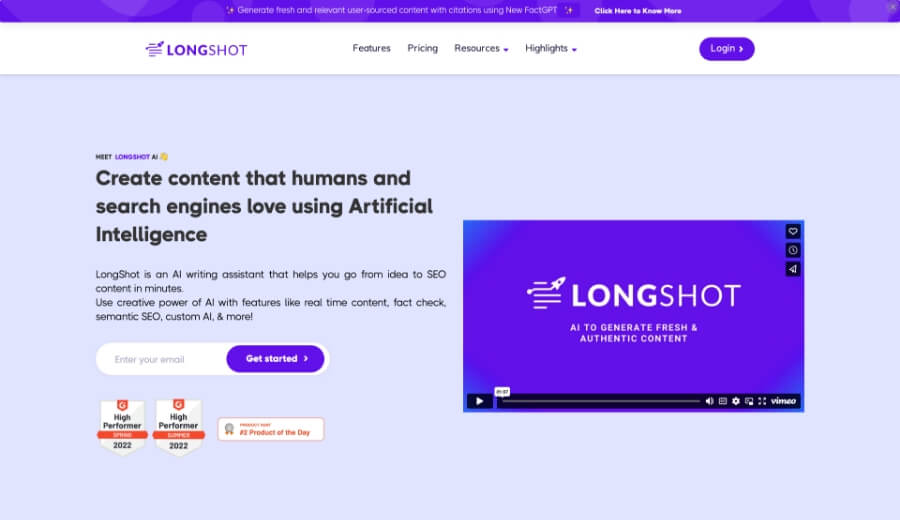 Simply enter your topic, and the AI will provide keywords, subheadings, and questions taken from popular blogs to help you come up with ideas.
Also, using semantic search engine optimization will increase your visibility ten times.
DialoGPT, much like GPT-2, is conceived of as an autoregressive (AR) language model and employs a multi-layer transformer as the basis for its model design. It is a large-scale pre-trained dialogue answer-generating model for multi-turn interactions. The model was trained using 147 million different turn-based conversations taken from Reddit's discussion threads. The pretraining methods are adapted for use in DialoGPT's response generation system, which makes use of hundreds of gigabytes of colloquial data.
Bloom is yet another wonderful ChatGPT competitor. It is a language model that supports several languages. It was developed by a group of over one thousand AI researchers working together to produce an open-source platform that is now considered to be the most effective GPT-3 alternative.
More on this topic…
Wrapping it up…
So, there you have it: the top 24 ChatGPT Alternatives that you can consider using to minimize your effort in almost every field, from content creation to generating relevant keywords. All of the tools outlined above are AI-powered that can help you manage and create SEO-optimized content.