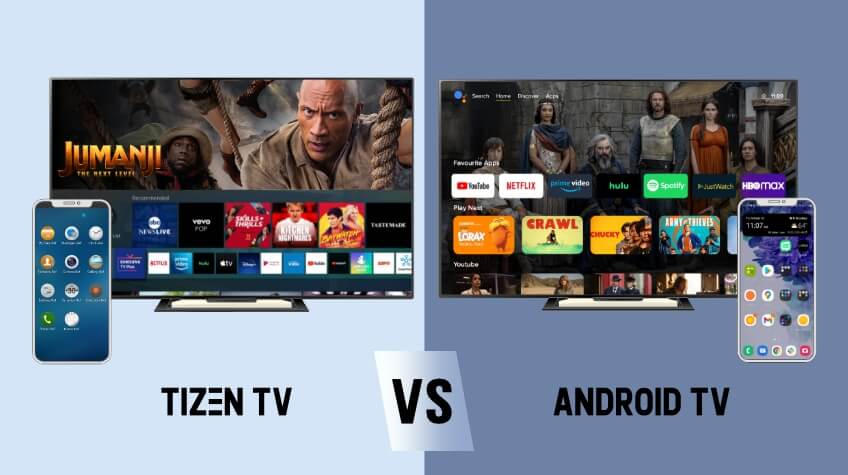 Since its inception, Android TV has enjoyed popularity in the market. Yet, this isn't a cause to close the chapter on Tizen. The reason is that Android TV doesn't run apps exclusive to platforms like Netflix and Amazon Prime Video. Moreover, Tizen always has more features than Android TV. Android TV Vs. Tizen are two popular operating systems that power tv-boxes.
The nature and breadth of their applications, coupled with dedicated apps to handle activities like Netflix and Hulu, make them better picks when choosing between an android tv box or a Tizen player. Both Tizen and Android TV are great platforms with many features. However, Tizen is another platform that supports more screen sizes and resolutions than Android TV. It will be interesting to see which would be the best in Tizen vs. Android TV. This report will let you understand which is the best Android TV or Tizen TV.
What is Tizen TV
Tizen TV is a smart TV operating system developed to power modern televisions with enhanced functionality. Created through a collaboration involving the Linux Foundation, Samsung Electronics, and other industry players, Tizen TV transforms traditional TVs into interactive entertainment hubs.
It offers a user-friendly interface for accessing applications, streaming services, and online content directly from the television. With its dedicated app ecosystem, users can enjoy a range of entertainment options, from video streaming to gaming, while its voice and gesture control features add an extra layer of convenience. Tizen TV's integration with other devices often allows seamless connectivity and compatibility, providing a comprehensive smart TV experience.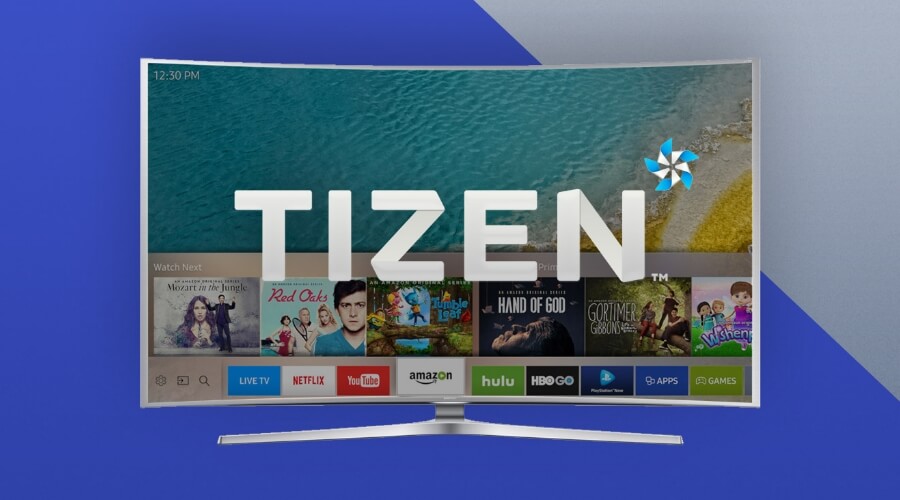 ➢ Features of Tizen tv
Tizen TV is a revolutionary fourth-generation smart TV platform. It provides a great entertainment experience with the latest features, including Netflix and Amazon Video. Also built are various apps you can use, such as iPlayer and ESPN.
Tizen TV is an intelligent platform auto-updating to new features. It comes with smart search, which allows you to find videos and music at your fingertips, and an app store with various paid and free apps, like Netflix, Facebook, YouTube, and more.
Tizen Tv is a smart TV operating system developed by Samsung. It was launched in 2015 and grew in recognition in 2017. Tizen Tv integrates apps on the web and with other devices. Tizen apps can be installed from the Google Play Store or downloaded through the Samsung Web Browser and other devices if they have built-in Flash support.
Tizen Tv is a one-stop destination for your favorite entertainment. Tizen offers more than 3000 reruns and a variety of apps, the latest movies, audiovisual effects, and games that are compatible with all major technologies.
Also See: Devices that are Supported and Compatible with Tizen
➢ Advantages of Tizen TV
Tizen TV is a true hybrid of television technology. Offering the best in both cloud-based and home-based viewing, Tizen TV offers superior HD quality in every setting imaginable.
Tizen TV is the only operating system that can run on a full range of smart TVs, including all models from Samsung. In addition, Tizen TV comes with advanced features, such as easy navigation and the creation of customized apps that adapt to your own needs.
Tizen TV's Smart and User-Friendly Interface: The first thing you will notice about Tizen TV is its interface. It has a straightforward and easy-to-navigate interface with just a few icons at the top of the screen to quickly navigate through all the content available on Tizen TV. This simple interface allows you to quickly find movies, shows, music, and more to watch.
Tizen TV is a unique operating system designed specifically for our devices. As a result, Tizen TV provides a convenient, simple, and faster user experience. In addition, the Tizen TV application store offers the latest entertainment content conveniently and efficiently, even across different devices.
➢ Disadvantages of Tizen tv
Tizen TV might be a good alternative if you want a platform to run your favorite Android, iOS, or Windows applications on a big screen. It boasts more advanced features, such as enhanced motion and voice management. But it also has its disadvantages.
Tizen TV is an intelligent Tv operating system with an intuitive user interface. You can control your Tv and use features you enjoy, such as watching your own recorded shows or other content on one device and then watching it on a different device.
Tizen TV can be challenging for not-so-tech-savvy users as it needs much customization. In addition, the documentation needs to have essential details, so you may need additional skills to utilize the OS. Plus, it takes work to find solutions to the problems within the community.
Many complain that it could be more intelligent regarding smart suggestions than Andriod, and no app store is available, limiting their ability to get your favorite content.
What is Android TV
Android TV is a smart TV platform developed by Google, built upon the Android operating system. It's designed to deliver a comprehensive digital entertainment experience on television screens. With a user-friendly interface, Android TV offers access to a wide range of apps, games, and content from the Google Play Store, adapted for optimal TV viewing.
Central to Android TV is its integration with Google services, such as Google Assistant for voice commands and search, and Chromecast for easy content casting from other devices. This platform provides a seamless bridge between traditional TV and the digital world, offering users a diverse array of entertainment options and the convenience of interactive features in the comfort of their living rooms.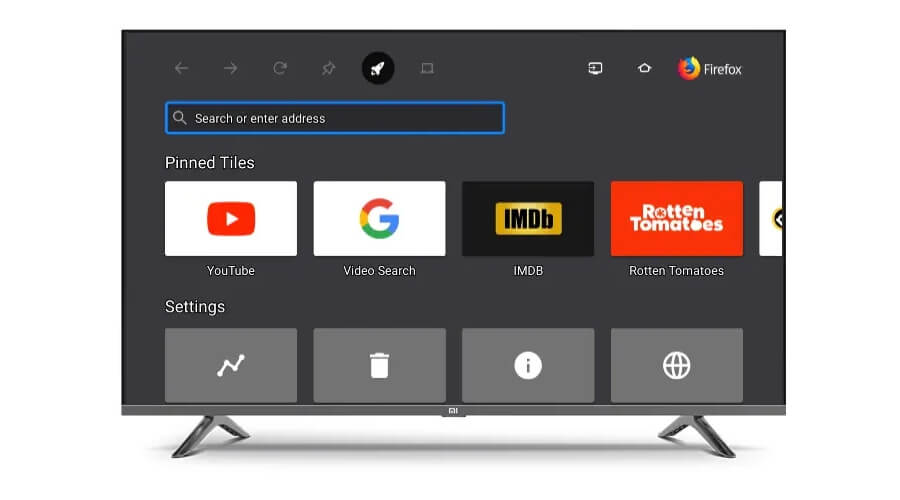 ➢ Features
Android TV is a premium app that provides access to over 1,000 free and paid-for TV shows, movies, music, and sports. In addition, it lets you connect your Sony Android devices (TVs or other devices such as the PlayStation®Vita) to the internet and share content with one another wirelessly.
Android TV is a platform for third-party developers to create apps, games, and more on your TV. Unlike other TV sets where a remote control may be needed to navigate the menus, Android TV gives you access to all its applications using a controller.
The best streaming media player to enjoy all your favorite content. A selection of apps and games for your entertainment and great content for kids. Connects with other devices in your home so you can enjoy a seamless experience.
➢ Advantages of Android TV
If you're interested in watching films and programs on your TV, you can bring Android TV. Watching movies and TV shows on Android TV is more rewarding than ever before because it allows you to stream music, movies, photos, games, and more effortlessly from your mobile device to your big screen. In addition, this media streaming capability has many perks, like using apps such as Netflix and HBO Go.
Android TV is the box to watch. Whether you're looking for a premium smart TV streaming experience or a more affordable platform to watch online video, Android TVs delivers. The best part is that Android TVs are easy to set up and use, whether on the couch or in your favorite comfy chair at home.
Android TV has a tinier power supply which is allowed to draw less power when longer in standby mode. In addition, the support for HDMI CEC means that Android TV can communicate with an external device, such as a TV or amplifier, to turn the screen on and off, change input modes, and control volume.
Smart TV or internet TV is a television set that can connect to the internet to stream video and audio. Apple TV, Chromecast, Roku TV, and Amazon Fire Stick are some of the most famous devices in this category.
➢ Disadvantages of Android TV
Android TV has many disadvantages. For Android, it is difficult to connect to a WIFI, and it can sometimes be very asking to connect the TV to the WIFI.
There are numerous occurrences when the Google play store needs to operate suitably. For example, the TV often crashes while installing an application, or even the play store crashes itself.
There are spans when an app works sluggishly. For example, it may launch slowly, and even the commands and activities may only reflect slowly on the screen.
You may detect auditory problems with Android and sometimes experience nil or inferior audio quality. However, Tizen's audio quality is better when compared to Tizen OS vs. Android OS TV.
Tizen vs. Android tv, which should you choose?
While Android excels when it comes to gaming, app support, and voice assistance, Tizen excels when it comes to technological architecture. However, as far as UI is concerned, both are evenly matched.
Based on the information above, Android takes a bit of the lead in Samsung Tizen vs. Android. However, Tizen is also a great choice, and it's simple to use for anyone; it has all the main elements, but it's up to you to choose which one fits you more. You can go for the features you want in choosing Smart TV Tizen vs. Android.
FAQs
Which is better in Tizen vs. Android TV?
Tizen scores more in technological architecture, while Android performs better in voice assistance, gaming, and app support. However, both have excellent attributes and make a tough decision in Samsung Tizen vs. Android TV.
What are the apps that Tizen TV supports?
Tizen supports many apps, like Discovery GO, Prime Video, Netflix, Facebook Watch, BBC Sports, CBS, Apple TV, ESPN, and many more.
Does Android TV have all the applications?
Google play store on Android Television only shows the applications backed by the TV. This is where Tizen Tv scores better in Tizen OS vs. Android OS TV.
How can I check that my TV Is Tizen?
You will find the Tizen-based Eden UI mostly on all new Samsung Smart TVs with 4k HDR; you are getting a based on Tizen device.
Can Android TV be used without the internet?
Yes, Android TV can run without the internet with the help of its internal memory. In addition to streaming content on your TV, the Android box allows you to plug in your external storage device to stream content. The component is a significant plus for Android TV in Tizen OS vs. Android OS TV.
Does Samsung own Tizen?
Samsung Electronics developed and mainly uses Tizen, a Linux-based operating system supported by the Linux foundation.
What is the coding language used by Samsung?
The authorized language for Android is Java; numerous additional languages are utilized to design android apps, like BASIC and Kotlin.
Is Tizen a good OS for TV?
Both Samsung Tizen and LG WebOS are considered top smart platforms. Both are fast and have a wide selection of apps, but still, there are a lot of reasons to consider other operators. It's a significant plus point for Tizen if you decide between Samsung Tizen and Android.
CONCLUSION
The overall experience on either platform is about the same, except for some essential differences that drive user loyalty. Tizen vs. Android TV is a proprietary operating system that has been set to compete with the widely popular Android. As a result, the two differ quite a bit.
Tizen is an open-source OS for mobile devices and tablets, while Android TV is built on top of Google's open-source core software. We hope this article on "what is the best Android TV or Tizen TV" is helpful for the readers.