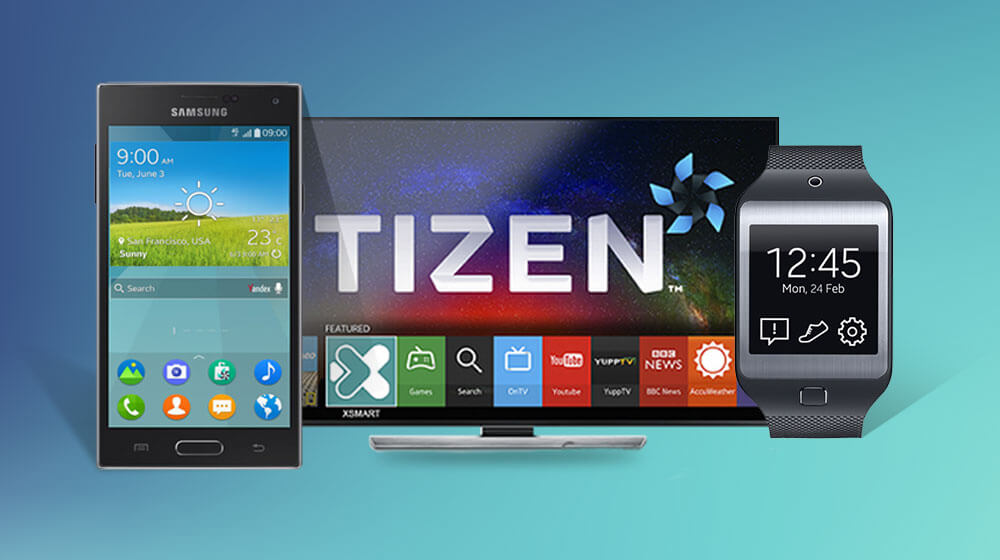 Tizen is an open source standard based platform developed by Samsung. Tizen app development for supports devices, the list of which is as follows:
Smartphones
Smart Televisions
Tablets
Smart Cameras
Smart Watches
Blu Ray Players
Smart Home Appliances
In-Vehicle Infotainment
Robotic Vacuum Cleaners
Tizen helps customers to seamlessly access various devices. Tizen association also has been formed so as to guide the industry role of Tizen and it undertakes various functioning like requirements, gathering, identifying and facilitating service models and also overall industry marketing and education. Some of the major devices supported by Tizen are as follows:
Smartphone
Samsung Tizen ecosystem has kept on expanding. Right after the launch of Samsung Z1, new Samsung Z3 and advanced Tizen –based smartphone featured with the technology that serves the user with powerful and flexible user interface, location-based service framework, advanced multimedia, 3D window effect, sensor framework, multitasking and multi touch functionality. It also provides the support to scalable screen resolutions. It ensure to allow the platform to serve a consistent user experiences all across a broad range of terminal types and form factors.
Tablet
Tizen supports tablet by providing the touch-optimized user interface for tablets. The tablet also gets access to variety of applications for web browsing, media usage and personal information.
Also Read:- Tizen vs Android : A straight comparision
Smart TV
Tizen supports the smart TVs by offering them open standards based Linux stack which is found to be optimized for living room devices including Blu-rays players, set top boxes and digital TVs. It is also specifically designed for Internet connected TVs through which the users can connect to various multiple applications and also personal media. All this can be done while they are watching TV.
Wearable
Tizen wearables ensure to provide flexible, rich, and various other effective functions. Providing all this does not affect the performance at all, not even the battery life or the ease of using it.
Samsung Gear is wearable computing devices and has got a long list of various versions like Samsung Gear, Gear 2, Gear 2 new, Gear S and Gear S2. All these versions are operating on the Tizen Platform.
Gear applications have been categorised in two types:
Gear Standalone
Gear Companion
Standalone is featured with only wearable side widget which are operating on Tizen-based Samsung Gear devices.
In-Car Infotainment
In-Vehicle infotainment has been specially developed to provide various facilities like entertainment, navigation and network connected computing services for vehicles including trucks, buses, airplanes and cars. This platform has been developed with the motive of serving rich internet and multimedia consumer experience in the vehicles.
NetBook
Tizen supports netbook by offering scalable features and also leads to performance improvement and a rich user experience. Tizen operating system is featured with advanced touch, features scalability, connectivity support, fast booting, and it also helps in branding in an easy and effective manner.