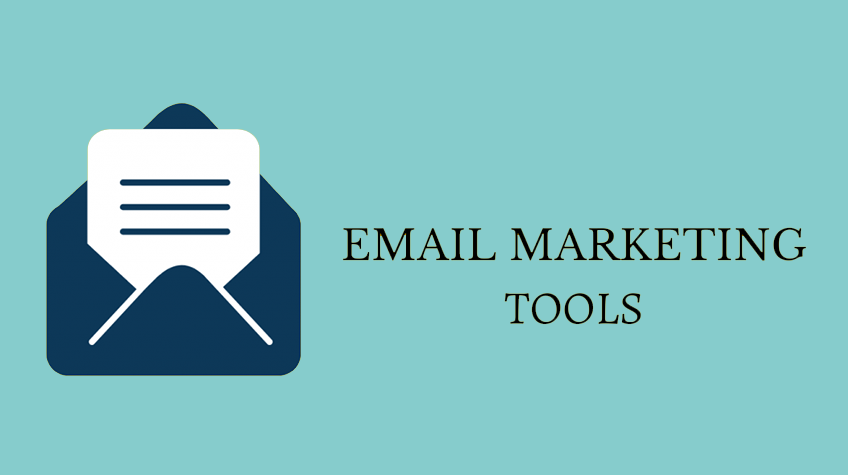 Marketing is the backbone of any organization, irrespective of its size. Undeniably, the right marketing strategy can help businesses stand out amidst the competition. Marketers do everything to generate business for the companies or clients. Whether it's a small business or a Fortune 500 corporation, marketers work tirelessly to build positive brand recognition, educate consumers, and drive conversions. To accomplish this, marketers rely on a variety of communication trends, ranging from email to social media. These best email marketing tools establish a dialogue between brands and their target audience.
When it comes to business communication, email marketing is considered the best. Over 73% of marketers or marketing managers prefer email over other marketing tools, for all the good reasons. With its lightning-fast speed and ability to easily cross borders and time zones, email virtually opens your business to consumers all over the world.
The reason most marketers prefer Email marketing is because it is quick, reliable, and inexpensive. Apart from this, it assists in the development of client or consumer relationships and reaches a large audience.
Key Benefits of Email Marketing:
It helps you establish direct contact with existing customers. You can send old or ongoing customers information, updates, special offers, and other data that they will find helpful or that will entice them to visit or return to you.
An email is a mini-site. Know that HTML emails are, in general, a website page. They can contain recordings, images, and interfaces and are a fantastic way to introduce data. Furthermore, you can customize your email according to your needs.
Emails can be shared, forwarded, or copied to others. This means your target audience can easily forward a good email with useful information to their friends and associates.
Numerous automated processes are available for use. A good email advertising effort will use automated assistants and time-sensitive deliveries, significantly increasing adequacy and decreasing the time required to send numerous messages to various clients.
Key Usage of Email Marketing:
Email marketing can be used for a myriad of purposes, from educating your customers about new products to promoting your products. Here are the different purposes you can use email marketing as a marketer:
Inform customers about new products and services that a company has recently launched or is planning to launch.
Inform customers about the different contests and promotions that a company is planning.
Inform customers about industry events and business news to help them stay updated.
Direct customers through the sales funnel.
Promote your blog's content to increase the traffic on your website or other platforms.
Share press releases and so on.
But the question is, which email marketing should marketers use for promoting the business? Of course, choosing the best email marketing tool amidst many is not an easy task; however, this post is to help you choose the best tool for your business. In this post, we have rolled out 10 best email marketing tools in 2022 to enhance your digital marketing practices. Take a look…..
1. MailChimp
MailChimp is one of the most renowned email marketing tools, and for all the good reasons. The digital marketing application includes a plethora of features to assist in the development and engagement of audiences and the conversion of potential leads into actual sales. It offers you four pricing plans, making it easier to find the right plan for your expanding business, and 24/7 customer service support makes onboarding a breeze. It's no surprise that some of the world's most well-known and respected brands rely on MailChimp.
Additionally, it provides you with advanced segmentation to target the right people with each email campaign. Marketing campaigns that can be automated in order to re-engage potential clients or consumers. Besides, you can track real-time performance, which includes the number of emails delivered, the open rate, the click-through rate, and other metrics.
2. Zoho
Zoho is a very popular email marketing tool that engages your customer base and drives sales. All thanks to its astonishing email templates and real-time analytics. Zoho's comprehensive suite of digital tools and applications can help you automate your marketing strategies and boost productivity. With this multipurpose application, you can streamline your business's day-to-day operations, including Marketing, Sales, Accounting, and Human Resources.
Furthermore, Zoho is a suite of applications designed to support all aspects of your sales and marketing strategies. It offers you interactive email campaigns, forms, and landing pages that can help you transform your digital marketing. With the help of Zoho, you can even identify business opportunities by conducting in-depth performance tracking and metric analysis.
3. Active Campaign
ActiveCampaign is the complete package when it comes to email marketing tools. It offers myriad services to assist marketing, sales, and service professionals all through one convenient portal. The coolest thing is it provides you with a user-friendly interface making email marketing a breeze for all. Through split A/B testing, the cost-effective platform enables users to identify the most effective campaigns. At the same time, marketing automation allows users to "set it and forget it," streamlining all of your digital marketing efforts.
Moreover, Active campaign provides you with a suite of a fleet of attractive pre-designed email templates. Even you can use event tracking to send personalized messages to customers based on specific interactions. It also has an automated sales CRM that aids in the prioritization of leads while tracking every interaction.
4. Snovio
This software will be helpful for experts and beginners in email marketing. Snovio is an advanced tool to perform email searches and create branched trigger campaigns. Its key features include:
Email finding tool that automatically scrapes contact information from socials or websites
Email tester that performs instant verification of contacts and "cleans" the database from not-existing, catch-all, and temporary emails
Drip campaign tools, thanks to which users can set up sequences of messages according to their leads' actions.
Snovio offers free extensions: Email Finder for Chrome and Unlimited Email Tracker for Gmail. The first allows scraping contact data while browsing web pages, while the second – tracking statistics on email opens and clicks.
5. HubSpot
With features to help your company's sales and marketing, HubSpot is a great email marketing tool. Ad software, Lead management software, and Pipeline Management tools can help you meet your sales targets faster. Not only does it help in achieving long-term ROI, but also it can assist you in developing meaningful relationships with customers.
Besides, HubSpot provides comprehensive marketing reports for all channels in one place, including email campaigns, social media, and Google analytics. Content optimization ensures best SEO practices and enhances your Google ranking on a consistent basis. Apart from this, email workflows are perfect for task and sales automation.
6. NotifyVisitors
NotifyVisitors is an email marketing tool for businesses of all sizes, allowing them to create powerful email campaigns to reach their customers. With NotifyVisitors, businesses can personalize emails based on customer buying behavior, interests, location, and more. Additionally, it offers email segmentation capabilities so businesses can target specific email messages to various customer segments based on age, gender, shopping history, and many other criteria
It's easy to set up automated campaigns triggered when certain things occur in the user's journey, such as Welcome emails This email marketing tool offers detailed insights into email engagement metrics so businesses can track their campaign's success and ensure they get the most out of their email marketing efforts.
7. SalesHandy
As the name states, SalesHandy is an amazing email productivity tool. It allows users to track, schedule, and follow up on emails sent directly from their email provider. It provides your sales team with the insights needed to engage your email recipients better and increase sales.
In addition to this, it also allows you to use automated messaging to follow up with prospective buyers and clients. You can increase productivity with automation and scheduling functions and use engagement data to make better digital marketing decisions.
8. Gist
The gist is a comprehensive email marketing tool that assists marketers in streamlining their marketing plans. Users can create exceptional customer service experiences for their visitors by utilizing their full suite of digital marketing products and services. The gist is the ideal platform to supplement your marketing efforts due to its all-in-one solution, including marketing automation, live chats, and event tracking.
Furthermore, you can use live chat or chatbots to engage in real-time conversations with customers. Receive leads from a variety of sources, including social media platforms. By automating your inbox, you can save time and increase your productivity.
9. Constant Contact
Constant Contact provides you with a user-friendly interface that makes building a brand a breeze. With simple drag-and-drop editor tools, you can grow your business with an eCommerce website, create professional marketing campaigns, and generate social ad campaigns. Constant Contact has a 97% deliverability rate, which means your digital effort is less likely to go unnoticed.
Furthermore, Constant Contact's interactive email campaigns can assist you in starting a conversation with your target audience—in-depth campaign reporting to assist you in meeting your business objectives. You can even grow your contact list by creating custom forms for your website.
10. Act-On
If you want to expand your audience, this platform is an excellent addition to your armory of tools. Act-On is a cloud-based application that can help marketers improve customer engagement by converting visitors into leads and sales. Act-On's impressive technology helps businesses of all sizes create exceptional brand experiences while also improving their sales funnel. Act-On's marketing tools and product suites make attracting, engaging, and converting visitors much easier.
Additionally, Using automated messaging, you can deliver the perfect message to your target audience. The platform's automated Journey Builder can help you increase audience engagement and sales. SEO audit tools allow you to optimize content for higher search engine rankings.
11. Campaign Monitor
Campaign Monitor allows you to create an effective campaign using professionally designed templates. You can even customize your content using a drag-and-drop editor. Campaign Monitor makes connecting with your audience easy and subtle. With timed automation and contact segmentation, you can even direct the customer journey. Campaign Monitor's widespread marketing products and services help you expand your email list and convert leads.
Apart from this, Campaign Monitor's simple drag-and-drop design tools help you create beautiful and professional email campaigns. Advanced analytics assist users track campaign effectiveness and make informed decisions to increase engagement. Besides, personalized marketing automation ensures that the appropriate message is delivered to the right recipient in the proper time.
12. Sendinblue
Sendinblue offers all of the marketing assistance required to help your company grow. Users can create effective email campaigns using their user-friendly email marketing tool. Personalization features ranging from segmentation to automation will undoubtedly improve your audience's brand experience. In addition to email marketing, Sendinblue also provides a slew of digital marketing tools, such as Facebook ads and retargeting. The transactional email feature of SendinBlue is fantastic. This feature distinguishes SendinBlue from other email marketing platforms, and it is precisely why marketers prefer to use it.
Furthermore, Sendinblue provides workflow automation templates to boost workplace productivity. With drag-and-drop design blocks, you can create visually appealing email newsletters, as well as smart scheduling functions that boost email campaign open and click-through rates.
13. Selzy
Selzy is an easy-to-use email marketing service that targets small and medium-sized businesses. The platform is so user-friendly even a newbie can set up their first email campaign in 15 minutes.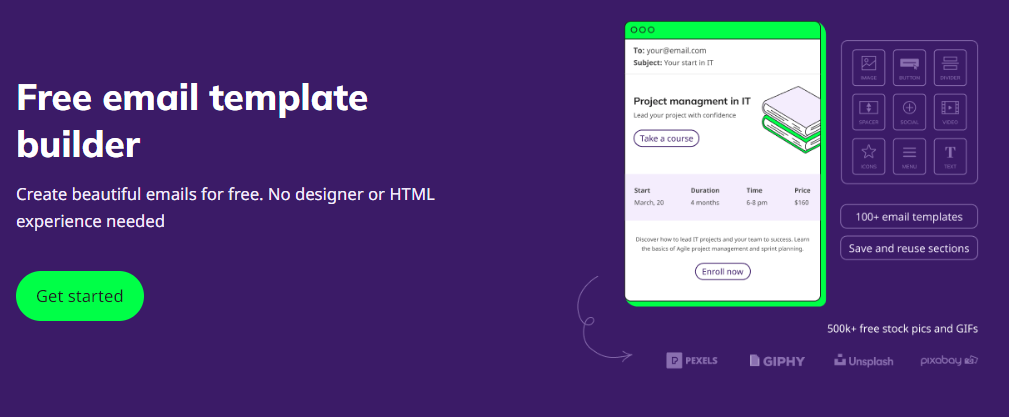 Top Features:
Email WYSIWYG editor and 100+ free responsive email templates
Personalization and segmentation
List hygiene
Analytics and A/B testing
Email recommendations for a better delivery rate
24/7 support via live chat, phone, and email
Wrapping it up….
These are the 10 best email marketing tools in 2022 that you can consider using to enhance your marketing experience. All these tools are flexible and very easy to use. You can easily create professional-looking personalized newsletters and promotional emails with the help of the aforementioned email marketing tools.
Email marketing can be a very efficacious way to drive traffic to your website, generate sales, improve your reputation, and even generate new email leads. However, be cautious, respectful, and of course, use the most professional copywriting techniques in the content of your email to capture and maintain your audiences' attention.
So, don't wait; start using email marketing tools to build positive brand recognition.