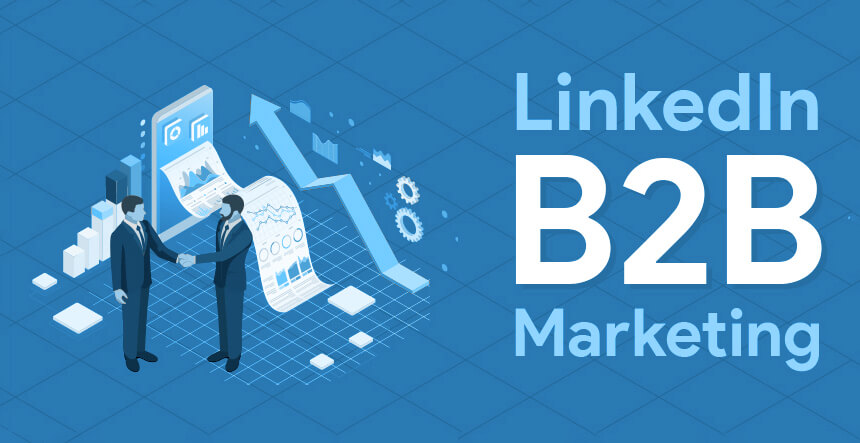 LinkedIn is a powerful platform for B2B marketers looking to reach and engage with their target audience. With over 800 million users, LinkedIn offers a vast pool of potential customers and business partners, making it an indispensable tool for B2B marketers looking to grow their businesses in 2023.
However, the landscape of B2B LinkedIn marketing is constantly evolving, and marketers need to stay up to date with the latest trends and best practices in order to effectively reach and engage with their target audience.
This guide will provide an overview of the key strategies and tactics that B2B marketers can use to maximize their impact on LinkedIn in 2023.
Understanding your target audience
Successful (B2B) marketing on LinkedIn begins with knowing your audience.
You need to develop in-depth buyer personas that include information like occupation, industry, and region. Identifying your ideal clients in this way will allow you to craft a more specific and successful marketing strategy.
It is essential to your B2B marketing strategy that you fully comprehend your target audience on LinkedIn. Do some digging into their goals, frustrations, and habits so you can tailor your content and marketing to hit all the right spots. That's how you attract the attention of the people most likely to buy from you, increase sales, and gain credibility as an industry expert.
Building a strong company presence on LinkedIn
Having a strong company presence on LinkedIn is critical to the success of your B2B marketing efforts. To start, make sure that your company page is fully optimized and includes a clear and concise description of your company and its products or services.
Consider participating in LinkedIn groups related to your industry and engaging with others in the community. This can help increase your visibility and establish you as a thought leader in your industry.
Another way to build a strong company presence on LinkedIn is to leverage employee advocacy. On LinkedIn, 30% of a company's engagement comes from employees. Employees can help increase the reach of your content and establish your company as a trusted and credible source of information in your industry, so encourage them to share company content and engage with others on the platform.
Don't forget to regularly review and update your company page to ensure that it accurately represents your brand and accurately reflects any changes in your company. Keeping your page up-to-date and active is crucial to building a strong company presence on LinkedIn and reaching your target audience.
Exporting LinkedIn connections for a multichannel approach
In addition to leveraging the platform directly, B2B marketers can also use their LinkedIn connections to reach their target audience across multiple channels.
By exporting LinkedIn connections, you can gain access to a wealth of information, including email addresses, job titles, and company information, which can be used to create a multichannel marketing strategy.
One of the key benefits of a multichannel approach is that it allows you to reach your target audience where they are most active and engaged.
For example, you may find that your target audience is more responsive to email marketing than to social media. When you export LinkedIn contacts, you can create targeted and personalized email campaigns that will drive engagement and conversions.
Another advantage of a multichannel approach is that it allows you to reach your target audience at different points in the buyer's journey. Using a combination of email, social media, and other channels, allows you to create a consistent and compelling message that will resonate with your target audience and drive results.
Related Post: 5 Ways How to Attract B2B Client for Software Development Business
Developing a strong content strategy
If B2B marketers want to be successful on LinkedIn in 2023, they need to develop a comprehensive content strategy. To get started, make a content calendar that specifies when and what kind of content will be published.
The most successful LinkedIn posts are those that are both informative and educational, such as thought leadership articles and industry insights. LinkedIn Pulse can help you reach more people and get them interested in your content.
Leveraging LinkedIn Ads
Linkedin ads can be a very effective weapon in your marketing arsenal. In fact, LinkedIn ads typically have a 6.1% conversion rate in the United States.
LinkedIn offers a variety of ad formats, including sponsored content, sponsored InMail, and display ads, that can be used to reach and engage with your target audience.
The first step is to determine your marketing objectives and select the ad format that will best meet those objectives. Once you have chosen your ad format, make use of LinkedIn's targeting options to reach your ideal audience.
You can target users based on factors such as job title, industry, location, and more. Make sure to also use eye-catching visuals and clear, concise copy that speaks directly to your target audience.
Measuring the success of marketing efforts
Tracking key metrics and making data-driven decisions are essential for the success of your business-to-business (B2B) marketing efforts on LinkedIn. LinkedIn Insights allows you to see how your page and ads are performing, and thus how your efforts are affecting your target audience.
Impression, click, engagement, and conversion rates are some of the most important metrics to monitor. Keeping up with this information will allow you to spot problem areas and adjust your approach accordingly.
Tracking the outcomes of your lead generation efforts is also an important part of evaluating the success of your B2B LinkedIn marketing. Consider both the quantity and quality of the leads you receive as a result of your LinkedIn advertising.
LinkedIn's lead generation forms make it simple to collect leads from your sponsored content and display ads, and their efficacy can be monitored with LinkedIn Insights.
Over to you
The key to success on LinkedIn in 2023 is to be strategic, data-driven, and constantly evolving your approach based on the latest trends and best practices. With the right strategies and tactics in place, B2B marketers can effectively reach and engage with their target audience, drive growth for their businesses, and establish themselves as thought leaders in their industries.
Author Bio:
Brenda is a passionate business blogger, tech nerd and gamer. She is interested in topics that cover business communication, sales, online branding, digital marketing and social media, business tools and extensions, as well as organization and management of LinkedIn connections.