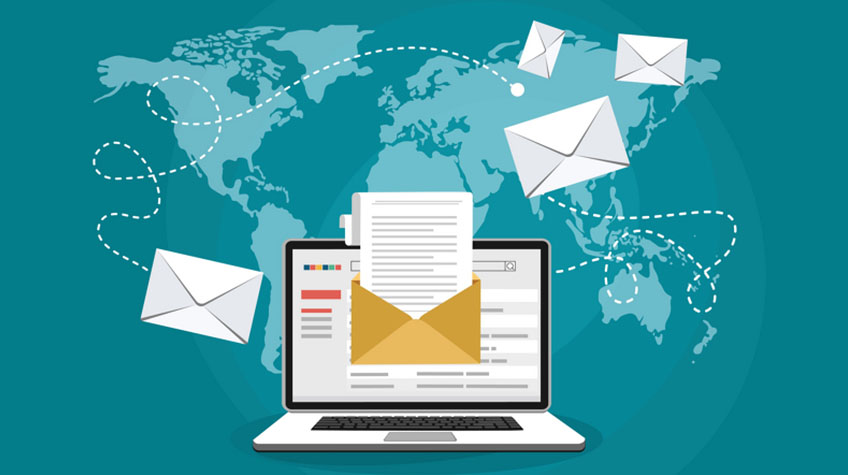 Small businesses don't take deciding where to spend their marketing expenditures lightly. You know all your marketing strategies should focus on attracting new customers and retaining the existing ones. However, at the same time, you need to see your budget also.
You cannot simply put in your money on something that won't yield the desired results. That's when email marketing comes into the picture.
Email marketing is the most cost-effective marketing solution that allows businesses to reach customers in their inbox, where they spend the majority of their time.
If you don't trust, then read out these statistics
According to Statista, in 2019, there were 3.9 billion email subscribers worldwide. And this number is going to rise to 4.3 billion users in 2023. This is a staggering figure that you cannot simply avoid.
Another study by DMA in 2019 says that businesses can expect a $42 return on investment for every $1 spent on email marketing.
It's no wonder that the return on investment is enormous With email marketing's widespread appeal and undeniable benefits. Businesses not only attract new customers but also can increase their revenues with a well-thought-out email marketing campaign.
Email marketing will remain a minefield no matter how many marketing tools and methods are developed. Here in this post, we shall talk about the reasons why use email marketing.
Let's get started…
Table of Contents
10 Reasons to Use Emails
1. Build credibility
People do business with people they like, trust, and are familiar with. By offering helpful and interesting content via email, you can establish credibility with your customers. Your consumers are immediately approachable at their mailbox, whether you want to send newsletters or a new offer.
2. Prompt responses
With email marketing, you can come up with new ideas to increase sales. If you know what your audience is interested in, increasing sales is easy with email marketing. You have a list of people interested in receiving updates about your company; all you have to do is whip up a cast email campaign and send it out.
Email is the most convenient way to contact people. You'll almost certainly get a few calls right away. The response is prompt.
3. Build robust relationships
It's critical to have an effective tool for communicating with the people that matter most to your organization if you want to develop solid customer relationships. During your busy season and slower times of the year, email allows you to stay top-of-mind and keep customers connected with your brand.
Email is the fastest tool to get your message through. It provides your audience the impression of being a part of the conversation. They are aware of your company's activities, and they know they are not just a number on a list.
4. Generate new leads
Not everyone who signs up for your email list is ready to buy something or subscribe to a service. Email allows you to attract the attention of new visitors and develop a relationship with them. By sharing useful and instructive information, you can easily generate new leads.
Email is the most effective tool when it comes to generating leads. People who are interested in your services will surely sign up for our newsletter.
5. Understand your audience
Email marketing provides you with the information you need to understand how well your emails are functioning. These insights enable you to sell more effectively while also giving you a greater grasp of your consumer base's requirements and interests.
6. Professional approach
The email looks professional. Thanks to the email templates that are specifically designed to make you appear professional. When you deliver a properly curated email message to your audience, they get an impression of your professionalism.
The best part is that these templates are easy to customize, fitting to your needs. This implies you can add your own information and personalize each design with your logo and colors to ensure that it is consistent with your brand.
7. Cost effective solutions
Email marketing is the most cost-effective option. As a result, an increasing number of small firms use email marketing. You do not have to spend a lot of money on email marketing.
According to the most recent statistics, 87% of marketers utilize email marketing to distribute their information. Email is now the third most preferred distribution medium, trailing only social media (91%) and the company website or blog (89%).
8. Increase sales
Increased sales or revenues is what every business owner desires. When you're running a small business, every sale, order, or appointment can have a significant impact. You can get the immediate results you want using email and track how your various initiatives are performing. Accordingly, you can come up with a new strategy to attract customers and boost your sales.
9. Promote products or services
Only creating wonderful products is not enough. You need to promote them to your target audience. And email marketing is the easiest way to reach out to your customers. Using emails, you can reach out to your existing customers and attract new ones.
Whether you want to promote your products or want your audience to know about your new launches, email is the right way. For a small business with a limited marketing budget, email is the most effective way to convey their business message to their audience.
10. Customer retention and acquisition
Although there is a lot of chatter about social media, likes, shares, and tweets, email marketing is still quite significant. Email marketing trumps organic search, sponsored search, and social media when it comes to customer acquisition and retention.
For small and midsize businesses, email is still the most critical source of client retention and acquisition. According to research, 81 percent of SMBs use email as their primary client acquisition channel, and 80 percent use it to retain customers.
There's no refuting that; in addition to engaging with your email list, you may publish your newsletters and announcements on your own social networks. Using a variety of marketing tactics to acquire new clients is a fantastic idea.
So these are the reasons to use emails. Hopefully, these reasons will help you get started.
Read ahead to know what our expert says.
Pro tip 1: Don't overdo it
Learn that excess of everything is bad. There is no denying that email marketing offers tons of benefits. But overdoing it can get you reverse results. Experts suggest to have a proper calendar and timeline on when to send your newsletters and other emails. You cannot just swamp your clients' inboxes with your emails. Follow a proper strategy for that.
Email is undeniably one of the most effective marketing methods. However, if you do not have a strategy in place, it can work against you. Yes, some marketers go overboard, which is the worst thing a company can do.
Of course, if you send your audience too many emails, they will unsubscribe, resulting in a loss for your company. That is why it is critical to maintain a well-organized timetable or calendar and to adhere to it strictly.
Pro tip 2: Have a holiday email calendar in place
Make sure you have a holiday email calendar set up. Diwali, Independence Day, Christmas, Halloween, Thanksgiving, and other important holidays are among them. For such days, you should have a solid email marketing strategy in place. You'll want to take advantage of shopping and giving days in addition to the traditional events like festivals and national days.
Bottom Line
So there you have it: the top ten reasons to use email marketing. Aside from these, email marketing has a slew of other advantages. All you need to do is make sure you have a good database and an email marketing strategy in place.