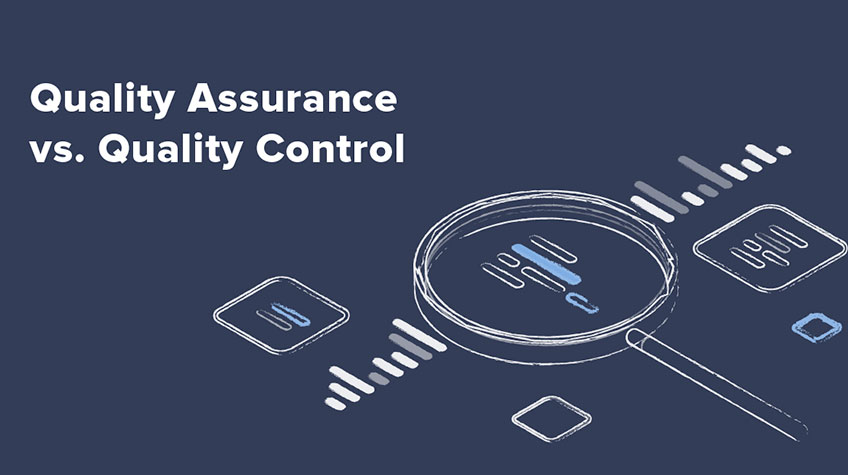 Quality Control, also known as QC, and Quality Assurance, commonly known as QA, are two of the most significant concepts that are frequently misinterpreted and used interchangeably as a result. This is because they are both interconnected components of critical quality management to assure that the supplies are of good quality and meet the needs of the customers.
There are, however, a few important differences between the two, which we'll discuss in this article. So, scroll down to read the entire post and gain a thorough understanding of Quality assurance vs. Quality control.
BUT, before we get into the differences between Quality Control and Quality Assurance, let's look at what each term means.
Here we go…
Table of Contents
Quality Assurance
Quality assurance, defined by ISO 9000 as a "component of quality management aimed at providing assurance that quality criteria will be met," is a method of eliminating mistakes and flaws in manufactured items and avoiding problems when delivering products or services to end-users of clients. It assures that quality standards are met – the product will be "fit for purpose" and created "right the first time."
Quality Control
A business's quality control (QC) procedure is one of the essential procedures. It ensures that product quality is maintained or enhanced for the better. Quality control procedures require the establishment of a culture in which management and employees aim for perfection that can be accomplished by training workers, establishing product quality goals, and testing products for significant differences.
Creating well-defined controls is an essential aspect of quality control. These controls assist in the standardization of both production and quality-control responses. Limiting the margin for error by identifying which production activities are to be accomplished by which workers decreases the risk of employees being assigned tasks for which they are unprepared.
Different methods of quality control include an x-bar chart, 100% inspection mode, Six Sigma, and the Taguchi Method.
Let's now take a look at the distinctions between Quality Assurance and Quality Control.
Quality Assurance and Quality Control Difference
Here are the differences between Quality Assurance and Quality Control. These differences will help you better understand quality assurance vs. quality control.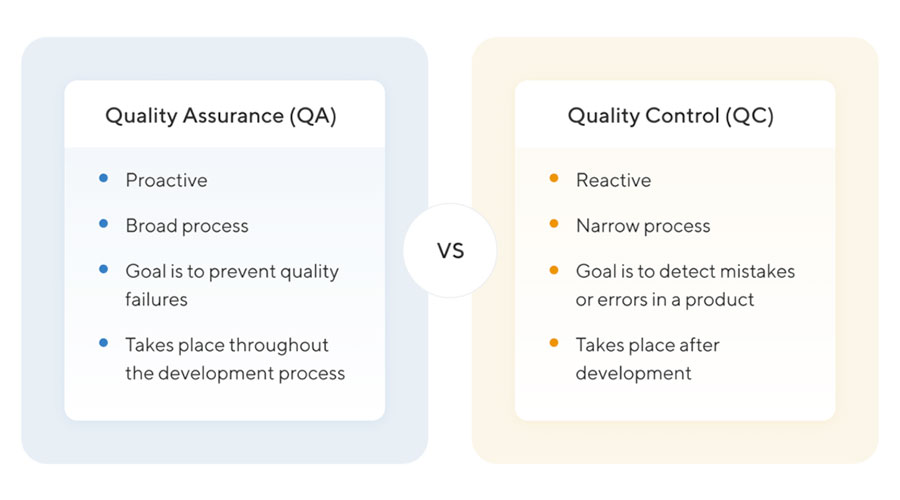 Quality assurance's primary purpose is to eliminate faults and errors. On the other hand, quality control seeks to identify and correct flaws.
Quality Assurance is both a proactive and preventative measure. On the other hand, Quality Control considers both remedial and retaliatory actions.
Quality Assurance is a phase in the manufacturing process that is linked to the product's systematic and planned actions. Quality Control, on the other hand, is a product-oriented stage. This means it has to do with operational functions and strategies for inspecting and ensuring that quality standards are met.
Controlling quality entails defining techniques, strategies, and policies, creating checklists, and establishing standards that must be followed throughout the project. As the project progresses and things are produced, the team must adhere to the defined criteria in order to ensure quality, find errors, and correct them immediately.
When it comes to Quality Assurance, everyone involved in the product or service creation holds accountability. In the case of Quality Control, the team responsible for testing and addressing bugs in the product or service is held accountable.
Finally, statistical quality control (SQC) is a sort of quality assurance that involves the application of statistical tools and methods to final products. Statistical Process Control (SPC) is a sort of quality control that involves using statistical tools and techniques to perform operations.
So, if you're pondering why Quality Assurance and Quality Control are Important, read ahead to know….
Why is QA Important?
Quality assurance is critical in many businesses; hence, it should never be overlooked in today's world. This procedure basically determines whether you are properly allocating your resources or not. Of course, scrimping on the quality of your goods could lead to a loss of client trust, reduced profit margins, and, finally, the inability of your organization to perform in the market.
QA aids a business in meeting the standards and expectations of its customers. Remember that retaining customers for a long period is only possible when your products are of high quality. Believe it or not, customer trust is built on high quality. Moreover, dealing in high-quality products makes you more competitive in the market. It aids in establishing and maintaining quality standards by averting problems at an early stage.
Having quality assurance in place instils trust among customers, helps you stand out amidst the competition, and lets you advertise your goods without fear.
In addition, quality assurance enables businesses to avoid the additional expenditures of retesting, replacing, and reselling bad goods. You may earn customers for the first with a bad product, but you won't be able to retain them. However, with quality assurance in place, you will have loyal customers, which is very important for the success of your business and its existence. So, make sure to have a dedicated quality assurance team or person in your organization. Also, don't resist investing in the resources you'll need to accomplish a good job.
Why is QC Important?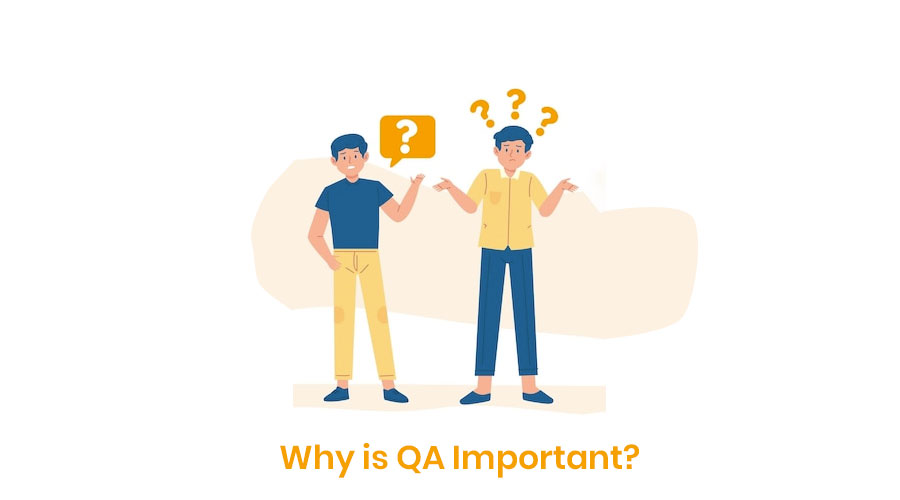 Quality Control (QC) procedures in any business are practiced to ensure that product quality is maintained or enhanced. Quality control requires the establishment of a culture in which management and employees strive for perfection. This can only be accomplished by educating employees, establishing product quality goals, and testing products for statistically significant differences.
Creating comprehensible controls is an important part of quality control. These controls help in the standardization of both production and quality-control responses. QC processes ensure consistency and safety, thereby resulting in repeat business. Apart from that, having QC processes in place help businesses save money by reducing squandered resources and the probability of liability claims and lawsuits.
We all know that variability is natural. So, even if you always buy resources from the same places, you cannot guarantee to have them the same all the time. Even if you can't ensure that the materials you employ are 100% consistent, you can spot irregularities and devise techniques to compensate. When you lack compensation, quality control systems come in handy to help you weed out inappropriate things so that you sell the best quality goods to your customers and have them retained with your company.
Another important aspect is to have satisfied customers, which is only possible when you give your customers high-quality products. In order to produce high-quality products that match client expectations, quality control is essential. Believe it or not, when your goods do what they're intended to do, you get repeat business and have loyal customers. Customer loyalty lets you have a consistent revenue stream and save money on marketing and advertising. Satisfied customers will market you to other customers in their community, their friends and relatives, advertising your business by word of mouth.
Waste is inevitable if you haven't implemented quality control methods. Of course, you'll end up wasting more finished inventory, which will cost you too much. So, all in all, wastage is not a good idea for a business. Of course, you don't want to end up having losses in your business due to wastage. However, with quality control methods in place, you can easily eliminate or reduce the risk of waste to a great extent. With a QC method, you can pay attention to processes at all levels and spot inappropriate materials before combining them with valuable ones. This will save you time and effort in the long run, as well as money spent on time-consuming damage control.
Lastly, quality control procedures assist your company in avoiding circumstances that endanger clients and result in costly liability claims and lawsuits. Keeping your customers secure saves you money and protects your company's reputation.
Quality Control Methods
Quality control performance is measured in a variety of ways. The four main quality control methods include: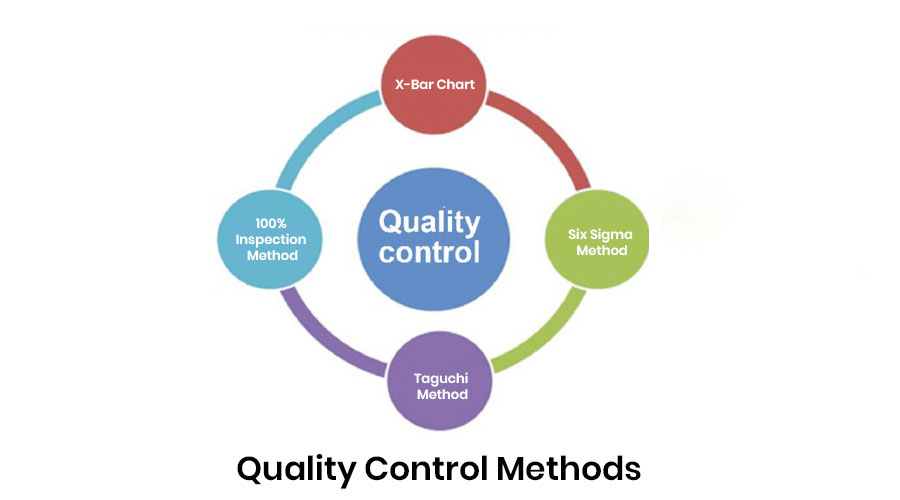 1. X-Bar Chart
2. Six Sigma Method
3. Taguchi Method
4. 100% Inspection Method
Here is a brief description of all quality control methods:
1. X-Bar Chart
In this quality control method, products are chosen at random and checked for the attribute or traits that the chart is tracking. The X-Bar Chart is a standard quality control chart, with the y-axis monitoring the degree to which the deviation of the tested attribute is acceptable.
The x-axis represents the number of samples that were tested. The X-Bar chart's pattern of variance is used to evaluate whether problems occur randomly or systematically.
2. Six Sigma
Six Sigma is one of the most popular quality management systems. It helps firms detect and eliminate faults in their current processes, goods, or services. The goal is to improve quality control in the processes to the point where there is little to no variance.
It's a data-driven and statistically driven approach. In this, minor errors or flaws are identified and eliminated. Six Sigma basically focuses on improving cycle times while lowering manufacturing fault rates to no more than 3.4 per million units or events.
3. Taguchi Method
Another very popular quality control technique is the Taguchi Method. It focuses on eliminating product faults and failures at the designing stage itself. The Taguchi Method prioritizes design more than the manufacturing process, thereby preventing production deviations before they exist.
4. 100% Inspection Method
Lastly, we have a 100% inspection method on the list. As the name says, the 100% inspection in quality control procedure entails inspecting and evaluating all aspects of a product.
Again, this quality control method is also used to eliminate product faults. More often than not, it is used to determine the value of precious metals and produce. The 100% inspection approach necessitates data on the manufacturing process along with inventory analysis tools. The major drawback of this quality control method is that it costs you too much to examine each component of a product.
How the Industrial Revolution Shaped Quality
The industrial revolution had a significant impact on people's lives. The Industrial Revolution was a worldwide movement marked by the adoption of new production techniques. The Industrial Revolution began in the early nineteenth century in the United Kingdom, and industrialized textile production spread from there to continental Europe and the United States. Agriculture, manufacturing, mining, transportation, and technology have all had a substantial impact on social and economic situations.
Almost all economies, established and emerging, have benefited from the Industrial Revolution in terms of improved living standards, more wealth, the manufacture of high-quality items, and so on. People were able to get products for less money.
Putting it all together…
These are the key differences between QA and QC. This article should have given you a better grasp of Quality Assurance vs. Quality Control.
Keep in mind that both concepts are crucial in quality management. Quality assurance focuses on refining procedures to prevent things from going wrong in the future, whereas quality control ensures that the proper things are done by focusing on, detecting, and addressing flaws in a timely manner.
Both procedures are distinct from one another, but they are equally vital when it comes to quality assurance.