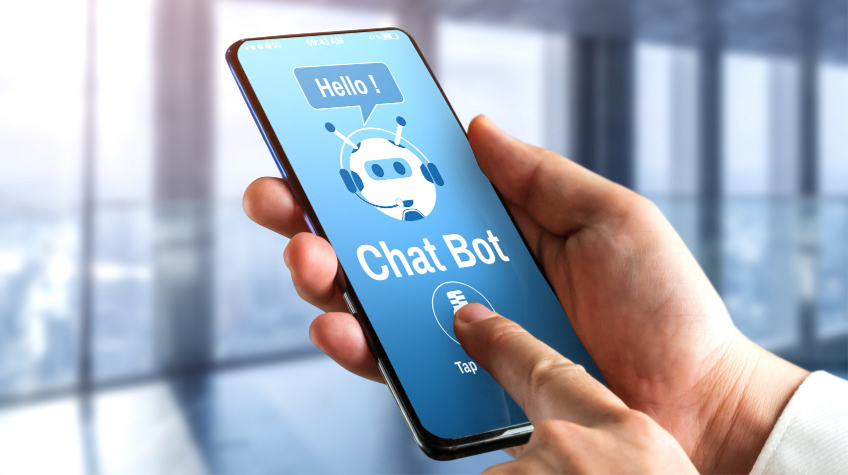 Today's customers are looking for more, more than just a good product or a great service. And the "MORE" here is the experience that they get when they interact with your company. No matter whether it's for marketing, sales, or client support, communication with customers' needs to be timely.
And if your company is unable to provide a seamless interaction experience for its clients, they will never remain loyal to your brand. Therefore, it is crucial to utilize SMART solutions to stay on top. And when we say SMART solutions, we simply mean to have plans to automate client interactions and ensure a hassle-free customer journey at every step.
AI-powered chatbot for customer service is one of the solid strategies one can utilize to enhance customer interaction. There are a lot of benefits you can gain by using chatbots in customer services.
Chatbots powered by artificial intelligence has the potential to make their mark in this area of the business. AI-powered bots have the ability to automate consumer contact and significantly complement support efforts.
A study reveals that 35% of customers want more businesses to implement chatbots. Doing so will surely help your business. You would be able to enhance your communication strategies and provide superior customer service.
So, if you're still thinking about using Chatbots in customer service, then this post is for you. In this post, we shall discuss with you the top 10 benefits of using chatbots in customer service.
Let's begin…
Table of Contents
Best 10 Benefits of AI-Powered Chatbots in Customer Service
There are several advantages to be gained in terms of customer service with chatbots that make use of conversational AI. Here is our list of the top 10 benefits of using Chatbots for enhancing customer service; take a look…
1. Quicker Response To Chats
One of the most important advantages of having bots in customer service is the quick response to chats. Believe it or not, quicker answers to chats improve the effectiveness of customer service. Not only it leads to the overall enjoyment of customers, but it also saves a lot of their time.
The use of a chat interface to conduct interactions with customer support systems is, by far, the method that is increasing at the fastest rate.
A chat system is utilized because it is quick and easy to use. Also, with a chat system, you can keep up with the most in-depth and demanding levels of customer care.
Chatbots and intelligent virtual assistants add efficiencies to customer service departments. It is because chatbots designed specifically for customer service can answer inquiries instantly and in numerous languages.
Customers who are seeking solutions to their issues as quickly as possible are satisfied when they are able to receive responses in less than one second.
2. Personalization
Personalization in customer service can turn out to be a game changer for any business. Of course, giving personalized information to customers won't be possible for a support team member. However, with AI-powered chatbots, it becomes a breeze.
The bots have the ability to handle the majority of the work normally performed by customer support staff.
Through the process of identifying the consumer, the bot is able to deliver individualized information regarding things such as invoice payments, the status of orders, discounts that are accessible, and any issues that may arise with particular services or goods that are being utilized.
All of this makes customers with specific information regarding their inquiries feel happy and satisfied.
3. Increase In the Number of Self-Served Customers
The opportunity to avoid having to wait for the customer to be transferred to an agent is one of the advantages of having access to self-service channels.
Agents are required to make themselves available to the next available consumer as much as is practically possible; nonetheless, it is conceivable for agents to have an excessive number of incoming requests, which results in all customers being required to wait for an extended period of time.
However, AI-powered chatbots eliminate the customer wait process and provide prompt customer service. It is because bots don't get tired. They are not really constrained to any upper limit at all.
Chatbots are able to self-serve clients because they can understand customer requests using techniques such as intent detection and natural language processing. This, in turn, leads to an increase in the number of self-served customers.
4. Decreased Level of Stress
Customer service representatives sometimes have a hard time dealing with customers. Every customer wants to get prompt answers to their queries. In the event they have to wait to speak to the customer service member, they get agitated. And in the process, they literally misbehave with customer support agents, leading to extreme stress for agents.
These apprehensions are lessened when a chatbot can be used as an alternative. Some consumers' potentially unfavorable emotional reactions are mitigated by the quickness with which their issues are resolved, both individually and as a whole.
Chatbots are intelligent and have the potential to become conversational experts. They have the potential to determine immediately what information is needed and what actions should be taken. By providing responses to frequently asked questions (FAQs), chatbots can provide a favorable experience for customers and earn their trust.
Also, this results in less work for the representatives who are responsible for customer support. In turn, it lessens the customer support agents' stress to a great extent, and they can focus on other important tasks.
5. Increased Customer Satisfaction
We are going to keep harping on the fact that satisfied clients are the driving force behind every successful enterprise time and time again. As a result, giving the finest possible service to customers is quite important for you.
Hence, Chatbots in customer service are A MUST today. The ability of the chatbot to provide a timely response to the consumer leads to greater levels of customer satisfaction. If you don't implement AI-powered chatbots in your customer services, you may lose your customers to your rivals. It is because your customers will become irritated if their questions aren't answered quickly.
If you think your email strategy can work for your modern customers, then forget it! Today's customers don't want to wait for the answers to their queries. They need answers on the spot. And that is only possible when you have chatbots in customer service.
Know that the instant response from the bot makes the consumer happier. Moreover, providing the specific information that the client is seeking can help you tremendously. You may end up having a loyal customer.
6. 24/7 Availability
Customers can look for information at any hour of the day, including late at night. Of course, you cannot have a support staff sitting 24X7. However, having a chatbot for customer service can be incredibly beneficial for you.
More often than not, consumer wants to place a purchase or get their issue resolved immediately. Not having chatbots won't help you serve your customers. However, having a greater number of channels can make customer service a breeze for all.
The ability of chatbots to provide immediate solutions to issues without making customers wait for answers makes them a fantastic choice. Having someone on call round the clock to answer client questions as they come in will cut down on the workload for customer service staff.
7. Help you get Valuable Insights and Analytics
If you really want to make a difference in the market, you must know about your consumer behavior. It includes your customers' preference for products, their problems, feedback on services, common challenges with using services, and what items serve the greatest value and satisfaction to them.
It's challenging for humans to keep track of every nuance of a discussion and even more so to analyze that interaction in order to make changes that would result in better service and more satisfied customers. However, AI-powered chatbots can help you in this regard.
The majority of chatbots currently available on the market are programmed with business logic. They are able to make product recommendations to customers or deliver information about website visitors, which may include valuable business data and analytics.
In addition, integrating chatbots in customer service help you have ready-to-use data. You don't need to store data traditional way. With chatbots, all your data is in text format, making it easier for the management to find significant insights by utilizing either the analytics or business intelligence tools provided by the chatbot software vendor.
8. Accelerate the Rate of Assistance
Thousands of complaints and inquiries are registered by customers today. Addressing every inquiry or complaint that is not humanly possible for a customer support team member. Furthermore, clients who are made to wait too long for an answer are less likely to return to your website.
According to research, nearly 80% of customers look for speedy responses when they contact customer service. Speed contributes to a pleasant customer experience. The elimination of wait periods and the guarantee that each customer will receive the speedy help that customers in today's market have come to expect are both made possible by chatbots' ability to answer instantly.
Even better, even clients who are directed to a human agent's line can indirectly profit from chatbots. Because there will be fewer chats for agents to handle, they will be able to devote more time and attention to customers with complex queries, resulting in faster responses and better service.
9. Reduced Cost of Customer Service
As said earlier, customer service is one of the most important departments of any business. It is a bloodline of any business. It can be considered the lifeblood of any company. The upkeep of a company's customer service crew typically requires a significant financial investment. They hire professionals to handle their customer queries, which drives up their overall cost.
Moreover, when their customer doesn't get a timely response, they simply leave the site. So, businesses in the modern era need to have a business intelligence solution that not only reduces the company's cost but also helps retain customers. And chatbots in customer service are one of the best business intelligence tools that can help you with both reduced cost and satisfied customers.
AI chatbots are able to handle a vast majority of customer service questions without getting tired or bored. This, in turn, helps businesses to expand their operations, retain customers, and save costs.
Having chatbots for customer service eliminates the need to have a larger team of customer support representatives. The AI bots will enable businesses to efficiently manage the rise in the chat activity. Also, it will help them save a significant amount of money by preventing them from hiring a large team of customer service agents.
10. Increased Sales
The primary objective of any business is to have increased sales. AI-powered chatbots have the ability to comprehend what consumers are interested in purchasing and act on that information based on past data.
Chatbots in customer service can upsell and cross-sell items to customers based on their purchase patterns. For example, if a customer is looking for an under-eye cream to remove dark circles, the chatbot can propose the user to buy under eye roll on serum for better outcomes.
Putting it all together…
So, these are the several benefits of integrating chatbots in customer service. Hope these benefits help you make informed decisions. Chatbots are quickly becoming an indispensable component of a comprehensive and reliable customer support strategy.
They are able to provide speedy assistance to your customers, which improves customer interaction with your site. Furthermore, using bots for customer assistance helps cut down on overhead costs while simultaneously increasing customer satisfaction.
We believe that you should also plan to integrate AI-powered chatbots in customer service to reap above mentioned benefits.
Wondering who to approach?
Of course, WeeTech Solutions is your best bet when it comes to having the best business intelligence solutions.
How Can WeeTech Solutions Help You?
Having an AI-powered chatbot implemented for customer service will help your company become future ready. Know that chatbots have changed the way businesses used to operate in the past. They are bringing an innovative approach to numerous facets of the business sector, such as customer service, marketing, sales, and customer engagement.
Therefore, in order for your company to get the most out of bots in terms of improved customer interaction, lead generation, customer insights, etc., you need a SOLID plan.
We at WeeTech Solution can help you with an excellent business intelligent solution that you can use to provide value to your customers.
Our team of experts will first determine the areas of concern and then design a solution for you to help you get the desired benefits.
So, don't put it off any further. Just contact WeeTech Solution and get a unique chatbot for customer service NOW!