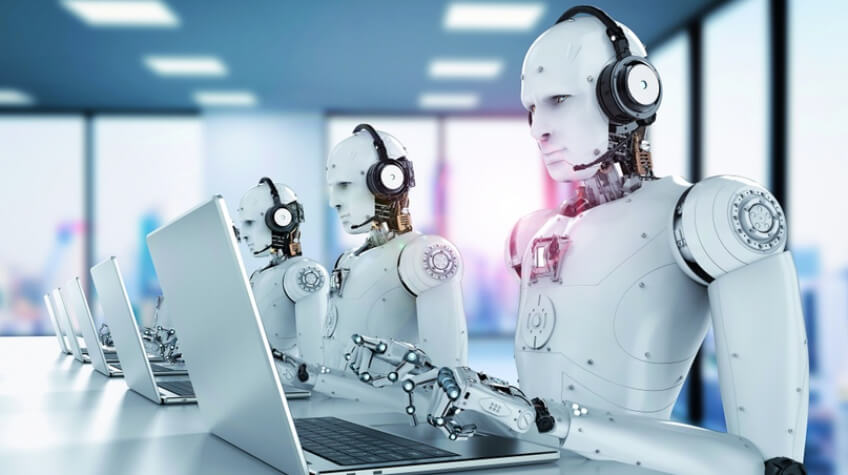 Gone are the days when only the quality of your product and its pricing mattered. Today, the whole scenario has changed. Success is no longer solely determined by product or pricing — customer experience matters now! And, that's the reason more, and more businesses are turning to artificial intelligence (AI) to provide the best customer experience (CX).
Businesses are now understanding how artificial intelligence (AI) can improve customer experience and comply with the demands of modern consumers. Enterprises are implementing Artificial Intelligence
(AI) to break down barriers and create more adaptive processes. It is clear that AI technology is not a passing fad. It is now available, and you can use it to provide satisfying customer experiences.
If you're wondering how to improve customer experience, then you're reading the right post. Here, in this post, we'll discuss 8 ways Artificial Intelligence (AI) can improve customer service.
Let's get started…
Table of Contents
8 Ways Artificial Intelligence Can Improve Overall Customer Service
Providing awesome customer service is the need of an hour. And AI-powered programs can be game-changer for your company, and here is how it can improve overall customer service.
1. Provide personalized customer service
Customer service representatives are tasked with handling a large number of customer calls. Chatbots play a vital role when it comes to addressing these issues. Chatbots not only provide prompt answers with lightning-fast real-time responses, but they can also relieve the burden on human agents by resolving a large number of customer queries with the highest accuracy and human-like behavior.
Chatbots are designed to remain at the forefront of the user, ensuring a smooth experience and preventing any potential problems. They can do anything, from answering frequently asked questions, providing tips, advising during the research phase, and assisting with order placement. All of this will have a significant impact on how your customers perceive and interact with your brand.
2. Increase lead generation
When customers make a purchase, they're actually looking for a seamless process without having to get into any hassle. And AI-powered chatbots can make the process as painless as possible. Chatbots initiate conversations with customers based on their browsing history to expedite the sale and even upsell after the sale.
3. 24×7 customer support
Today's customers want to be served 24×7 at their convenience. They want their favorite brands to be available and responsive to them year-round. Businesses that do not understand this simple thing end up losing their potential customers.
And, AI-powered systems can do that effortlessly. It enables businesses to provide continuous customer service and resolve issues as they arise.
This implies that customers can have their queries resolved 24×7 without having to wait for a response. It increases customer satisfaction and contributes to enhancing brand image and driving greater customer loyalty.
4. Predictive analytics
The process of making predictions using statistics, data mining, and modeling is known as predictive analytics. AI can analyze large amounts of data in a short amount of time, and it uses predictive analytics to generate real-time, actionable insights that guide the next interactions between a customer and a brand.
It entails knowing when and how to interact with each customer and suggesting customer-related products and services accordingly, making the customer experience more relevant and likely to generate a sale, and providing the customer with a stronger emotional connection with a brand.
5. Individualized user experiences
Giving individualized user experience can be a game-changer for your business. And that is only possible if you use AI-powered programs. Automated systems can play a significant role in assisting customers in more efficiently finding the right information. AI can analyze massive data sets, and recommend relevant content to customers based on the information.
AI-powered programs analyze customer data and key metrics and recommend products or services to customers based on their browsing/purchasing habits. Businesses can use this data to understand each customer and accordingly help them with the valuable content they are looking for.
6. Improved customer relationships
Businesses that have integrated artificial intelligence into their systems have improved their customer relationships. They are able to provide their customers with relevant information in a timely manner, which in turn improves both transparency and communication. AI-powered programs quickly scan previous products or services and recommend items relevant to the customer. This, in turn, enhances and streamlines customer interactions and experiences across all channels and result in improved customer relationships.
7. Assist customers in making more informed decisions
Customers now interact with brands across devices, which necessitates personalized engagements to aid the customer's decision journey. AI-powered assistants respond to customer queries instantly, obtain complete product or service details, and assist customers in making the best decisions.
Related: Chatbot Future Trends | Chatbots Market Stats: Size & Growth
8. Smooth coordination
AI chatbots are great for answering frequently asked customer questions. The best part is that they never lose motivation. They can answer your customers' questions round the clock. All of this reduces the amount of time customer service agents spend on tasks, freeing them up to work on more complex tasks that require human intervention. It also speeds up the resolution process by rapidly identifying and delivering solutions.
Bots can provide precise solutions to a specific problem. Suppose the conversations between the customer and the chatbot become too complicated. In that case, the interactions are transferred to a human agent, who provides customers with timely solutions and results in a happy and satisfied customer.
The Bottom Line
So these are the 8 ways artificial intelligence can improve customer service and can help you stand out. If you are still thinking of implementing AI-powered programs, you're simply pushing your potential customers to your competitors.
Believe it or not, AI can help you create memorable customer experiences. AI has the potential to improve the customer experience at every stage of the purchasing process. With an AI-powered program, you can easily understand who your target audience is, their interests, their buying preferences, and so on. Accordingly, you can make strategies to improve the customer experience and your bottom lines.
So, wait no more! It's the right time to opt for AI-powered programs and improve customer service for your business.