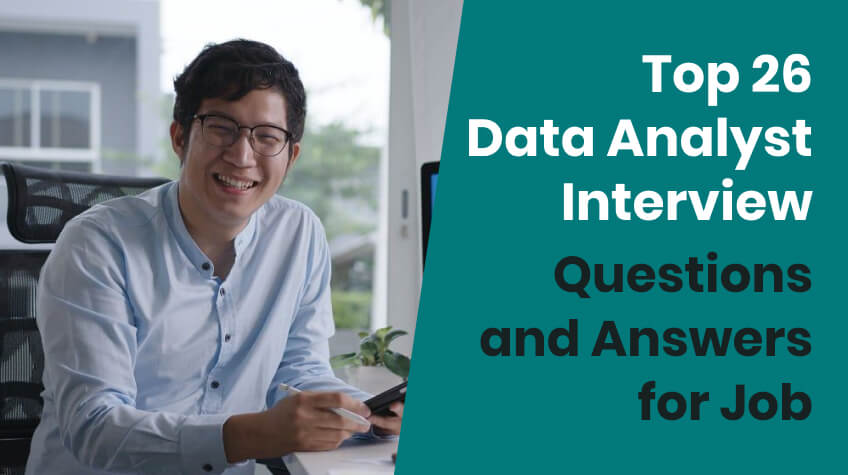 Interviews are crucial parts of the recruitment process. Whether you are planning to hire a data analyst or are preparing to work as a data analyst, the interview is the very first step in that long journey. If you're planning to hire a data analyst for your company or are planning to clear the data analyst interview questions, then you're reading the right post.
In this post, we are sharing some of the top questions that you may expect from your employer or can ask as an employer.
Learn these questions and gain enough knowledge about the nukes and corners of the data analyst role.
Let's begin…
Table of Contents
Why Choose Data Analyst As A Career Option?
Choosing the right career path is essential to elevating your professional life. Hopefully, if you're here, then you might be willing to pursue a data analyst career. Wow! That's great! Yes, in this ever-evolving digital world, the data analyst role secures an undeniable place and becomes a high priority in elevating business.
Thus, selecting it as your career won't be regrettable. On the other hand, you must shape yourself into a deserving candidate and give confidence to the recruiter that you're the best. In that instance, how can you achieve it?
Is pursuing a course helpful? Or gaining knowledge from experienced professionals? Will these things work out? Of course, preparing for an interview is quite different from these things.
Yeah! You need to consider many things and think from different perspectives of the recruiter.
What Is Data Analysis?
Data analysis refers to the systematic process of cleaning, analyzing, interpreting, and presenting data. As a data analyst, you will use various tools and approaches in order to do all these tasks skillfully. Data analysis tools help you discover essential insights that can help your organization in successful decision-making. As a data analyst, you convert the raw data into meaningful statistics, information, and explanations, and the same can be used in making important decisions that can help grow a business.
What Are The Roles Of A Data Analyst?
Data plays a crucial role in the success of an organization. A data analyst is an important part of an organization. They are responsible for analyzing data sets in order to identify solutions to business problems that are related to customers. A data analyst is responsible for effectively communicating this information to management and other stakeholders.
A data analyst possesses the necessary knowledge and skills to transform raw data into valuable information and insights. These insights are then utilized to inform and guide business decision-making processes.
Data analysts are eligible to work in various industries, including business, finance, criminal justice, medicine, science, and government.
So, if you're planning to work as a data analyst, keep reading this post.
Roles And Responsibilities Of Data Analysts
Here are the roles and responsibilities of Data Analysts:
A data analyst is responsible for organizing data related to various areas, such as sales numbers, market research, logistics, linguistics, and other behaviour.
They utilize their technical expertise to ensure that data is accurate and of high quality.
They analyze, design, and present data in a manner that helps individuals, businesses, and organizations make more informed decisions.
They utilize automated tools for data extraction from primary and secondary sources.
They are responsible for removing corrupted data, fixing coding errors, and resolving related problems.
They specialize in the development and maintenance of databases and data systems.
They conduct an analysis to evaluate the accuracy and significance of the data.
They review reports and performance indicators in order to identify and correct any code problems.
They utilize statistical tools for identifying, analyzing, and interpreting patterns and trends in intricate data sets.
They assess and compare business performance over different time periods.
They analyze and examine the local, national, and global trends that have an impact on both the organization and the industry.
They prepare and submit regular reports to the management, which include their analysis of trends, patterns, and predictions based on relevant data.
They collaborate with programmers, engineers, and management leaders to identify opportunities for process improvement.
They prepare comprehensive analysis reports that help organizations and other stakeholders make informed decisions based on various facts and trends.
Lastly, they carefully examine the data in order to identify and recognize patterns and utilize data modelling techniques to summarize the key characteristics of the data analysis process effectively.
Detailed Article: Data Analyst Roles and Responsibilities: Be A Data Analyst
Industries Where Data Analysts Work
Data analysts are responsible for collecting and analyzing information, which is beneficial for many industries, such as
Healthcare
Finance
Retail
Media and entertainment
Education
Fashion
Marketing
Manufacturing and supply chain
Travel and Tourism
Real Estate
Let's now take a look at the top data analyst interview questions. Here we go…
Top Interview Questions for Data Analysts
Here is our comprehensive list of interview questions and answers for data analyst role. Take a look…
1. Why Do You Want To Become A Data Analyst?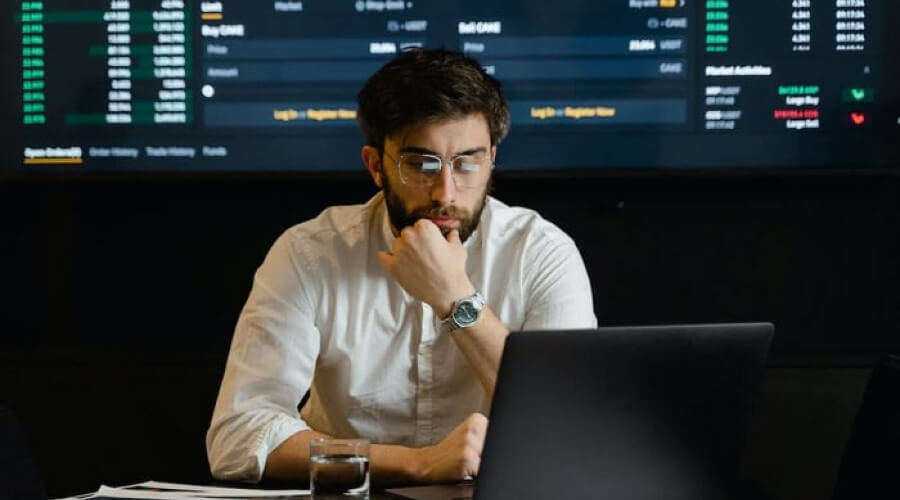 Curiosity and enthusiasm for solving problems are one of the main reasons to choose this occupation. Being a data analyst is a challenging thing that is also an emerging field in digital marketing. Moreover, data analysts play a crucial role in elevating the business to the next level. Whether it is a new start-up or an established company, analysts efficiently examine information and derive strategies according to the latest trends.
2. What Do You Think Are The Major Responsibilities Of A Data Analyst?
Data analysts need to use the best tools for analyzing and extracting data from primary sources. After a deep analysis, they must gather data to derive a strategy and lead the business on a successful path.
They should know how to rearrange, develop, and maintain data in a database system properly. Ensure to analyze the data according to current trends based on business requirements.
Data analysts need to be well-versed in data cleansing, data mining, and data storage structures.
3. Why Is Communication A Good Asset For Data Analysts?
Conversing efficiently is the most important thing to ensure. As a data analyst, you need to maintain transparency in your work and collaborate with other team members to achieve better results. Most importantly, the friendly approach towards other members gives them confidence and makes them more comfortable. For a data analyst, communication skills are essential to elaborate on data for everyone in the team. However, along with communication, data analysts must be well-versed in other technical skills.
4. What Are The Different Types Of Data Analysis?
The four categories of data analysis are descriptive, diagnostic, predictive, and prescriptive.
5. Explain Different Types Of Data Analysis.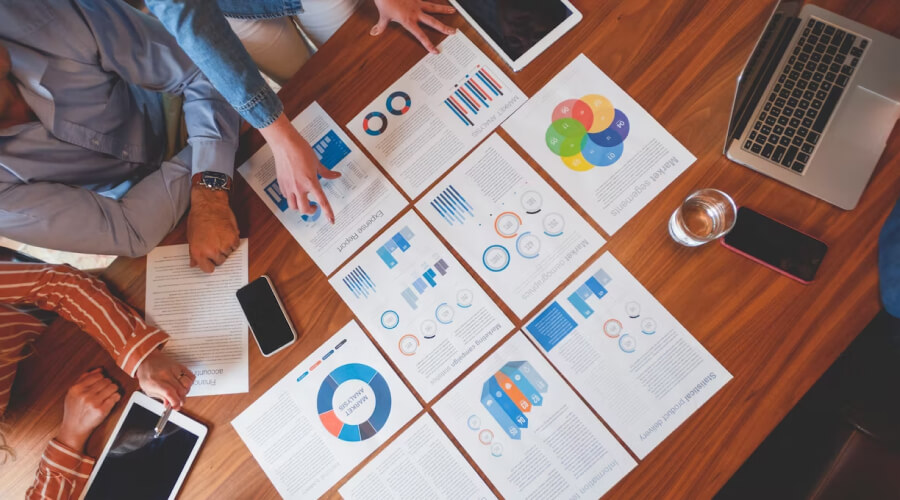 In this answer, you will need to explain all four types of data analysis.
Descriptive Analysis: This type of analysis involves summarizing the main features of the data set.
Diagnosis Analysis. Diagnosis analysis primarily helps to understand the cause and relationship between various data.
Predictive Analysis: As the name says, this type of data analysis uses historical data to predict future outcomes.
Prescriptive Analysis: Prescriptive analysis suggests actions or decisions according to prediction results.
6. Do You Think A High Level Of Math Ability Is Important For This Role? And Why?
Yes! Data Analysts require great mathematical knowledge to succeed. This is because analysts need to derive data from statistical as well as pictorial datasets. Thus, sufficient knowledge of math is essential to emerging as the best data analyst.
7. Which Are The Best Tools Required For Data Analysis?
There are several tools used for data analysis; however, the best ones are:
R and Python
Tableau
Microsoft Excel
Power BI
Apache Spark
QlikView
RapidMiner
KNIME
8. What Are The Tools That You Have Used In Data Analysis?
As a data analyst, you might know the names and information about these listed tools.
R and Python
Tableau
Microsoft Excel
Power BI
Apache Spark
QlikView
RapidMiner
KNIME
These are highly used tools in the industry to handle diverse analytical tasks.
9. SAS Or Microsoft Excel, Which One Do You Prefer And Why?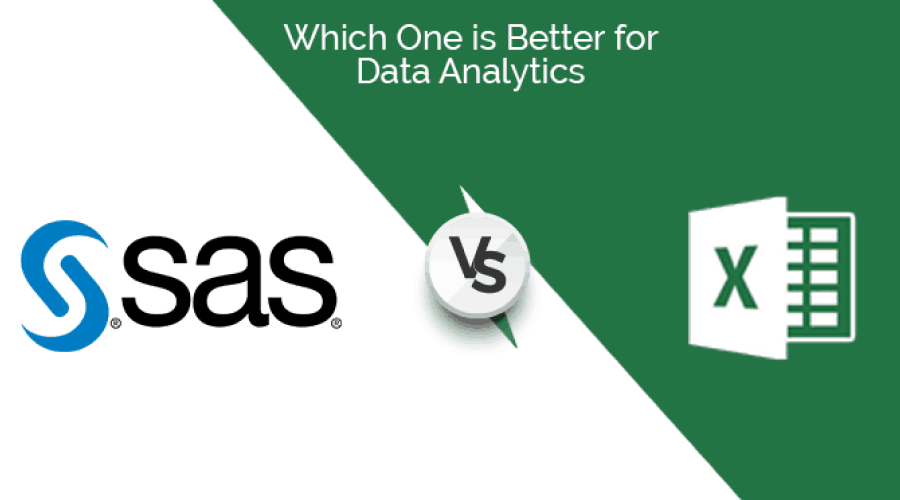 In the comparison of SAS or Microsoft for data analysis, SAS is the most efficient tool to work with. It is perfect for high-performance analytics or big data, and Excel wasn't designed for intense types of analysis.
SAS can be used for:
Modify Data
Compute Simple
Complex Statistical Analyses
Create Reports
It would be beneficial for you to share your perspective on this question and provide an explanation of the tool you prefer. The response should effectively convey to your interviewer that you possess firsthand knowledge. It would be great if you could provide real-life examples of how you have used any of these skills in your job and how they have benefited you.
10. Define The Term 'Data Wrangling In Data Analytics.
Data wrangling (data munging) is the process of organizing, cleaning, structuring, and enriching raw data to simplify analysis and visualization. It helps to make the raw data useful and gives the best results. In simple words, it combines the complex data set and removes errors to make the overall analysis process easier.
11. How Is Data Mining Different From Data Profiling?
Data mining and Data profiling are powerful techniques, and the main difference is as follows:
Data Mining is the process of discovering patterns, insights, relationships, and machine learning algorithms. It has two main types, such as
Descriptive Data Mining
Predictive Data Mining
Data Profiling is the operation of examining and analyzing data for various purposes, such as
Determining its accuracy
Completeness
Consistency
Timeliness
Relationships
12. What Is Exploratory Data Analysis (EDA)?
Data scientists use the EDA technique to manipulate the data effectively. It helps to understand each variable and their relationships in datasets clearly. EDA has steps like discovering data patterns, spotting anomalies, testing hypotheses, and verifying assumptions. Moreover, it gives information about reports and insights into the data.
13. List Out Some Of The Sampling Techniques Used By Data Analysts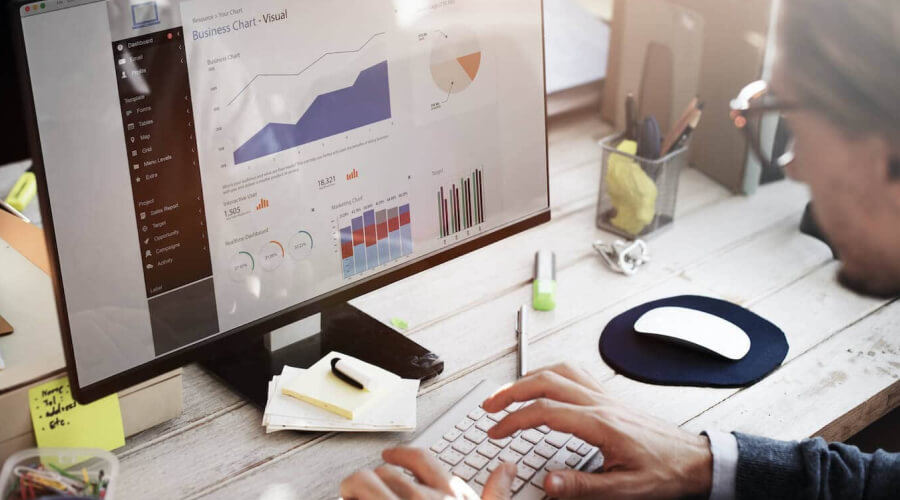 It's a common technique that tests subsets and runs experiments to conclude that a large group of the population Several sampling techniques are available, but data analysts mostly prefer
Simple random sampling
Systematic sampling
Cluster sampling
Quota sampling
Multistage sampling
Stratified sampling
Judgmental or purposive sampling
14. Briefly Explain Cluster And Quota Sampling Techniques In Data Analytics
Cluster
Cluster is the probability sampling method that examines and analyzes a large group of the population by classifying it into clusters, i.e., small groups. It saves the analysts time and helps them draw conclusions for larger groups within a short period of time.
Quota
It is a non-probability sampling method that helps to investigate a particular subgroup's characteristics or relationships between various subgroups. Controlled quota and uncontrolled quota sampling are the two different types of this method.
15. What, According To You, Is The Most Challenging Part Of Data Analysis?
As we all know, data is a very crucial part of any business. It plays an indispensable role in the company's decision-making. As a data analyst, we have to be attentive. Sometimes data analysts face many challenges while analyzing information, such as:
Handling duplicates, data purging, and storage problems
Collecting meaningful data and selecting the right analytical tool
Gathering data from multiple sources and examining low-quality data
Data inaccessibility and dealing with compliance issues
Making data secure
16. What Are The Disadvantages Of Data Analytics?
When discussing the disadvantages of data analytics, there are a few things to mention. They are,
It causes a breach of user privacy and information.
Some tools are complex, and you need proper training.
Choosing the right tool is a great challenge, and it becomes easy when you excel in the skills.
17. What, According To You, Are The Traits Of A Good Data Analyst?
To become a successful data analyst, you need to be well-versed with the following traits:
Presentation skills
Attention to detail
Communication and problem-solving
Creative things and predictive analysis
Deriving data-driven strategies
Teamwork and open-minded
Knowledge of tools
Check this article: Data Analyst vs Data Scientist: Which Is Right For You?
18. Explain Data Analytics With A Real-Time Example
Data analysts gather, clean, and examine the information to visualize and present the data to other team members. Plus, analysts also derive data-driven strategies to enhance the business.
To give an example, you can consider wearable devices that track the health of every individual and provide statistical data.
Analysts in the healthcare field examine it, and with these instant updates, they identify their health condition. These things can safeguard the users' lives and help them keep track of their health conditions.
19. Which Tools Are Often Used In Data Analysis? Why Are They The Best?
Tools play a crucial role in the overall data analysis process. It assists analysts in providing the best results.
Tableau
Tableau is a data visualization tool that creates data dashboards and worksheets. It can be considered for great visualizations, speed, interactivity, and mobile support.
Python
It is a widely used programming language that is easy to learn and highly versatile. Python tool uses everything from data scraping to analysis, and it focuses on readability.
R
R is the most used tool for statistical analysis and data mining. It is a popular open-source programming language that is highly compatible and platform-independent.
Microsoft Power BI
Power BI is a new tool that helps to visualize data. With a minimal learning curve, Power BI allows users to create interactive visual reports and dashboards.
KNIME
KNIME is one of the open-source and cloud-based data integration platforms. It can be great for visually-driven programming and organizations that have limited budgets. Moreover, it is popular among analysts for its flexibility and scalability.
20. What Is Data Visualization?
Visualizing data is a significant part of data analytics. It is the pictorial or graphical representation of data like charts, plots, infographics, etc. Data visualization gives you a better understanding of the data and helps you communicate effectively during the presentation. Such things lead to the development of data-driven strategies to develop any business or organization.
21. Name Some Popularly Used Data Visualization Tools. Why Do You Think These Tools Are So Popular?
Try to list the visualization tools that you've used so that you can elaborate on them in the right way. However, here is the common list; utilize it.
Tableau
QlikView
Google Data Studio
Plotly
SAP Lumira
IBM Cognos Analytics
Matplotlib (Python library)
You should also explain why these tools are useful and so popular. Your answer about these tools can help you leave a good impression on your employer.
Let's now take a look at some questions for freshers. Here we go…
TOP 5 QUESTIONS FOR FRESHERS
Hope you explore the above-listed questions. If you're a fresher, then utilize this section and learn about some basic questions.
22. Define Data Cleansing
Data cleansing, or scrubbing, is all about processing the data. You'll fix or remove the incorrect, corrupted, duplicate, incomplete, or incorrectly formatted data within a dataset. In general, there are eight effective steps available to cleanse the data.
It includes removing duplicates and irrelevant data, standardizing capitalization and covert data types, clearing formatting, fixing errors, translating languages, and handling missing values.
23. Define Outliners
In simple words, outliners are considered an extreme value. It has huge importance in data analysis. Outliners urge the analysts to perform data analysis once again, which leads to generating accurate results. On the other hand, you can also get biased results. So, data analysts need to be more conscious than before and give better results.
24. What Is Data Validation?
It refers to checking the accuracy and quality of the data before initiating the data analysis. Validating data from different sources is the most essential thing to get better results.
25. What Are The Different Sources Of Collecting Data?
Analysts gather data from primary and secondary data sources, where primary data comes from surveys and interviews, and secondary data comes from internal and external sources. i.e., organizations and government agencies. And you can consider data from websites and other digital sources.
26. Why Do You Think You Suit The Data Analyst Role?
For this question, speak from your heart and tell about your traits and skills that match the data analyst role. Such things will give the recruiter confidence and make them think you're the best. Plus, explain your interest and show your enthusiasm by asking productive questions.
For example, how can you do justice to the analyst role, and how should you perform as a data analyst? Asking these questions shows your curiosity and helps you bag the role.
Bonus Question: Why Should We Hire You?
If you are a seasoned professional you can talk about all your achievements and past experiences here and how all of that can benefit the company if they hire you.
As a beginner, you might feel that you don't have anything to say on this. However, here, you can always explain how you can benefit the company with your skillset. In addition, you can even include your internship project (if at all you have done any), or something related to the field that can help you leave a good impression on the employer.
Also Read: Front End Developer Interview Questions and Answers
Final Words
So, these are the top 26 questions and answers for data analysts. You can consider using this article to shape yourself into a deserving candidate for the data analyst role. With these questions, you can be sure of clearing the interview successfully.
Make sure to understand every question and give a detailed explanation. To create a lasting impression, you need to ensure everything, including your dress code, documents, etc., are in place. Also, make sure to stay positive and have a smiling face. Ensuring these things will not only help you get the job but will also give confidence to the recruiter. You can make a checklist of everything in advance, prepare for the interview, and be cool to stand tall among others!