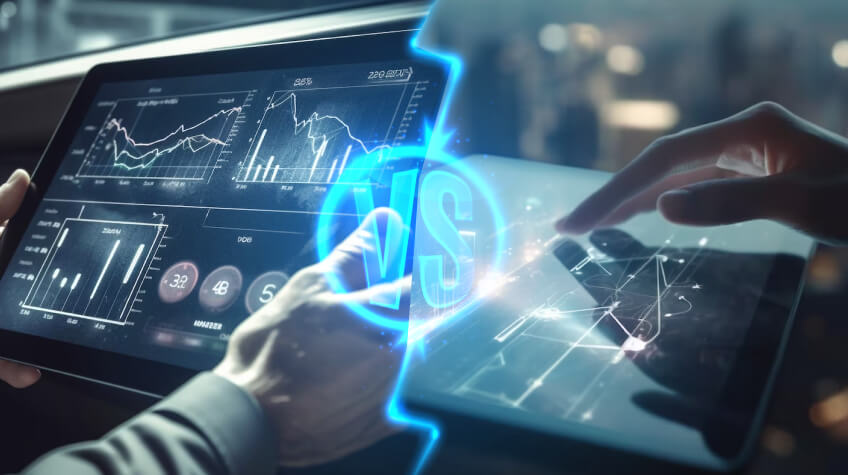 Are you juggling between the two career options: Data Analyst vs Data Scientist?
Have you completed your studies? Or are you looking for better options to switch careers?
Whatever the case, take a glance at the comparison between data analysts and data scientists. This comparison will give you a clear idea about the two. This article also outlines personal traits that help you make better decisions in your life.
Choosing the right career may seem daunting. However, it is one of the most important decisions you will ever make.
The good thing is that in today's world, whether you are a newcomer or experienced, there is no dearth of opportunities. There are dozens of opportunities in hand for you. Definitely, it is a boon; however, it is a primary cause of lots of confusion in some cases. Yes! Some job seekers want unique options to get fulfilment and the highest pay at the same time. On the other hand, some people always need a job with a guarantee and high pay.
Are these things possible? What do you think?
Yes, for sure, if you're a hard worker, learner, and interested in doing smart work, then earning in dollars won't be a big challenge.
Plus, you ought to be more conscious about choosing the career path; considering high pay as the top priority instead of passion won't uplift your life. So be comfortable with what you're selecting and make a move towards your interest.
In this article, we are going to discuss two trending topics. Data analysts vs. data scientist comparisons give you an idea of the current status of these fields. Thus, stay updated to fix your path on the right track! Without further delay, let's get started.
Before we move to the comparison, let's first understand the importance of Data.
Importance of Data
For over a decade, data has been playing a dominant role in shaping the world. Everything, from uploading posts to streaming films on TV, relies on collected data. It is becoming increasingly recognized as an essential component of the overall development in any field. Organizations, businesses, educational institutions, and electoral processes generate substantial profits by collecting and utilizing data, which refers to a comprehensive collection of information.
However, there are many jobs available related to data. Some of them include business intelligence analysts, data engineers, business analysts, and other sub-classified fields. All these job roles come either under analysts or scientists.
Now, let's delve further into the comparison between Data Analyst Skills vs. Data Scientist Skills. We will consider various factors, such as job responsibilities, salary, and functionalities, and examine them in detail. Here we go…
Data Analyst vs Data Scientist
Analysts and scientists have distinct roles in processing and analyzing data or raw information. They employ different methods to derive strategies and improve performance.
➤ Main Objective
Data Analysts examine data, offer insights according to the business, and make data-driven decisions.
Data Scientists apply statistical and computational methods to get insights from data and derive predictive models.
➤ Responsibilities
Analysts need to collect, clean, and organize data using statistical methods to visualize data and create dashboards.
Scientists gather and analyze complex and large data sets to develop predictive models and algorithms and interpret data visualizations.
➤ Industry Focus
Analysts work in more fields, such as finance, marketing, healthcare, retail, and business.
Scientists are generally placed in the tech, marketing, finance, and healthcare industries.
➤ Skills
Analyst requires proficiency in fundamental things such as data collection, clearing, analysis, and visualization and is expected to be well-versed in Excel, SQL, and Tableau.
Scientists, on the other hand, need to be strong in mathematics, statistics, and programming. In addition, professionals need to be well-seasoned in big data tools, data visualization, and machine learning.
➤ Personal Traits
Patience is the key to analyzing and gathering data from the more complex groups. However, you can become a data analyst or data scientist if you have these personal traits.
Want to be a data analyst? If that is the case, then it seems like you possess the qualities of a critical thinker and problem solver. Furthermore, it is important to have the ability to prioritize tasks and effectively organize a sequence of events. In addition to these trains, it is also crucial to possess qualities such as strong presentation skills, a curious nature, meticulous attention to detail, a data-driven mindset, and a genuine interest in learning new things.
Data scientists, on the other hand, should be open-minded, creative, critical thinkers, problem solvers, and eager to learn new technologies, programming languages, and attention to detail with effective communication.
Data Analyst
At first, let's know about the data analysts, and then move on to the data scientists.
➤ What Is Data Analysis?
Before knowing about analysts, you must be aware of data analysis. Yes! To withstand others in the data analyst field and stay at the top, even if you're a fresher, everyone should know about data analysis.
It is the process of converting raw data into a useful form that helps to understand the user's intention and their decision.
If you are looking to promote your business through social media pages, it is important to have a good understanding of the strategies involved. Isn't it? Yes! Data analysts must possess the skills to effectively gather data and analyze its insights in order to develop a distinctive strategy.
➤ What Do Data Analysts Do?
As everyone knows, data is a collected piece of information about a particular field or sector. And data analysis includes 5 different steps:
Identifying business queries
Collect and store data
clean to prepare data
Analyzing data
visualize and communicate
With the help of well-versed tools and equipment, data analysts observe and examine the gathered information.
➤ Eligibility
To be a data analyst, you should have a degree with a minimum of 50% marks. Yes, having a degree in aggregate science or an equivalent field such as computer science is highly desirable. Additionally, higher grades serve as an advantage.
➤ Roles and Responsibilities
As previously stated, the data analyst organizes the data based on various fields and factors. They must ensure the data is accurate and of high quality, and they must lead the organization or business on the right path.
As analysts, you need to extract data from primary and secondary resources.
Develop and maintain databases and data systems.
Examine the quality and meaning of the data.
Need to use statistical tools to identify, examine, and interpret patterns and trends.
Analyze local, national, and global trends, prepare reports, and collaborate with programmers, engineers, and other talented individuals to improvise the process.
Once you're well-versed in the data analyst job roles and responsibilities, you can move on to the next level as a proficient data scientist.
Detailed Article: Data Analyst Roles and Responsibilities: Be A Data Analyst
➤ Essential Skills Of Data Analyst
Do you want to become a data analyst? Then, get ready to be well-versed in these skills.
Data cleaning
Analysis and exploration
Statistical knowledge
Creating data visualization
Create dashboards and reports
Writing and communication
Domain knowledge
Problem-solving
➤ Tools for Data Analysts
Typically, tools play a vital role in examining and investigating different problems. In that instance, data analysts use different tools and software to analyze, clean, collect, and visualize data. This is the list that assists the analyst and reduces their burden.
Microsoft Excel
SQL (structured query language)
Python
R
Power BI
Tableau
➤ Types of Data Analysts
Data is ubiquitous across various fields, ranging from local grocery shops to the vast stock market. Information is highly valued by everyone, and the role of data analysts is crucial in numerous fields. Let's now take a closer look at the different types of Data Analysts.
Medical and Health Care Analyst
Market Research Analyst
Business Analyst
Operation Research Analyst
Business Intelligence Analyst
Intelligence Analyst
Quantitative Analyst
IT System Analyst
Job responsibilities might vary according to the work environment and position, but analyzing data will be the fundamental role.
➤ Data Analyst Salary
As is commonly understood, salary is not a constraint for a qualified candidate; every individual aspires to receive a high level of compensation. Therefore, it is beneficial to compare the salaries of data analysts and data scientists in order to make an informed decision and choose the more favourable option. Let's determine which option is the best.
The annual salary for the senior analyst is 27 lakhs INR, while the lead data analyst earns 23 lakhs INR per year. The initial salary ranges from 1.7 lakhs INR to 11.5 lakhs INR. The specific details will vary depending on factors such as the workplace, location, experience, and performance.
Data Scientist
To be a data scientist, you need to have a prior experience. It is because this role is not an entry-level job because professionals need to handle large sets of complex data and organize them accurately. You need to be well-versed in mathematics and computer science and should have abundant knowledge of discovering the latest trends.
➤ What Do Data Scientists Do?
The duties of data scientists are quite similar to those of analysts. They use the gathered data to understand and examine the requirements of the company and make better decisions accordingly. The following are the tasks and responsibilities that fall under the purview of a Data Scientist's work:
Understand the problem
Extracting and cleaning data
Works on exploratory data analysis
Feature section
Incorporate machine learning algorithms
Testing and deploying the models
From this, you get an idea about their job role and how they effectively analyze the data and derive strategies. To get more clarity on these things, keep reading.
➤ Eligibility
To pursue a career as a data scientist, one may get a master's or Ph.D. degree in a quantitative field from an esteemed academic institution. It encompasses disciplines such as statistics, mathematics, computer science, and other technology-related fields. Enrolling in a data scientist course would be highly beneficial for gaining a comprehensive understanding of the concepts involved. Additionally, having this experience is a valuable asset to include on your resume.
➤ Roles and Responsibilities
As mentioned above, data analysts must be well-versed in analyzing data that helps to derive successful strategies for business development or establishing an organization.
You need to work on analyzing, collecting, and preprocessing data.
According to the business problems, data scientists must build models.
Examine extensive, complex data sets to gather information and discover trends and patterns.
Build predictive models and algorithms.
Present information using visualization techniques.
Collaborate with engineers and development teams.
Hopefully, you have got enough clarity on the roles and responsibilities of data scientists. However, it is important to note that a data scientist is a more advanced role, while an analyst is typically the starting point in this field. Therefore, it is important to strive for a thorough understanding of the responsibilities and effectively carry out the tasks of a data analyst.
➤ Essential Skills of a Data Scientist
Try to enhance these skills so that you can have a knack for it.
Learn programming languages like Python, R, SAS, and SQL
Statistical and probability
Cleaning and organizing complex data sets (data wrangling) and database management
Machine learning and deep learning
Data visualization and cloud computing
Knowledge of handling tools and equipment
➤ Tools for Data Scientists
Here are some tools that most data scientists use more often. These tools help data scientist simplify the process and enhance the quality of their output.
RapidMiner
Apache Spark
Matplotib
Tableau
Tensor Flow
SAS
BigML
Excel
MAT LAB
ggplot2
➤ Different Data Scientists Roles
Just like data analysts, data scientists also have various classifications. It includes,
Machine Learning Experts
Actuarial Scientists
Data Warehousing Experts
Data Engineer
Data Mining Expert
Data Visualization Expert
Cyber Data Scientists
Spatial Data Scientist
Cloud Computing Expert
➤ Data Scientist Salary
Many young individuals depend on their salaries and compare the salaries of data analysts vs. data scientists to determine which profession is better. However, the salary of a data scientist is significantly higher than that of an analyst. The Data Scientist's salary starts from 3.6 INR and goes up to 25.0 lakh INR.
The salary range for a lead data scientist can vary from 24 lakhs INR to 1 crore INR. A higher-than-average salary is subjective and can vary based on each individual's experience. Additionally, depending on the workplace, there may be a possibility of pay differentiation. Therefore, make your selection carefully!
Also Read: How to Become a Data Scientist- Steps
Which Is The Best? Data Analyst Or Data Scientist
When it comes to deciding which is best, Data Analyst vs. Data Scientist, it all boils down to the experience you have, the qualifications you have, and so on.
Both are undoubtedly greater options for people keen to work in Data management. Whatever you choose, make sure you have an unwavering passion for data and an insatiable curiosity to learn new things. These are going to be your truly invaluable assets.
Embrace the path that resonates with you the most and unlock your full potential to discover the new world that lies beyond data. Whether you are a data analyst or a data scientist, it is important to assess your essential skills, stay updated with the latest trends, continuously learn new things, and consistently progress in your career. Furthermore, it is important to select a path that aligns with your unique qualities and characteristics. By doing so, you can serve as a source of inspiration to others by pursuing your own aspirations and goals.
Wrapping it up…
So, there you have it: The comparison between data analyst and data scientist. Hopefully, this article has been informative for you, and the comparison of diverse things about two different career paths, i.e., data analyst vs data scientist skills, will help you have insights on both the two. Stand high as a decision-maker in your personal as well as professional life and choose the right path.