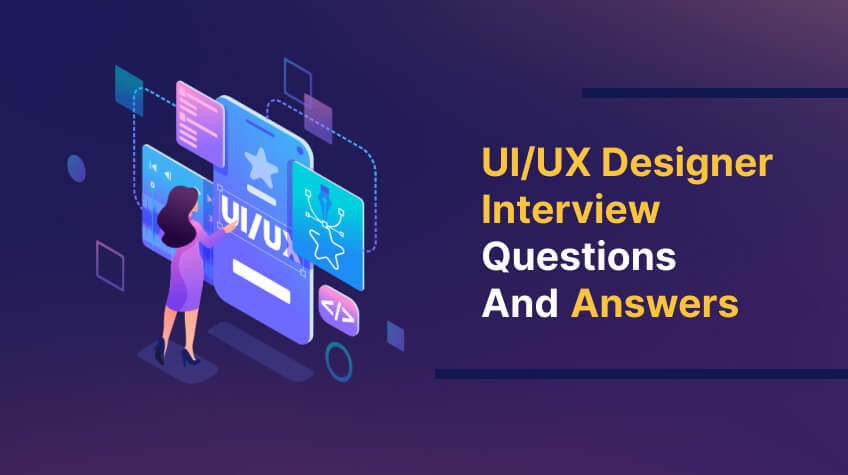 Ever since UI and UX have become crucial, UI and UX jobs have been in trend. More and more companies are now looking for seasoned UI/UX designers in order to develop apps that stand out. However, UI UX job interviews can be nerve-wracking. Therefore, it's crucial to prepare yourself in advance. The best way to prepare yourself for a UI UX job interview is to have a firm understanding of interview questions and answers for UI UX designer.
Spend some time preparing for your next user experience (UX) designer interview. Having a complete understanding of UI interview questions can help you easily crack your interview. In fact, preparing UI interview questions and answers and UX interview questions and answers in advance can help you significantly.
In this article, we will discuss some of the most common UI / UX designer interview questions for freshers and seasoned UI/UX designer positions. We will discuss what the interviewer wants to know and offer advice on how to formulate your responses so that you and your portfolio stand out.
Let's get started…
TOP 25 INTERVIEW QUESTIONS & ANSWERS FOR UI UX DESIGNERS
Here is our list of top 25 UI interview questions; take a look…
1. What Sparked Your Interest in User Experience?
Ans: This is one of the most common UX user interview questions. It is asked in a lot of different interviews, including UI/UX designer job interviews. This is your chance to tell your potential employer about your experience working in user experience design.
What first piqued your interest in User Experience, was it? Which aspects of your past work or academic experiences most strongly influenced your decision to pursue a career as a user experience designer?
It is not necessary for you to have any prior experience working in the field of UX design. However, if you have, then it's best to talk a bit about the user experience design talents you may have utilized in previous employment and how you may apply those skills in the current organization (if selected).
Also, this is your opportunity to discuss the aspects of the job you like the most and the reasons you believe you are the most qualified individual for the position.
Other Article: Top React JS Interview Questions and Answers: You Need to Know

Also Read: Top Node JS Interview Questions and Answers
2. Define UX?
Ans: Now this is a tricky question. Of course, your potential employer is not looking for a bookish answer here. Trust that your interviewer is already well-versed in what UX is. In scenarios like this, it's advised to use examples from real-world scenarios to explain UX. There are various organizations that have gained immense success after changing or enhancing their UX. Some of the companies include Airbnb, Amazon, Netflix, and so on. You may consider explaining to your potential employer why and how you agree with these brands' decision to devote their time, effort, and money to improve UX.
Make sure to emphasize how a great user experience design (UX design) can help make websites, applications, and other products as user-friendly as possible for the customer.
3. How is User Experience (UX) Design Different From Other Types of Design?
Ans: This question is often posed as a follow-up to "How do you define UX design." This may seem a little tricky; however, understand that your potential employer does not want you to define each and every design discipline here. Rather, he is interested in hearing your thoughts on where you see UX fitting in.
The key to successfully answering this question is to communicate that user experience design (UX) is focused on making things useful, whereas user interface design (UI) and other design disciplines are focused on making things attractive (think font, colours, and specific layouts).
The User Experience (UX) and the User Interface (UI) may be handled by the same company or by separate teams, depending on the business. It is essential that your potential employer is aware that you are able to differentiate between user experience (UX) and user interface (UI). Consider providing an example of a project you worked on with a UI team in the past if you have prior experience working as a UI designer.
Describe the process that you and your team went through to make the application both aesthetically pleasing and fully functioning. If you have the project in your portfolio, then it's best to walk your interviewer through the process.
4. What Do You Understand by "Design Thinking?"
Ans: This is one of the most important technical interview questions and answers. Often interviewers ask this question in order to understand your knowledge about design thinking. Consider explaining to your interviewer how "design thinking" centers on the wants and experiences of individual people as its primary considerations.
Design thinking is a process that promotes the development of novel solutions by including elements such as empathy, creativity, and prototyping. There are five unique phases that can be used to solve a problem utilizing this method.
The first step in the empathize phase is to get a profound comprehension of the issue by imagining oneself in the position of the user. This can be accomplished through user research, interviews, and observation.
Then comes the define phase, where the problem is precisely explained. The SMART (Specific, Measurable, Achievable, Relevant, and Time-bound) framework is utilized during this phase.
In the ideate phase, creative solutions are developed through activities such as brainstorming and sketching before moving on to the next step.
The next step is called prototyping, and it involves creating physical representations of the concepts, which can range from simple sketches to fully-functional models.
The final step of the process is known as the test phase. The prototypes in question are put through their paces by users, who then provide constructive criticism that can be used to improve the solution as a whole.
In order to get to the bottom of a problem, it's important to ask solutions-oriented, open-ended questions like, "What problem could this address for you?" "How could this solution impact your experience?" or "What could be done to make it an even better solution?"
5. How Do You Go About Designing Things?
Ans: This is yet another important UI user interview question that interviewers ask. This is your opportunity to walk the interviewer through the process. Yet, your interviewer wants to walk him/her through what your design method is.
Instead of using some hypothetical examples, it's advised to guide the interviewer through real-life examples. It is fine if you do not work on every phase of the procedure; nonetheless, you should make sure to touch on each step so that the interviewer knows you are familiar with the process.
Also, it is suggested to take a user-centered approach. It will help you demonstrate your awareness of both the goals of the customer and the goals of the company. Know that different UI designers utilize different approaches. You have the freedom to explain your approach, which is perfectly acceptable. All you have to make sure is that you provide a reasonable justification for why you approached the project in the manner that you did.
6. How Do You Go About Selecting the Features of Your App?
Ans: This is one of the most important UX interview questions that you must be aware of. Of course, the solution is dependent on the circumstances. We strongly suggest illustrating a real-world example that highlights the process. Describe your approach to the person conducting the interview. Be sure you address the user needs and company goals in a crystal-clear manner, and take the interviewer through the following step-by-step process:
Who exactly is the intended customer base?
What are the objectives of the target market?
What problems will be addressed by the features for those who fall into the target market?
You might also talk about how you validate design decisions based on the findings of user research.
7. What Do You Do to Understand Your Customer's or Client's Needs?
Ans: This is one of the most asked UX/UI interview questions. This is a critical question. Of course, you will need to take a customer-centric approach in order to answer this question.
As you are aware, user experience design is distinct from other areas of design as it places an emphasis on the end user. Consider telling the interviewer that you "always have your customer hat on." Also, demonstrate to him how you do it to make a huge impact on the interviewer.
8. Do you Use a Particular Research Methodology Before Embarking on a New Project?
Ans: There are several responses one might provide to this question. The first step is to maintain an honest demeanour. Explain to the interviewer the many kinds of research that you normally conduct. Tell your interviewer how you use online surveys and other offline methodologies, such as in-person interviews, to conduct your research. Demonstrating that you are conversant with the methodology of research is an essential component of this part. Discuss the strategies you now employ, the strategies you wish you could utilize, and the benefits and drawbacks of each approach.
9. What Are the Greatest Obstacles You Confront as a UX Designer?
Ans: Of course, every profile has its own pluses and minuses. No matter how much experience you possess, obstacles are part of every profile. There will always be challenges that every designer strives to overcome in a meaningful manner, regardless of their career stage. It's your opportunity to characterize the obstacles that you encountered. Also, explain how did you overcome them.
10. How do You Respond to Negative Criticism?
Ans: Undoubtedly, this is a tricky question where an interviewer wants to check your level of patience and your outlook towards criticism. When it's about UI or UX, negative feedback is pretty common. You should explain that you are open to any and all input since it helps you become a better user experience designer. Give an example or two of how you dealt with criticism directed towards a project that you worked on and describe the situation. You can consider telling your interviewer how you used to deal with your previous employer's negative input.
You can tell your interviewer how negative feedback opens up doors for improvement and how you learn to do better.
Check Out: Bad UX Design Examples And How To Fix Them
11. What Sets a User Interface Designer (UI) Apart from a User Experience Designer (UX)?
Ans: People who specialize in making user interfaces and websites look appealing are called user interface designers (UI designers). UI designers are responsible for the creation of aspects that are aesthetically pleasing. They take care of the aesthetics of the site, including fonts, colours, icons, and the layout of everything on the screen. Their objective is to make the user interface aesthetically pleasing and consistent with the aesthetic of the brand.
On the other hand, user experience designers (UX designers) focus on the overall experience that users have while interacting with a product or service. A user experience designer is responsible for considering how everything interacts with one another as well as how users will move about the interface. They take into account what users require, what it is that users want to do, and how to make it simple for users to perform those things.
Despite the fact that UI designers and UX designers specialize in distinct areas, they collaborate very closely in order to produce an excellent user experience. A user interface (UI) designer ensures that a product has a pleasing visual appearance, while a user experience (UX) designer ensures that the product functions correctly and is simple to use.
12. What are the Most Prominent Current Trends in the UX Design Industry?
Ans: This is one of the most important UX interview questions that you must be aware of. It is your opportunity to express your knowledge and enthusiasm toward the latest trends in the UX design industry. Your answer will help your interviewer understand how aware you are of the latest trends.
Tell your interviewer about all the latest trends and what you do to stay current, such as reading UX blogs and books, subscribing to UX podcasts, attending webinars and online training courses, etc.
Know that the potential employer is looking for someone who stays updated and is forward-thinking. You may consider discussing new use cases beyond displays or how designing for accessibility is one of your areas of interest.
Aside from that, you may explain the latest tools that are useful for UX designers and developers. You may explain to the interviewer about the evolving trend and how these trends can help designers to stand out.
13. What do you do When Your Client Doesn't Like the Design?
Ans: In such a scenario, a skilled UX designer demonstrates considerate caution. Explain how you take it as an opportunity to delve deeper and discover the true reasons why a client may not like a design. You should be objective while answering this question. Explain how you rely on prior knowledge, verified and validated principles, white papers and studies, best practices, standards, and design conventions. Consequently, you should be able to defend your designs using the preceding information.
Basically, this is a situation where there is a misalignment between what the client desired and what the designer intended to accomplish. As a UX designer with the highest calibre, you'll need to take a step back and ask insightful questions to unearth potential design flaws. You will explain to the interviewer the types of questions you will ask the client to understand the flaws in the design. Once you have found out the flaws that your client has pointed out, you would explain to your client that design decisions are founded on sound principles, such as colour theory, and not on subjective opinion.
A good designer would listen patiently and incorporate feedback into the next iteration, recognizing that the optimal design is the result of harmonizing business requirements, technical feasibility, and the designer's desire to create the best user experience (UX).
14. Describe a Recent Endeavour that Presented a Significant Challenge and How you Approached the Issue?
Ans: This question is your opportunity to explain a real-time situation that was difficult for you; however, you managed to tackle it tactfully. You need to explain what did you do to get to the solution.
Know that there is no right or wrong method to approach a particular challenge. But having a clear strategy for achieving the desired outcome is significant. So, basically, you have to explain the entire situation here, including the problem, the strategy that you followed to reach the solution, and so on.
On an existing product, for instance, you collected additional user-generated data to help them identify a problem. This could involve accumulating data using analytics or testing the design with a specific demographic in the most logical format. This could involve testing wireframes or interactive prototypes on users to validate or reject hypotheses. It could even involve sending a survey to a broader demographic to gain a deeper understanding of product market fit.
You may consider explaining how using remote moderated user testing or some other form of remote research methodology helped you come up with improved design solutions. The idea is to be passionate about your role here. Basically, your interviewer wants to understand your problem-solving skills. Also, he wants to check how you see problems. Do you get nervous or irritated with a problem, or do you take each problem with great enthusiasm to reach the solution?
15. How do you Work Alongside other Designers and Developers?
Ans: This question helps the interviewer comprehend your approach to teamwork and collaboration, as UX designers work with a variety of technical teams. Provide examples from your experience demonstrating your ability to collaborate, communicate, and develop relationships with others in order to demonstrate your communication and interpersonal skills. Tell them how you collaborate with other designers and developers in order to build UX design exactly how your client wants. Explain to your interviewer how important you believe teamwork is when it comes to a successful UX design. Also, explain to them how time to time, you like to have meetings and conversations with other staff members, including design team members, UI developers, and others, to understand the progress and difficulties that your teammates are facing in the project and how it helps you gain a more comprehensive understanding to take proper steps.
16. What does it Mean to be an Excellent UX Designer?
Ans: While there is no right or wrong answer, as a competent UX designer, you should be able to demonstrate extensive UX knowledge and be able to articulate a complete end-to-end UX design process. You should walk your interviewer through the methodology that helps you to find solid, effective solutions. Make sure you answer this UX designer question with complete authority and confidence. Your interviewer wants to understand how enthusiastic you are about creating delightful user experiences and devising products that consumers adore.
Your answer should have a customer-centered approach. You must explain how you focus on the user-goal-driven approach to designing products.
A seasoned, experienced UX designer strikes a balance between business objectives and technical constraints when designing the optimal user experience. They should develop 'personas' (the core users of a product), determine when and how to conduct surveys, conduct field visits and interview users, conduct usability testing, and analyse quantitative user data once to make further improvements.
17. What Resources do you Utilise for Completing the Project?
Ans: This is one of the most important UI interview questions that is asked frequently during UI UX designer job interviews. Your hiring manager basically wants to understand your familiarity and preferences with UX projects, as well as your approach to collecting project requirements, by inquiring about the resources you employ.
Explain to them how you make use of different tools for testing prototypes, coding animations, creating colour palettes, and managing the primary functions of digital platforms. Also, explain how you take inputs from your fellow teammates and staff members working with you on the project to combine the most effective features with interface designs. Let the hiring manager know how you create and implement the designs that best satisfy the needs of both customers and businesses.
Pro Tip: Do thorough research on the company you're applying to learn more about its internal operations and preferable approaches. Having this understanding in advance will help you tailor your response to your potential employer.
Top Python Interview Questions and Answers for Developer
18. What is your Most Successful User Interface Design?
Ans: If the hiring manager asks you this question, they are likely interested in your approach to completing a notable endeavour and its results. You can use it as an opportunity to demonstrate your technical and design skills as well as your ability to collaborate with a design team to accomplish crucial goals. Also, explain to the interviewer how you quantify and evaluate the success of a project. You can emphasize how your contributions to the project's final design benefited your employer or client.
19. Describe your Design Process.
Ans: Basically, your interviewer wants to understand your approach to the design process, especially when presented with a problem. This is your opportunity to demonstrate a problem statement, collect business requirements, and serve as the user's advocate throughout the design process.
20. How do you Choose Which Features to Include in your Designs?
Ans: Your interviewer wants to know how you utilize user research data to make decisions during the design process, as well as how you balance user needs with design constraints. Include specific examples of your feature evaluation, team collaboration, and decision-making that led to user-centric design decisions.
Basically, your hiring manager wants to know how you utilize user research when deciding which features to include in a design. Explain to them how you take into account the requirements of users when deciding which features to include in a UX design. Understand that user research is a crucial factor in determining which design features to implement. Explain to your interviewer that you first evaluate the target market, customer requirements, and any problems that your design may solve and how you align these factors with the company's objectives to produce designs that support both the customer and the company.
21. Which Design Method do you Employ when Beginning a New Design?
Ans: This is yet another important UX interview question that will help your interviewer understand your research and analysis abilities. Describe how different projects require different design methods and how you choose which design method to apply to a particular project. Also, explain the factors that influence your decisions when beginning new designs, in addition to describing how your research contributes to your UX design process.
22. What are your Three Greatest Strengths?
Ans: You may have numerous strengths; however, it is essential to tell the three greatest strengths that are in line with what the organization is truly searching for. It is highly recommended that you review the job description in order to prepare for this question in advance.
Your potential employer is looking for a candidate who can create "highly interactive, delightful, and user-centered experiences." In addition to this, they are looking for somebody who can be a great team member. Your hiring manager wants to understand whether or not you would be able to participate in cross-functional brainstorms, discussions, and design reviews. Hence, it is crucial that the strengths you mention are in line with their current requirement, such as:
Great Problem-Solving Skills: Problems are a part of almost every job. Explain how you utilize your problem-solving skills to come up with the best solution that is in line with both customers and business.
Leadership Skills: Explain how you can be an asset to the potential employer. Consider giving an example from your past employment of how you served as a mentor to a number of junior designers and helped them grow in their careers.
Collaboration: Explain how you welcome your junior designers to come up with new ideas when it comes to selecting the design features for a new project. Explain to them how you take everybody along and try to make a project successful.
23. Tell us your Three Biggest Weaknesses.
Ans: This is one of the frequently asked questions. Usually, your potential employer wants to understand how you positively use your weaknesses. If it's at all possible, you should strive to phrase your answers such that they sound like good flaws.
They are looking for someone who is capable of working under pressure at times. Your weaknesses should not look like some negative aspect of your personality that may cause some problems for the organization in the future. Hence, make sure to make a list of flaws that can be utilized for the benefit of the company. Here are some of the weaknesses that you may consider saying:
"I am a very workaholic. I get so engrossed in my work because of which I often get later for home."
This will show the interviewer that work is your first priority. Also, he'll get that you're someone who likes to get things done and hates to leave things undone.
"In my previous company, people had complaints that I send them work-related messages or emails after work hours."
"If I'm not being challenged or keeping myself busy, I start to feel bored."
This demonstrates to the hiring manager that you are capable of thriving in a demanding and fast-paced atmosphere.
These are some examples; you can come up with your own answer that best suits your current role.
24. Where do you See Yourself in the Next Five Years?
Ans: Well, this is a difficult question, especially when you have not yet planned anything for the long term. It's fine if you don't have a clear notion of what you want your life to look like in five years, but at least try to offer the interviewer some sense of direction.
If you wish to work as UI/UX designer, even in the long run, then you can discuss how you see yourself progressing along that career path in the future. In addition, you can discuss your goals and how this employment can help you achieve them. Also, you should discuss the steps that you will take over the next five years to work towards achieving that objective.
25. What is it About this Position that Excites you the Most?
Ans: Your potential employer wants to know that the job you're applying for is something you're enthusiastic about. Explain how enthusiastic you are about the role and how you can be the best fit for the role. Explain to them how being in this role helped you gain immense knowledge and acquire new skills. Also, talk about the prior experiences or talents that you already possess that would make you an asset to the company if you were hired for this position.
Wrapping it up…
So, there you have it: the top 25 interview questions and answers for UI UX designer that you must be aware of. Aside from these, there are several other questions that you can go through before your interview. If you really want to crack the next interview for a top UI UX Development Company then make sure to prepare all of the UX interview questions and answers in advance. Know that your success at any interview depends on your knowledge, preparedness, and confidence.
If you're an experienced UX designer, then most of your answers will be based on your experience. Also, it is advised to go through the website of the company that you're applying for in advance. Doing so will help you have a deeper insight into their business, and you can tailor your answers according to their needs. Also, make sure to go through the job role and responsibilities. It helps you tailor your answers according to your employer's requirements.