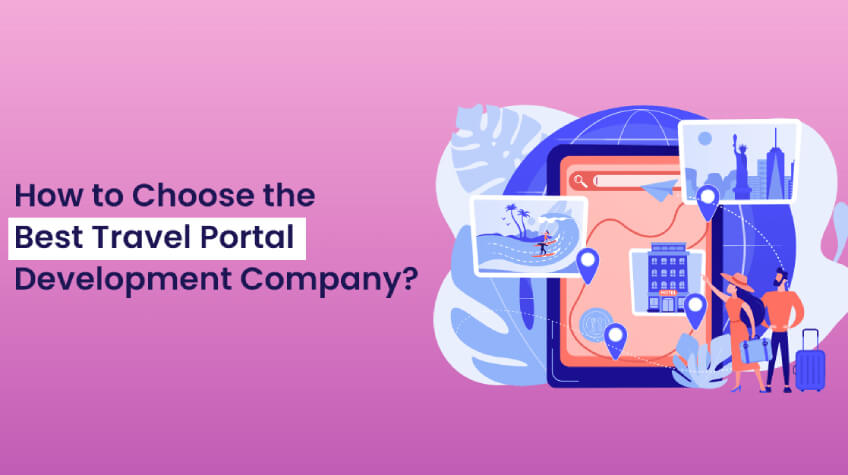 The field of traveling agencies or portals is not so small. As the days pass the industry is adding new features, and technology every day and giving you the best service. Now if you are going to grow the best travel portal development firm then you may have to look up something that would make the firm the best. Before designing your travel portal you may have to get some clients and deal with them with the help of some other travel portal development firm.
To choose the best travel portal software development company you have to look up something those are:
1. Complete work within time
Time is one of the most precious things. Before doing any job we have to give importance to the time and try to do the work within time. Keep this in mind when we choose a travel software development company we have to be very sure that they must do the work within the given time. Because when you start your business or handle a project you must complete all the jobs like ticket booking, hotel booking and all other arrangements within the provided time by the client. However, you can not waste more than one month managing the full traveling package and satisfying your client. So you to very sure that the travel portal development company will help to do that.
2. Passionate communication
If your chosen company truly deserves to be the best then they must have the advantage of good and passionate communication. They will surely not give you fake hope or a plane. They will guide how to handle the project and give you a superb plan. However, they will communicate with you only in the matter of work and give you positive hope. The best travel portal development firm must be represented to you with an approaching product and project and give you the best service.
3. Exclusive business idea:
Presenting supersmooth and exclusive ideas is one of the most important things for an agency. They must know how to attract a client with a different idea and a good plan. They must know how to make them feel good and produce positive vibes. They may give an attractive offer, create creative blogs and post on social media to promote the agency. All this process will not only make the business high but also help to give some permanent clients who will surely hire you while making a travel plan or organizing a trip.
4. Company's recognition
When you start a business and going to choose the travel portal development farm you have to be concerned about its recognition that gives him the tag of truth. The travel portal development must be recognized by APL and XML which would provide it with the opportunity to grow more and spread at the international level. Also, some client only wants to deal with or make a travel plan with a recognized company or agency. So recognition is one of the main things for choosing a travel portal development farm.
5. Website Designing
Website design will also make your business more profitable and also will attract more people to visit the site. The portal or website must be very presentable and also attractive. There must be included most of the detail a client is looking for. The portal must be updated with features and include new facilities to impress the viewer. That would surely create an image of your service on the website and help you in various ways to promote the business on various platforms.
6. Security
Security is one of the crucial things that we want every time in every phase. Also in the field of trading business, you will have to give the assurance of security to the client. From the traveling plan to booking tickets or sharing customers' details to money transactions, all must be secure and safe. Because if any kind of problem happens that can harm upon your business. Moreover, this safety and security must be applied to any type of client domestic or international.
7. Trip cost
You must be very sure about the budget for the trips. As all want to get the best at minimum cost. Traveling is not an exception. If we are able to make the cost of the budget affordable then no one can stop you from being the best travel portal development frame. At first, you have to give the most comfort to your customers in the list budget. That would also make your portal recommendable to others.
8. Best facility
To make your travel portal the best you have to keep in mind that you are giving the best facilities to your clients. Such as flight ticket bookings in the shortest periods, Offering the best trip at less price, good travelling transport, good hotels and many more. That would help to attract clients and give good feedback for your website.
9. Try to create blogs
To get a better rich in your business you have to promote your website on various platforms. Such as many social media platforms. You can also create short videos, write blogs and use proper keywords. Using a proper keyword with the content would help to get the front position of your website in the search list.
Also Read: 15 Reasons Your Business Needs a Blog
10. Understand customer's need
To get better rich and popularity of your business you have to give priority to your customers. One has to take all the feedback positively and work on it. Just try to understand the problems of your clients if for any reason they are complaining and resolve it. Do not try to skip that part and also do not repeat it.
Final Thoughts
Here we can also suggest to you the best travel portal software development company that is AIS. After lots of research, we can say they will provide you best service and also help you to follow all the above mention things. Now easily understand the concept by reading the article and quickly choose the best travel portal software development company to grow your business.
About The Author
Hermit Chawla is an MD at AIS Technolabs which is a Web/App design and Development Company, helping global businesses to grow by Global Clients. He loves to share his thoughts on Web and App Development, Clone App Development and Game Development.