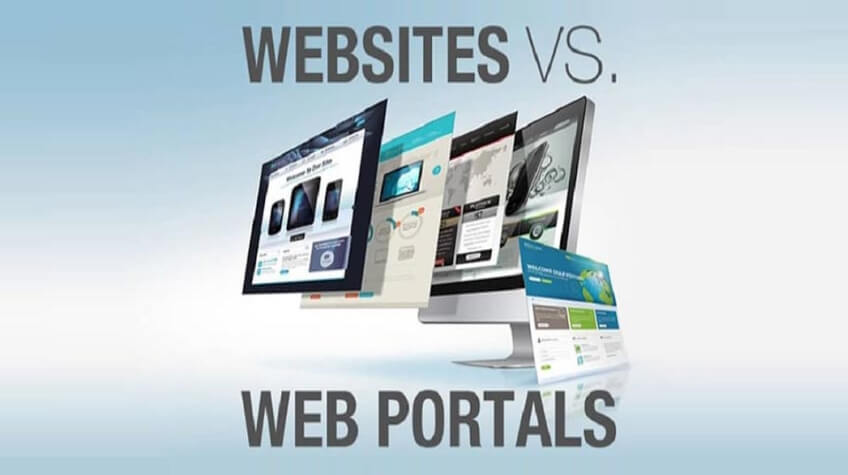 On the Internet, the notion of a web gateway is becoming increasingly widespread. Despite this, many people still mistake it for a standard service website. Nonetheless, they are two quite distinct resources with very different functions and objectives. A site can be referred to as a portal, however not every site is a gateway.
Before we can compare and contrast the two notions, we must first define each of them. A portal is a huge website containing a variety of material and interactive features. A real information store is what a resource is.
A good web portal delivers a lot of helpful information to its viewers. This resource offers a simple and sensible navigation system that allows any user to rapidly discover the information they need. If the resource is well-designed, it can act as a form of a guide, guiding people to other websites. It attracts people who share similar interests, occupations, or pastimes.

A website is a collection of pages linked by a single domain name. There are several sorts of websites. The purpose, functionality, and type of material are placed to determine its nature. Blogs, business sites, online stores, social networks, and other typical websites are just a few examples. Every day, consumers visit tens of thousands of various websites.
What Is The Distinction Between A Portal And A Website?
In terms of the distinctions between these two resources, it's worth mentioning that a web portal is significantly less common in the network than a regular website. The major reason for this is that creating a gateway is a highly sophisticated and time-consuming undertaking that can only be done properly by specialists. The expense of building such a resource is several times that of developing a traditional website. If a free engine can develop a website on its own with the help of a large number of people, then the situation with portals is completely different.
The web portal has a number of characteristics that set it apart from the site and other network resources:
The scope of the emphasis. The portal, in comparison to the site, has greater coverage because it is focused on a certain topic and audience. The website covers a wide range of issues and caters to a much bigger readership. Thousands of people come to see it every day.
The Internet portal's primary goal is to assist the reader and provide solutions to his questions. To do this, the site contains connections to external websites where the user may obtain the information required. Websites have a specific focus and are only interested in one subject, product, or service.
The navigation of the site is an important feature. The website has a complicated structure, and visitors will be unable to access all of its features without effective navigation. Navigation is vital for the site's work, but not so much for its success. The developers frequently focus on other factors when creating it.
Websites are created with a certain target audience in mind. Portals bring together people with a variety of interests.
Websites appear in a variety of shapes and sizes, but there is no clear classification system in place. In the case of online portals, categorization is crucial.
A website has a simpler structure and functions. An Internet portal is a site with a complex structure and a lot of features.
The Portal And The Website Are Compared
A web portal's distinguishing feature is that it offers users a wealth of information and diverse material, as well as interactive features and access to other Internet sites. On such a site, one may read news, check email, check the weather forecast, join in debates, and so on. This is advantageous to both the visitor and the owner. With such diversity, it is possible to maintain the interest of the audience for a long time.
When dealing with such a big number of materials and services, it's critical not to overlook usability. It is critical to building competent navigation for a portal with such enormous volumes of material, which is clear and understandable for users. It is critical for the reader to be able to swiftly obtain answers to all of their queries of interest.
The cost of developing an Internet portal with such a sophisticated structure is higher, but the owner obtains a one-of-a-kind resource with several features and services. The owner will be able to earn a lot of money with his aid.
Portal Orientation
Depending on the subject matter, web portals can be horizontal or vertical. Horizontal (universal) sites are able to cover a wider target audience. They can find news, training, entertainment, games, or any other information.
Vertical sites have a specific focus. They are focused on a smaller audience. In this case, the resource is more like a regular website, as it provides the maximum amount of information on one subject. This can be entertainment, training, corporate, or any other portals. A separate type among the vertical resources is regional portals of cities, regions, and regions. Today they are present in all, even in the smallest settlements.
Vertical portals are usually visited by groups of regular visitors who communicate with each other in the forum or in the chat room.
Conclusion
An Internet portal is a virtual resource with a complex structure, a lot of information, and various services. It attracts thousands of users, providing them with the information they need by redirecting them to third-party resources. At the same time portal is one of the types of websites.
The complex structure and large volume of content are the determining factors for the development of thoughtful navigation. Creating a portal is more difficult than any other type of website.
For the development of modern web portals team uses a tried and tested algorithm of actions that help to quickly and accurately create resources of any level of complexity. All portals have a complex structure, user-friendly navigation, bright unique design, and adaptive mobile version to work with the resource on all popular devices. Despite all the complexity of the resource's structure, its load, and content, the portal, like any other modern virtual site or website, should be adapted for smartphones and tablets.
Bio: Rebecca Carter works as a content writer for an online writing company that provides an essay writing service for students. Thanks to her company Rebecca can write articles about her experience. In her free time, she enjoys being in the mountains, going to the gym, horseback riding, and volunteering.