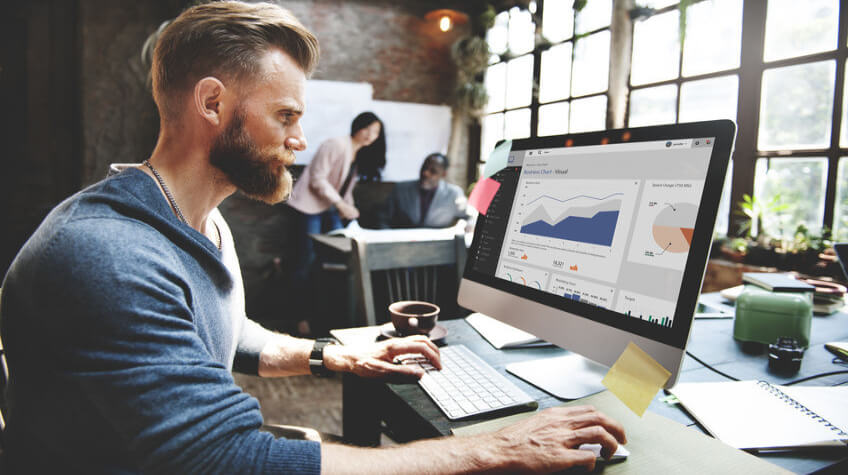 It's no secret that more people are buying their stuff online. Many are even booking online services to do a lot of what they used to do in face-to-face settings. In this kind of virtual consumer market where everyone with a social media page and a website can run a business, the one with the best content marketing strategy wins the game. But how exactly can you know that you're doing it right with your content marketing game? What should you look out for?
There are quite a number of ways to measure exactly how effective your content marketing strategy is in terms of quantifiable metrics. However, the overall metric that you have to watch out for is your Return on Investment (ROI) or your bottom line.
You have to make sure that you're not spending more than what you're earning from your content marketing strategies. If you want to increase your audience, here's Laughing Samurai's tips on how to improve blog traffic. And below are some more suggested ways on how you can properly assess your content marketing strategy:
1. Amount Of Web Traffic
The first thing that you have to look at to figure out whether or not your content marketing strategy is working is your web traffic. Web traffic is your virtual equivalent of foot traffic. Shops, where foot traffic is heaviest, would naturally attract more visitors and potential customers, and the rule is the same for online stores. Web sites with high web traffic tend to get more site visits and earn more money.
In fact, some content marketing analysts say that web traffic is the foundation of content marketing success. Without web traffic, there's no revenue. You can check your web traffic by tracking it using downloadable analytics apps from search engines. From the main menu, there's usually a functionality for checking the traffic to landing pages. You can click on 'Behavior', then click on 'Site Content', and then finally click on 'Landing Pages'. This will yield a report on which pages of your website are visitors first landing on.
2. Onsite Engagement
Another important metric that you should look at to assess your content marketing strategy is onsite engagement. Web traffic measures how many are landing on your site. Onsite engagement measures how many of them are staying and browsing around your site.

Content marketing is not just about attracting and driving people to your website. Some of them could land on your most popular web pages, but some might lose interest right away and leave. Your goal should be to keep them on your site once they've landed. The user-friendliness of your site is also a huge factor. If people are spending time scrolling down your pages, clicking related links, or even coming back from time to time, then you can say your site has hooked them.
3. Quality Of Leads Generated
The third criterion that you can look at to assess your content marketing strategy is the quality of leads that you're able to generate. As is often said by experts on lead generation, great content attracts an audience, and once you've attracted an audience, it's very likely that you'd be able to generate new leads.
There are numerous ways to measure lead quality. One way of doing it is by finding out whether the content you made is being viewed and read by people, whether they've clicked the articles and sites linked to your post, and whether your site visitors click your 'Call to Action' button.
For instance, if you've made an epic blog post and placed a lead magnet in it, you can find out whether your content marketing is working if you see them grabbing your lead magnet. If your site visitors also view your other related links or send a chat or email inquiring about your products or services, then they're closer to making a purchase and will most likely eventually buy what you're selling.
Also See: How To Create An Effective Digital Content Strategy
4. Social Media Referrals
Social media referral is another aspect of content marketing strategy that you can measure quantifiably. Social media referral is also known as offsite engagement because it engages other potential customers or clients outside of your own website. An increasing trend among businesses large and small has been to make social media and photography part of their strategy. They post pictures of their latest products, services, and events. They're also able to cascade their posts to existing social media networks.
Social media or offsite engagement is an important metric for assessing your content marketing ROI. You can measure this by the number of ways that people like, share, copy, or repost your content on social media. Social media engagement is important because a lot of people buy based on what their friends and colleagues recommend. People tend to trust their friends and colleagues in the things they're about to buy or do.
5. Sales Or Call To Action Clicks
The last thing that you have to monitor to figure out whether or not your content marketing strategy is your site's ability to convert traffic, onsite engagement, and lead quality to sales. Having a lot of web traffic is indeed the foundation of all content marketing campaigns. Onsite engagement is also important because you can only make a visitor buy your products if they linger on your site long enough to be able to see at least your best products and offerings.
But the truest test of content marketing effectiveness is whether or not you're able to convince people to buy what you're selling or offering. This is where the rubber meets the road. When money changes hands from buyer to seller, then you know you're doing something right with your content marketing strategy.
Final Word
The goal of any content marketing strategy is to move the site visitor from the content to the point where they'd be looking for the 'Call to Action' or 'Buy Now' button. Whether you're selling something or offering a service, being able to convince people to grab what you're offering and go to the checkout page means your content marketing strategy is hitting the right buttons.