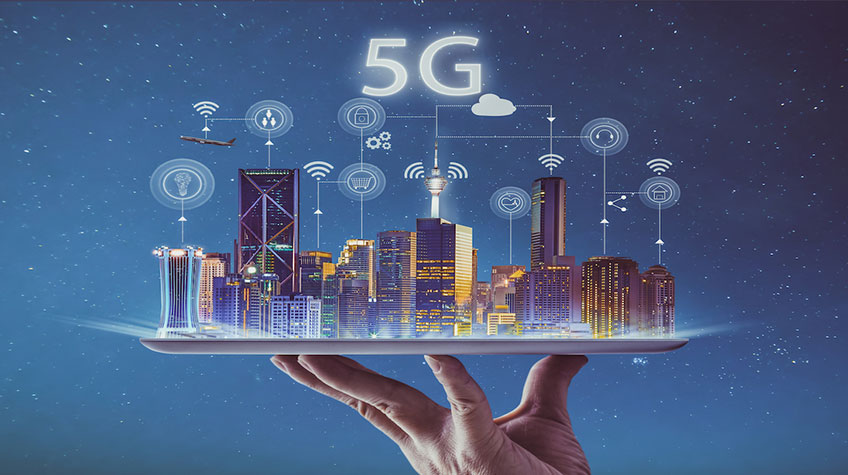 Nearly every day, network operators and device and equipment manufacturers announce new 5G network deployment plans or emphasize their potential benefits for vertical sectors, IoT scenarios, and enterprise and consumer edge computing solutions.
High bandwidth, ultra-low latency, and distinct service characteristics are among capabilities provided by 5G networks. Technology executives must become familiar with the benefits, difficulties, and value proposition of 5G networks, as well as evaluate the potential of 5G networks in comparison to other network connectivity alternatives.
Connectivity is becoming more prevalent in our lives and businesses, and business success is becoming increasingly dependent on the distinction of products and services offered via networks. 5G enables businesses to fulfill rising customer demand for IoT and Edge applications that provide near-real-time, ultra-low-latency data. This provides businesses with new ways to communicate with customers, increase their portfolio of capabilities, and connect IoT.
As a result of mixing public and private 5G networks with edge computing and IoT services, CIOs and enterprises are reaping new business benefits and expanded data capabilities.
5G technology will improve employee and consumer engagement with superfast mobile broadband, support IoT applications with machine communications, and open up new business prospects with ultra-reliable, low-latency communications, according to technology and industry professionals.
The majority of organizations have already begun their digital transformation, and 5G has the potential to play a significant part in this process. As 5G network infrastructure and device availability increase in the coming years, we will feel the full impact of this technology.
However, because 5G is a general-purpose technology, it will have an impact on the economy. CIOs and CTOs are increasingly connecting business strategy and 5G projects, which implies network technology decision-makers must give boundary conditions for these technology executives to make informed decisions. They should base their 5G network implementation decisions on timelines, network technology availability, and security requirements, among other things.
Features of 5G network deployment
Telecommunications service providers will not be able to simply upgrade their existing cellular infrastructure to satisfy the 3GPP's 5G requirements. As a result, they're spending billions of dollars to build new 5G infrastructure in neighborhoods and cities. As a standard definition, frequency auctions, and the deployment of necessary network equipment and devices are evolving activities that depend on the timing and investment plan of each service provider, the implementation of public 5G networks will happen incrementally.
Stakeholders should assess their company's connectivity needs, which could include LoWPAN, cellular solutions, and 5G networks.
To boost bandwidth and add more modern data transmission mechanisms, previous versions of 3G and 4G cellular networks essentially utilized the same frequency channels. These cellular evolutions, which were sophisticated at the time, necessitated some cell tower equipment upgrades, but nothing compared to the 5G requirements. 5G networks that use new bands, MIMO technology, along with several new protocols necessitate new infrastructure, access points, and devices in both new and existing towers.
The 5G low-frequency spectrum provides more coverage, a longer range, and coverage within buildings while keeping data rates low. The 5G high-frequency spectrum (e.g., millimeter waves) covers shorter distances and provides higher data rates, but it is prone to wave interference caused by buildings, rain, walls, and other factors.
RELATED: 10 Best Network Monitoring Software
Security Implications of 5G and edge computing convergence
At the convergence of connectivity and edge computing, 5G's transformative possibilities present themselves. Operational workflows in concrete block buildings can take advantage of increased bandwidth and connect to IoT-enabled assets, mechanisms, and systems via direct connections to other facilities and the Internet with them.
Information security managers must focus on protecting the extended attack surface that arises when hundreds or thousands of these devices are added to a network, with limited or no visibility or access control. This worsens a lot of the issues they're currently dealing with. Increased 5G connection and bandwidth means that the number of connected devices will multiply by several orders of magnitude, making security issues much more difficult to tackle.
Many IoT use cases do not necessarily require 5G to deploy, and can take advantage of the 4G/LTE networks available in many regions. However, enterprises in key vertical markets prefer private 5G networks or are deploying 5G-based use cases for business-critical functions that benefit from the high bandwidth, low latency, and powerful characteristics of this network.
Companies in various industries (for example, manufacturing, healthcare, and financial services) are establishing private 5G networks to avoid data breaches and security issues that can occur when using public 5G networks. These businesses can use private 5G networks to regulate data security, network resource consumption, and application prioritization.
Each country has its own schedule for assigning private or non-public bandwidth and making it available to companies. Factory floor automation, augmented/virtual reality (AR/VR) applications, and HD video in remote control, surveillance and monitoring, quality assurance, predictive maintenance, and employee security applications are just a few of the scenarios for private 5G network-based peripheral computing application scenarios.
5G networks empower edge and automation
In edge computing contexts, 5G networks help in the distribution of data and services while also improving performance. The low-latency, high-bandwidth features of 5G enable data to be processed in close proximity to the connected device in edge applications. Computing power at the edge allows for quick access to collected data and insights when they're needed for a specific application, service, or use case.
Factory robotics that perform complex and repetitive tasks in a production environment, as well as the control of automated vehicles and robots in material handling and warehouse environments, are all examples of how 5G is expanding automation capabilities to efficiently deploy its various scenarios.
In industrial locations, where wiring is impractical, and in places with extreme temperatures, 5G can provide high bandwidth across huge areas. Banks are leveraging 5G to establish up full-fledged temporary branches or to offer live video chats with financial services experts to talk about wealth management, retirement planning, and training funding.
While 3G and 4G services helped to create a mobile mindset, 5G will transform how you attract clients and conduct business. Technology and business experts will have access to numerous new options in 5G technology. It is more critical than ever that they collaborate to identify new services and use cases in order to drive new business opportunities.
Bio
Helen Wilson is a freelance content writer and works as an argumentative essay writer at writing company. Her main spheres of specialization are Marketing and Business. She studies topics about psychology and health, and also she provides physics homework help for students.