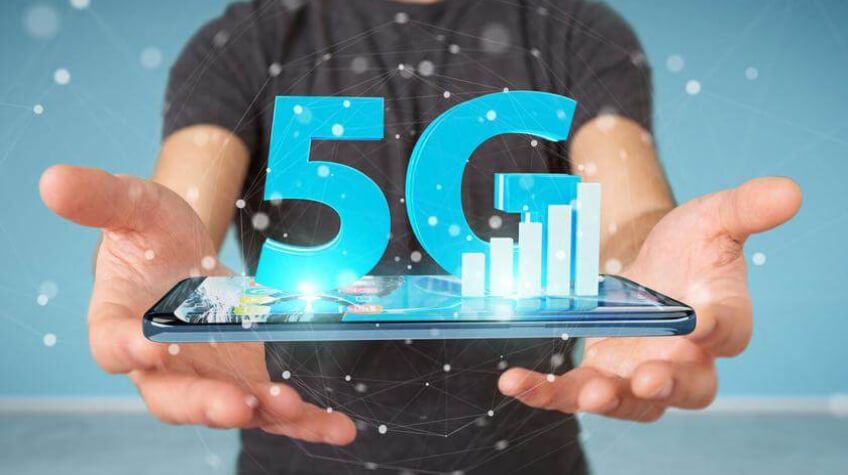 Want to understand 5G technology in depth? Then you're in the right place.
Here we'll discuss everything about 5G Technology:
What is 5G?
What are the key benefits of 5G?
How fast is 5G?
What are the 5G use cases?
What is the difference between 4G and 5G?
When is 5G coming?
Which countries already have 5G?
What is 5G?
5G technology is advanced. 5G is the 5th generation telecom network. This new global wireless standard after 1G, 2G, 3G, and 4G networks started hitting the market in 2018 and expanding globally. The 5G network is designed to connect everyone and everything virtually, including objects, devices, and machines.
Beyond speed improvement, 5G technology is meant to deliver ultra-low latency, more reliability, increased availability, massive network capacity, and a monumental 5G IoT (Internet of Things) ecosystem to the users to have an enhanced user experience.
Higher performance and improved efficiency are meant to empower new user experiences and connect new industries. The fifth generation of wireless technology will help redefine the network and build a bridge to the future.
Key Benefits of 5G network:
The fifth generation of wireless technology is one of the fastest, most robust technologies in the world.
5G technology will allow users to enjoy quicker downloads and a much lower lag.
The fifth generation of wireless technology will significantly impact how we live, work, and play. The fifth generation's connectivity benefits will make businesses more efficient and allow users to access more information faster than ever.
Connected cars, industrial IoT, intelligent communities, immersive education—consumers will have all the good reasons to rely on 5G networks.
Peak 5G speeds are expected to be up to 100x faster than 4G LTE networks.
Low latency will support new applications leveraging the power of 5G, the Internet of Things (IoT), and artificial intelligence.
Increased capacity of the fifth generation networks will minimize the impact of load spikes, like those that occur during sporting events and news events.
How fast is 5G?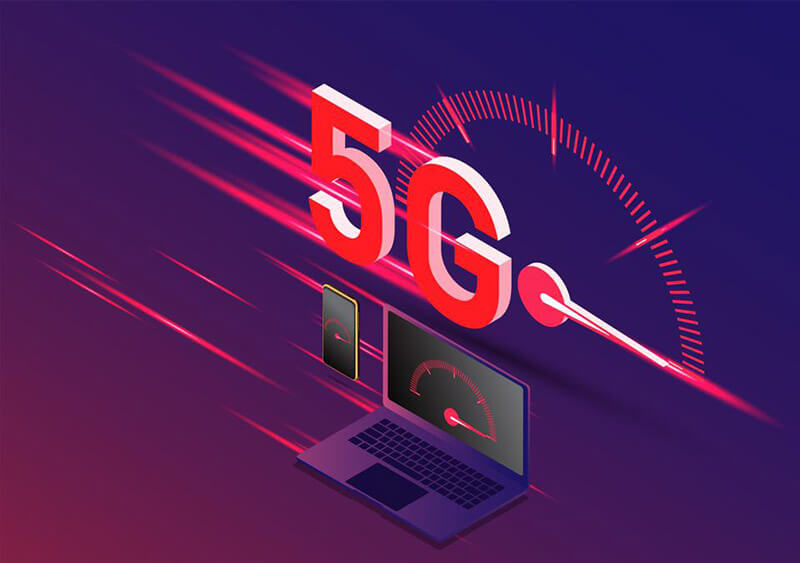 5G is notably faster than 4G. The fifth generation of wireless technology speed tops out at 20 Gigabits-per-second (Gbps) peak data rates and 100+ Megabits-per-second (Mbps) average data rates. It has more capacity compared to 4G. 5G is specifically designed to support a 100x increase in traffic capacity and network efficiency.
► What is Low Latency?
The fifth generation of wireless network offers an extremely low latency rate, the delay between the sending and receiving information. When on the one hand, 4G offers 200 milliseconds, 5G renders 1 millisecond (1/1000 of a second) on the other hand.
Low latency will significantly impact industries that require or make heavy use of network connectivity in tight control loops. Factory automation will improve tremendously with low latency technology. Besides, gadgets, appliances, and components that use sensors and network connections in live human communications, control systems, augmented and virtual reality, and others will also be impacted profoundly. Everything from gaming to real-time applications that control things like drones and other robots through a network connection is expected to change!
► 5G Use Cases
Use cases associated with low latency include:
1. Augmented Industrial IoT
Manufacturers are already using sizable IoT sensors to monitor performance and optimize both production and logistics. Increased wireless flexibility and lower latency will allow them to streamline their infrastructure, build interconnected and semi-automated smart factories, and have increased visibility throughout their supply chains.
2. Real-Time Data for Better Decisions
The fifth-generation wireless network can provide reliable data in real-time that can help organizations make better decisions. A 5G network can quickly gather and process data from multiple sources; thus, people can see and address potential issues as and when they're happening rather than determining later what went wrong.
3. Self-Driving Vehicles
The fifth-generation wireless network is especially effective at transmitting data between moving objects, making it essential to the success of autonomous vehicle networks. 5G network will be used to deliver huge amounts of information between vehicles. Besides, it will help to scale up the other connectivity needs like remote diagnostics, operating system updates, in-car payments, predictive maintenance, and fleet management.
4. Improved Healthcare Networks
The increased capacity of the fifth-generation network would be especially beneficial to hospitals. It will allow hospitals to expand the use and flexibility of connected IoT devices without compromising performance. Apart from this, 5G can be used to make telemedicine services faster and more reliable, mainly to extend those services in rural areas and other remote locations. Also, it will deliver high-quality video streaming during patient-physician interactions.
5. Smart City Applications
Almost all the countries are planning to develop smart cities to let people have enhanced experiences and improved safety. Because smart IoT sensors can transmit data quickly over 5G networks, it will help alert city officials of ongoing problems, notify commuters of traffic conditions, or even open parking spaces.
Besides these, 5G will be used in Remote surgical operations or tele surgeries, Immersive Virtual Reality Gaming, Simultaneous translation, etc.
Now, it's time to see what makes 5G so different from 4G.
Here we go…..
What is the difference between 4G and 5G?
4G or fourth generation is a mobile phone network technology. Like its predecessor, 3G, it is used to download data and access the internet, but it's a lot faster than 3G.
5G: 5G is the fifth generation of wireless network technology. 5G is a breakthrough! It is built on what we call millimeter waves, a section of very high-frequency spectrum upwards of 20 GHz up to 96 GHz.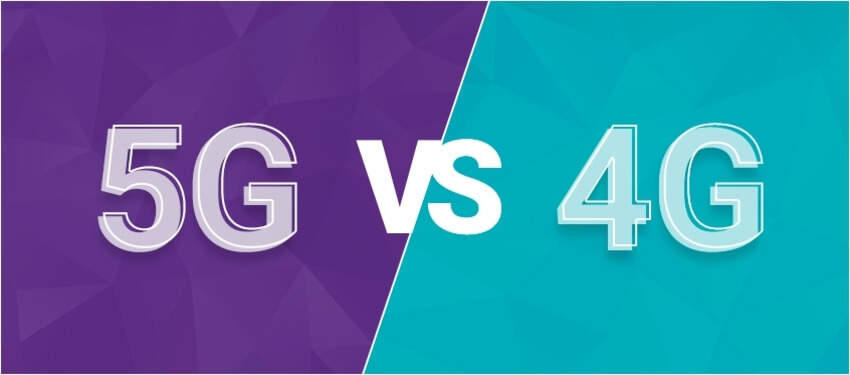 Here are the differences between 4G and 5G:
4G technology stands for Fourth Generation technology. While 5G technology stands for Fifth Generation technology.
The maximum upload rate of 4G technology is 500 Mbps, while the maximum upload rate of 5G technology is 1.25 Gbps.
The maximum download rate that 4G technology offers is 1 Gbps. While the maximum download rate 5G technology offers is 2.5 Gbps.
The latency of 4G technology is about 50 ms. In contrast, the 5G technology latency is 1 ms.
4G offers CDMA. In comparison, 5G offers OFDM and BDMA.
4G cannot differentiate between fixed and mobile devices. At the same time, 5G is designed to differentiate between fixed and mobile devices. The fifth-generation wireless network uses cognitive radio techniques to identify devices and offer the most appropriate delivery channel.
4G offers high-speed handoffs, global mobility. In comparison, 5G offers extremely high speeds and low latency.
4G can be used for high-speed applications, wearable devices, mobile TV, etc. In contrast, 5G can be used for high-resolution video streaming, robots, medical procedures, Autonomous Vehicles, Immersive Virtual Reality Gaming, etc.
The fourth-generation mobile network is slow and less efficient in comparison to the fifth-generation wireless network. 5G is faster, smarter, and more efficient!
► When is 5G coming?
In the recent parliamentary panel, headed by Lok Sabha MP Shashi Tharoor, it was stated that the launch of 5G technology would be delayed. As per the panel report, the government of India expects 5G services to roll out by early 2022 after another spectrum auction that is planned to be held after six months. The services are expected to come from mobile network providers like Reliance Jio and Bharat Sanchar Nigam Limited (BSNL). Apart from this, Cavil Wireless is also assembling a 5G test network.
The best thing is that the 5G network will not require a separate SIM. According to the latest reports, the transition to 5G will be different from earlier cellular generation shifts. According to Qualcomm, "5G wireless technology is meant to deliver higher multi-Gbps peak data speeds, ultra-low latency, more reliability, massive network capacity, increased availability, and a more uniform user experience to more users."
► Which countries already have 5G?
According to a report published by Viavi Solutions, the California-based network testing company, 5G was partly available in 378 cities in a total of 34 countries. The report highlighted that the EMEA region (Europe, the Middle East, and Africa) tops the list with 168 cities with 5G networks. In contrast, Asia ranked second in the list with 156 cities, while the Americas is in the third position with 53 cities. The 5G rollouts list includes both mobile and fixed wireless networks.
While countries like Canada, Hong Kong, and Thailand are soon to launch their 5G network. There are several other countries to develop or adopt the 5G network in the future. In Puerto Rico, wireless network provider Claro began testing 5G in 2019. The first 4.5G site in Honduras came in mid-2020 as the first phase of the deal with Ericsson.
Also, Ericsson has partnered with Entel, the largest telecommunications company in Chile, in order to deliver a 5G wireless service that is expected to arrive in the country at the latest in 2021. In addition, Argentina's Movistar and Ericsson tested 5G systems in 2017 that are likely to roll out to customers in 2021.
Brazil and Colombia are also on the verge of their rollout. Brazil's Vivo network became available in eight cities in July 2020, while the Claro network launched in Rio de Janeiro and São Paulo in the same month. Telefónica Telecom, Colombia's largest telecommunications company ran trials throughout 2020, with the plan to launch early in 2021.
The leading communication service provider on the island of Aruba, SETAR has partnered with Nokia in order to deliver full 5G coverage on the island by 2022.
NTT DOCOMO, Japan's largest wireless carrier, has been experimenting with 5G since 2010. Before officially launching 5G to consumers on March 25, 2020, the company launched pre-commercial 5G services in September 2019.
In early 2020, Samsung partnered with Russia's largest mobile operator, Mobile TeleSystems (MTS), to open a private 5G network. 5G networks are estimated to cover over 80% of the Russian population by 2025.
Many other countries are planning to launch their 5G networks in 2021 or early 2022.
Hope this post helps you have a fair understanding of 5G Technology and everything else that relates to it!!