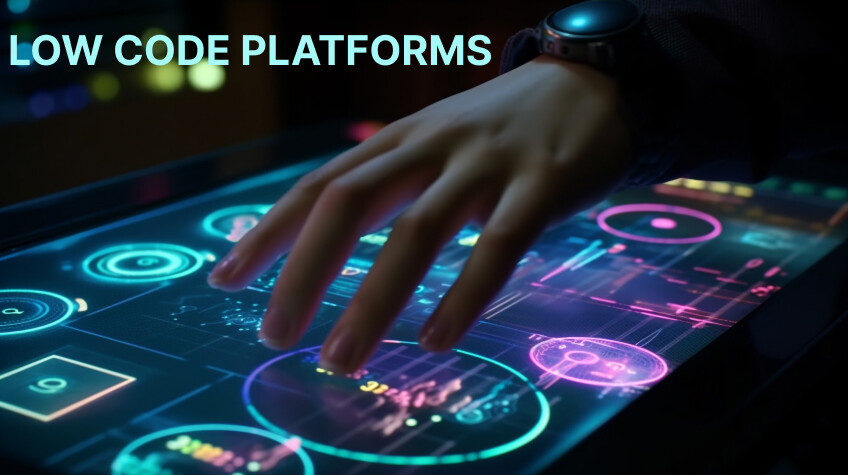 Digitization has become crucial. Companies that don't understand this stay behind in the completion. It is vital for a business to continuously acclimate to meet the expanding digitization needs of their respective industries. Companies that are still in the beginning stages of their digital transformation can leverage low-code platforms to accomplish their goals.
Low code development platforms are an excellent alternative to manually coding. These platforms are not only simple to work with but also help in accelerating the development process. Low-code platforms provide effective solutions that may be utilized by both more experienced and less experienced teams.
So, if you're wondering which low-code development platforms you should use, read this article. In this article, we have compiled a list of the finest low-code development platforms to use in 2023. Using these platforms, you can implement digital changes more quickly and effectively.
So, let's dive in….
Table of Contents
But before we get into it, let's first understand "low code development" in detail. Here we go…
➠ What exactly does "Low Code Development" entail?
The term "low code development" refers to a way of software development that enables programmers to construct applications with a small amount of code more quickly and without the need for extensive coding. Applications should be curated in a way that they can fulfill the specific needs of a company.
The process of digitization can be substantially sped up by low code development, which is especially helpful for companies that are consistently confronted with difficulties in the incorporation of new technology.
Low-code platforms offer a Graphical User Interface for programming, which results in the development of code occurring at an extremely rapid pace and a reduction in the amount of effort traditionally required for programming.
➠ In What Circumstances Should Low-Code Platforms Be Used?
Low code development platforms are used to improve the company's digital operations. So if you lack IT expertise, low-code platforms come in handy. They make up for the lack of IT expertise and boost your efficiency, all of which are areas in which you might require assistance.
It enables the development of applications that are highly effective and cost-effective. These tools make the process of rapidly developing code easier by reducing the amount of time spent hand-coding. Not only can these platforms aid with coding, but they also help in quickly setting up and deploying applications.
Let's now take a look at some of the most effective low-code platforms for small and medium-sized organizations.
➠ 20 BEST LOW-CODE DEVELOPMENT PLATFORMS
1. Quickbase
Quickbase is a renowned name in the world of high-performance application development. As a global leader, Quickbase empowers business leaders and developers with a high-performance, low-code platform that expedites the process of building, deploying, and managing mission-critical applications.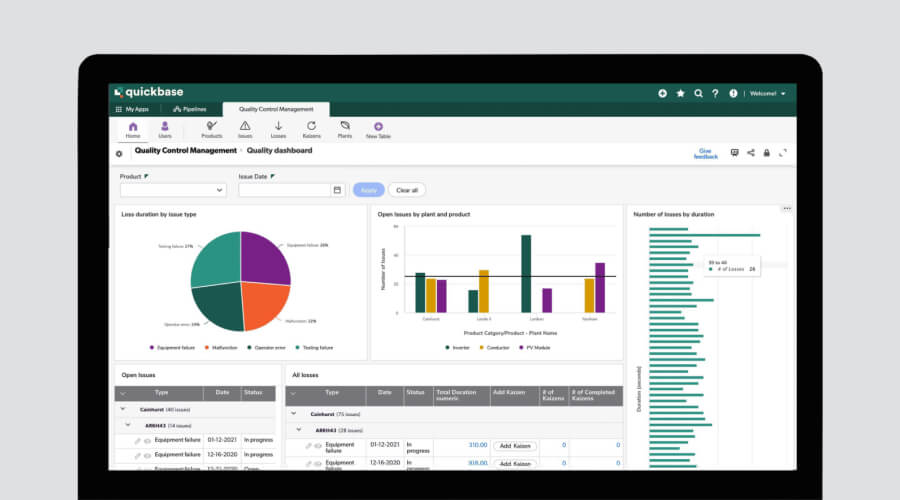 This platform perfectly fuses the incredible productivity offered by low-code development and the capabilities essential for crafting a diverse range of applications, including those of strategic and mission-critical significance. With Quickbase's high-performance low-code, the answer to "Can we build this?" is always a resounding "Yes!"
Key features:
QuickBase caters to a broad user base, including software engineers and developers.
QuickBase addresses a broad market segment, with 39% of its clientele falling within the Mid-Market category and 38% in the Enterprise segment.
Quickbase has garnered positive reviews for its user-friendly interface, ease of use, time-saving capabilities, and low-code approach.
Some areas for improvement include addressing limited functionalities and enhancing the learning curve.
QuickBase boasts impressive features and usability ratings, with an average score of 8.9.
Users have found it a reliable partner for business, excelling in areas such as lifecycle management, platform compatibility, and extending UI code, averaging above 8.4.
Pricing:
Free trial- Free for 30 days.
Team- Starts at $35 (priced annually, min 20 users)
Business- Starts at $55
Enterprise- Fully customizable
2. Mendix
Mendix is a low-code platform that anyone can use to enhance their business by creating high-quality applications without having to deal with complex coding. Using this low-code platform, you can design apps ranging from simple, time-saving solutions to enterprise-level applications.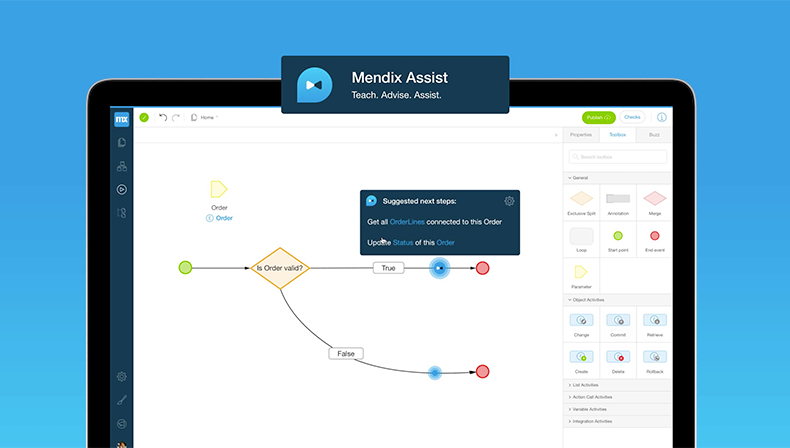 This app development platform enables you to create effective, deployable, and successful apps faster. The best thing about this platform is that it supports the building of applications for any device.
Moreover, it offers private cloud, public cloud, and on-premises deployment options. It is a fast application development platform with offline working capabilities. It is easy to adopt and is perfect for anyone.
Key Features:
Versatile project management.
Visual modeling tools.
Components can be reused.
Agile project management.
Pricing:
Prices for Mendix depend on the number of app users. Its Community Edition is available for free. Mendix offers three additional plans, namely.
Mendix Single App: Costs $1875 per month
Mendix Pro: Costs $5375 per month
Mendix Enterprise: Costs $7,825 per month. Enterprise edition additionally includes backup automation and horizontal scaling.
3. Appian
Appian provides enterprises with a robust low-code development platform that enables them to construct and develop their apps through the utilization of application programming interfaces (APIs), templates, and established interfaces.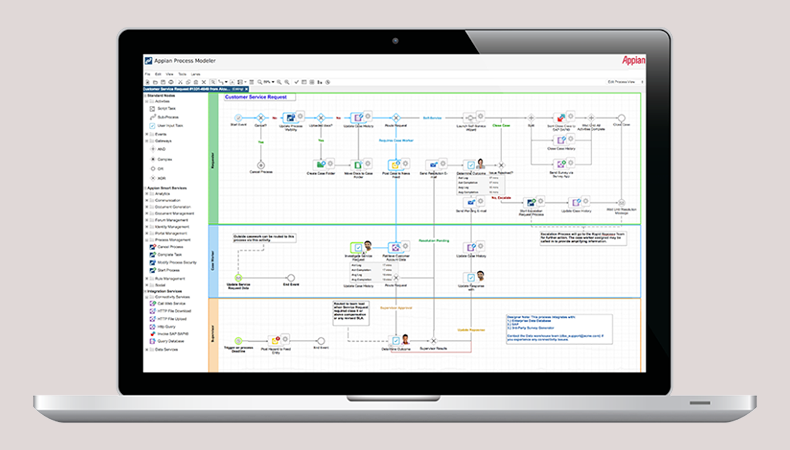 Appian developers can construct an app in as little as three minutes. It allows for the creation of stunning apps thanks to APIs that are simple to configure, templates that can be customized, and interfaces that are predefined.
In addition, this minimal code platform is loaded with high-quality case management applications and security features of the highest degree. It is an ideal low-code platform for users who have limited prior experience with technology.
Key Features:
It delivers AI services local to the platform.
It integrates without the need for any code with the AI/ML platforms offered by Google Cloud, Amazon AWS, and Microsoft Azure.
You will have the ability to integrate data, systems, and web services throughout a company without having to write any code.
Pricing:
Appian offers four different pricing options, including the free version. For paid versions you'll need to contact the firm to get the custom quote.
4. OutSystems
One of the most successful low-code development platforms available today is OutSystems, which Namesake Company developed.
In addition, the platform is well-equipped with a wide variety of high-quality tools and features that are meant to assist businesses in the process of designing applications in accordance with the particular business demands of the respective firms.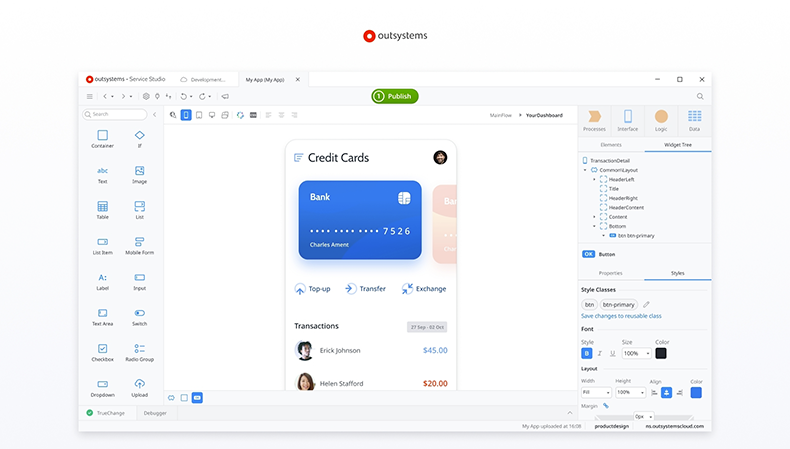 The developers behind OutSystems have packed in a lot more than just real-time reporting features that give complete access control and permission management. They have also included scalable APIs, native support, DevOps automation, monitoring, and speedy deployments of mobile applications.
Key Features:
You will have an error-free experience deploying your applications regardless of whether they are hosted in the cloud or on-premises.
You'll be able to provide scalable applications.
Offers the most up-to-date protection available for your applications.
There are real-time performance dashboards.
Your apps can be incorporated into any system.
Pricing:
It provides a free trial option in addition to three different plans that, depending on the scope and size of the business, could be ideal for the company. The paid plans are as follows:
Enterprise plan: starts at $6250 per month.
Universal plan: starts at $15000 per month.
5. Microsoft Power Apps
While low-code development platforms are an excellent choice for employees without extensive technical app-building skills, they are also a valuable asset for professional developers. Many low-code platforms offer extensibility and provide building blocks designed for developers to use. This versatility makes low-code platforms suitable for a wide range of users.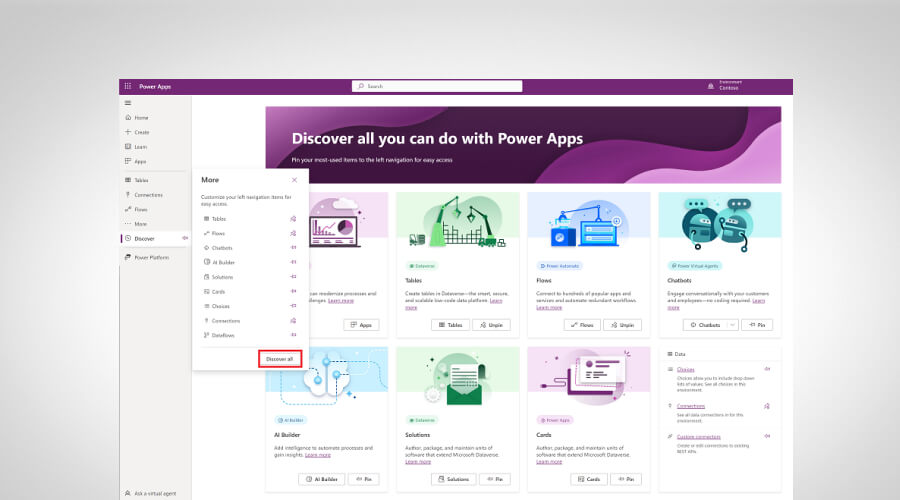 Ultimately, these benefits translate into improved profitability for your business. Low-code app development is tailored for internal teams, allowing you to save costs by managing app development in-house rather than relying on external development teams. Microsoft Power Apps empowers your organization to build and adapt applications efficiently, fostering innovation and growth.
Key features:
This low-code platform empowers various teams within your organization to develop applications for multiple platforms concurrently.
It enables the rapid creation of working prototypes and applications. When developers engage, they profit from instinctive attributes like drag-and-drop functionality and user-friendly APIs, streamlining the development process.
Low-code development allows business users to design flexible applications tailored to specific tasks. This adaptability is crucial for businesses that must scale and extend applications swiftly to meet project deadlines and evolving requirements.
It enables you to swiftly deliver and modify full-stack applications, ensuring your business can respond promptly to changing circumstances.
Pricing:
$5. per month
One user
Free trial available
Small, Medium, and Large Businesses
6. KiSSFLOW
KiSSFLOW Is Business Process Management And Workflow Software. With this unique low-code platform, you can build bespoke applications and streamline operational procedures in your company.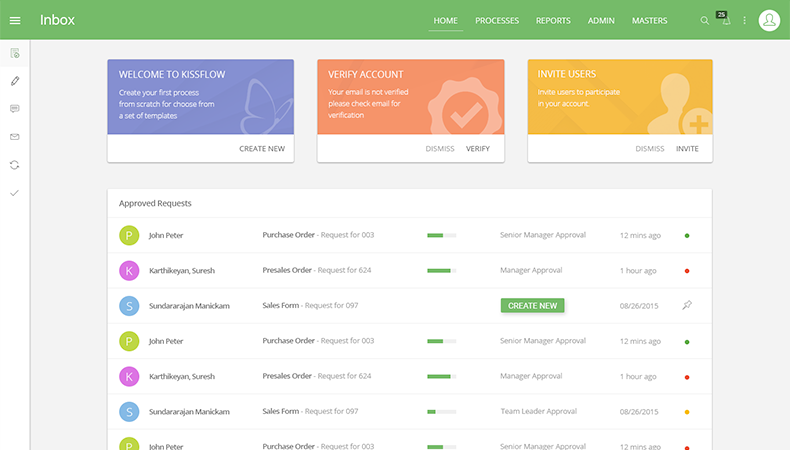 It offers more than 45 pre-installed applications to create custom business applications. It offers a cloud-based solution that organizations of any size and industry can utilize.
Key Features:
It eliminates the need for coding.
You can use the drag-and-drop interface to add and modify fields.
Tasks and logic can also be constructed using the drag-and-drop feature.
It will enable the digitization of your forms and requests.
Pricing:
KiSSFLOW offers different pricing options for its customers, including the free version. Its different plans are as follows:
Standard Edition: Costs $9 per user every month.
The educational community and other charitable groups are eligible for the discounted pricing plan.
Also, you can request a custom price for bulk purchases (For more than 100 users).
7. Caspio
Becoming a Caspio Low-Code Developer opens possibilities, allowing you to bring your app ideas to life, drive efficiency, and contribute to your organization's success.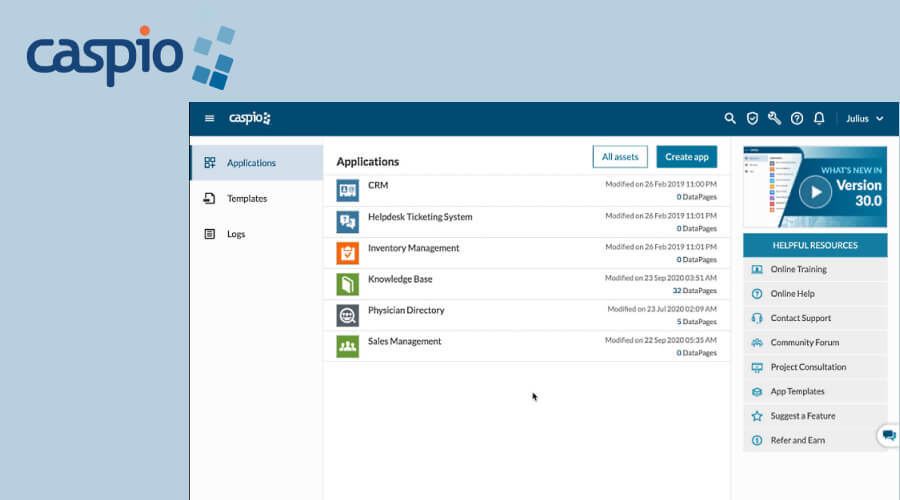 Caspio, the Low-Code Development Powerhouse, is ideal for those aspiring to become proficient low-code developers. Here's how Caspio empowers individuals in this role:
Key features:
Its intuitive design lets you quickly dive into the app development world, even with minimal coding experience.
The platform offers a centralized location for data storage and retrieval, making it convenient to work with vast datasets.
You can quickly create prototypes and functional apps, transforming your ideas into reality in record time.
Caspio equips you with the skills to build scalable solutions. As your proficiency grows, you can handle more complex projects and adapt to evolving business needs.
Caspio provides a comprehensive low-code development ecosystem encompassing user authentication and web deployment.
With Caspio, you can also empower citizen developers within your organization.
Pricing:
Starter- Starts at $39.53
Professional- Starts at $473.26
Enterprise- Starts at $1,776.07
8. Creatio
Creatio is an intelligent platform for low-code development and process management that comes with pre-built solutions and templates out of the box. The Creatio Marketplace offers apps and solutions that are already set up and ready to use, which will increase the capabilities of the platform.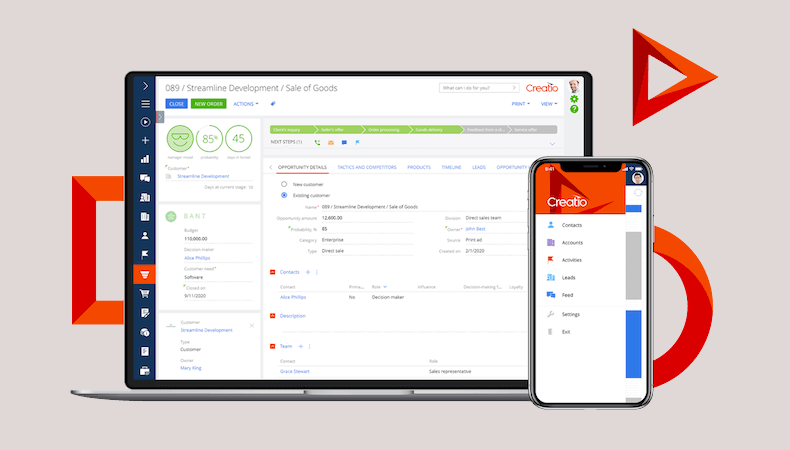 By utilizing this tool, you will be able to speed up the performance of your standard procedures. You'll be able to manage different kinds of cases and keep track of deadlines with its assistance.
Key Features:
Creatio comes with functions for both administration and protection.
It offers the industry's most advanced user interface for visual modeling.
It offers a BPM engine that can manage both organized and unstructured processes in a flexible manner.
Automation that requires little to no coding and makes it easy to construct configurable solutions.
Tools based on artificial intelligence and machine learning speed up corporate processes.
Using the App Wizard, you will have the ability to create a wide variety of app types.
It offers capabilities that can help to streamline interactions with customers and speed up service delivery.
Pricing:
Studio Creatio Enterprise Edition: $25 per user.
9. Pegasystems
Pegasystems offers an intuitive, inclusive, and game-changing approach to app authoring, transforming how teams collaborate.
Pegasystems redefines collaboration, allowing businesses to work smarter, respond to change with agility, and scale with unwavering confidence. In a world where continuous partnership is vital, Pegasystems paves the way for transformative success.
Key features
Pega provides a unified platform that brings users together, breaking down silos and fostering efficient collaboration.
Low-code tools and developer-grade solutions ensure quick responses to evolving needs.
Pega's low-code approach empowers organizations to adapt rapidly to changing requirements. Whether you're working remotely or on-site, Pega's platform ensures teams stay connected and agile.
With Pega, innovation knows no bounds. The outlet offers a complete dashboard for handling low-code at scale across your organization.
Pega enables you to nurture innovation and confidently scale your digital initiatives.
Pricing
30-day trial
10. Visual LANSA
The low-code development platform provided by LANSA helps your development team become more productive while also facilitating the accelerated and simplified building of enterprise applications.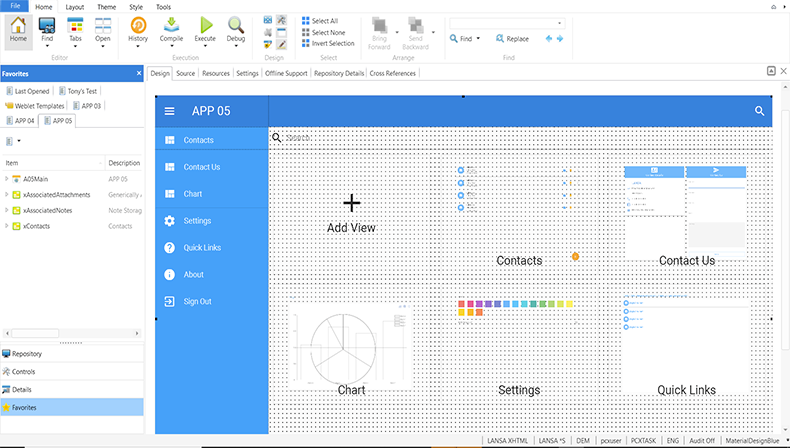 Visual LANSA will make it possible for professional developers to construct applications in a far shorter amount of time than is possible with traditional coding. Also, developers will have immense control that is significantly more than what is typically seen in low-code platforms.
Key Features:
Effortless creation of desktop, web, and mobile applications using a low-code IDE.
Ability to create code directly within the integrated development environment (IDE).
Simple low-code applications that operate on IBMi, Windows, and the web.
Controls on deployment and integration, in addition to extensive testing.
Construct applications more quickly, easily, and affordably than with more conventional ways.
Utilized by thousands of businesses all around the world.
Pricing:
Visual LANSA offers three different pricing options, which are as follows:
The Entry-Level plan: costs $16.66 per user per month.
The Mid-tier plan: costs $13.34 per user per month.
The Enterprise plan: costs $8.34 per user per month.
The low-code development platform offered by ServiceNow is a frontrunner in the industry thanks to the user-friendly and high-quality products it produces.
For the second quarter of 2021, the company was just recognized as a Leader in the Forrester Wave report titled "Low-Code Development Platforms for Professional Developers."
11. AppSheet
AppSheet is an excellent mobile app maker. Designing apps is made much easier with several sample apps, such as barcode scanners and offline access. You may get started without spending any money by using Google Sheets or Excel.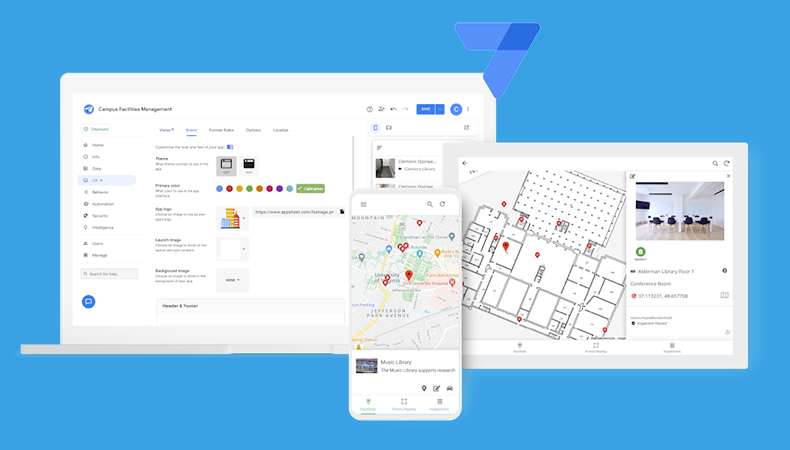 The platform facilitates the development of mobile applications with a sufficient number of features and is simple to operate.
Key Features:
You will have the ability to build applications that are compatible with several platforms and launch them in real-time.
You can develop apps such as GPS and mapping systems, image capture, signature capture, and barcode scanner.
Charts, email notifications, offline access, and the ability to add your own brand are some of the additional features that come with this low-code platform.
Pricing:
AppSheet offers free as well as paid versions. The product can be tried out for free before purchase. The price of AppSheet may be broken down into three different tiers: Premium, Pro, and Business.
The Premium Plan: Costs $5 for each active user.
The Pro Plan: Costs $10 per month for each active user.
The Business Plan: Contact the company for a custom quote.
12. GeneXus
GeneXus stands as the ultimate choice for those seeking agile development, robust multi-environment support, rapid coding, and seamless software updates.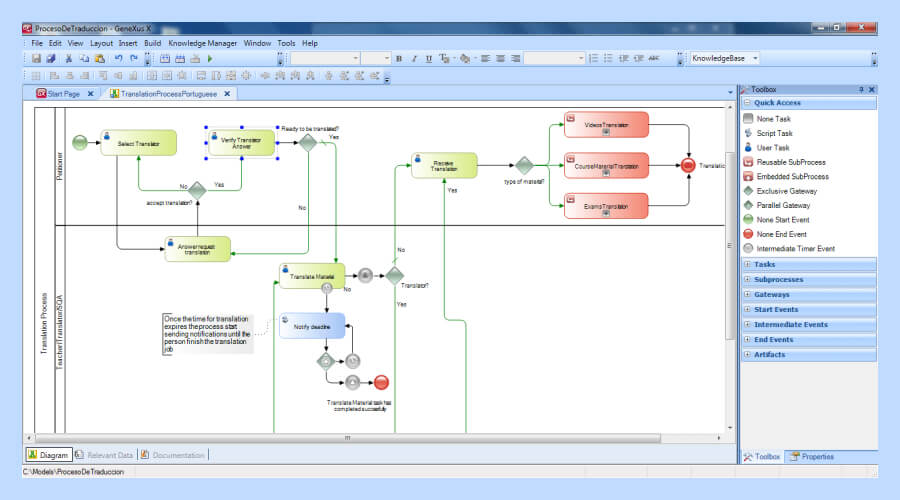 Opt for GeneXus to accelerate your time-to-market, elevate agility, drive innovation, and effectively manage costs. With GeneXus, your journey to software excellence begins here.
Key features:
GeneXus is a trustworthy low-code platform, sometimes venturing into no-code territory. It unleashes the potential to create powerful applications with minimal coding effort.
GeneXus excels in bridging the gap between systems. It effortlessly connects to multiple databases, integrates with numerous services, and fortifies your applications with security layers, SSO, and 2FA.
A few clicks are all it takes to generate fully functional APIs, dashboards, or web/mobile interfaces.
GeneXus empowers you to create native Android and iOS apps using a single codebase.
Import Figma designs or leverage templates, then customize your UI perfectly.
GeneXus doesn't limit you to a single application type. Create super and mini apps, adapting to various project requirements effortlessly.
With just a few lines of code, you can automate the transformation of your applications, ensuring they stay up-to-date.
Pricing:
Starting from: $600.00/month
Pricing model: Free, Subscription
Free Trial: Available
13. Claris
The low-code application development platform market is on a rapid growth trajectory, with projections indicating a CAGR of 22.7% from 2020 to 2027, reaching a staggering USD 44.27 billion by 2027. Amidst this rapid expansion, choosing the right platform becomes crucial.
Here are common developer concerns, along with compelling reasons why Claris emerges as the best low-code development platform.
Key features:
While most low-code platforms offer a familiar cloud-based, drag-and-drop approach, Claris sets itself apart with exceptional platform depth.
This comprehensive integration empowers users to select the apps and systems they wish to connect, streamline information sharing, and automate seamless interactions.
The platform seamlessly transitions from low-code to pro-code, accommodating a spectrum of users, from non-technical problem solvers to IT coding experts. It scales effortlessly, handling terabytes of data without breaking a sweat.
The strength of Claris extends to its vibrant community, comprising over 50,000 developers and 1,400+ Claris Partners, ready to offer assistance and inspiration. The Claris Marketplace further enriches the ecosystem with a wealth of ready-to-use apps and add-ons, ensuring you're always supported.
No other low-code development platform matches Claris regarding capabilities, stability, community support, and limitless low-code potential.
Pricing:
Essential plan costs $21 per user, per month, billed annually.
The standard plan costs $43 per user, per month, billed annually.
The vendor offers a 45-day free test drive.
14. Oracle Application Express
Oracle Application Express (APEX) takes a revolutionary approach by virtually eliminating the need for hand-coding, saving you significant costs and resources.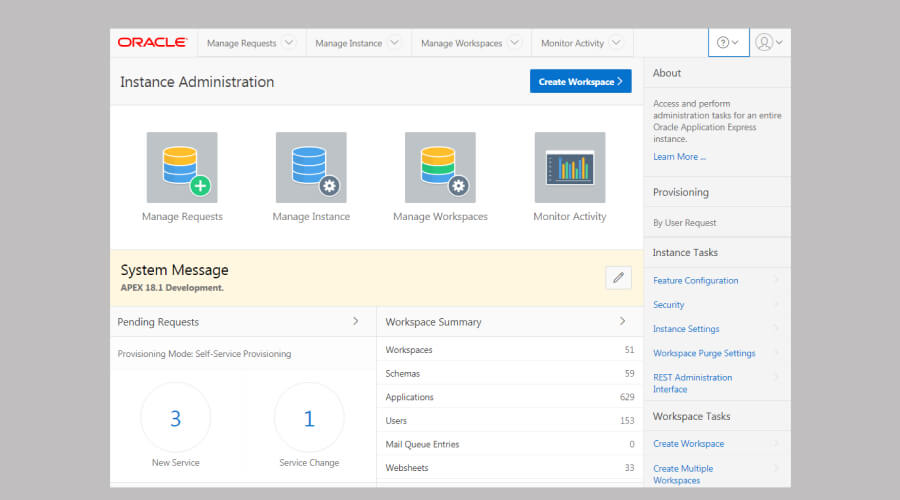 Oracle APEX liberates you from excessive coding, enabling efficient and cost-effective application development while prioritizing your business objectives.
Key features:
Contemporary web applications present complexities like safety, accessibility, efficient data access, performance, and globalization.
Oracle APEX changes the game by removing this coding burden, allowing you to concentrate on solving actual business problems.
These components are full-featured, accessible, and ready for production without custom coding.
APEX even allows direct manipulation of REST data source results using industry-standard SQL. Moreover, you can publish web services against your Oracle database objects via the built-in REST Workshop.
Pricing:
The Average Cost Software plan is $45 per month.
15. WaveMaker
With WaveMaker, building and deploying web applications becomes a breeze. Whether you're starting from scratch by designing a database structure, defining business logic using Java services, or crafting a user interface through intuitive drag-and-drop actions, the process is remarkably swift.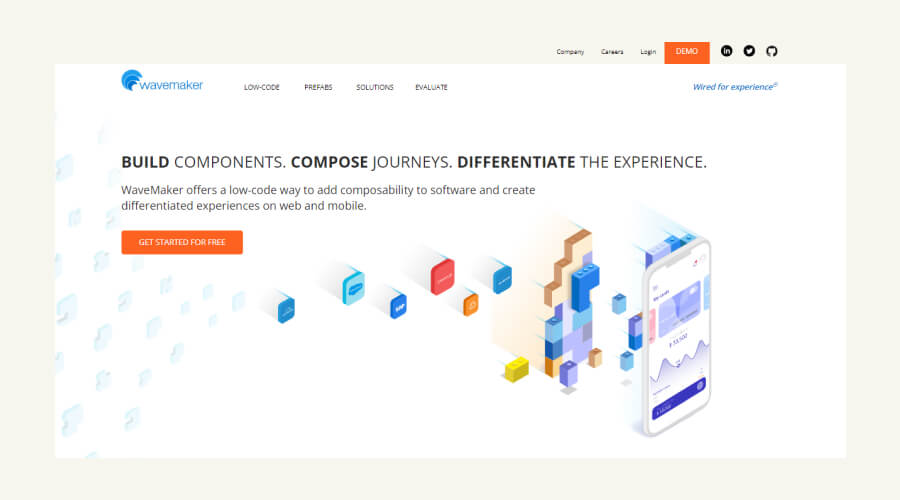 In no time, you can take your medium-complexity project online, often within a week. Even without a web application expert on hand, we've successfully created various data acquisition and reporting tools, each tailored to its specific complexity level.
Key features:
The platform offers various features suitable for diverse applications, including the seamless creation and deployment of mobile applications for Android devices integrated seamlessly into the web application.
Additionally, WaveMaker boasts advanced and customizable security features, including field-level security controls.
Furthermore, the platform facilitates integration with external API services, seamlessly incorporating them into your business logic.
WaveMaker is an exceptional low-code platform that enables rapid web application development with its user-friendly interface, extensive feature set, and automation capabilities. It empowers users to bring their applications online swiftly and efficiently.
Pricing:
$500 per month with unlimited users
16. Zoho Creator
The Zoho Creator is yet another high-quality low-code platform that enables rapid application prototyping and launch within minutes of starting the process. Developers are able to take advantage of a wide variety of services with the assistance of Zoho Creator. Some of these functions include inventory and order management, reporting, and others.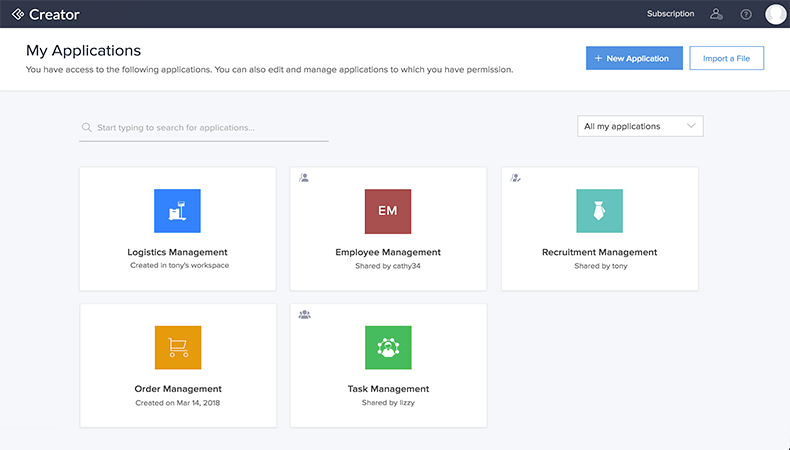 The system is intuitive to operate, welcoming to software developers, cost-effective, and built to stringent safety specifications. The Zoho Creator platform offers a low-code application development environment, which can be used to create enterprise apps.
Along with its three different plan options, the Zoho Creators low code platform also provides users with a free trial. The platform's cost is also far lower than that of the vast majority of other low-code application development platforms.
As a result, it is ideal for companies with a restricted budget. It enables businesses to construct their own personalized app in the shortest time while also staying within budget.
Key Features:
You can construct more applications with the same amount of effort.
Help you produce reports that are insightful.
Collaborate with teams while also connecting the data of your organization.
Obtain access to mobile applications immediately.
Complete Security.
Pricing:
Zoho Creator offers different pricing, including free trials. Its pricing options are as follows:
Professional Version: $12 per month (you can create up to 5 apps)
Ultimate Version: $205 per month (you can create unlimited apps).
17. Salesforce Lightning
Salesforce Lightning is a platform that allows developers to construct mobile applications with increased levels of security. When it comes to app building, you will be able to employ any programming language thanks to the tools provided by Pro-Code.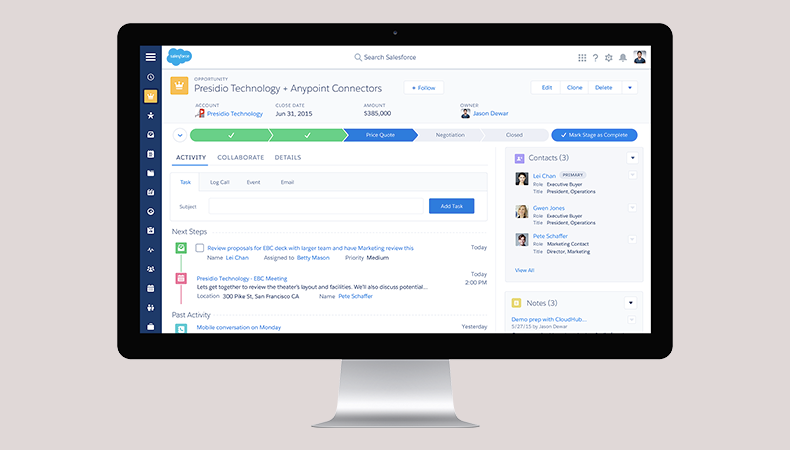 It provides functionality such as the incorporation of AI and IoT, as well as integration with Salesforce and data from third parties. This low-code platform gives developers the ability to construct apps using both custom and standard components in their creations. In addition to that, it has components that speed up the production process.
Key Features:
It allows you to create apps directly from a spreadsheet in real-time.
It allows you to construct intricate workflows with the assistance of Lightning Process Builder.
With the help of No-Code builders, developing mobile applications will be a breeze.
You may generate an app in a matter of seconds using a spreadsheet.
Pricing:
There are three different pricing plans available for the Salesforce Lightning platform:
The Lightning Platform Starter: costs $25 per user per month
The Lightning Platform Plus: costs $100 per user per month
The Heroku Enterprise Starter: You'll need to contact the firm to get a custom quote.
18. ServiceNow
ServiceNow provides developers with all the necessary sophisticated features, allowing them to create robust, purpose-built apps in a shorter amount of time. You get the leverage to use components such as knowledge management systems, service portals, and so on. The process of designing and implementing specialized solutions with the app is sped up with ServiceNow.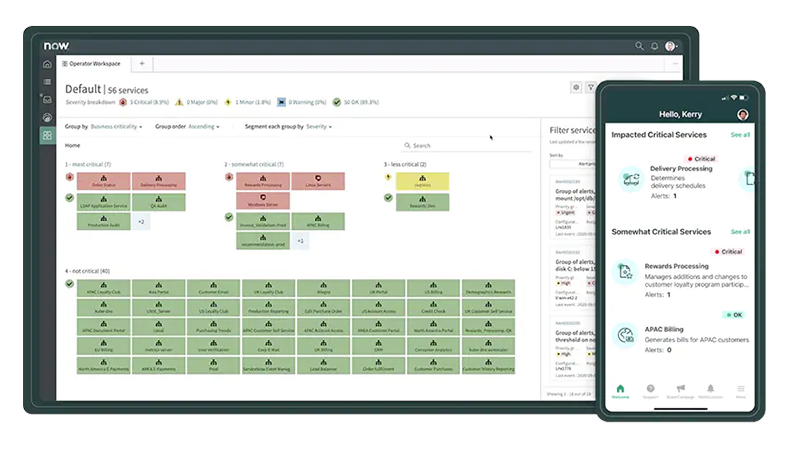 Additionally, the low-code development platform offered by ServiceNow includes an app engine process automation tool. This tool makes it simpler and quicker to automate workflows, which in turn delivers outcomes in a much shorter amount of time.
Key Features:
Provides apps, infrastructure, and platforms with hundreds of spokes or connectivity capabilities that may be utilized for custom integration with little to no coding. These capabilities can be accessed using the ServiceNow Connector.
It offers a collaborative environment in which developers of varying skill levels can work on applications across different departments.
Pricing:
You'll need to contact the company for a customized quote.
Also See: PowerApps Training: A Step-by-Step Guide to Becoming an Expert
19. Retool
Retool is yet another wonderful low-code platform for developing internal tools. You can create programs with a visually appealing design that can communicate with any database or API using Retool. Moreover, you can switch to code at almost any location to alter the appearance and behavior of your apps.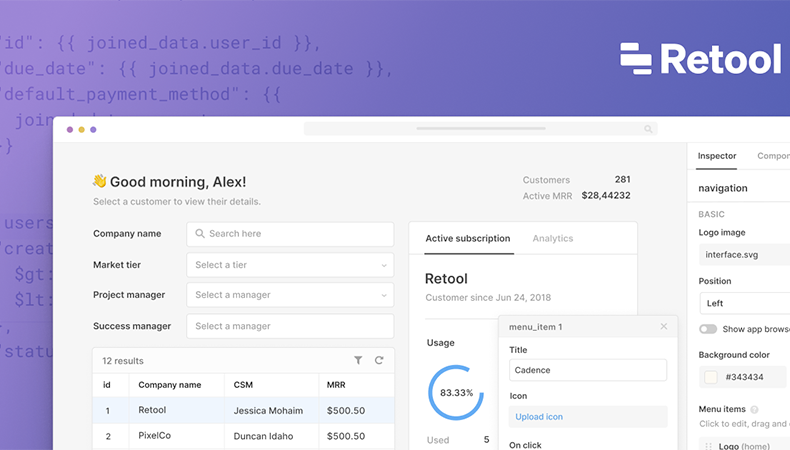 Retool allows you to ship more applications and advance your business in a shorter amount of time. Thousands of companies, including Amazon, DoorDash, and Peloton, collaborate using custom-built Retool apps to improve their internal workflows. The construction of internal applications can be sped up significantly with the help of Retool.
Key Features:
You get the options for self-hosting, and the cloud is both accessible.
You can construct the frontends using more than 50 drag-and-drop components.
You can customize your program to its fullest extent by writing JavaScript wherever.
Protect your apps using SAML single sign-on and two-factor authentication, as well as more granular access controls and audit logs.
Integration with a wide variety of well-known data sources.
You can connect to any resource that provides a REST or GraphQL API.
Pricing:
Pricing for Retool consists of a free developer version and paid plans per seat.
Retool price: starts at $10.00 per user per month.
Retool offers a free trial as well.
20. Web.com
Web.com is an excellent low-code platform. You can make a website without having to know how to code using this development platform. You will receive one hundred templates, each of which is organized according to the type of business it serves, in addition to a large number of themes and layout design options.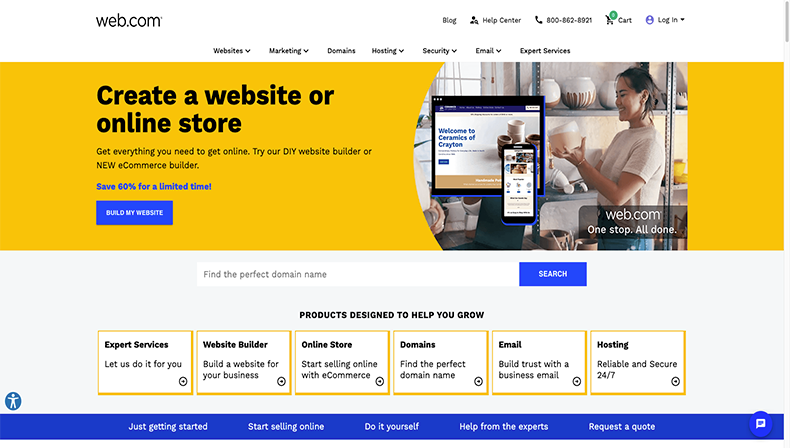 Also, it allows you to add or delete elements from your website with just the click of a button. Web.com additionally provides capabilities for automatic backup and site restore, which safeguards the website's data without requiring the user's participation in any way. The best thing is that it is compatible with the most common content management system platforms, such as WordPress.
You can design simple websites from the start using any of the many user-friendly tools that are provided by Web.com. Using its editors and browsing its template library is as simple as taking a stroll in the park.
If you have not yet established a website through Web.com, you may instantly request assistance from one of their professionals who will establish the website on your behalf from the ground up.
Key Features:
Online Store Creation and Management Featuring a Drag & Drop Editor, Custom Templates, and More
Free domain name with each package.
Functionality for automatic site backup and restoration.
You can even ask for assistance from one of Web.com's specialists if you discover that the process of creating a website is becoming too overwhelming for you.
Pricing:
Prices on Web.com start at $1.95 per month for the Starter Package and then increase to $10 per month following the initial month.
Putting it all together…
So, these are the best low-code development platforms that you can use in 2023. Aside from these, there are several other low-code platforms available in the market. However, using too many can be perplexing. Hence, we suggest using the ones that are really helpful in your business processes.
Also, it is always recommended to check their features and capabilities before opting for a low-code platform. All of the above outlined low code development platforms are intended to assist you in developing specialized applications that are tailored to your particular business needs. Not only that, but the various pricing plans also constitute an important aspect to take into consideration.
Selecting a low-code development platform that provides a free trial is the best way to determine whether it satisfies your company's specific needs and performs up to the established standards.
And if all these seem a task to you, we suggest hiring a reputable web development service provider. We at WeeTech can help you streamline your web development and have a seamless experience.
Contact us for more details!