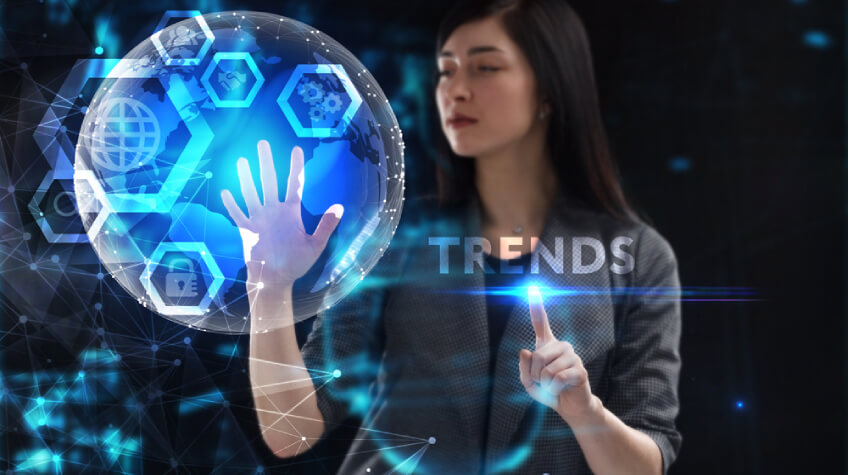 IT outsourcing is becoming increasingly popular, bringing fundamental changes to businesses all over the world. According to research, IT spending of $3.8 trillion in 2019 is expected to rise in the coming years. It shows the incredible possibilities of emerging technologies. Following all of the latest innovations, the majority of businesses have started accepting digital transformation as an unavoidable reality. Companies of all sizes are keeping tabs on prevalent software development outsourcing trends.
Outsourcing is reshaping the global market, revolutionizing the way businesses operate, and presenting unrivaled opportunities to capitalize on. The purpose of this post is to shed light on the Top Software Development Outsourcing Trends 2021 to help you learn about the changes that are transforming the industry and make the right decisions.
Let's get started…
Table of Contents
Before moving on to the outsourcing trends, let's first understand what Software Development Outsourcing is.
Here we go…
What is Software Development Outsourcing?
Software Development Outsourcing refers to a situation in which a company or an organization chooses to hire an external software development agency (it could be a company or an individual) to carry out all of the tasks of a software development project.
Custom software solutions can be created in-house as well. In-house software development is an ideal process because it allows a company to design and produce the exact solution that it requires. However, software development necessitates time, expertise, and sizable budgets; in most cases, one of these elements becomes a roadblock for in-house projects. On the other hand, client software development outsourcing makes the dream solution a reality within a short time frame and on a limited budget, especially for non-tech companies.
Outsourcing development is cost-effective in most cases. Companies can get the right solutions in their budget by choosing to outsource development. Software development outsourcing is one of the latest trends today. It helps businesses keep up with new programming languages, frameworks, and tools that appear to be evolving and emerging one after another on a continuous basis. Non-tech companies need to hire an outside firm whose staff is highly skilled in software development. Statistics show that nearly 60% of primarily tech companies outsource some aspects of their work.
What are the different types of models used for software outsourcing?
On the internet, you can find a variety of outsourcing types and models. This diversity serves as the basis for the categorization factor. Some people classify outsourcing as on-site, on-shore, and off-shore. While others concentrate on the type of interaction the hired help would have with the client, categorizing the models as an increase in personnel, specialist teams, and project externalization. Contract type may also be used as a selection criterion, such as contracts with a fixed price or payment based on time/material. Here are some of the models commonly used for software outsourcing:
Staff Augmentation
Dedicated Team
Project-Based Outsourcing
Staff Augmentation: In this model, the client "bids" the development team or a portion of the seller for the time being. In this scenario, the outsourced team will only perform the assigned tasks as part of the procedure. As a result, the client retains full responsibility and control over the project's success.
Dedicated Team: As the name implies, a dedicated team of external specialists is hired to work on (or on a portion of) a specific project that is unrelated to internal procedures. Their outsourced Project Manager or PM leads the outsourced team. As a result, the entire development is carried out outside of the firm. The PM keeps the client up to date on progress and consults on strategic decisions on a regular basis.
Project-Based Outsourcing: As the name says, the entire project is assigned to a third party in this model. The client hires a third party to oversee the entire development process. The seller then supervises and oversees the project to ensure that the finished product is delivered on time. In this case, the client has no say in the development process or methodologies used; these are all managed by the outsourcing company. Status reports are regularly provided to clients. As a result, the outsourced company assumes complete responsibility for the project's execution and progress.
Does It Make Sense to Outsource Software Development?
A number of factors influence whether or not outsourcing will turn out right. Still the first step is to choose the right outsourcing company to ensure a smooth working relationship with third-party vendors. Regardless of which aspect of your business you intend to delegate to a third-party provider, the results will be determined primarily by their competence, dedication, and reliability. So, first and foremost, you must find the right outsourcing company. For that, you need to see their experience and competencies, check the reviews and references, and be clear about financial aspects.
The benefits of outsourcing are enormous if the entire search and negotiation process is done correctly. Aside from cost savings, working with the right client outsourcing company can help you overcome several potential pitfalls, increase productivity, save a lot of time, and improve overall quality.
7 Outsource-Software-Development
Whether you need a web development team for your e-commerce business or your goal is to have a different software solution, outsourcing can be useful. However, it is critical to align your needs in order to find the best squad to develop a custom solution or assist your in-house team of engineers. Here are the top 7 Software Development Outsourcing Trends you should be aware of in order to stay current:
1. Cloud-based Services Have Grown in Popularity Recently
Cloud-based solutions are a game changer for most businesses today. Computer networks, applications, data storage, or resources accessed via the internet and another provider's shared cloud-based computing infrastructure can all be included. One of their most significant advantages is the ease with which they can be maintained. Besides, cloud-based technologies help businesses gain better insights, become more flexible and agile, and easily position their company on the market. The coolest thing is these services come compatible with all regulatory frameworks and are reasonably priced.
2. Huge Demand of Blockchain Developers
Research indicates investments in blockchain technology increased from $1.5 billion to $2.7 billion. This means this domain is hugely lucrative. But that's not it; you need to find the most qualified developers to meet your needs. By opting to outsource, you will be able to bridge the skills gap that many companies with in-house teams face. The main reasons for considering hiring a third-party team are global access and a large network of talent. Hiring a great outsourcing company will allow you to get high-quality solutions on time.
3. A Burgeoning Need for Improved Cyber Security
With more and more companies going online and customers share their data on the internet, it's a no-brainer that data is the most valuable resource today. That's the reason its protection has never been more important than it is today. While cybercrime is on the rise, more and more businesses are now investing to become GDPR compliant (General Data Protection Regulation). Whether it's a large company or a small business with a website, owners need to outsource cyber security services to eliminate any security concerns, protect their business data, and meet GDPR compliance standards.
Also see: 10 Reasons to Outsource Software Development to Ukraine
4. Digitization of the Fintech, Healthcare, and Telecom Industries
Outsourcing trends are accompanied by trending technologies affecting specific industries. Fintech, healthcare, and telecommunications are in high demand for outsourcing services as part of their digital transformation. AI, Blockchain, and Peer-to-Peer transactions are becoming the tipping point in the Fintech industry. Simultaneously, both public and private healthcare institutions are looking for VR outsourcing services aided by AI to broaden diagnostic horizons. In addition, the 5G network is getting too close to previously unheard-of opportunities for massive connections to IoT networks.
5. The emergence of New Outsourcing Markets
While the need to cut costs influenced the demand for outsourcing services a few years ago, in 2021, companies are focusing on quality rather than lower prices. This, in turn, leads to the exploration of more favorable outsourcing environments in Eastern and Central Europe.
Today, Europe has a more interesting talent market than China or India, particularly in digital industries, technology specialists, customer experience, and sales. And all thanks to the European market adaptability, which is brimming with highly skilled professionals. Besides having a strong work ethic and an understanding of the value of solid team culture, the talented, highly technically skilled, and well-educated IT professionals in European regions possess excellent English skills along with knowledge of other languages.
6. Markets for AR and VR are Booming
The AR market is anticipated to grow to $133.78 billion in 2021. As more smartphones enter the global market, the demand for AR and VR solutions rises. With the spread of the Coronavirus pandemic, AR techniques are being used to enhance shopping experiences. These technologies aren't just limited to one industry; they're also making inroads into the tourism, healthcare, e-learning, and manufacturing sectors.
7. An Increasing Demand for Progressive Web Apps
Progressive web application (PWA) is becoming increasingly important as the demand for a better user experience grows. They are intended to provide a website user with an application-like experience. Today's customers like to shop while on the go, and smartphones are the easiest way to do so. Customers aren't ready to accept a website with a poor user experience. As a result, businesses seek outsourcing companies to employ PWA and meet their clients' rising demands.
Putting it all together…
So there you have it: the seven top software development outsourcing trends for 2021. Of course, not all of these trends will apply to your industry. Knowing about these trends in software development outsourcing, on the other hand, will help you understand what is imperative for your success. Make sure you choose the right outsourcing company before you begin. It is recommended to conduct more extensive research before signing the dotted lines.