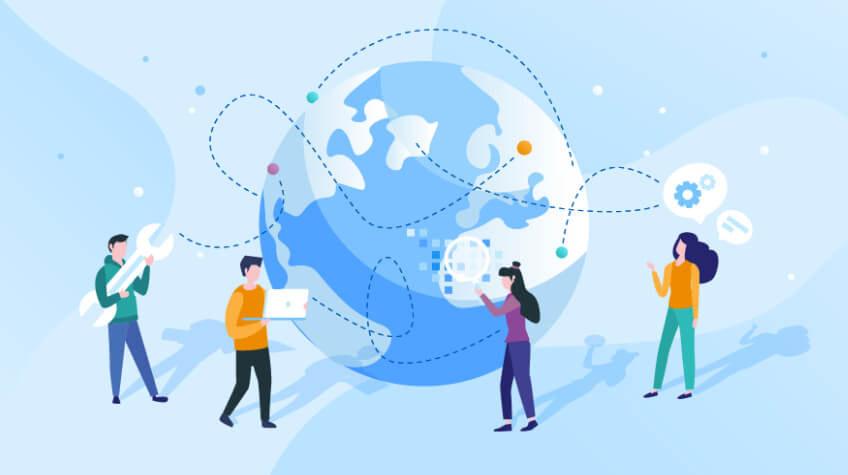 Eastern europe software development has been a thing for over a decade now. More and more companies go for Eastern Europe software development outsourcing. And understandably so. Reasonable prices, as well as an option for scaling, make outsourcing companies in Eastern Europe extremely competitive. In that regard, IT outsourcing in Eastern Europe proves to be even more lucrative than in South Asia.
In this article, we'll see how Eastern Europe software outsourcing has progressed so far and what is the roadmap for 2023.
► But what makes outsourcing software development to Eastern Europe so desirable?
Every business owner has to keep an eye on the bottom line. Profit margins are wafer-thin, and pricing is competitive across every industry. But here's the kicker: software development costs in Eastern Europe are 70% lower than they are in the West, and it's not just because of volume.
Many Eastern European developers have years of experience under their belt, placing them among the best of the best.
As a result, many western companies prefer outsourcing their software development projects from Europe.
► Statistics, please!
Eastern Europe is well-positioned to take advantage of the thriving $556 billion software development outsourcing industry. Nowhere else in the world can you find such a high concentration of top-notch software development talent in one region — and because labor costs are significantly lower than in the West, Eastern European companies offer their clients a highly competitive edge.
Eastern European Software Development: The Perks
Eastern European software development companies have evolved to function more like a true business partner, an outstaffed extension of your internal resources. The reason? It's not just about hiring top developers. Great software companies are receptive to feedback, they provide a valuable service in their ability to meet deadlines, and they offer solutions that work. Eastern European software consultants have evolved beyond the stereotype of being just affordable offshore developers who can churn out shoddy code.
They are cheap: It's no secret that software development costs are much lower in Eastern Europe than they are in the United States. But did you know that when you go global, you can hire comparable talent for as much as 40 percent less than you would in North America? Why not reinvest in your business and hire more developers to build that game-changing software project — rather than less?
Faster Recruitment Process: Hiring a coder can be complicated once your business grows. It can take weeks before you find someone, which may cost you your desired release date. With outsourcing, companies can be sure they are getting the best developer with no strings attached. In Eastern Europe, developers are dedicated to providing the highest quality work without the drama of office work.
Scalability: Eastern Europe software development outsourcing can offer your company tremendous capabilities that aren't available in the tech shortage-challenged United States and Europe. Imagine being able to hire offshore companies in Eastern Europe with less than a week's notice, even days. And those same organizations would help you add and take away team members as your projects experience surge capacity needs.
English language proficiency: IT outsourcing in Eastern Europe is one of the most efficient and cost-effective ways to build your own team — a reliable and skilled team that can grow alongside you. With English as the lingua franca of business, hiring tech workers in Eastern Europe is easier than it may seem. And because their education system requires several years of English, these workers are accustomed to communicating with clients both domestically and internationally.
European Business Values: Eastern Europe based software companies understand the business culture. They are well aware of the pressure that their clients face in Western Europe and North America. As a result, they are very committed to deadlines and offer you a transparent communication experience, and ensure that you are getting quality work. When you outsource a software project from Eastern Europe, you are spending money not to get quality work but to have experienced consultants who understand your needs and help you with your requirements.
So those were some perks that you enjoy when you work with European software developers. Hence, they are widely popular and a perfect solution for affordable software development solutions.
Summary
Eastern European software developers are more affordable than ever before, and if you're ready to start shopping around, save time and money by doing your research. Before you simply hire the first firm, you come across, make sure that they'll be able to provide a high-quality product that meets your needs and fits within your budget. Even the most experienced Eastern European software development companies will have room for improvement, so don't settle for less than the best. And remember – Eastern Europe software development still hasn't reached its peak, and in years, it will mature, even more, making it a very sound investment nowadays.