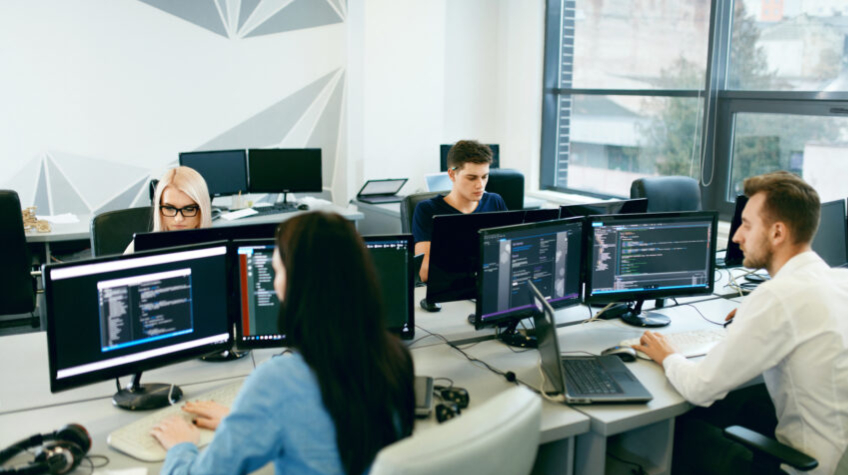 IT outsourcing in Ukraine is now in trend. More and more companies now rely on Information Technology outsourcing for their IT needs. Research indicates, that the global IT services outsourcing market is expected to grow at a CAGR of 8.06% from 2022 to 2030. Businesses need to be ready for the continued rise of outsourcing.
And Ukraine is one of the perfect choices for IT outsourcing today. For a very long time, Ukraine has been regarded as a reliable resort for high-quality and low-cost information technology outsourcing.
Its IT labor market reached 200,000 professionals in 2020. Today, Ukraine's information technology ecosystem has been acknowledged as one of the most dynamically increasing ones in all of Europe.
Kyiv, the capital city of Ukraine, was regarded as having the 32nd-best startup ecosystem in the world and the 8th-best in Europe. According to research, Ukraine's IT market grew by 20%, making Ukraine a top choice for outsourcing IT work.
So, if you are still thinking about why you should outsource your information technology to Ukraine, then read this post.
In this post, we'll go through the benefits of outsourcing your IT project to Ukraine.
So, let's get started…
Top 10 Benefits Of Outsourcing Your Information Technology Project To Ukraine
1. Sizable IT Workforce
The IT industry in Ukraine is actively encouraging continued expansion. According to a survey published in 2019 on the information technology labor market in Ukraine stated, the IT workforce increased by 20% and gained 32,000 new specialists in the preceding year.
The fact that computer science and software engineering are the most popular disciplines among Ukrainian students is one factor that is contributing to the expansion trend.
If we also consider a large pool of students from other related fields of study, such as applied mathematics, electronics, cyber security, and applied physics, it is clear that Ukraine's educational system offers a strong foundation for further growth of the IT labor pool. This is because Ukraine has a large pool of students studying these other related fields of study.
2. High Level of Knowledge and Expertise
Six Ukrainian universities were placed among the top universities in the world in 2020, making it extremely typical for Ukrainian IT engineers to find work in the EU and relocate there. Their abilities, talent, and command of the English language provide them with a comfortable place in the labor market.
In addition, many Ukrainian businesses provide longer training programs for recent college grads as well as persons migrating into the information technology sector from other fields.
People from all walks of life are now encouraged to join the flourishing digital business because information technology is possibly the most gratifying area of Ukraine's economy.
3. Complementing the time zone of the United States
Outsourcing to Ukraine is a highly convenient option for companies situated in the United States, especially the ones interested in utilizing distributed global teams. It is because of the time difference between the two countries.
There is only a 6-7 hour time difference between the east coast of the United States and Ukraine. This implies that Ukrainian team work hours can easily be configured to maximize the amount of time that they overlap with US work hours.
4. Work ethics
Another important reason why IT outsourcing is a perfect choice for Global businesses is Ukrainians' work ethics. The Ukrainian work ethic is extremely similar to that of Western countries. There is a heavy emphasis placed on getting things done, having integrity, producing high-quality work, taking the initiative on one's own, and having a strong sense of team spirit.
Ukraine is in close collaboration with the EU and US. For many years, the nation has been implementing the best ideas from the EU to build its economy, educational system, and public sector, which has a greater influence on its culture.
5. Strong command of the English language
A significant number of Ukrainians have an excellent command of the English language, which makes them eligible for global business. Having a strong command of English makes it possible for Ukrainians to have a project flow, as well as quick problem resolution and mutual understanding with customers.
Because of the prevalence of the Ukrainian language in the country's culture, the labor pool in Ukraine is particularly robust in the areas of project management, marketing and sales employees, and customer support specialists.
6. Cost-effectiveness
IT experts in Ukraine are more affordable than their counterparts in the United States or the European Union, despite possessing the same level of talent, skill, and passion.
Ukraine offers the most competitive prices in the region, along with some of the highest-quality developers. Developers in Ukraine often charge between $35 and $50 per hour, which is too low compared to the US developers, who charge $110 to $200 per hour.
Aside from that, reduced office rent, taxes, and general overhead costs also help global businesses to save significantly on their projects.
7. Strong and reliable infrastructure
The urban surroundings and infrastructure of the major cities in Ukraine have developed to a point where they provide a comfortable working environment, convenient transit, adequate medical facilities, and a sense of safety. In addition to that, Ukraine shares borders with nations that are members of the EU, which makes commuting to neighboring countries a breeze for professionals.
The majority of Ukraine's information technology enterprises have their headquarters in Kyiv, the capital of Ukraine. However, they have also opened offices in other cities around the country to take advantage of even more cost-effective IT go-to locations, such as Kharkiv, Lviv, Dnipro, and Odesa.
Because of the high level of workforce mobility in Ukraine, businesses have the opportunity to quickly attract skilled workers from other regions of the nation and relocate them to Kyiv.
8. Strong culture and mindset for new businesses.
Ukraine is home to many big IT companies, including Grammarly, GitHub, Ajax Systems, KaaIoT, Preply, and so on. It is common practice for engineers in Ukraine to devise their own projects and do research and development on cutting-edge technology.
A growing number of IT incubators, increasing venture capital investment, strong ties with the IT ecosystems based in the US and EU, and experienced startup leaders who apply their previous expertise to create new successful Ukrainian IT products all contribute to an increase in the number of opportunities available to Ukrainian tech startups.
9. Favorable legal and fiscal frameworks
Because the information technology sector is seen as one of the most important economic drivers in Ukraine, the government gives this industry a huge advantage when it comes to the ease with which businesses can operate.
IT professionals generally register as private entrepreneurs (PE) in order to take advantage of a Simplified Tax Regime, which basically means a tax rate of 5% on their revenue in addition to a relatively low social security payment. Because of these exceptionally favorable tax conditions, IT workers in Ukraine are extremely cost-efficient.
10. Lower risks
When you hire developers to work in-house, you incur increased operational expenditures in addition to their salaries. Aside from that, you need to take care of their training and other factors. And the major disappointment comes when they fail to provide you with the outcome that you desire.
However, outsourcing from Ukraine is always beneficial for businesses worldwide. It is because when you outsource IT, professionals, from Ukraine, you just pay for the amount of time he spends working on the task.
You don't need to invest time and money in their training. You lessen the likelihood of wasting a significant amount of time and money without gaining anything.
Wrapping it up…
So, these are the top 10 reasons you should outsource in Ukraine for IT projects. You get a significantly less expensive workforce than employing local developers in your country yet without sacrificing the product's level of quality.
In Ukraine, software companies are typically run by members of the younger generations of the country's population. When you outsource to Ukraine, you gain access to a pool containing a wide variety of skill sets, as well as experience and a productive culture of work. Also, you can anticipate Ukrainian developers to be cordial and modest.