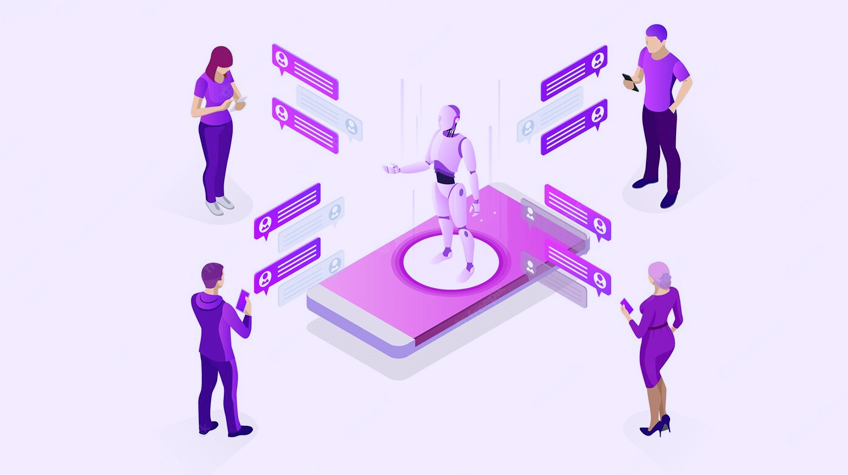 Customers today are very demanding. They seek the best shopping experience, and if a company or a brand fails to provide the same, they just leave the website. And that's when website chatbots come in handy. Chatbots began playing an essential part in user engagement once they gained the ability to promote their services to anyone and anywhere.
The use of chatbots has become increasingly popular over the past few years. Today, more and more businesses are now planning to build the best Chatbot website. They have a wide range of applications and can be utilized in a variety of settings and contexts. They are also capable of being included in applications and websites.
Some organizations, such as Facebook, are already using chatbots in their websites and apps to provide their users with personalized experiences.
If you're planning to incorporate website chatbots, then this is the post for you. We have compiled a list of the top 10 chatbot website examples so that you can make an informed decision about whether or not adding a chatbot to your website or online business will be beneficial.
So, let's get started…
What exactly is a chatbot?
Chatbots, also known as conversational bots or agents, are portmanteau that combines the words "chat" and "bot," which is an abbreviation for the word "robot." A chatbot is simply a robot that can hold a conversation with users or engage with them through text or text-to-speech. You must have surely communicated to a chatbot because many organizations, banks, etc., are now using website chatbots these days.
In a nutshell, a chatbot is software that is powered by artificial intelligence (AI) and is designed to mimic human speech.
They encourage interactions with users based on a specified set of events and conditions that get triggered automatically according to the user's response.
What exactly are chatbot websites?
Chatbot websites are standard websites (just like any other kind), with the most notable distinction being the presence of a chatbot on the website. A chatbot is a programmed interface that is added to any website so that visitors can communicate with the bot. This allows the bot to simulate human conversation.
They have the ability to either completely replace the support personnel or significantly cut down on the number of consumers that contact customer service. Moreover, they reduce the need for 24/7 assistance.
The best way to use chatbots is in conjunction with a website that answers frequently asked questions (FAQs). Chatbots also enhance the overall user experience because they are a wonderful addition to navigation.
If you are still confused about how chatbots function, continue reading.
So, Why Should You Consider Including Chatbots in Your Marketing Strategy?
Undoubtedly, chatbots can help you take your business to the next new level. They have the potential to play a significant role in the execution of your marketing plan. Integrating website chatbots can help you provide your customers with the best experience.
Despite the fact that chatbots are technically robots, most marketers utilize them as they have the ability to efficiently mimic human conversations.
Website chatbots are integrated into key locations so that they can respond to the questions that visitors have, provide product recommendations, or take users to the appropriate pages. This not only makes the visitors feel like they have been heard, but it also assists them in locating the tailored answers they are looking for. The best website chatbots are able to help users get timely responses and save a lot of time. Also, having them integrated into a website contributes to an increase in customer satisfaction rates, ultimately enhancing the company's ROI.
1. Hazel
Hazel makes team management a breeze for businesses. This is one of the best Chatbot Website Examples. It does everything, from identifying problem areas to suggesting solutions and offering feedback. Also, it allows managers to check in weekly as they identify their strengths and opportunities for growth.
Apart from that, Hazel's Chatbot has the capability of broadcasting pertinent messages and notifications in addition to speaking with the user when the user initiates a conversation.
2. American Well
When it comes to the best website chatbots, American Well is one of the examples. They implemented it in the medical field. AmWell is a website where you may schedule virtual appointments with doctors around the clock.
Chatbots allow the brand to bypass the requirement for human receptionists and other support staff by connecting patients (visitors) directly with doctors.
American Well got inspiration from Domino's. They have transformed their website into an automated waiting room where patients are guided with the help of a chatbot and a couple of custom-made pages.
The implementation of website chatbot helps people save a lot of time. Instead of spending time greeting and directing patients through the registration and appointment processes, doctors are now able to concentrate on their actual duties.
3. Capital One
At number 3, we have Capital One. Capital One is an innovative financial institution that conducts numerous customer surveys and provides a wide range of banking services. Capital One has integrated Eno, a conversational banking bot to assist consumers with everyday financial tasks.
Users can look at their financial records in order to study their spending patterns. While connected, Eno keeps an eye on the user's spending habits and notifies them if it detects anything out of the ordinary. Also, it updates you if it thinks a double charge or other error has been made.
This app makes banking tasks a breeze for all. It helps them keep up with their regular and hectic financial obligations.
4. Amtrak
Amtrak is one of the best website chatbots that makes booking tickets, checking train times, and locating new routes a breeze for users. The company calls its Chatbot a "virtual travel assistant." It aids tourists with tasks like purchasing tickets, locating transportation, rescheduling plans, and more.
You can interact with a bot named Julie or submit an inquiry by visiting Amtrak's contact website. The Chatbot then takes over and directs the user in the appropriate direction, eliminating the need for them to sift through multiple pages to locate the answer they need.
Amtrak may alleviate the strain on its customer service lines by providing information that is frequently requested, such as answers to FAQs and helpful navigational directions. This not only lessens the load on their customer care team, but it also shortens the amount of time customers have to wait for answers to their questions or to locate the information they may need immediately.
5. Nykaa
Skincare products are women's favorite. And if you really want to add value to your customer's shopping experience, just let them tailor their skincare products when they buy them, just like Nykaa does that. Nykaa has efficiently used website chatbots to provide its customers with a unique shopping experience.
With the help of the website chatbot, Nykaa has established itself as the most successful beauty conglomerate in the Indian internet industry. Nykaa's Chatbot assists clients in navigating the various sections of the online store through the use of straightforward and easy-to-understand communication.
In addition, their online Chatbot provides personalization that is pinpoint and accurate. Customers can even opt for "Beauty guidance" to connect to Nykaa's in-house beauty experts, who are available to speak with them as soon as they arrive at the store.
The specialist then engages in conversation with the customer in order to gain a better understanding of their requirements, which may include items that are suited to the kind of the customer's skin or hair, ingredients that are required in the customer's beauty product, and other requirements.
6. Scripbox
Wealth management is one of the toughest tasks. However, Scripbox makes it simple for all, whether you have prior experience or not. The management of one's wealth is something that Scripbox simplifies for its consumers. The internet chatbot for Scripbox is an independent chatbot that guides people through the process step by step.
It is designed with a conversational interface that is both visually appealing and highly dynamic. It allows customers to continue the discussion by maintaining their level of interest. In addition, it provides consumers with a range of different areas to investigate and assists them in making financial selections that are better informed and more up-to-date.
7. Kuki AI
Kuki AI is one of the best chatbot website examples. It was designed to simulate real-life communication and become users' best friends. Kuki AI's comments are generally non-repetitive, one-of-a-kind, and remarkably pertinent to the user's input each and every time. The best thing about this website chatbot is that it can recall things like names, likes, dislikes, and previous talks that have taken place between the user and her.
Kuki is an artificial intelligence that was once known as Mitsuki. It was developed in Metaverse. It has the ability to exhibit reasoning within given constraints. You may challenge her to a game, conduct a quiz, or even ask her to perform a magic act.
8. Bank of America
The nation's largest financial institutions are not lagging behind in the race to develop website chatbots. The banking industry is having a great deal of success with the use of chatbots. Bank of America has implemented Erica, which acts as a virtual personal banker.
With Erica's assistance, users can get answers to their concerns, recommendations, and even real-time connections to support staff if needed. Not just that, Bank of America went above and beyond by adapting its chatbots into a mobile application.
When you download the app, Erica is at your disposal to help you with a wide variety of tasks, including seeing rewards, finding transactions, keeping account balances, calculating spend paths, monitoring recurring payments, and handling refunds.
9. Peloton
When it comes to chatbot website examples, Peloton is one of the best. New York City-based Peloton Interactive, Inc. makes fitness equipment and media for Americans. The company's wares include exercise bikes, treadmills, and rowing machines with built-in touch screens that connect to the company's subscription service and broadcast live and on-demand fitness classes.
The in-built sensors record data like power output, giving users immediate feedback on their progress and allowing them to compare their results to those of their peers in a competitive environment.
The Chatbot that is used by Peloton analyses the problems that customers are having and then connects them to a support executive from the appropriate team. It helps support teams to address tickets more rapidly and with a higher level of satisfaction for their customers.
10. Grubhub for Work
"Grubhub for Work" is a takeout and delivery marketplace that enables more than 5,000 businesses to place meal orders, manage spending in a straightforward and effective manner, and enjoy delicious food from some of the thousands of restaurants listed on Grubhub.
The company uses "GrubBot," which helps users to place orders without any hassle. In addition, it also questions users about anything and everything relevant to fulfilling those requests.
GrubBot is an easy-to-use and aesthetically pleasing website chatbot. It presents the user with a selection of available options. These choices cover a wide range while remaining granular. If the consumer is still dissatisfied, they have the option to get in touch with the team by clicking the link that says "contact us."
Wrapping it up…
So these are the 10 best Chatbot Websites Examples that demonstrate how companies are using AI to provide a personalized experience to their customers.
Chatbots are becoming more useful than ever before. Whether your goal is to increase conversion rates or simply to engage with customers and provide them with personalized support, a website chatbot is a way out.
Integrating a personalized chatbot for your website is one of the best ways to bring out the full potential of your company and help it operate more efficiently.
Conversational artificial intelligence chatbots on websites can consolidate multiple communication channels into one.
We at WeeTech Solutions can help you integrate conversational artificial intelligence chatbots onto your websites to help you take your business to the next level.
Contact us for more details!