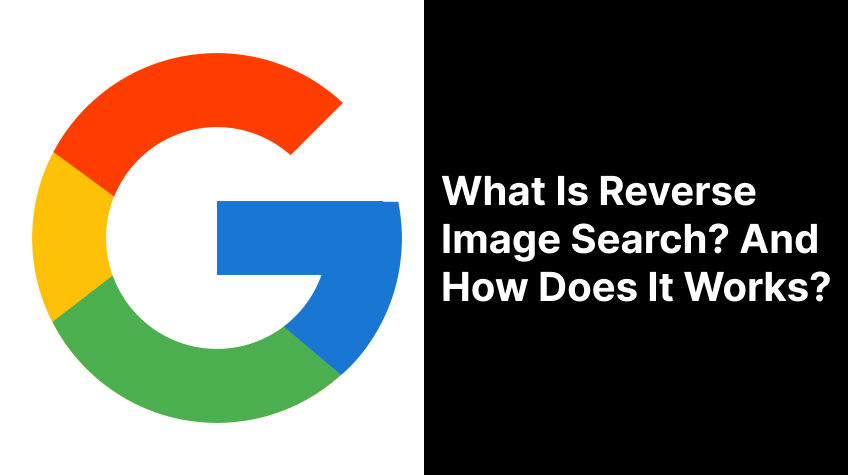 We live in a digital age where the use of graphics is essential to the success of online connections. Due to the fact that the Internet is home to billions of photographs, it can be extremely difficult to trace back an image's source or locate other images that are similar. The process of Reverse Image Search comes into action at this point.
Not only does it make it possible for us to identify pictures that are visually comparable to one another, but it also makes it possible for us to convert image to text. This refers to the process of converting data that is based on photographs into text form, which makes analysis and comprehension much simpler.
What Is Reverse Image Search?
This is an advanced technique that is used to search for similar content or images using images as input. It is an advanced process that has really made searching for anything much easier than before. With this type of search, you do not have to enter any instructions into Google or any other browser. Just drag and drop the picture and it will readily show you relevant data to it if that exists.
Reverse Image Search Core
The technology behind Reverse Image Search first analyzes an image to determine its patterns, forms, and colors. Then it searches the internet for further photos with the same characteristics.
The fundamental goal of the process known as convert image to text is to convert the data that is stored in photographs into a format that can be searched, analyzed, and accessed more easily. It simply incorporates an algorithm that pulls textual data out of a picture, which enables users to successfully search for information without the need to write in certain keywords. To convert image to text online using OCR, you should have to proceed with an online image to text converter that makes accurate conversions.
Practical Considerations
The process of either extracting text from an image is not only a procedure. Rather, it is an essential component of the search algorithm. When a picture is uploaded for use in a reverse image search, the algorithm analyzes it to look for recognizable patterns and objects.
The ability to get text from an image is useful in a variety of different contexts and situations. It unlocks essential information that was previously included inside the picture format and makes it accessible to consumers. Every search will do five separate iterations of the procedure that convert image to text. This will considerably enhance the probability that the results will be correct.
The More Significant Implication
The process to extract text from image has wider-reaching effects. It's not only about locating the image's origin or other photographs that are similar. It is also about having access to a wealth of information that is locked up inside the image.
When text is extracted from a picture, it is possible to comprehend the image's context, background, and maybe even the historical value that the image may have. The story that is provided by the text contributes to our deeper comprehension of the picture.
Also See: 10 Best AI Image Generator You Need to Create AI Art from Text
Advantages of Reverse Image Search
The advent of technology has brought a lot of benefits to us including
1. Copyright Enforcement
Photographers, painters, and creators of other types of material may utilize reverse image search to discover all the places their photographs are being used online. They may discover all the places a picture has been used online by uploading it to a reverse search engine. This aids in spotting illegal or unauthorized uses of their Information and preventing them.
2. Search for Identical Images In No Time
If you are in search of a particular image containing text and then convert image to text file, the reverse image search can surely assist. What you need to do is just drag and drop the main image on the tool and it will show you similar images containing the same text.
Certainly, Designers, advertisers, and anybody else looking for targeted visual material can benefit from this. It helps creative endeavors by supplying alternates that are attractively in line with the primary idea.
3. Facilitating Safety and Security Online and Offline
Protecting one's privacy while using the internet is another useful application of reverse image search. A reverse image search, for instance, might be used in the context of online dating or social networking to confirm a user's identity by seeing if their profile photo has been used elsewhere. As a result, it makes the internet a safer place by revealing fraudulent behavior like catfishing and online fraud.
4. Strengthening Scholarly and Expert Investigations
Reverse image search can be used by academics, journalists, and students to trace the origin of a picture. Finding the original source of a picture allows them to evaluate its reliability and trustworthiness. This can improve the reliability of reporting and study by ensuring that the photos utilized are appropriate and not fabricated or misrepresented.
5. Helping Consumers Find New Products Online
Reverse image search is a helpful resource for people looking for specific items on shopping websites. You may perform a reverse image search to locate retailers that carry a product you like in a picture but for which you don't have the name or brand. The buying procedure is simplified, new products are discovered, and sometimes even better prices or other choices are found. This way, people can get what they want at reasonable prices.
Bottom Line
The development of technology and the way it is used in more and more aspects of our life has been illustrated by the advent of reverse image search. Users are given a new method to engage with digital material, which results in a more immersive, informative, and user-friendly experience when using the Internet as a result of the capacity to convert image to text. This technology will definitely become more important to the way we engage in the digital world as our species continues to develop.