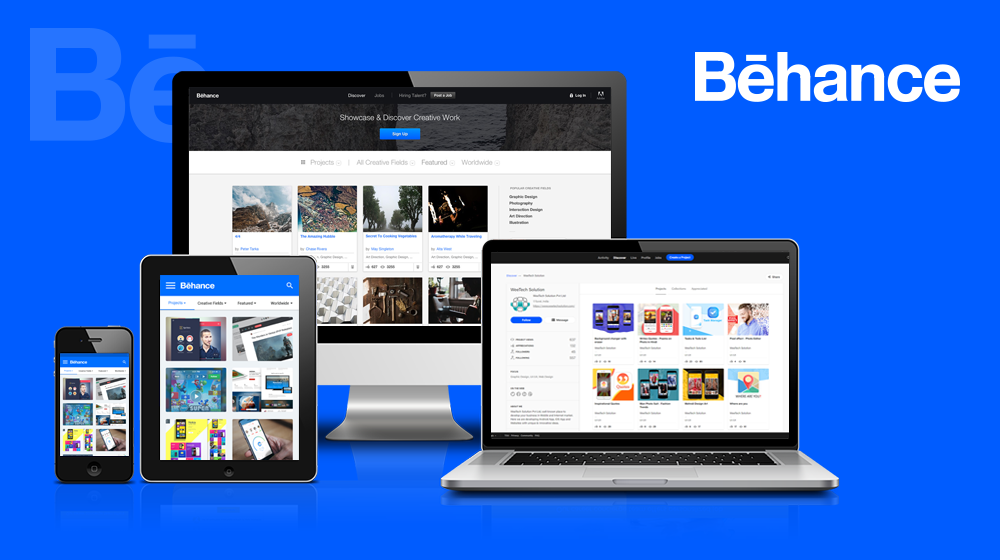 Behance are popular as network of sites and services that is very effective in self promotion and is also useful in consultation and creating your portfolio online. It is developed and owned by Adobe Family. It is one of the leading online platforms which allow you to showcase and discover your creative work. The developers get an access of updating their current work so as to broadcast and showcase it widely. Big companies gets and exposure to all their works based on which their talent is accessed on a global scale.
If you are a Graphic Designer, Interactive Designer or a Programmer Behance will give you a platform to share your work which will ultimately be beneficial for you to create new career opportunities. Regardless of the industry, using Behance you present your work on a large platform. Behance can be useful to the designers in the following ways:
Free Promotions
Behance is the best platform to showcase your design work. No matter you are experienced or inexperienced, Behance lets you showcase your work to be shared with the online community. It also gives you an access to connect with other designers. Behance does not charge anything for uploading your work on its site and is featured with social media integration which gives you a wide platform to share your work.
Finding job gets easier
Behance profile allows you to share your work and put up your resume on the site too which helps the companies to look into your job profile and hire you for their tasks if their requirements matches your abilities.
Sharing of your work
You must often be seeking for the ways to promote your products. Behance has got varied ways of promoting your products. Behance makes it easy for you to share your art and portfolios with just a few clicks across a wide network.
It shows your existence
Uploading your best on Behance will give you an exposure to a wide market. It will give your work recognition and will make people aware of your existence in design industry. There are many well paying clients who often look upto Behance for finding good artists.
Complete Protection to your Uploads and Shared Art
Behance gives you an assurance that your work will not be stolen at any cost. It does not allow any infringement to your work and gives it complete safety.
Get huge Exposure
Behance is visited by lot of the designers on daily basis. They are in search of god design work. Your art work gets exposure in a wide network considering which the possibility of you being hired by some good companies' increases.
Engagement with other Designers
Behance gives you a platform where you can meet other designers too and can exchange your best practices. This will help you gain the current trends in the market and will also help you improvise in your work by looking at the competition. You can ask other designers to give you feedback on your work based on which you can make necessary improvements in your work.