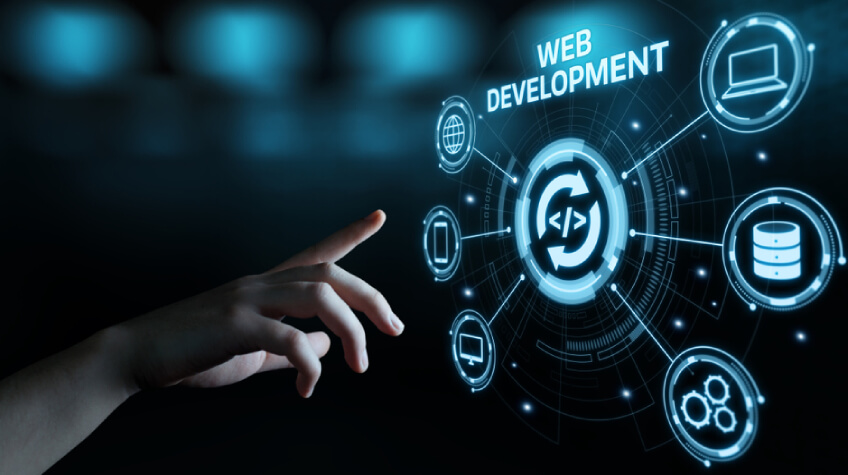 After the pandemic, it becomes so evident to us that anything is searched online. Due to the demand as well, plenty of websites started running on the internet. Today, we have more websites only dedicated to one topic. Whether searching for meal recipes on the new portal, there are many websites available on the internet. But have you ever wondered who are the people behind this website development? These people are called web developers. Let's know about them…
What is the job of a website developer?
Web developers are responsible ones to design all the pages of a website. They basically maintain and create websites. They manage technical parts of a website such as capacity, ranking, etc. They are specialized in coding and programming through which they maintain the website. As they design websites, they are even called Web designers.
What does it take to be a web developer?
To be a web developer, you have to first learn websites fundamentals. Apart from these, you have to learn to program. Along with that, you should choose one specialization regarding development. That's it, now after learning all these you can start practicing your skill, and also by developing your own website you can create one portfolio. Through your portfolio, you can showcase your skill to grab opportunities related to web development.
Web development is a lucrative career due to the high demand for websites. Now, in this article I am going to tell as a fresher you must do 8 things to get a job as a web developer
Let's dive into it one by one
1. Build a website
You may be wondering why I should build a website? Look, the answer is very simple. You have learned how to build a website, now by only building a website you are able to practice your learning. Along with practice, you can check your progress and judge your work as a web developer.
2. Practice
You may have heard this quote: Practice makes a man perfect. Through only practicing your skill, you get better at it. There are websites like freeCodeCamp, CSSbattle, Coderbyte, Treehouse, Frontend Mentor, etc. you can explore these aforementioned websites to practice your web development skills.
3. Internship
An internship is an excellent way to start your career as a web developer. Wouldn't it be nicer if you can practice your skill with some amount of earnings as well? The answer would be yes. Exactly Internship would give you this wonderful opportunity where you can earn along with practicing your skill. Apart from practice, you will get exposure to the industry field. That will help you immensely for your future projects. Sometimes, after the internship, many companies also give you permanent jobs at their organization if they like your work. Apart from these, companies also offer recommendation letter and certificates, which helps you get more opportunities as a web developer.
4. Hackathon
You can also participate in various hackathons. Hackathon is a sprint-like event where all web developers, graphic designers, coders, programmers collaboratively work on a software development project. Through participation, you get to meet a lot of other individuals from your field. That's how you get to learn and share your knowledge with others. It helps you to develop your skill in an effective way.
5. Freelancing
Working as a freelance web developer means you offer your service as an individual to an organization or a person. Through freelancing, you can earn a handsome amount of money. Freelancing also gives you the freedom to work on your terms and conditions. Moreover, you can deliver your work from anywhere. Even after gaining some knowledge, you can offer your services with a good amount of money. It is a real win-win situation to have money and freedom both at a time. If you want to bill your client by the hour, it is important to do accurate freelance job bidding so that you get a fair price for the amount of work delivered. Here are some freelancing sites where you can register and start earning, like Upwork, Fiverr, Freelancer, etc.
6. Open Source Project
You can also practice your skill through contribution to an open-source project. An open-source project is a project which allows everyone to work on the project, even anyone can change or add something to the project. But yes some rules have to be followed to work on such a project.
Related: 7 Best Software Development Outsourcing Trends
7. Saving Code Online
You are also several websites available where you can save your code snippets online. Few such popular websites are Githubs, Snippet , Smipple , Snipt,Snippet Repo, Snippets Mania, etc. By saving your codes online you can show others how you are progressing and any issue regarding coding you can discuss with others.
8. Update Your Learning
Last but not the least, you need to keep updating your skill to be in the race. As this field is very much competitive like any other one. Every day new software is coming, in order to build a solid career as a web developer, you have to stay updated with all new technologies related to your field.
If you want to build a career as a web developer, please follow the above mentioned 8 things. Also, you can see here for hire experienced dedicated web developers on Google. To be a successful web developer, learn the skill carefully then practice your skill. In the end, offer your service in exchange for a good amount of money. That's it. And don't forget to uplevel your skills to grab opportunities in the long run. Experience and Exposure fetch you the result that you desire.
Author Bio:
Sunny Chawla is a Managing Director at Alliance International. He specializes in helping client for international recruiting, staffing, HR services and Careers advice service for overseas and international businesses.