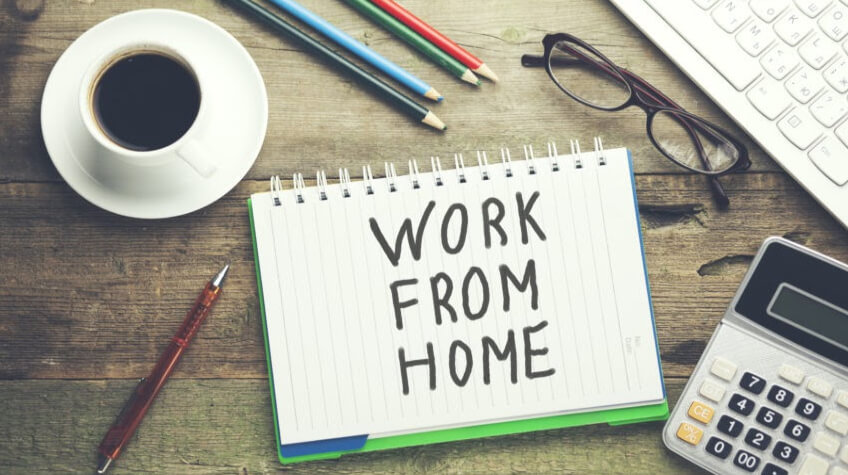 Work from home has become mainstream for the past few years. And the year 2020 has brought a significant shift in the work culture across the world. Due to the lockdown during the pandemic, people were made to work from home. More and more companies started operating online; not only this, even individuals started to find work from home expedient.
That is to say, seeing the numerous benefits of work from home, more and more people are now opting for it. Whether you believe it or not, this is the perfect time for work from home jobs. Online there are myriads of opportunities available to choose from. All you need to start is a laptop or a desktop with good RAM, a high-speed internet connection (which is, of course, not a problem today☺), and THE WILLINGNESS TO START.
Work from home job will give you freedom from all the stress and pressure that comes with a regular job. Apart from this, you'll have plenty of time to spend with your loved ones and family members. And yeah, you don't need to worry about the competition; if you are not scarcity-minded, there is abundance too.
The purpose of this post is to make you aware of the top 10 work from home jobs in 2023. You can consider these options for yourself, or you can share them with your loved ones.
Ready to find out more?
Without further ado, let's get started…..
1. Online Teacher/Tutor
Tutoring has always been a great work-from-home opportunity for people. With the advent of technology, things have become even easier. Technology has taken tutoring to a whole new level. Now, you don't need to go anywhere; you can take classes from the comfort of your home.
Today, online tutoring is one of the best work from home jobs. Besides having a laptop, webcam, and a high-speed internet connection, you need to have good command over the subject. Not just a subject, you can even teach international languages online. Due to the high demand for international language(s) candidates in the job market, the demand for international language teachers has also increased.
Knowing the international language(s) will allow you to get language students easily. It is a very promising career option for both men and women.
There are many online tutoring platforms, including tutor.com, Chegg, clubZ.com, Wyzant, etc. All you need is to register yourself on these platforms and get started.
2. Web Designer
Another excellent work from home job option is Web designing or web development. Today, more and more companies are going digital. They're outsourcing web developers to help them have wonderful websites for their companies. If you can develop creative websites for the businesses out there, it's surely a go-to profession for you.
With the digitalization of business, the demand for web designers is growing. If you know the inside out of web designing and are able to deliver the best work, start as a freelancer. Believe it or not, there is no dearth of work for sincere and quality web designers. Businesses are already looking for experienced designers who could help them develop a website that generates revenue.
There are many online platforms, such as Fiverr.com, UpWork, PeoplePerHour, etc., where you can register yourself to get projects.
3. Programming Language Techie
If you have already mastered programming languages or are keen to learn, then you're sure to succeed. With more and more companies increasingly tapping into independent technology professionals to complete technical projects, the demand for skilled technical talent on online platforms, such as Upwork, seems to be surging.
This is one of the lucrative work-from-home job opportunities today. Knowledge of popular programming languages, such as Ruby, Java, and SQL, can help you build a meaningful and rewarding career as a freelancer. Not only are programming languages high in demand, but also they are high-paying. These languages are great options to start your own work remotely. You can easily learn and master these languages. There are so many online and offline institutes, like WeeTech training aspirants and helping them succeed in their careers.
Platforms like Upwork, Fiverr, and freelancers.com provide opportunities to the techies to get online projects. Just register yourself on these platforms and get set started!
4. Affiliate Marketer
Affiliate marketing has turned out to be one of the most popular work from home job options for people all across the world. About 80% of the brands throughout the world equip affiliate marketing in their arsenal.
This business model is not new; it has been around for quite a few years. There are tons of affiliate marketers trying to establish their dominance in the industry. Lots of products and services are being launched each day. Companies are looking forward to promoting their products and services but aren't able to do it themselves because of their weak network. Like construction contractors, law firms, insurance companies, brick and mortar businesses, etc., many businesses are developing their own affiliate programs.
With a tremendous rise in the number of E-Commerce stores opening every year, the number of opportunities for affiliate marketers is surging. Various big guns, including Amazon, eBay, Walmart, etc., already have their affiliate programs running, which you can take advantage of. Today, it's a lucrative career option; you get paid for each lead or prospect that you help them generate. Some businesses even pay more than 40$-50$ for each lead. All you have to do is equip the right tactics and develop your own unique ideas.
5. Content Writer
A very creative and straightforward work-from-home job opportunity. If you possess the ability to think outside the box and create unique and engaging content, then consider content writing. It is one of the most versatile and creative work from home opportunities for creative people.
With limited resources, you can start your own work. Initially, you may have to work hard to get clients, but gradually it's only growth that you come across. We are in the era of digitalization, where almost all the companies are going online. These companies need unique content to get their websites rank in the Google index and stay ahead of their competition. Most companies don't hire permanent writers; they simply outsource them. If you have a knack for writing, then become a content writer, otherwise known as a content creator. Besides becoming a content creator, you can also work as a freelance proofreader, editor, etc. There is no dearth of writing jobs online. All you have to do is to register yourself on platforms like Fiverr.com, Upwork, freelancers.com, etc.
6. Digital Course Training
Another top work-from-home opportunity for you is digital course training. You can start working as a digital course trainer. It is similar to online tutoring because you will be imparting training online. This is a perfect work opportunity for people looking for work from home job options.
The advent of technology has made our lives very comfortable. Businesses have understood the dire need to go online. They also know that only going online won't serve the purpose; they will have to do something extra to stand out. And that something extra is SEO Marketing, Digital Marketing, etc. That is why they're looking forward to outsourcing Digital Marketers, SEO marketers remotely. And that's the reason more and more people are willing to learn these courses. If you have a knack for courses, such as Digital Marketing, SEO marketing, etc., it's your cup of tea. All you need is to have complete knowledge and your website to promote yourself. That's all!!
7. Virtual Assistant
This is another incredible work opportunity for you to make money. If you are good at organizing schedules and possess some experience in providing administrative support, then virtual assistance is for you. Virtual assistants' job requires employees to perform a wide range of tasks, such as scheduling meetings and interactions, email management, maintaining the company's social media presence, and event planning. Check out the best webinar tools of 2021 from Webinarcare.
Many agencies or staffing companies hire virtual assistants remotely. One such agency is Boldly; you can apply for online jobs there and get hired. You can join these agencies as a freelance professional, on a contract basis, or you can even take their help to find a client. It is absolutely up to you how you want to work. Just know that this is an amazing work from home opportunity for you that you can consider.
8. Consultant
If you have laudable experience in any professional field, it's time to garner the benefits of that experience. How? Well, by becoming an independent consultant in that field. As a consultant, you will help other professionals or businesses that are facing the same hurdles as when you started.
This is one of the tremendous work-from-home opportunities for active as well as retired professionals. The coolest thing is you can choose your own working hours and select your clients as an independent consultant. If you don't have a lot of professional connections, you can publish your consultancy portfolio on various marketplaces and get credible clients. These marketplaces include FlexJobs, Upwork, and Robert Half, among many others. You can get in contact with numerous staffing agencies and different clients from across the world on these platforms.
In the start, you may find difficulty in gaining clients. However, with research, you can always make credible connections that will lead you to more lucrative work opportunities. Initially, it takes time to make money. But, if you stick to it, you can easily earn from $20 to around 200 dollars an hour. The payment will vary based on the type of industry you'll work in. Independent consultancy is one of the most rewarding work from jobs that comes with a lot of perks. You can work as an independent entity or contact an agency that can help you find online opportunities.
9. Transcriptionist
This may be a new work-from-home jobs for many, but it's one of the rewarding job options. Businesses are looking for Transcriptionists working remotely. Their job responsibilities include creating accurate written versions of audio and video recordings, identifying any inconsistencies, and reviewing and editing transcriptions done by speech recognition software.
To be a successful Transcriber, you should be disciplined and have excellent reading, listening, and editing skills. If you have a good typing speed and superb attention to detail and be able to keep all sensitive information confidential, Transcriber's profile is for you.
Different fields have different requirements for transcriptionists. For instance, if you want to be a transcriptionist in the medical field, then you must possess technical knowledge or some first-hand experience of the subject matter, and you're good to go. Marketplaces such as Pactera Technologies and Literably hire freelance transcriptionists. You can get yourself registered there.
10. SEO Specialists
SEO or Search engine optimization has gained immense popularity in the past few decades. It is the process of improving the quality and quantity of website traffic to a website or a web page from search engines. SEO marketing is one of the most important marketing tools today. Almost all businesses that have an online presence look for experienced SEO specialists to have improved website traffic.
Experienced SEO specialists use research and analysis to improve a website's ranking on search engines like Google. They search for the most popular and relevant keywords used in search engine queries and inset them into websites, thereby helping search engines find those sites and display them to web users.
SEO specialists are responsible for analyzing, reviewing, and implementing websites optimized to be picked up by search engines. They conduct a lot of testing methods in design, layout, and advertising techniques to gain the most organic and paid traffic.
If you have in-depth knowledge of keyword research, SEO copywriting, and search engines' behaviors, consider SEO marketing. It is one of the most promising work from home jobs today.
If you don't have many professional connections, you can consider publishing your portfolio on various marketplaces and getting credible clients. These marketplaces include Fiverr.com, Freelancers.com, and Upwork, among many others. You can even get in contact with different clients from across the world on these platforms. Besides, you can even get in contact with digital marketing agencies to get work from. There are many digital marketing agencies out there; you just have to scroll down the internet!
CLOSING THOUGHT
So, these are the top 10 work from home jobs in 2023. Besides these, there are several other opportunities which you can think of, such as telehealth nurse, ghostwriter, business writer, etc. Work from home jobs is a great opportunity for people looking for stress-free work options. But you have to be very disciplined and persevering when you consider work from home jobs. It is the key to become successful while working from home.
Happy Working From Home…. ☺ ☺