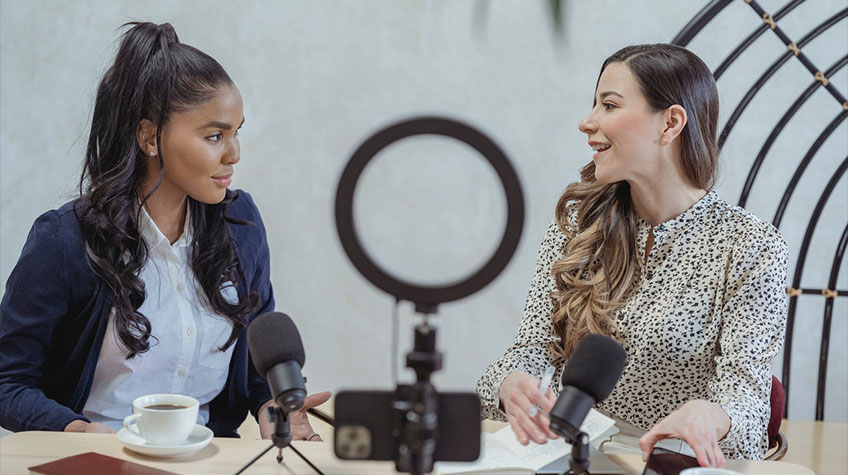 In the current digital landscape, marketing has completely evolved. It has enabled businesses to market their products and services at a large scale to their target audience. But it has also become equally important for companies to stay on top of the latest marketing practices due to never-ending digital transformation. One of the best ways for business owners to harness the latest marketing techniques is by listening to experts' podcasts. Podcasts are one of the significant developments in the digital evolution. Different individuals host podcasts that invite guests from various industries.
People from different walks of life share inspiring stories and real-life experiences in podcasts that provide valuable information to the online audience. The same goes for digital marketing, as many experts share effective marketing techniques and methods based on their experience.
Digital marketing has different branches: SEO, PPC, SMM, email marketing, content marketing, etc. All experts specialize in a specific type of marketing. So, digital marketing experts' knowledge and experience allow companies to elevate their growth.
Without further ado, let's find out some of the best digital marketing podcasts you must follow in 2023.
1. Local SEO Tactics
As the name suggests, this podcast specifically focuses on local SEO strategies. Bob Brennan and Jesse Dolan host this show, and the episodes of podcasts are available on Podtail.
It will keep you updated about the latest local SEO practices that will help you elevate your business growth. By having useful insights through this show, you will be able to gain cutting-edge over your competitors. Also, you will be able to rank for the local business keywords that will effectively improve your search engine visibility.
As an entrepreneur, if you are searching for SEO and backlink building services USA, for instance, has some of the best SEO agencies. Nevertheless, these podcasts can help you gain an understanding of any strategies put forth by these agencies.
Listening to this podcast will also help you know how you can identify the ideal customers for your local business. It will allow you to create strategies accordingly that will eventually help you rank your website on top.
2. SEO 101
It is another biweekly podcast related to SEO hosted by two SEO specialists, John Carcutt and Ross Dunn. The podcast is available on webmasterradio.fm. If you have built a website from scratch and want to improve its search engine visibility, this podcast should go on your to-listen list.
The show provides great knowledge to listeners on how they can drive more traffic to the website by improving its SEO. You do not need the expertise to understand the show, as the content is straightforward and simple. It can be the right choice for you if you are a beginner. The show also features industry experts, and the hosts also answer the audience's questions related to SEO.
3. The Content 10X Podcast
Content marketing is one of the pivotal elements of current marketing practices. So, if you want to level up your content marketing game, this podcast could be your starting point. Amy Woods, a British content marketer, hosts this podcast and provides valuable information related to different aspects of content marketing.
The content 10X podcast highlights essential factors that allow companies to make the best out of their content. You can get valuable information about the latest content practices, such as content recycling. It is one of the primary techniques you can use to revise old content and use it for marketing your products or services. For example, if there is an ad copy or tagline you have used previously for any product, you can reuse it by making necessary changes.
Amy also discusses how to promote on-site content by leveraging different social media platforms. Every platform is different, so you also have to use content strategies differently to achieve your desired results. The podcast also covers different trends by inviting the subject matter experts on the show. Also, it provides useful information to the audience on how they can build and grow social media profiles by using results-driven content strategies.
Content has already become a vital part of consumers' lives, so you cannot afford to miss this podcast as a business owner. The episode comes out every week with different topics, so you must check it out as it can add value to your content marketing efforts.
4. The Blogging Millionaire
Brandon Gaille is the host of this podcast that provides useful insights to aspiring bloggers. Brandon has an inspiring story that has motivated many people to bring a positive change in their lives. After battling a brain tumor, Brandon started a blog and established a business out of it. His online courses are also available, and many people also get a consultation.
This podcast features different techniques for blogging success. You can learn stuff related to blog monetization and affiliate marketing to help you earn a handsome amount of money. More importantly, you will get to learn different aspects involved in blogging, such as the length of blog posts. Also, you will get to learn how you can address the issues of your specific audience and answer their queries through blogs. So, it will help you to follow the right steps to create effective and money-making blogs. If you have just started your blogging website, this podcast could be the perfect place for you to learn from.
5. Paid Search Magic
Digital marketing with the same name has created this podcast to help businesses achieve their goals using paid search ads. Amy Hebdon and James Hebdon are the hosts of this show. They cover different topics and categories of paid search. The show is available on Apple Podcasts.
6. The PPC Show Podcast
Paul Wicker is the host of the PPC show podcast that provides interesting and valuable information related to PPC. You can find the show on Spotify and Podtail. PPC is one of the major branches of digital marketing, so start listening to this podcast regularly if you want to learn it.
The show features marketing experts who share the latest techniques and practices for growing a business through paid search. The show's episode comes out every week and includes valuable discussions with the industry experts. Also, it will provide you latest updates and insights related to ad tech news.
7. PPC Rockstars Podcast
Here is another podcast related to PPC, available on Spotify and Podchaser. It is one of the famous PPC podcasts you can find on the internet. The reason is that this show has been around for almost a decade with thousands of episodes. With the digital industry evolving rapidly, this podcast helps people stay updated about the latest PPC strategies and techniques. If you depend on the PPC campaigns heavily, you must listen to this show. You will surely learn valuable lessons to enhance your business growth through paid ads.
Conclusion
As a result of the digital evolution, podcasts have become one of the best resources of information. Experts from different industries share their experiences, providing helpful information to their listeners. The same applies to digital marketing, as different podcasts positively contribute to helping businesses grow. It has enabled companies to level up their marketing efforts as per the latest practices. So, if you are stepping into the world of digital marketing, the podcasts mentioned above can help you big time to accomplish your goals.
Author Bio:
Emma Megan is a passionate lifestyle blogger. She is an enthusiastic writer loves to write on Digital Marketing and technology inclined towards ever-changing trends. For more updates follow her on Facebook Emma Megan and twitter @yougotEmma.