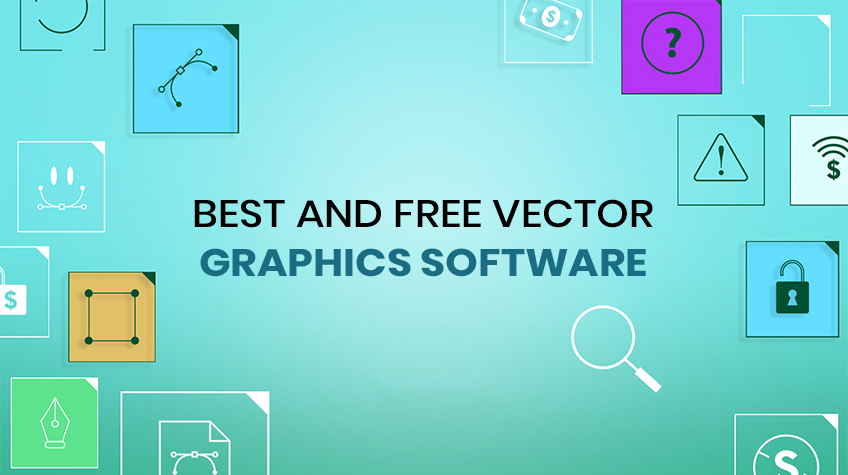 Yes, vector software is indicated as the source that lets you create, compose, edit graphics with the use of mathematical commands instead of individual pixels. Also, the online tools like PNG to SVG converter taken into account to export png as a vector SVG file for certain concerns.
Vector software is mainly used for creating high-definition images that can be scaled at any level without degradation of quality. If you're seeking the best vector software to deal with your vector artwork for different queries, then stop worrying more! We are going to list a few best and even free tools that let you fetch much more for your vector graphics. But before that let's explore a couple of benefits of using these programs!
Benefits of using vector software:
Read on!
► Scalable:
The images that are created with vector software are highly scalable. You can stretch them in indefinitely without any quality distortion or even not pixilated. Even start using PNG to SVG converter by theonlineconverter.com that enables you to perform PNG to vector SVG conversion in different illustrator presets without quality loss.
► Small file size:
The size of the file that is produced or created in vector software is typically small.
► Different Formats:
The files that are created via this software can be stored and even exported in different file formats such as EPS, AI, and SVG. Also, it can work as a png to SVG converter to quickly convert PNG file to SVG vector color files.
1. Adobe Illustrator
It is indicated as the best vector graphics tool that assists you in creating 3D graphics, adding textures, and much more. The users can share their artwork seamlessly with others by simply sharing a link for feedback. You could explore an in-built panel teaching panel that helps you to polish your skills.
Even you could readily and automatically replace missing fonts by using its feature of auto font activation. And, if you have an existing PNG font logo and want to turn it into a vector SVG file, then it's time to start using an online PNG to SVG converter.
Why Use:
Assists you in designing logos, hand lettering, icon, infographic, banner, typography fonts, and much more
Adobe Sensei AI lets you create or recolors efficiently
Provides you with 3D effects graphics and even textures facility
Provides the ease of collaboration through shareable links
Let's you replace the missing fonts with similar ones and even eliminates manual work
Also read: 5 Graphic Design Mistakes New Businesses Often Make
2. CorelDraw Vector Graphics Software
CorelDraw is referred to as the best tool for branding, marketing, signage & large-format printing, illustrations, and certain artwork. Although it is best for vector files but does not support PNG to SVG vector file conversions. For such concerns, you simply have to upload PNG raster graphic images into PNG to SVG converter online to export PNG images as an SVG file.
It provides you with great traits such as an all-in-one design and layout, alternative licensing models, extensive file compatibility, and much more. Also, it offers flexible design space and even a dynamic asset management facility.
Why Use:
Image editing feature with enhanced color replacement, HIFF file format support, and much more
Provides you with advanced collaboration tools that assist in enabling gather comments, feedback, and annotations in real-time
The upside about this tool is that it is highly accessible on Windows, Mac, web, iPad, and certain other mobile devices
Packed with professional tools such as page layout, illustration, photo editing, typography, and font management
Supports different file formats including AI, PNG, SVG, DXF, EPS, and HEIF. And for saving PNG as an SVG vector image file, you have to use PNG to SVG converter for ease
3. Vectr
If you are seeking free vector software, then Vectr is the most suitable tool. It is a well-known medium to design and edit vector graphics as well which requires minimal effort. You just have to share a URL to start your artwork for vector design concerns. You can even generate an SVG vector from any existing PNG file by using an online PNG to SVG converter.
The Vectr program allows you to generate clear images that can be scaled at any level without any quality distortion. The upside about this tool is that it provides you with tools and features powered by AI.
Why Use:
Provide you with real-time collaboration
All the generated images are scalable
Offers faster, smarter, and easy to manage vector editing
Fetch a great chat feature within the software to communicate
4. Affinity Designer
It is vector design software that is specifically designed with the latest technology operated on Mac, Windows, and iPad. It is packed with great tools like unlimited artboards that work best for your vector graphics. And, if your artboard includes a PNG file and you want to save it as a vector SVG, then an online PNG to SVG converter work as natural assistance.
It also offers you different time-saving functions that let you entirely concentrate more on creating vector graphics.
Why Use:
Fetch a great option for switching between vector and raster images
Its workflow is specifically created with unlimited boards, keyboard shortcuts, Advanced grids, snapping and alignment, and much more
It is easily accessible from anywhere with the same format on Mac, Windows, and iPad
Provides you with different vector tools for high productivity and 100% accurate geometry
5. Sketch
Its powerful tools assist you in designing certain graphics within no time. Also, it works best in collaborating process and even assists in designing in real-time. You could now make your vector artwork at a great extent of level within a couple of taps by using this tool. Moreover, the source of an online PNG to SVG converter is always recommended tool for designers that helps to convert PNG to vector SVG image files.
Why Use:
Its collaboration feature allows you to share and work on the same document
Get flexible vector editing, fine controls, OpenType fonts, and much more
You can create workspaces within no time for documents
Provides you with hassle-free handoff through which the developers can easily download the pixel-perfect graphics
Thankfully, you explored the top 5 best vector graphic software that helps you deal with vector images without any quality distortion. Good Luck!