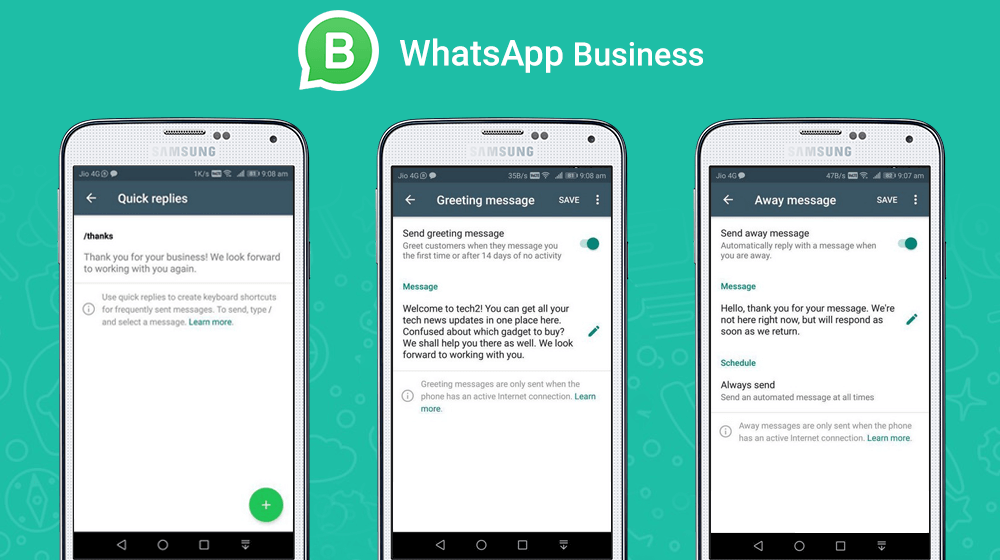 WhatsApp is known name for all of us not only in India, but also throughout the world. WhatsApp is one of the most effective applications with the help of which communication has been made very easy and effective too. WhatsApp aids to connect the world without charging even a single penny. Whatsapp has recently introduced WhatsApp Business App so as to make it possible for all the businesses to run smoothly. WhatsApp Business helps in connecting the small business of all the categories starting from Online Clothing Companies to Auto Part stores. It has been built with the motive of improving business experience for the people.
WhatsApp Business App is a free to download app for all the small businesses. It will make the business communications easy and will benefit both the consumers and the businessmen as well.
Some of the key features of WhatsApp Business App are as follows
Business Profile: Attractive business profiles can be created using this app, where you can deliver the customers with the information like business description, email id, website details and also store address.
WhatsApp Web: Business can send and receive messages even with operating WhatsApp on the desktop and not always on the phone with the help of WhatsApp web.
Messaging tools: Customers can be responded quickly with quick and instant replies which gives answers to various FAQ's, greeting messages, also introductory messages for the customers and lastly away messages which are used to inform the customers that you are busy.
Account Type: This app will make people aware that, they are talking to business as the account will be listed as a Business account. Also, after Business Accounts turns into Confirmed Accounts, the account phone number will be reflected which will match the business phone number.
This version will also allow you to add landline numbers other than the mobile numbers.
Total no. of messages received and sent can be clearly seen.
Automatic messages can be created and used as and when needed.
Business Category also can be chosen while you are registering in the Business App.
Schedule of the replies can be created and managed in this app.
Did you know you can now Download GB WhatsApp APK latest version 2021 on your phone. Check out softgoza for more information.
Certain points that need to be taken into consideration before you start using WhatsApp Business App are as follows
WhatsApp Business accounts can be created and operated only by legitimate businesses by using a number that is a business number. Number once registered as business number cannot be registered as a number for regular WhatsApp account.
As per the terms and conditions of WhatsApp Business Account, before you contact the customers you need to get their consent. Only if they share their name and number with you and also have agreed on being contacted by you on WhatsApp that is when you can approach them.
After you verify your legitimate WhatsApp Business account, it will display a Green Checkmark badge in the profiles. After the approval of WhatsApp on your account it will be deemed as Confirmed.
WhatsApp business accounts can be blocked or marked as spam by the users if they wish to stop businesses from contacting them.
No kind of Payment information is to shared with WhatsApp Business Account holders.
WhatsApp holds the authority of accessing all the conversations between the users and WhatsApp Business Account holders as and when needed.