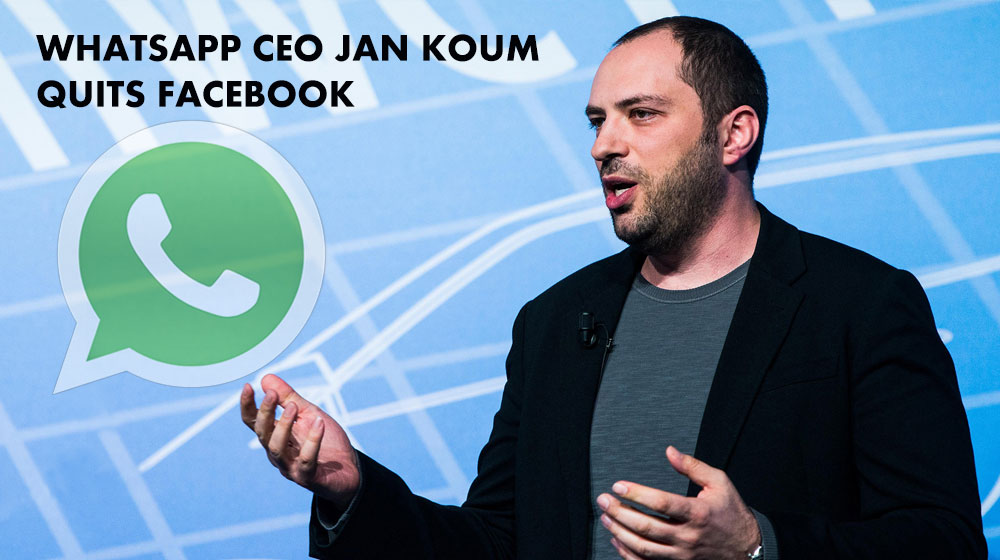 The co-founder of Whatsapp and the CEO Koum was facing some severe issues with the Facebook in terms of privacy and encryption. Soon the news came out that Whatsapp co- founder and CEO had to leave as they were engrossed into some disagreements with Facebook. Koum after his departure posted that he will be looking over the Whatsapp but from outside. To this post of Koum, Mark Zuckerburg replied by thanking him for all what he has taught Zuckerberg especially the encryption part which was taught to Mark by Koum.
Koum sold WhatsApp to facebook for more than $19 billion and also decided to give up from the position of Facebook board of directors. Koum has always ensured to provide independence and complete protection and security to its user's data. When Koum and Brian Acton were selling WhatsApp they were pretty much sure that WhatsApp will never be running ads and will never merge its data with Facebook. After sometime, WhatsApp received much pressure from Facebook for changing their terms and conditions. They were also focused to share their entire user's contact numbers with the parent company so that they can utilise this data and target the audience with specific advertising and promotions. Koum was also dissatisfied and furious by the facebook executives as they were found to weaken the end-to-end encryption so that they can provide with a facility for business programs. If all the team members gets an allowance to interact with each other over Whatsapp account this might lead to incompatible with strong encryption. Facebook made a decision to make money through whatsapp wherein they would be offering various services as bonus to big companies like airlines, e-commerce sites and banks so as to make it easy for them to undertake business activities over Whatsapp.
Koum was any which ways against this proposition and stated that making ads a part of the chat app can be disgruntling as ads will never be able to make the life of the people better. He strongly committed to keep ads out of Whatsapp. But from past few years, Facebook was found to be displaying some ads over the messenger. Facebook might as well drag all those ads to Whatsapp as well.
News Feed was found to favour Facebook at once and on the other end, it also displayed Facebook as a villain. Many people are not yet aware that Whatsapp is now owned by Facebook.
Also Read:-
WhatsApp has launched person-to-person payments into beta in India
WhatsApp for Business – Now officially launched for selected markets