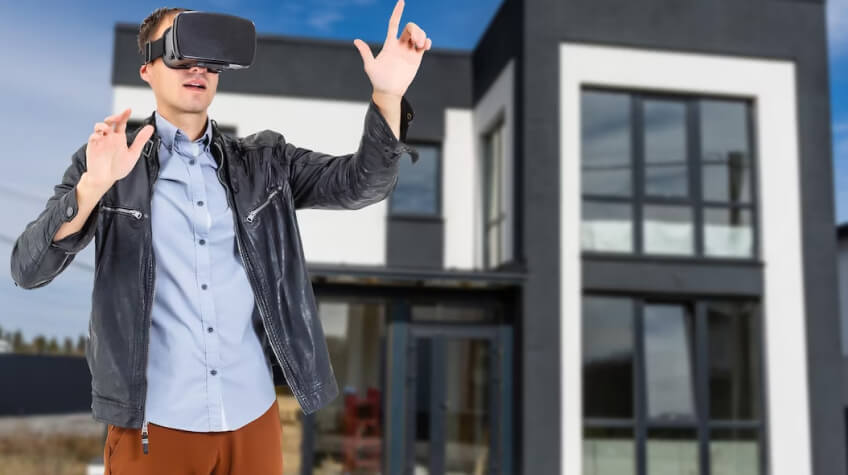 Have you ever thought that the metaverse could be a factor causing massive shifts in the real estate industry? As of 2022, real estate sales in the metaverse were upwards of $500 million. And by the end of 2023, this number will cross $2.5 billion! It's enough proof that metaverse for real estate has revolutionized and taken the industry by storm.
As more and more individuals are moving their lives online, the demand for virtual spaces has started increasing and becoming an overnight sensation. But how exactly is metaverse turning into a new frontier of real estate? What changes can you expect, and should that be something you should invest your time and money in? Let's get into the details.
Metaverse: What's Its Potential In Real Estate?
"Metaverse is a new wave that is fueling the development of the real estate market and witnessing a crazy multifold growth in it."
This brave new world of real estate offers a wide range of opportunities to buyers and sellers alike. From being able to get virtual tours to finding long term value in virtual land, the scope of real estate has certainly grown since the introduction of metaverse.
The agents can work remotely, attend meetings, socialize with coworkers informally, and boost their earnings. Metaverse also enables the buyers to gain suggestions on which property will probably increase in value and pinpoint the choicest property locations suitable for them.
According to Robson, an analyst of a company named WetMeta, "it's very possible that metaverse in real estate may be a stable investment in the coming years."
Let's look at some incredible numbers to understand the emerging space of virtual real estate.
A set of the most populous islands sold for $15,000 will likely hit the resale market at $100,000 or more.
A virtual property plot in "Decentraland," was sold for $2.4 million.
In the year 2021, PricewaterhouseCoopers purchased several plots in Decentraland.
BrandEssence market research predicts the metaverse real estate market will grow at a compound annual rate of 31% between 2022 and 2028, reaching $1 billion.
According to consultancy firm McKinsey, corporations, venture capitalists, and private equity invested $120 billion in the metaverse between January and May 2022, more than double the $57 billion invested in 2021.
Metaverse for Real Estate: Is it As Rewarding As a Bricks & Mortar Store?
For the sceptics, metaverse may seem like another buzzword whose popularity will soon die down. But, that's far from the truth.
Virtual real estate may just be the unmissable opportunity that will increase in value with time. It may be an exception today, but the technology in real estate industry is developing every year. The day is not far when a metaverse shop or home will be a commodity that everyone's looking for. Even today, it's changing the real estate world in the following ways-
Offering A Chance To Build A Virtual Real Estate
Virtual real estate has become a source generating income. Just like physical real estate for residential or commercial purposes, metaverse provides virtual space to do the same. It allows you to lease, occupy and sell tangible property or even start a construction. Such virtual real estate properties are emerging as a new space to deliver a unique experience to both retailers and individuals.
And many entrepreneurs and business persons have already understood the potential of the metaverse in real estate.
Presently, Pallavi Dean, CEO of "Roar," a Dubai-based design studio bought virtual land in Decentraland in hopes of creating a 'junction between commercial and hospitality.' The company is in the works to build floating pods, retail spaces, and NFT galleries in the virtual land.
Host Meetings In Virtual Office:-
Virtual reality is popping up everywhere and turning individuals' attention to virtual offices. Nowadays, small businesses & large tech companies like a metaverse development company are investing their time, energy, and money in building virtual workspaces.
It's more than just a mere video call. The metaverse technology lets you create an immersive meeting experience with fully interactive virtual workstations. A study claims 78% of business professionals will participate in the metaverse instead of boring old video conferencing.
VR headsets block all sorts of distractions from your surroundings. Virtual offices act as offices in the real world, and another interesting thing is that you need not pay any tax or additional maintenance fees to build your own office in the metaverse. Furthermore, it'll give you the power to create a personalized space that fits in with your company's image and that the employees & co workers of your business can relate to more conveniently.
However, it's not easy to deny that the term Metaverse has been prominent recently, but working & interacting isn't a new concept for companies. Nowadays, most innovative businesses are hosting corporate events; scheduling meetings with clients, and executing all corporate operations in the metaverse. eXp Realty, Afrotech by Blavity, Softtek, American Cancer Society, and more are a few companies that have been operating in a virtual world for many years.
Pallavi Dean is moving some of her business operations into the metaverse and hosting meetings with clients in her virtual office Roar. She wanted to showcase Roar's work to clients, so she purchased four plots for nearly $60,000 in January 2022 in Decentraland.
A Space For Innovation
The advantage of virtual space lies in the freedom it provides for innovation. Unlike tangible properties, those investing in real estate have the option to explore new opportunities or areas for better monetary gain. The virtual space does not involve the hassle of bricks and mortar leaving you with the ability to be creative and innovate.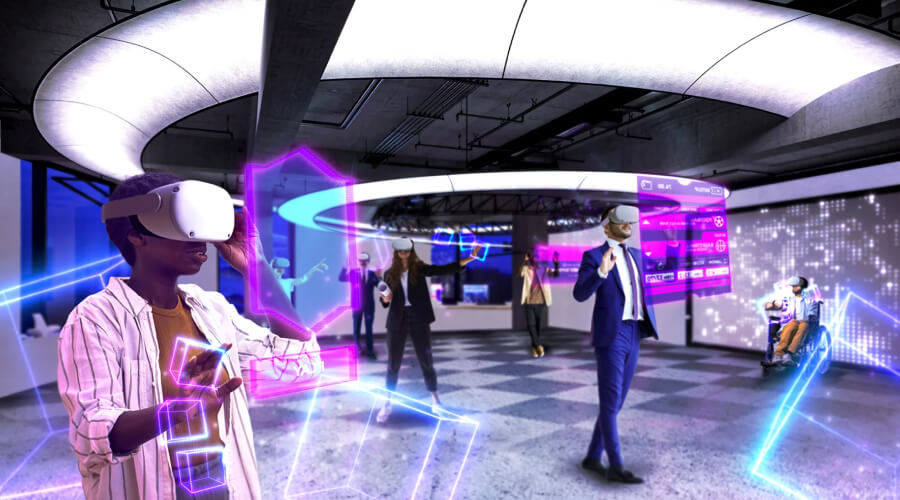 George Bileca, the CEO of Voxel Architects is one such man who fully utilized the innovative freedom of metaverse. He started as the designer of digital car NFTs and within a span of two years became the owner of a company building metaverse native digital architecture.
High Earning Potential With Commercial Real Estate
Every brand out there is eyeing the metaverse. Why? It's an investment that will not only raise their value but also increase revenue by boosting commerce. What could be better than being able to rent or sell land or space to these brands?
Ecommerce in the metaverse is expected to grow at a CAGR of 39% between 2022 & 2027, increasing by 85,885 billion dollars to make it a very appealing market for retailers. Furthermore, there are various big brands that have started investing in the metaverse such as – NIKE, SAMSUNG, GUCCI, ADIDAS and many more.
By building properties for commercial real estate, brokers can use this level of popularity to explore a new way to increase the stream of revenue.
LandVault is an example of a company that saw this potential and utilized it to their benefit. It became one of the biggest virtual land developers and today rents its land to brands and develops campaigns for them.
Create Value in The Metaverse WIth NFTs
Metaverse has more to offer than just properties or virtual lands. Digital assets like non-fungible tokens (NFTs) have added value to the world of virtual real estate.
Pavel Sinelnikov, co-founder and CEO of Ethereum layer-2 scaling solution Metis DAO, said that metaverses aim to achieve "digital land ownership and the ability to buy, sell, and rent land and other virtual items."
NFT is one of those virtual items. But, how exactly do they add value?
NFTs are the foundation of the economy of the virtual world. Just as you buy a piece of land in the physical world, purchasing land in the virtual world has the same process. But, the key difference is that in the metaverse, transactions are done using NFTs which denote ownership.
When you purchase particular land, instead of acquiring a deed, you get an NFT that records your ownership of that little slice of the digital world. It clarifies that a crypto trend is moving along with the growing digitalization. As NFTs are shining all over the internet, many investors and creators are making remarkable figures that will transform their lives.
Upon Consideration
So, what do you think about the existence of virtual real estate & the metaverse? Will they stay for a long time? Or will both continue to grow in popularity?
The virtual real estate market is booming and offering plenty of opportunities to new movers. Undoubtedly, the metaverse is the future of real estate, because it promises to offer a decentralized, immersive, more connected, and visually alluring virtual real estate.
It's an investment that's worth the time and effort and one that future proofs your business. So, will you consider moving your real estate business to metaverse?