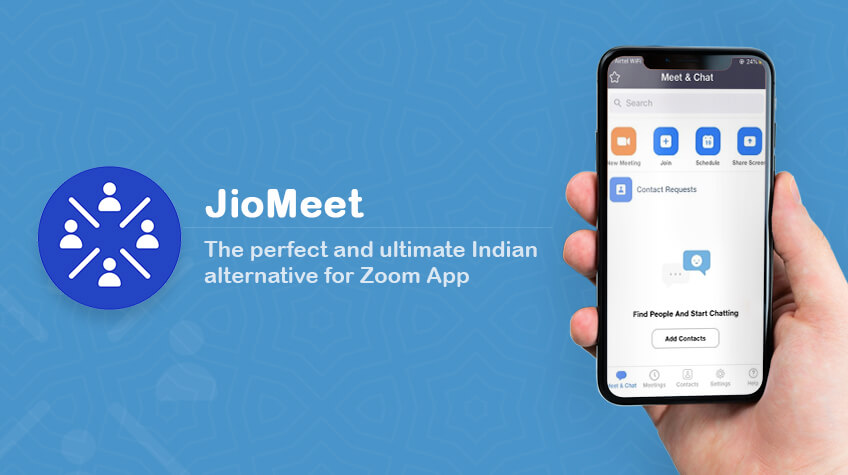 Ever since the coronavirus outbreak, the entire world was on complete shutdown. Offices, schools, government departments, etc. were all closed due to the lockdown. But, because of the internet and mobile applications, people were able to work from home, students were able to study online, etc. One such app that was very much in use during this lockdown period was Zoom.
However, the government of India issued a 16-page set of guidelines in April that deliberates that Zoom is not safe. However, according to the government report, the Zoom meeting app is not a safe option, and the safety of the private users will be at risk if they continue to use Zoom for private purposes.
Well, if you were using the Zoom meeting app, and planning to uninstall it, you can do it as Reliance Jio has launched JioMeet, an alternative for zoom. JioMeet is a fantastic alternative to the Zoom video conferencing platform. The homegrown video conferencing app is compatible with both IOS and Android phones, and the app is already available to the public on the Google Play and Apple App Store. Just like the Zoom meeting app, the JioMeet also offers 1:1 video calling along with the large size group calls with up to 100 participants.
Both JioMeet and Zoom meeting app has a couple of similarities and a bunch of differences, like:
Commonalities between JioMeet and Zoom
Both JioMeet and Zoom support direct calls, which include one-on-one calls and calls between large groups of up to 100 participants. Zoom provides numerous enterprise-grade host controls to its users. It offers settings where participants can enter a meeting only if the host permits him/her to. Similarly, in JioMeet as well, you will find all those features.
In addition to this, both JioMeet and Zoom are free to up to 100 participants in a group. Also, you can have password-protected meetings on both the platforms and both have the waiting room feature. Besides, the meetings on both the apps can be held in HD quality as well.
Differences between JioMeet and Zoom
Besides being an Indian app, many other features exclusive to JioMeet include,
The first feature that only JioMeet provides you is – the JioMeet app can support multi-device login support, on up to five devices. You can coherently switch between devices even when you are on a call.
Another exclusive feature that only JioMeet offers is – Safe Driving Mode. With the help of Safe driving mode feature, users will be able to continue their meeting en route.
As said earlier, Zoom is not a safe app. Safety has always been one of the significant concerns with Zoom. Its security infrastructure is not secure. There were many occurrences of a security lapse, both on the app and the web, such as incidents of 'Zoom bombing', where people unrelated to the group meet were spotted quite regularly. However, the Zoom meeting app introduced end-to-end encryption, but that too came with a catch. Zoom even added a few security upgrades, but all of them were absolutely unsatisfactory.
Eventually, it was noted that only paid users can get the best security on the Zoom platform, while free users will always have to struggle with safety. Moreover, the government has already issued guidelines to avoid using Zoom, besides many organizations also deliberated about the safety concerns related to Zoom.
But we are sure that Reliance JioMeet will be a safer option as it has been launched as an alternative for Zoom, and Reliance must have noted all those loopholes in Zoom already. However, it is too early to say anything about the new Reliance app. JioMeet is now available on Google Playstore and Apple app store, and very soon, we'll get to know how it operates along with its functionality as well. But so far, JioMeet seems like a better and safer alternative for Zoom, especially because JioMeet is an Indian alternative for zoom.
Do try the app, and let us also know about it!
Stay Safe, Stay Secure, both online and offline!