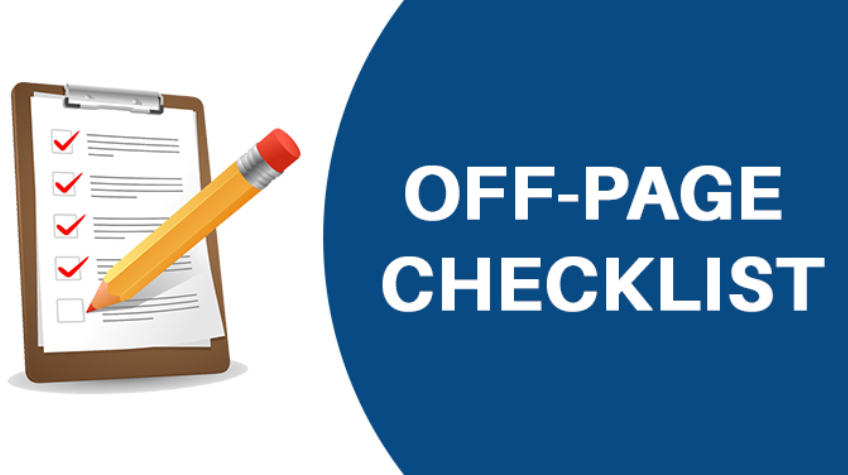 There are a lot of things to consider when it's about search engine optimization or SEO. More often than not, people take SEO very casually. Many people believe that they need to be an SEO expert to improve their SEO. Well, that's not always true.
Search engines strive to provide outstanding results for their intended audience. There are two types of SEOs: on-page SEO and off-page SEO.
In this post, we are sharing an off-page SEO checklist for you to help you get started.
Take a look…
Table of Contents
Know that SEO tactics are constantly changing based on the algorithms that search engines use to help audiences find what they're looking for. If you're looking for ways to get started with off-page SEO, read this post.
But, let's first understand what Off-page SEO is.
What is Off-Page SEO?
Off-page SEO includes everything you do to increase search engine traffic and results, including inbound links, trust-building, social media, blog promotion, videos, press releases, commenting, and more.
Building links, social media marketing, guest blogging are some of the examples of off-page SEO.
You can use all of these strategies to increase traffic to your website and thus conversions.
Why is off-page SEO important for businesses?
Off-page SEO is an indispensable element in today's scenario. It actually informs search engines that your website has vital information that people on the internet must look out.
This allows external sources to link websites with the same efficiency of on-page SEO, enabling search engines to ascertain the best way to rank websites on SERPs (search engine results pages).
Let's now understand how you can do off-page SEO.
Here we go…
Off-Page SEO Checklist
1. Link Building
Backlinking is the most common off-page SEO technique, and it aims to generate natural links to your page. Make sure you obtain links from reputable websites only. When we say reputable, it simply means websites with high domain authority.
Obtaining links from reputable websites has two main advantages: it increases traffic to your site and helps determine your rank. Links from reputable websites will greatly benefit your website.
You always check Domain Authority (DA) using Moz. It's a wonderful tool to check DA. Aside from that, there are several other tools to check DA.
Understand that links are the primary means of navigating the internet. Including good quality links to your website will help your users have a better experience. Your users can easily traverse to other information they find relevant using those links. Moreover, these links help build trust and improve its credibility.
There are mainly three types of links, which are as follows:
a.) Natural Links:
As the name says, these links are provided editorially without any action on the part of the page owner. Natural links occur when other bloggers or website owners link to your content
(blogs, images, products, videos, etc.) because they believe it will be valuable to their readers and contribute positively to their websites or pages.
b.) Manually Constructed Links:
Manually constructed links are the links that you obtain by deliberate link-building activities. Asking influencers to share your content is one of the examples of manually constructed links.
c.) Self-created links:
As the name suggests, self-created links are the links that are created by including a backlink with optimized anchor text in forum, online directory, blog comment signature, or press release.
2. Content Marketing
Blogging or content marketing is one of the best strategies to create linkable content for your brand. Blogs are the only place on the internet where you can find a steady stream of long-form content. Make sure you produce high-quality content. Creating high-quality blog posts, video content, infographics, and so on is an excellent way to attract clicks and natural links to your site.
Another critical factor to consider is consistency. Yes, it is crucial to be consistent when posting content to your website. Inconsistency in publishing content leads to a decrease in web traffic. Don't miss to add comment and share button on your blog. It will help you generate natural links. When your web-crawlers comments and shares your content on your blog, Google notices it.
That is why experts recommend to share informative content with your audience. It will help you establish yourself as an industry leader who possess knowledge that people want to have. This way you can attract your target audience. Of course, people are scouring the internet for the information, and they'll come to you if you regularly share most recent updates and trends, along with informative articles.
3. Social Media
Social media is a great tool to increase brand awareness. However, not many know that social media links can help build domain authority and improve your search engine ranking.
Wondering how?
Well, sharing your content on social media and driving traffic to your website is the easiest way to do so. Of course, when your content is interesting, your social media traffic will route to your website.
When Google sees you're getting traffic from various sources, it automatically improves your ranking.
That's why it's critical to engage your audience on social media with regular informative content. The more the engagement, the more the clicks, shares, and backlinks; all of which contribute to domain authority.
4. Optimize Your Website For Local Search
Local SEO or optimizing your website for local search is one of the best marketing strategies to improve off-page SEO. This is a great strategy for physical stores or businesses, such as hair salons, grocery stores, supermarkets, and so on.
For Local SEO, you can
Include your business in local and national business directories, such as Google My Business.
Encourage your customers to leave positive reviews and feedback online.
Make sure you have mentioned your contact information across all platforms, including digital platforms.
5. Improve your website's on-page SEO
Make sure you complete on-page optimizations in tandem with off-page efforts to maximize your SEO ROI (ROI).
Know that Off-page SEO and on-page SEO work in tandem to help your website rank high in search results. As a result, both require your attention. If you only optimize one, your site will not reach its full potential in terms of website traffic, online leads, and revenue.
Wondering how to improve on-page SEO?
Just follow these steps.
Use relevant and long-tail keywords.
Optimize Meta or short descriptions and titles with keywords.
Maintain a keyword density of at least 2-3% in the content.
Don't overstuff your content with keywords.
Publish SEO-optimized content on a regular basis.
Remove redundancy and duplicate content.
Create a mobile-friendly (responsive) website design.
Improve page speed (Your page should not take more than 3 seconds to load).
Use HTTPS for maximum website security.
6. Rectify your 404 errors
Believe it or not, broken links can negatively impact your off-page SEO and your user experience. That is why it is crucial to detect and rectify 404 errors. Know that a broken link does not do any good to your website. In fact, it affects your web traffic negatively. If your viewers constantly see 404 pages, they leave it never to return. Basically, broken links act as a red flag for web crawlers. There is no point in having them, just fix them and let your viewers continue scrolling your website.
There are myriads of online tools available to detect and fix broken links, Screaming Frog is one of them.
7. Evaluate Your Link-Building Options
There are numerous ways you can build links. However, it is imperative to determine which link-building strategies are most beneficial to your business, as well as which methods you can implement, given your time, resources, and experience.
Link building is a crucial step. When it comes to link building, you can utilize one or all of the following strategies: Broken links, Guest Blogging, Outreach, and Paid Advertising, and so on.
You can use either one or all of the link-building strategies depending on your company's requirements. Consider which methods will provide you with the most value and simply use that.
Wrapping it up…
So, this is our off-page SEO checklist that you can get started. Use this checklist to improve your SEO ROI. Hopefully, this article has been informative for you and help you improve your off-page SEO.