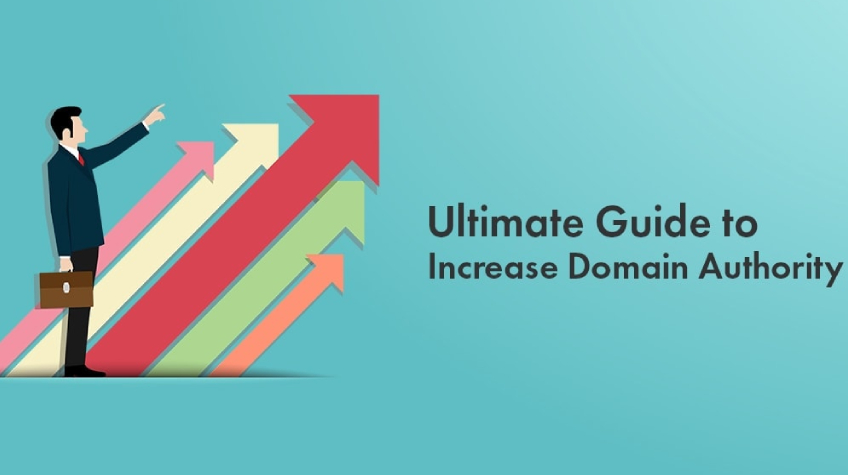 If you know what domain authority is, then surely you're aware of the benefits of increasing it. Good domain authority scores can be a game-changer for your website. However, it takes a lot of effort to increase a site's domain authority. You need to spend time on doing things that increase domain authority naturally.
And in this post, we shall discuss everything about domain authority, including ways to increase it.
So, ready to explore?
Let's get started…
Table of Contents
Before we move to the ways of increasing domain authority, let's understand what domain authority is.
Here we go…
What is domain authority?
Domain Authority (DA) is an authority metric developed by Moz. It assists marketers and website owners in determining the strength of the website.
Since Google does not use Domain Authority as a ranking factor when determining how to rank websites. As a result, it is not a metric that will improve your ranking in search engine results pages (SERPs). Domain authority is an indicator that helps website owners assess the performance of their website in comparison to competitors.
Besides Moz, many other companies have come up with their own Authority metric – an algorithm that determines the Authority score based on data from backlinks, referring domains, or search traffic, among other things. All in all, it's a useful metric that marketers can use to understand the health of their site in comparison to their competitors.
Why is domain authority essential for a website?
Your Domain authority is significant because it represents how your site ranks in search engines. It allows you to better understand your site's credibility in search engines and compare it to your competition. And accordingly, you can fine-tune your strategy to increase your site's DA.
Understand that a link from a high-authority website is more valuable than one from a low authority website. That is why understanding your own authority as well as the authority of others in your industry will assist you in determining who you should target for backlinks and guest blogging opportunities.
Summing up, a site with a higher domain authority score has a better chance of ranking higher in search engine result pages, but keep in mind that domain authority has no direct relationship with Google or any other search engine.
If you are purchasing a ready-made website, DA can be used to determine the strength of the website and make an appropriate deal. Or if you're trying to incorporate backlinks in your content, this number can play a significant role. Backlinking low-authority sites to your content will affect it adversely. That's why experts recommend checking the DA of each site before linking it.
Pro Tip: Always compare multiple websites.
Another reason high DA is essential is that if you want to sell your website to another person tomorrow, a high domain authority website will aid in increasing the website's selling price.
More often than not, marketers consider domain authority when guest blogging. Of course, guest posting in high-domain authority websites can improve your site's strength as well.
Besides, marketers also use DA scores to measure their effort when taking a project for the website's optimization in hand.
Simply put, domain authority is a good metric to compare your site's performance with competitors and fine-tune your strategies accordingly.
Since you have understood why DA is essential for a website, it's time to see different ways to increase DA.
Take a look…
How to increase domain authority in 2022?
There are numerous factors to consider when it comes to increasing domain authority, but here are the top 15 to consider.
1. Choose a good domain name
If you are just getting started, it is critical to select a good domain name that is relevant to your website—the more precise, the better.
2. Improve your on-page content
SEO affects your Domain Authority as well as your Google search engine ranking. Check that your page's title tags, Meta descriptions, image alt tags, and content are all optimized.
3. Create linkable content
Create high-quality content and regularly publish to increase the likelihood of it being linked to another site. This will assist you in obtaining high-quality links from multiple domains, which are essential factors for both MozRank and MozTrust.
4. Improve the structure of your internal links
Internal linking is equally important as external linking. These are the links within your site's pages or posts. Internal links direct visitors to various parts of your website; having an easily accessible internal link will improve the user experience. Internal links assist in keeping visitors on-site and engaged for a longer period of time.
Internal linking is one of the best ways to improve the user experience on your site while also making it easier to navigate. You should increase the number of internal links on your website or blog by linking the URL to the most relevant and authoritative link on your website or blog.
5. Backlinks
Backlinks are the links that lead viewers to your website from another website. Backlinking can help you tremendously in increasing your website domain. However, it is imperative to hyperlink only high domain authority links to your content. Not only do they increase the domain authority, but also they improve credibility of your website.
Moreover, these links also improve your search engine ranking because they increase the number of references to your site, increasing the likelihood that your site will receive referral traffic. Here are the various methods you can obtain backlinks to your website:
Publishing skyscraper content.
Guest Blogging
Infographics
Backlinks derived from broken links
6. Remove any bad or harmful links
Backlinks that are artificial or are from untrustworthy sources are referred to as bad links. Having bad links to your site will adversely impact the domain authority; hence, it is critical to remove them.
But how to know that we have bad links?
Well, it's very easy. Just conduct regular audits!Conducting regular audits of your website can help you identify any bad backlinks. Once you have identified all the bad links, wait no more; just remove them from your website. Know that removing links from untrustworthy sources, which may end up harming rather than helping your domain authority, is an intelligent step towards increasing domain authority.
There are numerous tools you can use to identify bad or broken links, such as Google Webmaster, Dead Link Checker, etc.
Some of the examples of bad links are as follows:
Incoming links from unrelated or untrustworthy sources.
Broken links
A backlink from a low-authority website
Links to adult websites
Links to "User-Generated Content," such as Blog Commenting, Forum posting, Backlink maker tool, etc.
7. Increase the speed of your website
Is it really worth the time to sit and wait for a website to load? No, not at all. A slow-loading website can hurt your bounce rate. Usually a website should load in 2 to 3 seconds, more than this it's a poor performing website where your visitors will never come back. So, make sure your website loads faster and is user-friendly.
8. Enhance your link profile
Another very important factor in increasing your website's domain authority is a high-quality link profile. A website's link profile is the number of outgoing and incoming links.
9. Make sure your website is responsive
Yes, having a mobile-friendly website is indispensable, particularly in today's scenario where 65% use smartphones or mobile devices to access any website or content online. If your website isn't mobile-friendly, it's time to get on board.
If your site isn't mobile-friendly in 2022, you're actually hurting mobile search engine rankings as well as losing visitors who depend on mobile devices for accessing your website.
10. Establish yourself as an expert in your field
This is something that IMPACT is always working on. You will strengthen your brand identity by enhancing your reputation as an authority figure.
This will not only help increase traffic but will also help increase the number of external links. Make great content and interact with your followers.
11. Produce lengthy articles
Another important factor that helps in increasing domain authority is producing lengthy articles. Longer articles are preferred by Google and other search engines because they appear more informative. Long and informative articles help to keep users on your website for a longer period of time. Longer articles not only help in generating more leads, but also help in increasing domain authority.
Your article should be at least 1500+ words. Besides producing longer articles, it is essential to publish high-quality content.
Earlier writing short articles was not a problem. Now long content has a high value when it comes to increasing domain authority. If you really want to stay ahead in the competition, focus on producing lengthy articles.
If you don't believe us; just Google it and find it out.
12. Use social media to spread the word about your content
Social media handles are one of the most important key factors in determining your DA score. To increase your DA, it is crucial that you promote your content on social media.
Make sure you have profile on all the popular social media handles, such as Twitter, Facebook, LinkedIn, YouTube, Instagram, Google+, Vimeo, Quora, etc. Having your site linked to these handles will help you have increased domain authority.
All you have to do is to share the content from your website on your social media profiles. Doing so will increase the likelihood of referral traffic from these platforms. Besides content, you can share your deals, offers, product launches, video content, etc., to enhance your presence on social media.
13. SEO Optimized Content
Make sure your website and all your content is SEO optimized. Having optimized content on your site will significantly improve your site's domain authority. Make sure you use the relevant keywords in your content so that your users can find you easily.
14. Follow Google Page Experience Update 2021
With a 91.38% search engine market, Google is the most popular internet search engine. The search engine has the largest market share, and it serves as one of the most beneficial marketing tools for businesses. Google has constantly introduced new metrics for page experience, such as mobile-friendliness, HTTPS security, and intrusive interstitials.
Google began rolling out a significant core algorithm update known as "The Page Experience Update" on June 16, 2021. It includes a new set of search signals aimed at improving user experience. Google has added "three new metrics" to evaluate both page speed and overall experience.
These metrics, known as core web vitals (CVW), are based on the Chrome User Experience Report data. The three core web vitals include Largest Contentful Paint (LCP), First Input Delay (FID), and Cumulative Layout Shift (CLS).
Using these metrics will not only help you provide a fantastic customer experience to your clients but also increase domain authority and maintain a high ranking today and in the future.
15. Website security
Website security is important because it facilitates communication between the user and the server. Having a secured website increases customer trust, as well as the trust of search engines. As a result, your domain authority increases. The security of the website will improve the security of the data, thereby improving users experience and creating trust. The best way to improve your site's security is to convert your website from HTTP to HTTPS.
How to determine a website's domain authority?
It's easy, just use an online tool to determine a website's domain authority. There are many online tools to determine DA; however, Moz is one of the best tools to do so. Using Moz domain authority checker you can compare the domain authority of your site and compare it with your competitors. If you're marketer working on a project, you can use DA checkers to measure your effort before and after the completion of the project.
Most of the domain authority tools are available for free. You can use any of them to determine your website's domain authority.
The Bottom Line…
So these are the ways you can increase domain authority in 2022. Follow the pointers mentioned above to increase your site's domain authority. Know that your site's domain authority is important – Don't ever underestimate the value of domain authority. It can be a game-changer for you!
Simply put, Domain Authority is important because it allows you to assess your website's overall performance and compare your score to competitors' to see where you stand.