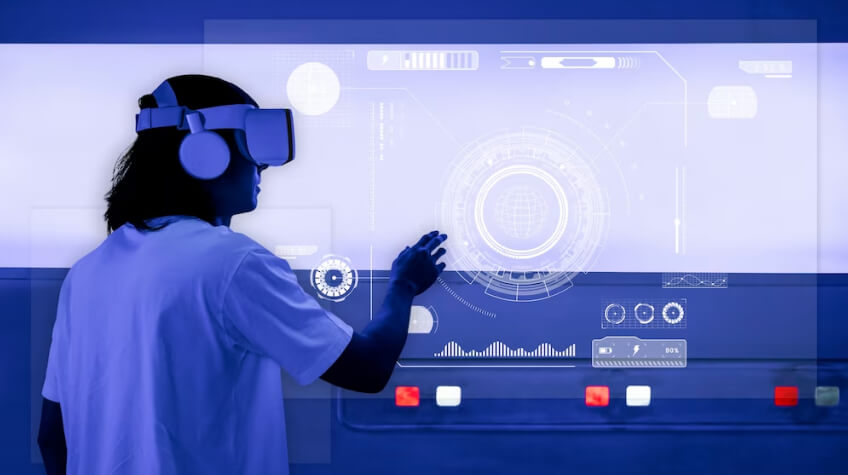 "I just think that VR and AR are going to be a really big deal." – Mark Zuckerberg
PhyGital = Physical + Digital. This world is not new to this term, and it has already gained too much attention post-pandemic. But now, almost every company is adapting phygital techniques to provide better CX (Consumer Experience).
Why? Because they know that people still want physical experiences without the hassle that comes with it. They do not want to stand in the queue to pay, but they want to choose the item from the store by walking in it.
In other words, it can also be called ROPO – Research Online, Purchase Offline, as people often do with clothes, books, furniture, cars, etc.
When the pandemic hit, the digital experience was not only convenient but a safe option too. However, people need to move around and get the feel of the item, and the only way to do so is to give them a customized digital experience.
And to give customized and enhanced phygital experience to people, the use of AR and VR is a must. But before that, let's see what AR and VR are.
AR – Augmented Reality
According to Gartner, Augmented Reality is the real-time use of information in various forms integrated with real-world objects. It is the real-world element that separates Ar from VR. AR adds the value to interactions that humans do with the real world.
It creates a hybrid environment where virtual and physical worlds coexist. Thus, it can potentially create an enhanced digital experience for the users. As mentioned above, phygital is the combination of physical and digital, and that is what AR is all about.
VR – Virtual Reality
According to GeeksForGeeks, in layman's words, virtual reality manipulates a person into believing they are somewhere else with the help of visual and sound technology. It tricks one's mind into using devices and gives them an immersive experience. VR is said to be the wise guy in the digital world.
Virtual Reality is used explicitly in ecommerce businesses to make people see whether whatever they are shopping for will be worth it or not beforehand. And it is not limited to the ecommerce industry; take education, healthcare, travel industry, automotive, etc., VR is sure to take it up by a notch.
Click to learn more about AR, VR, and MR.
Role of AR and VR in Creating Phygital Experiences:
Blending Augmented Reality and Virtual Reality into the brands is one of the best things that have happened to brands. As everyone knows, the world was brought down to its knees when the pandemic hit.
Most businesses flopped and had to be closed because one could reach the shop or store to buy their products. However, some just got knocked in by the senses and started providing digital services.
These were the businesses that flourished during COVID. Let's cut to the year 2022 when everything went back to normal, maybe a new normal, but it has a few fragments of past normal, and people craved physical experiences.
They wanted to travel to various places and eat the food while sitting in restaurants and shops while feeling the soft fabric of the cloth in their hands and against their cheeks. They just did not want to drive virtual cars but get behind the actual steering.
And most brands found the perfect solution for that – an AR/VR merged physical experience. It has its own advantages and a little than fewer limitations as well. But the pin of the weighing scale is tilted more towards the edges. So here are a few:
While creating a phygital experience for the users, the brand is also getting the opportunity to focus on the personalized experience. This experience will not be for the mass, and the best-suited example for this point is Nike.
Nike, in the year 2019, created a pop-up store in Atlanta and encouraged every person within a 25-mile radius to come visit the store. Once the person reaches there, they would have to activate a QR code and receive free accessories.
The designer label store of Rebecca Minkoff provided a phygital experience to her buyers as well. The store has a touch screen where they can select the clothes, and once done, they'll be called to the fitting room to try.
While in a room, one can demand different sizes and colors for that particular piece of cloth. What better than that? It not just feels special to be treated well, but the process saves the time and hassle of roaming around in the store and getting confused about what to buy.
When brands think about customers, they are bound to have loyal customers. Amazon created amazon Go, where people can experience physical grocery shopping but do not have to go through the process of standing in a tedious queue to pay.
They can shop to their heart's content and pay online as they will be sent e-bill to their accounts. It is not just convenient but fun as well. Their one-click digital payment experience is created to make shopping a seamless process.
As there are benefits, there are a few limitations as well, and the biggest one is to manage the mix of online and offline approaches. It is not easy to keep track of all the activities. But the ones who are adamant about adapting to changes wouldn't find it difficult as the process is regulated.
Another area for improvement is that the companies are either comfortable with digital experience or with physical experience, but combining both could be a time-consuming task. It requires investing in training, keeping patience, hiring more human resources, etc.
Nonetheless, the benefits of accepting phygital are way more than the limitations. Nothing that the brands cannot overcome. And after all, every change is hard in the beginning, but the reaping's will be sweeter.
Thus, for faster and better progress, it is necessary to take assistance from AR/VR to give the customers a physical experience. Let top AR VR development companies assist you.
Conclusion:
If the brands are choosing to incorporate AR and VR into the business to create enriched phygital experiences for their customers, they will stay with the brands for a more extended period of time.
Change is inevitable, and the faster you accept it, the better it will be for your brand. Do not be a second late in contacting the experts to know how you can improve customer experience slowly but effectively.