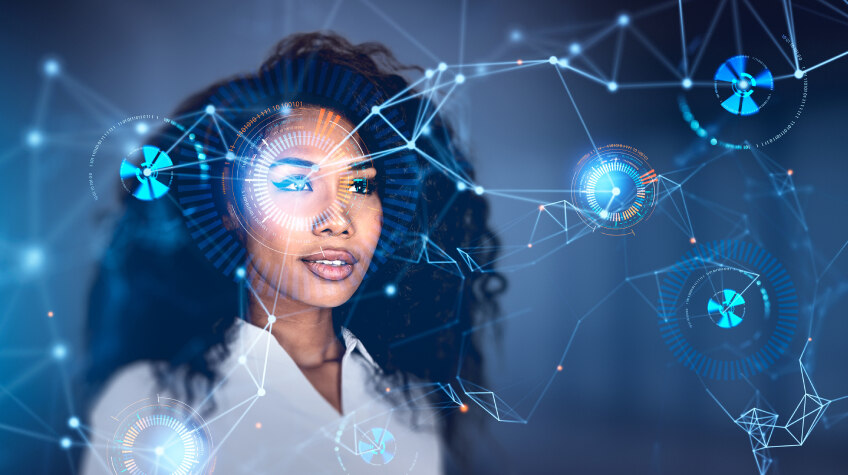 Facial recognition is any technique capable of recognizing the geometry of a user's unique facial attributes, i.e., the distance between mouth and eye width. Facial recognition solution usually use deep-learning algorithms that are more accurate as they continuously disclose diverse pictures of similar faces over time.
AI facial recognition online can easily recognize an individual by scanning their facial expressions. Hence, this market was expected to reach almost $5 Billion in 2022 and is forecasted to reach $19.3 Billion by 2032.
Use Cases of Facial Recognition Technology
1. Law Enforcement
Law enforcement agencies mostly use facial recognition technology. As the NBC report states, the usage of this technology is increasing in law enforcement agencies within the US and other countries. Police gather mugshots from criminals and compare them with state, local, and federal face recognition databases.
After taking the criminal picture, their image is added to the databases to be scanned and used whenever police carry out another search.
Moreover, mobile face recognition permits officers to use tablets, smartphones, and other portable devices to capture a pedestrian or driver image in the field. Then, it instantly compares the picture against multiple databases to attempt an identification.
2. Unlock Phones
Different phones, such as the iPhone, use a face recognition process to open the device. The advanced technology provides a valuable way to protect sensitive information and ensures that it remains confidential and inaccessible if the device is stolen.
3. Border and Airport Control
Facial recognition is a known sight at many airports around the globe. Passengers have biometric passports that allow them to skip the long queues. Instead, they walk by automated e-passports to reach the gate faster. It also minimizes waiting times, allowing airports to enhance security.
According to the prediction of the US Department of Homeland Safety, facial recognition will be used by 97% of tourists by 2023. Hence, advanced technology improves security at large-scale activities such as the Olympics.
4. Reduces Retail Crimes
Facial recognition technology is used to verify organized retail criminals, individuals with a record of fraud enter stores, and known shoplifters. User images can be matched amongst massive criminal databases so that retail security experts and loss prevention may know when the criminal enters a store.
5. Finding Missing Individuals
Biometric face recognition is used to find missing victims of human trafficking. When all the data of disappeared individuals are in a database, law enforcement agencies can quickly verify if they find any of them. It doesn't matter if they are at a retail store, airport, or other public place.
Related Topic: Biometric Consent Verification
6. Improve Retail Experiences
The advanced technology provides the potential to enhance retail experiences for clients. For instance, store kiosks can recognize clients, give product suggestions depending on their purchase history, and guide them in the right direction. Biometric face recognition technology permits shoppers to skip long queues with slow payment methods.
7. Advertising and Marketing
Marketers are using facial recognition to improve client experience. For instance, some companies use facial recognition to analyze the customer's expressions about their product. The media industry also uses facial recognition to know audience reactions to optimal TV promotions, movie trailers, and characters in TV pilots.
8. Banking
Biometric online banking is also another benefit of face recognition. Rather than using one-time passwords, clients can do transactions by looking at their computers or smartphones. With the facial recognition process, hackers don't have any access to passwords.
If a hacker steals a user's picture or creates user's face through AI face generators, a technique known as 'liveness' detection is used to determine if the biometric sample is a fake representative or a real human being. Face recognition has overlooked signatures and debit cards.
9. Healthcare
Hospitals use facial recognition processes to keep records of their patients. Healthcare providers can easily detect emotion, access patient records, streamline patient registration, and identify specific genetic disorders. Few hospitals have devices that ensure patients take their dose according to the prescribed medications.
10. Monitor Gambling Addictions
AI face recognition online helps gambling firms protect their clients. Monitoring the clients entering and moving out of place is a hectic task for employees. Advanced technology facilitates crowded gambling places, such as casinos, to identify registered gamblers. They also keep a record of gamblers to stop them from playing for long.
Final Verdict
There is no doubt that facial recognition plays a significant role in the business and society's future. The client must use the technology to generate desired, authentic, and secure results. Moreover, the multiple benefits of the advanced facial recognition process can not be ignored. This technology lets users make correct and accurate decisions about their future.