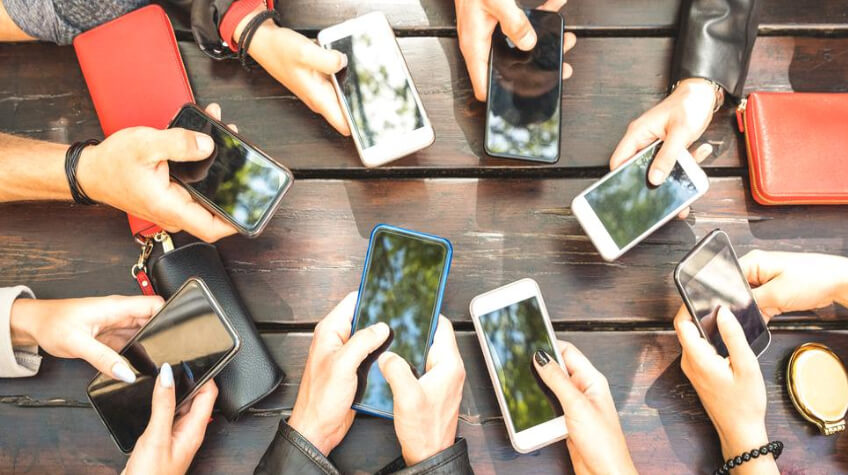 People who love gadgets always keep an eye on upcoming trends and technological advancements. If you're one of those, then this post is for you. We shall talk about the upcoming smartphone trends in 2023. Scroll down to read in detail…..
Smartphones have become an integral part of everybody's life today. From talking to friends to buying groceries has become easier because of smartphones.
However, the technology doesn't remain the same – It keeps changing. Whatever features earlier smartphones offered no longer exist now. There was a time when people were excited to use 2G technology, and now we are heading towards 5G technology. Many telecom companies are already experimenting with 5G technology.
The year 2020 has compelled businesses to adapt to a new digital environment, thereby increasing the use of technology in our daily lives. It is natural for the technological world to continue innovating in order to empower its users and close this gap. It is now critical for smartphone developers to keep up with fast-moving technological trends and evolve the existing ones.
Features like better batteries, sleek smartphone bodies, enhanced color management, better camera, picture quality, etc., are common. In 2023, the overall smartphone experience is expected to skyrocket.
Here are the 8 upcoming smartphone trends 2023 that users should expect to use very soon. Take a look…
1. AR Glasses Technology
The ultimate goal of innovation is to improve the user experience, and augmented reality is the next step in that direction. Enterprises, brands, retailers, and companies use augmented reality tools and devices to improve the consumer experience, advertise services, promote products, launch campaigns, and provide affordable customer service.
2. Artificial Intelligence
Artificial Intelligence (AI) is no more a future thing now! Undoubtedly, our mobile world has been infiltrated by artificial intelligence. Alexa, Siri, and Google Assistant are all examples of AI. Users can expect to have AI installed on their mobile devices in 2023. In addition to these well-known types of AI, mobile apps are now incorporating software such as voice recognition to encourage hands-free use and, ultimately, to enhance the customer experience.
3. AR Shooting Feature
Another ground-breaking trend that users can expect in the field is the AR shooting feature. It will allow users to capture both virtual and real-world scenes at the same time to maximize AR-enabled fun without missing any exciting moments. Companies like OPPO, Microsoft, etc., are already experimenting with augmented reality to improve users' experience.
Other Trends: Top UI UX Design Trends: Crafting the Future Art
4. 5G is the Future of Smartphone
With so many gadgets launching with 5G capabilities already built-in, 5G technology is no longer a thing of the future. This aligns with consumer expectations, which see 5G as a critical smartphone purchase factor in 2023. 5G-capable smartphones will include a slew of new features, such as higher-quality video creation and consumption, faster downloads, immersive AR/VR and gaming experiences, and the ability to stream UHD videos. For consumers, 5G means faster uploading, sharing on social media, and streaming higher-quality videos with no lags.
5. Enhanced Mobile Security
Undoubtedly, mobile security is very important! With major corporations experiencing security breaches, consumers have become increasingly aware of the risks of disclosing personal information. Many people are wary of providing sensitive information to businesses, mainly through mobile apps. Indeed, security and distrust are two of the primary reasons why mobile users are hesitant to use mobile payment applications. Considering this as a serious concern, smartphone developers are now more focused on providing enhanced mobile security to customers. Businesses are also responding to these perceptions by strengthening their mobile security.
Now the companies want their customers to feel as at ease as possible when using mobile devices to pay.
6. Faster Charging
Charging a phone, again and again, seems a task to everyone, especially when we are stuck in a situation where we cannot charge it. According to the upcoming smartphone trends in 2023, users can expect fast and safe charging options in their smartphones. Many brands have released a slew of fast-charging products that can charge a smartphone from 0 to 50% in a matter of minutes. In the past year, OPPO has prioritized the safety aspect of fast charging. Likewise, many other brands are integrating faster and safer batteries in the upcoming phones.
7. Foldable or Rollable Phones
After bigger and thinner displays, it's time to have foldable displays. Smartphone brand OPPO has already introduced the OPPOX2021 Rollable Concept handset in the market. The display screen in OPPOX2021 rolls out like a book to increase the display size. Rollable displays allow infinite adjustability between their minimum and maximum sizes, thereby opening up more possibilities for productivity, entertainment, and daily use. This means that users will be able to adjust the screen size to suit the aspect ratio with a tap of a finger, ensuring a full-screen viewing experience at all times.
8. Advanced Biometrics
Users can expect advanced biometrics, such as voice recognition, facial recognition, signature recognition, and fingerprint recognition, installed on their phones to provide them with advanced security—for example, the fingerprint feature to unlock the device. Similarly, users can expect more advanced biometrics in the year 2023.
Conclusion….
These are the 8 upcoming smartphone trends in 2023 that you can expect. Besides these smartphone companies are experimenting with a lot more features to let consumers have an outstanding experience.
Stay Tuned for more updates on upcoming smartphone trends… ☺ ☺