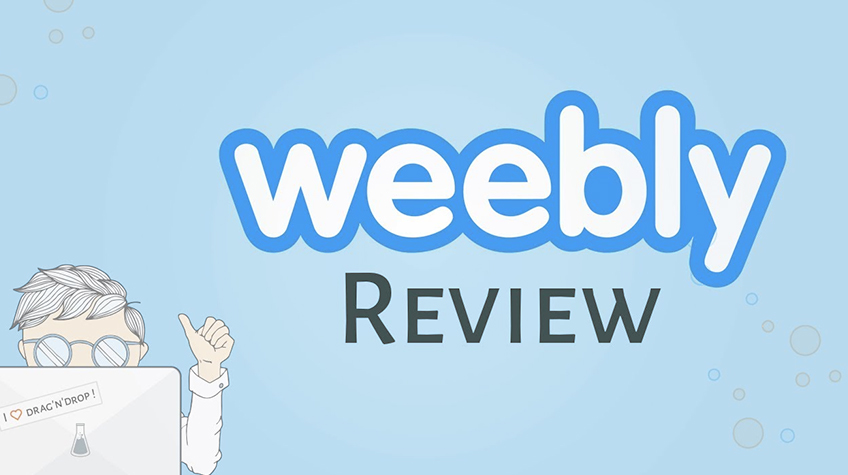 Reviews are a great help for people who like to read about the product or service before making the purchase.
And we make sure that you get the best and most unbiased reviews on each product that's why we conduct thorough research before providing you with the insight on a product or service.
So, here we present you with Weebly Website Builder Review.
So, let's get started…
What is Weebly?
Weebly is one of the largest website builders, having created more than 50 million websites.
When it comes to website builders on the internet, Weebly from Square (not to be confused with Squarespace) continues to be a top candidate.
With a clear, straightforward interface, the site-building tool allows you to quickly and easily create excellent-looking, responsive web pages without coding knowledge.
Furthermore, Weebly's numerous, visually appealing template designs, as well as its integrated e-commerce features, provide excellent site-creation versatility, particularly for mobile sites.
In contrast to many of its competitors, Weebly has typically been more concerned with enhancing its platform's technology than with executing expensive marketing campaigns to attract customers.
Is the Weebly website really free?
The quick answer to this is YES; the Weebly website builder is free. However, it comes with certain restrictions, just like any other free plan.
In addition to the free plan, Weebly Professional is available for $12/month, and it is the most affordable ad-free plan that also allows you to use your own domain name.
The tools, such as their drag and drop editor, are simple to use and extremely user-friendly for new users.
They also keep the cost as straightforward as possible.
After the free plan (which includes a Weebly ad in the footer), there are three premium plans to choose from: Personal, Professional, and Performance.
We'll go into more depth about each of them. Take a look…

1. Weebly Free Plan:
You may begin creating your Weebly site for as little as your email address and password. Naturally, the free option has some restrictions.
Your site will have 500MB of storage, a Weebly-based domain name, Square advertisements, and a file size limit of 10MB. The plus side is that all Weebly plans include unlimited monthly data transfers.
2. Weebly Personal Plan:
The Personal account removes the Weebly branding and enables you to link a custom domain name, sell digital goods, and use a shipping calculator for $9 per month.
3. Weebly Professional Plan:
The Professional subscription, which costs $16 per month, includes:
Unlimited storage.
A free domain name.
Site search.
Password protection for up to 100 site users.
Enhanced site statistics.
4. Weebly Performance Plan
With a $29 monthly Performance account, you may sell an unlimited number of products accept payments via PayPal. It lets users give product reviews, print shipping labels, and receive priority assistance.
If you want to sell things through your website, Weebly's performance tier is the way to go.
Weebly offers a limited number of categories, including Blog, Business, and Portfolio. However, with only 50 themes to choose from, Weebly lacks the variety of Squarespace or Editors' Choice Wix.
Unlike the majority of website builders, Weebly does not allow you to preview how your site will appear on smartphones or tablets.
On the plus side, Weebly's templates provide attractive, modern designs, and you can switch themes without having to rebuild your site from scratch, as Squarespace 7.1 requires.
Moreover, paid plans include reports on traffic, sources, and behavior; however, the free plan does not include any reporting. If you wish, you can integrate Google Analytics.
Is Weebly good for blogging?

Weebly's blog continues to be one of their finest features. All necessary fundamental elements are provided, and it is extremely search engine friendly.
The Weebly blogging interface is as simple as the rest of the site builder, with a New Post button at the bottom of any Blog page. But Weebly is a tad tedious here.
Because there are no standard blog themes, you must drag text, photos, and galleries into place.
Also see: 40+ Popular WordPress Themes For Blogging Websites
However, you can manage social sharing and comments, and they are threaded and easily erased.
You can tag posts in Weebly and save them as drafts before publishing. Also, it allows you to post to your Facebook and Twitter feeds automatically.
Unlike Wix, which forces you to save every time you make a change, edits in Weebly are automatically stored; thus, no 'Save' button is required.
Unlike some site builders, Weebly does not publish immediately after editing, allowing you to change your mind.
Moreover, it allows several editors to work on a site. Also, it presents the archive and tag list and Flickr and LinkedIn badges.
Blog entries can be planned, and alternative commenting systems such as Disqus or Facebook can be included. Additionally, paid plans allow for the addition of several editors and authors.
All in all, Weebly is good for Blogging.
What Makes Weebly One-Of-A-Kind Choice?
Here are some of the best features of Weebly that make this website builder unique. Take a look…
Easy to Use
We have to admit that the convenience of use provided by Weebly is unrivaled. Because there is no learning curve, you'll be up and running with your website in no time at all.
It's as simple as dragging and dropping new items into your page and clicking on them to change their settings and functionalities.
One feature that would make things easier, though, is the addition of an undo button as well as the opportunity to save changes without publishing them. In addition, the classic editor can be a little sluggish at times.
Design Tools
The Weebly editor is straightforward to use, with a grey top bar for managing pages and adjusting site settings like name and category.
The editor's left side has a dark grey panel with site elements you may drag and drop into the edit window.
You can select Build, Pages, Theme, Store, Apps, Settings, and Help from the top menu. Aside from that, you can add text boxes, images, maps, spacers, and media to your site's page.
With little practice, you would be able to insert audio and HD video along with feed, forum, and polls.
Unlike Squarespace, you can't just drag stuff around on Weebly. During testing, the dragged object often flew off the page. The toolbar conceals when you move the mouse pointer to its right.
It's tempting to upgrade from a free account to a paid one. Premium versions have an orange lightning icon, and dragging one onto your page prompts you to upgrade.
You can create a content section for more objects using the section element.
There are five layout types for Sections: Gallery, Contact, Menu, Featured, and Team. All of the sections in Weebly are self-explanatory, and you can use Space elements to scale sections.
It enables you to modify specific text parts' font, color, spacing, and size and choose from a limited color palette. Site builders, like Squarespace, let you change the web design template's colors.
All this helps you change themes without having to rebuild the site.
Design Templates
Weebly is a website builder that allows you to drag and drop elements onto a page. It also has more than 40 mobile-friendly templates. In addition to a blog, image galleries, and an online store, it has other features.
There are some attractive themes available, each with a different page layout for a variety of purposes. All of these themes are receptive.
This means they are optimized for smartphones and tablets. It is possible to use video backdrops and animated background photographs in your project design.
Alternatively, the templates can be modified by editing the source code.
But the thing is, they haven't introduced any new template for quite a long time now, which is disheartening.
Moreover, certain designs are beginning to appear antiquated, and they aren't quite as sleek as those found on Wix or Squarespace.

Ad-free
Yes, Weebly paid versions are ad free except for Personal plans. The Weebly logo is displayed at the bottom of the free and personal plans screen. All of the other paid plans are completely ad-free.
Languages
Currently, the product is accessible in English and nearly 20 other languages. Although there is no dedicated feature for creating bilingual sites, there are workarounds available.
Weebly is not recommended for usage with non-English character sets such as Russian, Chinese, or Arabic, as they are not completely supported.
Domain Name (e.g. .com)
Your first year's domain name is complimentary, but the domain name will cost you $19.95 each year from the second year onward. Domain extensions that Weebly offers are.comand.ca.
You can even import a pre-existing domain name from another service provider and route it to Weebly.
Navigational Channel
There are an unlimited number of layers in the navigation hierarchy. When you click on the navigation section, a drop-down menu is instantly added. Weebly can support massive site structures.
Unlimited Widgets
Weebly App Center has over 300 widgets to choose from, some free and others not. The editor includes image galleries, video, audio players, and a variety of other widgets and tools.
There are also a variety of additional handy applications available in the Weebly App Center, including tables, calendars, social networking widgets, and other useful tools.
Receptive
When it comes to mobile apps, Weebly is one of the more flexible options. Its drag-and-drop editor allows you to customize every part of your site, such as pages, content, styling, layouts, and so on.
You can create new blog entries, manage store products and orders, and contact customer service directly from the app.
Moreover, it allows you to edit your site through a mobile browser, albeit the experience is much more pleasant when using the app instead.
Weebly offers a touch-friendly, drag-and-drop iPad app for site development. The popular Weebly apps enable you to create and manage your website from any device.
Unique mobile features allow you to take your website, store, or blog with you wherever you go.
Weebly apps are available for iPhone, iPad, and Android, allowing you to create incredible content from anywhere. The Weebly app also has an
Apple Watch app that notifies you of site visitors or sales.
Weebly's mobile-friendly designs look excellent on phones and can even fill the backdrop with a picture, but they lack customization.
E-Commerce
Weebly includes a feature-rich and simple-to-use shopping cart with SSL encryption and support for all major payment methods.
Weebly eCommerce is an excellent alternative for creating a functional online store – its affordable rates and robust feature set ensure that its e-commerce plans offer exceptional value for money.
The online store is included with any of the Weebly packages, which means you may construct a totally free online store! However, as previously said, the "Free" plan is not without limitations.
Therefore, you must purchase a plan if you wish to enjoy an ad-free site and use your own domain name (which you almost certainly do).
You can even include product videos and there are some great alternatives for search engine optimization.
Premium Weebly accounts can add Store and Product page types with commerce tools. The app may also import products from Etsy and Shopify.
SEO
As we all know, Search Engine Optimization plays a crucial role when it comes to ranking your site on search engines. Weebly allows you to edit the title, meta description, and description tags, as well as the
ALT text for your photos at the page level. Additionally, URLs are changeable. Headlines (H1, H2, etc.) are used sparingly.
Security
Available as part of the Professional subscription. You can choose to secure the entire site or a subset of its pages. Additionally, a membership area is accessible, enabling you to share some items exclusively with site members.
This, however, conflicts with the Customer Accounts function, which allows users to create an account after making a purchase on your site — you can only have one or the other.
Marketing & Promotion
Weebly has an integrated newsletter email tool called Promote for paid account levels that allows site visitors to subscribe. Weebly notifies you of new subscribers through email when they sign up.
The email marketing tool is simple to use and adaptable, proposing mail blasts when a product is on sale. It lets you effortlessly send marketing newsletters; however, it comes with a price (you'll have to check that online).
Storage Space
All Weebly website plans offer unlimited bandwidth, but only Professional and Performance include unlimited storage. The Free plan and Personal plan feature a 500 MB data cap.
On the free plan, your files cannot exceed 10 MB apiece, while on the Professional plan, the limit is up to 250 MB each. Moreover, you can download backups of your site manually, but you cannot restore them.
Site Statistics and Mobility
Unlike Wix, Weebly allows free users to view some site activity information. Upgraded accounts can see search keywords used to arrive at the site, referring sites, and top-visited pages.
One of Weebly's biggest advantages over other online site builders is that you can host your site elsewhere. Weebly allows you to email your site as a ZIP archive file from the editor's settings page.
So you can migrate the site to a regular web host.
Which website builder is best?
You must be wondering which website builder you should use. Well, here is a detailed comparison between Weebly and Wix and Weebly and WordPress to help you choose the best website builder.
Here we go…

Weebly vs. Wix
The primary distinction between Wix and Weebly is the template selection and quality and the editor.
While Wix offers around 800 highly current themes, Weebly offers only about 40, many of which desperately need an update.
Weebly is slightly easier to use because the feature set is significantly smaller.
Wix and Weebly both provide a free plan in addition to premium options. Both allow you to build a blog and/or an online store.
Wix is normally more expensive, but their App Market allows you to extend the functionality of your website, which is a significant advantage. Wix and Weebly have a lot of similarities.
Offices located throughout the world. Budgets for marketing are substantial. Excellent repute. Indeed, they are two of the world's most popular website builders.
By comparing the feature sets, we can observe that both website builders include smooth drag-and-drop interfaces for creating websites without writing a single word of code.
Both have plans that are completely free with advertisements. Monthly subscription plans sans advertisements.
Both website builders feature drag-and-drop editors that make them quite simple to use.
Weebly outperforms Wix in terms of responsiveness and navigation. Both Wix and Weebly have significantly improved their blogging capabilities over the last few years.
This is primarily due to Wix's editor being less integrated with the rest of the site builder.
It appears in a separate window and allows you to insert only images, text, and videos.
However, Weebly allows you to construct more complex blog post layouts, and you can add any Weebly element from the standard editor (for example, forms, image galleries, etc.).
Both Wix and Weebly provide phone help, live chat, comprehensive tutorials, and active online forums in terms of customer service. Additionally, you can annoy them via Facebook or Twitter. However,
Weebly is still deemed superior to Wix due to their obvious Contact Us information, which includes an email address and phone number.
To sell digital downloads, Weebly requires a Personal account. In comparison, only third-party apps can sell digital products on Wix.
Weebly provides a comprehensive knowledge base with hundreds of articles and 24/7 online chat and email assistance. Moreover, it offers maximum uptime among all.
Know that a hosting service's uptime is critical. If your site is down, clients or customers can't locate you or your stuff.
With Weebly, you'll not have to face downtime. So, it is safe to say that you can rely on Weebly to build your website.

Weebly vs. WordPress vs. Canva
Weebly Website Builder
In terms of ease of use, Weebly will be more accessible to the majority of users, as getting started is as simple as creating a Weebly account.
Weebly is a drag-and-drop website builder, which means that no HTML knowledge is required to get started.
You can easily add text boxes, photographs, and other elements to your site by dragging and dropping them. Additionally, editing, resizing, and moving your items is straightforward.
Additionally, you may create an account in less than 60 seconds and begin working immediately. The default editor in WordPress is not a visual, drag-and-drop editor like Weebly's.
Weebly's monthly pricing plans range from $9 to $29. While WordPress can be less expensive in some instances, it is not always the case.
Weebly features an outstanding help section that includes a variety of tutorials. Additionally, they give email help 24 hours a day and live chat or phone support during business hours.
If you have any questions, they will almost certainly be promptly answered.
WordPress Website Builder
While WordPress does include a community forum where users can ask questions, these postings are moderated by volunteers rather than support professionals.
While these volunteers do their best to assist new users, there is no assurance that you will receive an answer or solution.
Apart from the community forum, there is no option to contact a support representative to ask a question.
There is little difference in terms of on-page SEO whether you use WordPress or Weebly.
If you're using WordPress, you're probably already optimizing your page title, Meta descriptions, and all that nice stuff with the Yoast SEO plugin.
Additionally, you may adjust and optimize each of these elements on Weebly.
If you're not a tech whiz and want to get your website up and running quickly, Weebly is the way to go.
Canva offers a creative twist in the world of website builders, making it an appealing alternative to Weebly. It simplifies the entry process with just a name and email to create an account. Canva stands out with its unique template selection based on color schemes or starting with a blank canvas for full customization.
Customization is Canva's forte, providing various text options and user-friendly editing tools. You can freely mix and match templates for unique designs. The platform boasts an extensive library of stock images and in-app editing tools, all with intuitive drag-and-drop functionality.
While Canva offers a free plan, its focus on creativity and collaboration makes it an exciting choice for those seeking a fresh and artistic approach to web design.
Final Verdict: Undeniably, Weebly is one of the best and easy to use website builders. It is there in the market for quite a long time now. Many organizations are already using Weebly.
Still, which website builder to use is a significant question that comes to mind while we plan to have our website!
That's why it is recommended to consider what you want to accomplish with your website and base your decision on that.
Weebly Pros and Cons
Pros
Weebly apps let you grow your site.
It allows you to bulk edit, delete, and restructure categories.
It now allows customers to review your products.
You can add AdSense advertising to your Weebly pages for a small (but steady) income.
You can easily approve Weebly for your AdSense account (or even create a new one).
Customization is simple.
Weebly has a good collection of widgets.
In contrast to Squarespace and a few others, Weebly allows you to enter text directly on the page rather than in a sidebar.
Weebly includes Undo and Redo for easy text entry.
Integration with third-party applications and add-ons.
Simple to use and intuitive.
Affordable website builder.
Continuous improvement and addition of new features.
Weebly perfectly meets security and cookie standards.
Has an auto-save feature to ensure that your work is not lost.
Has numerous template variations to choose from.
It provides a robust support community for resolving issues and generating ideas.
SEO settings are straightforward to implement and maintain.
Cons
At times, the platform may become unresponsive and require a refresh.
Certain formatting and positioning options are not customizable, which is inconvenient for some users (especially those coming over from WordPress).
When adding photos, you must wait for the upload to complete before working on another section of your site; else, your work will be lost (Some people literally lose patience).
One of Weebly's main flaws is that it doesn't allow online storage for your site's images and videos.
Unlike Wix, Weebly does not offer an Undo tool for site changes like adding elements or altering the theme.
Customizing pre-made template banners is challenging. Prior to the change, you could hover over a banner and acquire the pixel dimensions, allowing you to construct your own personalized banner. This feature has been removed.

The Bottom Line
So, this is all about Weebly Website Builder. Hopefully, this post has been informative for you and will help you make an informed decision.