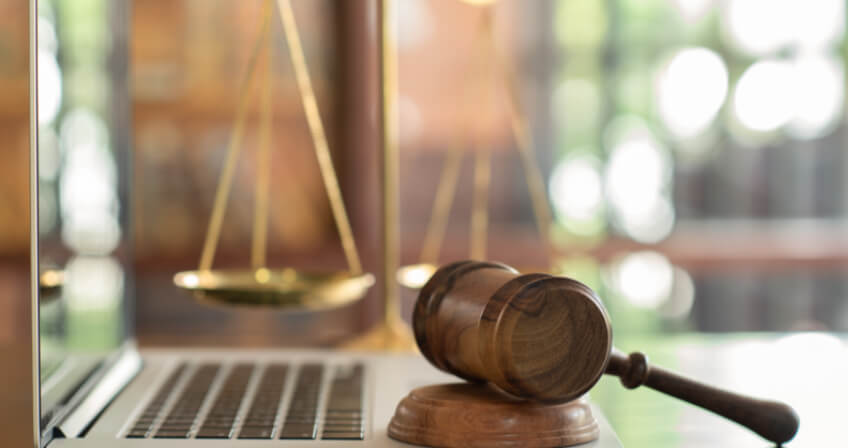 Before buying a product, most people rely on reviews or a referral. But would you always ask your relative to refer you to a product or a service? What if you have queries regarding that product?
Google is a better option now. Query or a review, looking for a service, or hiring someone, Google has all the answers to your problems.
So, why not implement this strategy in your business as well? Taking your business to the online platform will help your gain new clients and generate a steady flow of new leads.
Legal professions have a higher level of competition. It requires a strategy to stand out among your competitors and get the highest spot in front of your clientele.
Law Firm Website
With the modern world of technologies, every business needs to walk hand in hand with it to flourish and stay relevant to new clients.
People today would search for their required services or any information they need before they hire someone. That's why many businesses have gone online to meet these requirements.
A business's online presence matters a lot. You can showcase your achievements, field of expertise, and your client's review and provide an easy way to contact your firm.
And behind a successfully running website comes many aspects to keep in mind. From UX to managing your law firm's content marketing strategies, you can provide your business with the exposure it needs.
Key Performance Indicators, on the other hand, can help you gain insight into what your audience wants to see, more or less. It can help you build a website that the audience can benefit from the most.
Lastly comes the SEO of your website. Any website, good or bad, needs a great SEO strategy to stand out in the competitive market. This article will discuss everything about Law firm SEO, including basics and some tips to remember.
Law Firm SEO
People like to search for services online and compare their options. It's a feasible and quick way to get the best in the market. If you don't have a good SEO strategy, your website will most likely lose many potential clients.
SEO is the practice for more prospects. With proper optimization, your website can show up on a search engine's result page or SERP, and that's how you can get more organic traffic.
The more traffic, the more the chances of getting a new lead.
Another benefit of Law firm SEO is through your content. You can add blog posts or guides on your website that address your audience queries. This way, your viewers can trust you and believe you know your niche well. You can try these listed techniques to get the most out of SEO.
Content: This means adding the right keywords exclusively related to your law firm or area of expertise. Do your keyword research through a keyword explorer website. These keywords will be the topic of your content or landing pages.

We can further look into "how to make this content to gain prospects". Create content that can provide valuable information to the readers and is easy to read: break it into sections. Provide content that is; up-to-date, unique, and follows the E-A-T practices; this is where you can use a link bait to get ahead in the SEO game.
Google-Friendly Website: User-friendly website is the most prominent feature of a website. A website adapts to any device and does not compromise the user interface. Make a website that is easy and smooth to navigate.

Apart from being user-friendly, your website also needs to be Google-friendly. It includes locating your office on Google Maps (so Google can show your website on local searches) and getting listed on directories (which includes; your law firm's name, phone number, location, and website).
Online Reputation: Encourage your clients to leave a positive review on your page. According to Google, your website can rank higher as much as they get positive reviews.

Responding to those reviews as much as possible will help Google's SEO. You can learn more about how to manage reviews here. However, don't get paid reviews or offer your clients something in exchange for reviews since it damages your credibility.
Optimization: Optimize your website so that your search engines can find, crawl and understand the intent of your website and rank accordingly.

It is a way to structure or organize your data so search engines can crawl, find and index the pages or kind of information you are offering on your page. Optimize your page's speed because it is crucial for user experience and ranking.
SEO Expert: Although SEO is not a difficult concept to grasp your head around, it could be complicated in some areas. To ensure the success of your website, hire an SEO expert that is within your budget and understands your KPIs.

Before hiring an expert, discuss their approach to technical SEO, backlinks, and content. Ask for their experience in the law firm, as an SEO expert in this industry would understand the pain point of your potential clients and what they need.
Final Thoughts
A law firm SEO expert can professionally manage your website and help drive organic traffic and new leads for your firm. However, since SEO is an ever-changing field, an expert can only try his best to make your website excel. But a large part of its success will depend on your expertise and authority in this profession.
The traditional way of marketing was through referrals and suggestions that can take your law firm only so far in the market. But with a prominent online presence, you can get a steady flow of potential clients and efficiently assist your existing ones.
SEO is especially hard for legal services, and a good outcome may take some time. So, keep researching your audience's likes and dislikes and do quality law firm's content marketing that is relevant to your services.
Be patient because once you get these SEO practices up and running, your webpage can rank higher before long.
Author Bio:
Shoaib provides ghostwriting and copywriting services. His educational background in the technical field and business studies helps him in tackling topics ranging from career and business productivity to web development and digital marketing. He occasionally writes articles for Juris Digital.