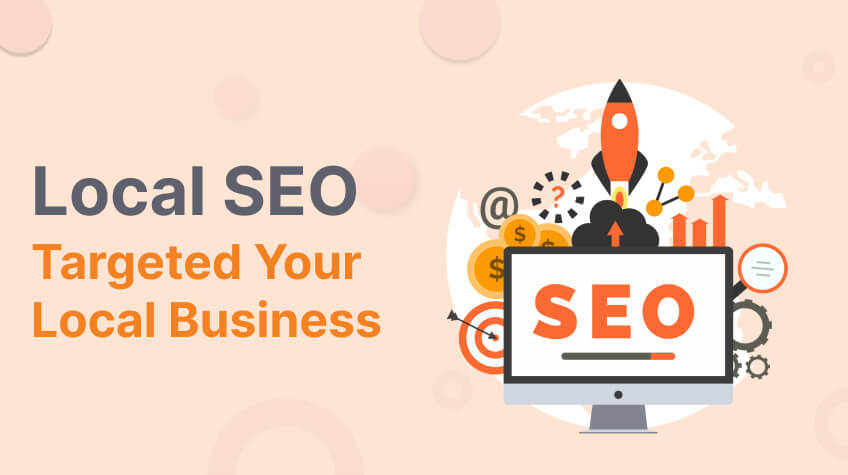 Ever since the advent of internet marketing, Search Engine Optimization or SEO has become one of the important tools. It helps online business owners tremendously. However, SEO in itself is a vast term. There are many types of search engine optimization, including local SEO.
Local SEO, as the name says, is to target your audience locally. Small businesses can benefit greatly from local search. It is because over 80% of people search online for local services. For example, when customers want to order food, they look for local restaurants in the area.
So, if you own a small business and want to expand your reach, then local SEO is your best bet. For example, if you're a vendor of groceries then the UK will be your local targeting market and you should look out for an SEO expert UK that will guide you to expand your reach in the UK.
In this post, we will discuss in detail about local SEO, including how you can leverage Local SEO to drive targeted traffic to your local business.
So, let's get started…
Let's first understand what local SEO is. Here we go…
Table of Contents
What is local SEO?
Local Search Engine Optimization or local SEO is one of the search engine optimization strategies that is geared specifically towards local businesses. It assists local businesses in raising their ranking and visibility on Google Business listings.
Any business that has a physical location or serves a geographic area can stand to benefit from it. Increasing a company's online and, more specifically, physical presence is what local SEO is all about. Implementing local SEO best practices can help businesses increase their organic traffic from local clients.
Businesses can utilize local SEO to promote their goods and services to potential clients in their area. Search engines use local content, social profile pages, links, and references, to find the best local results for users' queries.
In today's scenario, local search engine optimization is a MUST. If your company is not optimized for local search, you run the risk of missing out on potential consumers that are interested in your business. In a nutshell, local search engine optimization is really necessary if you want your company to continue to be relevant.
Why is Local SEO Important?
Local search engine optimization makes your company more noticeable. Businesses use local SEO techniques to generate more organic leads online. It helps drive more relevant traffic to your business.
Utilizing local SEO services, you can directly target those who are actively looking for the goods or services that your company provides.
There has been an increase in the number of searches that have a local focus. Research indicates that over 80% of consumers use search engines to find information about their immediate surroundings. The information provided by search results drives the majority of these consumers to visit a physical or online business.
Also, Local search engine optimization assists people to have access to more information about your company. It helps your customers make informed decisions.
All in all, local SEO is a need of the moment for small businesses. If you own a business and want to expand your reach, this is your best option.
Advantages of Utilising Local SEO
Local SEO offers numerous advantages, some of which are listed here; take a look…
The implementation of local SEO methods results in searches being directed more specifically toward your company.
Local searches involve looking for a specific company or area. This means that by using local SEO strategies the right way, you can promote the goods or services that you offer.
Local SEO is a more cost-effective option compared to conventional forms of advertising, such as newspaper ads, radio ads, and so on.
Many local SEO approaches are free to adopt and implement, which leaves you more money to spend, if you so choose, on other SEO strategies.
Implementing the right local SEO strategies can help you reach your target audience and have increased ROI.
Last but not least, local searches can be performed using a variety of search engines, including Google, Bing, and Yahoo.
So, these are some of the benefits of local searches. Let's now move to our detailed guide to local SEO strategy. We're sure that understanding this guide to Local SEO Strategy will assist you in driving targeted traffic to your local business. Take a look…
A Step-by-step Guide to Local SEO Strategy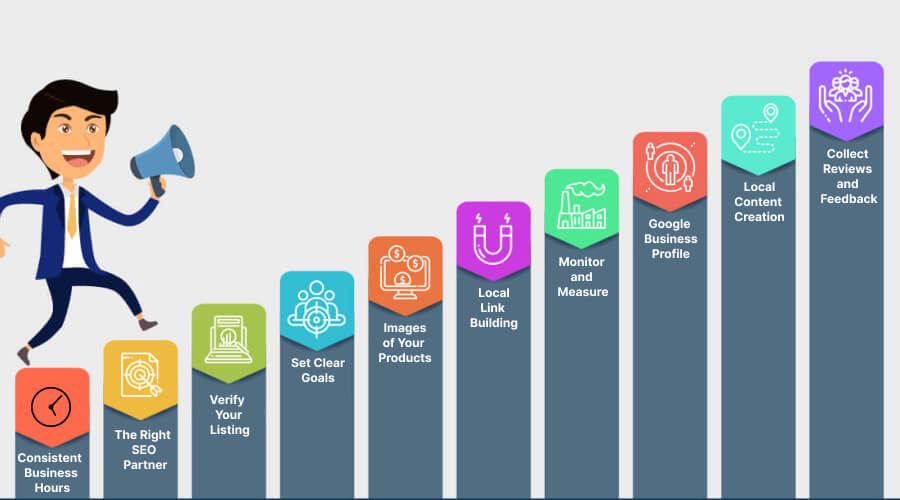 1. Including Detailed Information in Your Google Business Profile
The first and foremost step to a stunning local SEO strategy is to include detailed information in your Google business profile. According to research, businesses must put their complete and accurate details on Google's business profile. Doing so will make for online platforms to match with the right searches.
Having an incomplete Google Business Profile is the worst thing that you can do. It will be more difficult for Google to match your business with local customers.
Once you have created a Google Business Profile, you must add as much information as feasible. It includes:
Name
Who You Are
Website
Business Description
Category
Attributes
Opening Date
Location
Address
Operating Hours or Business Hours
Holiday Hours
High-quality Images, and so on.
Ensure that you have access to all of your essential business information before you begin. Also, you can include specific keywords to make your business more easily visible to your customers.
So, the idea is to fill out your profile as much as feasible.
2. Verify Your Listing
You must verify your Google Business Profile once you have listed it. Google provides a variety of methods for verifying your listing. All you have to do is to visit www.google.com/business, sign in, enter all your business details, and press submit for verification. You can also use Google Maps on desktop and mobile to add or claim your business.
3. Have Consistent Business Hours
You should consistently follow the business hours that you have listed in your Google Business Profile. It is essential to include accurate, up-to-date business hours in your listing. Aside from that, you must also include special holiday hours. Doing so will help you avoid upsetting customers.
4. Collect Reviews and Feedback
Reviews and rankings MATTER! Make sure you collect reviews and rankings from your existing customers. Research indicates that Google Reviews account for 40% of all ranking factors for local pack results. Having positive reviews can significantly enhance your local SEO ranking.
Not only will online reviews improve your local SEO, but they will also help establish trust with customers and potential customers. Know that satisfied and happy customers also promote your business by encouraging others to buy from you.
So, it is essential to have a simple strategy to have your customers' reviews on your Google Business Profile. Satisfied customers will surely make time to leave reviews on your profile, which will have a direct effect on your local SEO.
It is always wise to collect reviews organically. It is because Google keeps updating its algorithms. If your reviews are not collected organically, your profile may be affected. There are various ways you can collect reviews, some of them include:
Keep the process of leaving reviews simple for your customers. You can also use review aggregator tools to collect and display Google reviews on the website.
Send invitations while the customer is still on-site, and the interaction is fresh in their minds.
Send an email or text to your existing customers asking them to evaluate your business based on their experience with you.
Remove as many barriers as feasible from the review-writing process.
Direct customers to the online review sites and applications they already utilize.
Deliver high-quality customer service.
Implement a solid online review management system.
5. Include High-Quality Images of Your Products
Including high-quality images of your product is an essential step. Having your product images in your profile will help in Local SEO. Make sure you upload high-quality images.
Doing so will help your customers to gain insights into your business. Images act as a visual story about your company. They help convey to your customers what it is like to do business with you. In addition, it helps businesses attract their target customers.
According to research, listings with images receive 40% more queries than the ones without images. Hence, it is crucial that you upload high-quality images to engage with your audience and showcase the characteristics of your business.
6. Reach Out to The Right SEO Partner
Local SEO may seem like a task if not done correctly. Hence, it is crucial that you hire the right SEO experts. Professionals always use cutting-edge tools to promote your business the right way. SEO expert UK can help significantly. They know how and which local SEO strategies will particularly work for your business.
They will leave no stone unturned to help you achieve your business goals. Moreover, they will keep your Google Business Profile updated at all times so that it ranks in the keywords you have targeted.
Final Thoughts…
So, there you have it: the ultimate guide to local SEO. We hope that this article has been informative for you and helped you gain an immense understanding of how to utilize local SEO to optimize your company to reach potential customers.
Know that the right Local SEO can help you remarkably. All you have to make sure is to follow the techniques religiously and be consistent in your endeavor!