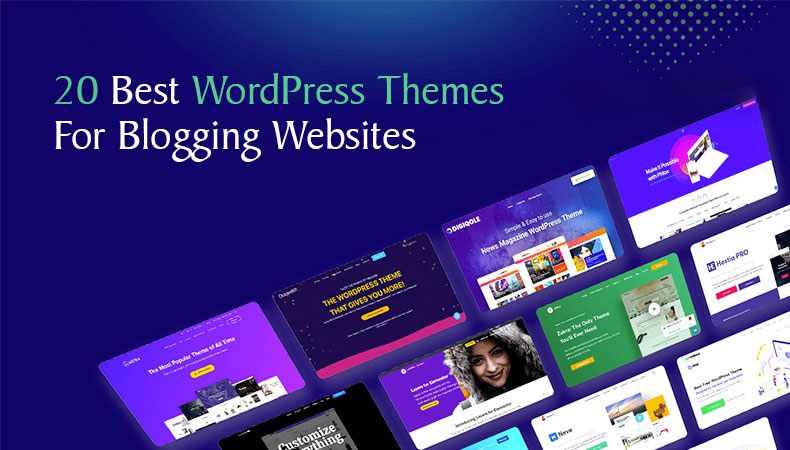 There are over 31,000 WordPress themes, and of course, not all are meant for you. And finding the best among so many can be taxing. We have compiled the list of the best WordPress themes for Blogging Websites.
So, let's dive straight into our list without wasting any moment. Here we go…
40+ Best WordPress Blog Themes
Your blog establishes your industry leadership while providing a fun experience for your site visitors. Using the best WordPress theme lets you capture the professionalism of legacy media. So, why compromise with just any theme?
Use our list to make the best choice of WordPress themes. This list has themes for everyone, whether you're a food blogger or a freelance photographer.
1. Newspaper
At 1st, we have Newspaper. Newspaper from tagDiv offers a variety of adaptable templates. This theme can give your WordPress pages a high-gloss finish, whether your blog is the focus of your website or not.
Newspaper can manage everything from news sites to product reviews, business pages, and niche eCommerce while improving your content, images, and branding.
Newspaper 11 (the latest version of the theme) looks not only great but also includes many essential options for bloggers and site administrators.
With its built-in performance analyzer, you can optimize your site's SEO and load speeds. As a result, it reduces the number of queries and the size of critical files required to load your site. Best of all, no coding knowledge is required to use this functionality. So, try it out!
2. Astra
Astra is a free WordPress blog theme that you can customize to your liking. This is considered one of the best WordPress themes as it can manage everything, from personal blogs to portfolios, business blogs, and even eCommerce websites. Astra is a lightweight theme that comes with a plethora of color choices. It comes pre-loaded with all of Google's typefaces. Also, it's mobile-friendly and integrates seamlessly with all of the most popular page builders on the market.
It includes built-in support for WooCommerce, which allows you to quickly and easily create an online store for your blog if you so desire. The best thing about Astra is that it comes translation-ready, which means you can use it to create blogs in any language you like.
The paid edition of Astra costs you $47.
Also Read: 45 Best WooCommerce Plugins for your WordPress eCommerce Store
3. Elementor
Elementor is an all-in-one solution for creating powerful WordPress sites, applying professional designs, and improving the visitor experience.
It's not just a theme; it's a solution to turn your WordPress site from ordinary to extraordinary. With Elementor, you get more than one theme or a generic collection. The Elementor Kits Library has a variety of alternatives that can completely change the look and feel of your site.
Elementor Kits offers you features like popups, sidebars, sticky menus, grid-style blogrolls, eCommerce, search, and more. You can choose from over 100 available kits, select whatever aspects (including demo content and site settings) you want to utilize, and the kit will be added to your site in under a minute. The best thing is you adjust and rework your site to fit the kit. It is one of the best and most powerful WordPress site builders. It comes at a price; however, it's worth it.
4. OceanWP
OceanWP is one of the most widely used WordPress themes on the internet. The best thing is that it is a free WordPress theme. It has a slew of features that are generally only found in premium themes, making it an excellent value.
In addition to blogs and magazines, OceanWP may be utilized for commercial websites and e-commerce websites. It provides you with numerous layout options, full width pages, two navigation menus at the top, custom logo support, multiple sidebar spaces, fantastic image galleries, and so on. It is exceptionally adaptable while being simple to set up. Also, it offers live customization assistance.
5. Divi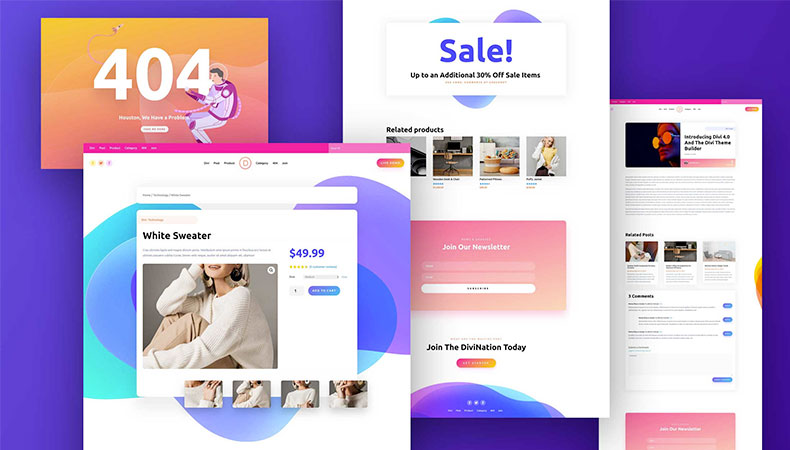 Divi is an all-in-one customization tool for your blog. Elegant Themes created it, and it includes amazing features, including a drag-and-drop builder and visual editing options. Often website owners, freelancers, and agencies use this WordPress theme to manage high-quality WordPress blogs.
This theme includes CTAs, forms, galleries, sliders, and everything else a theme should include. You get to choose from over 800 pre-built designs and tweak the layout to meet your specific needs. This is one of the quickest, most efficient, and conversion-optimized themes.
Anyone, from novices to advanced WordPress users, may use Divi to create a blog. It is a paid theme; however, it offers a 30-day trial version for people who wish to try it out. If you like this theme, you can purchase it for a lifetime by paying $249. And if you want to try it for a year or so, it's available at $89 per year.
6. Hestia Pro
Hestia is a multipurpose WordPress theme. It is a highly customizable and responsive theme that can be used for any type of website. It includes an easy-to-use setup wizard as well as a companion plugin that allows you to add testimonials and services sections to your website.
It is compatible with a variety of popular page builder plugins and is ready to use with WooCommerce right out of the box. You can quickly and easily customize the homepage using the live theme customizer. You may just drag and drop portions into place and reorganize them as needed.
Hestia Pro comes in three versions; personal, business, and agency. The personal is considered best for freelancers. You can get a personal version of Hestia pro at $69, while the Business version is apt for businesses with three sites, and it comes at $99. Lastly, the Agency version of Hestia Pro helps you manage unlimited sites and is considered great for big organizations. It is available at $299 a year, which is worth it!
7. Bento
Bento is a feature-rich multipurpose WordPress blog theme that offers a plethora of options. It integrates seamlessly with the majority of page builder plugins and is well-suited for use as a commercial theme.
Bento, in addition to its high-quality construction and first-class design, is jam-packed with strong functionality while being remarkably simple to use and configure.
It is a free WordPress theme that offers a ton of customization options at the price of nothing. Using the WordPress theme customizer, you can make changes to any of these elements. Your site will look exactly how you want it to look without the need for any CSS knowledge on your part.
8. Authority Pro
Authority Pro is one of the best WordPress themes created for professionals who wish to establish themselves as authorities in their respective fields. So, if you wish to be an authority figure in a particular niche, this theme is ideal for you!
Created by StudioPress, Authority Pro makes installing the theme on your WordPress website simple. In addition, you'll get access to a theme customizer, a mobile-friendly design, and compatibility with the WooCommerce shopping cart.
Even if you're just beginning, the Authority Pro theme is a fantastic alternative for you to take into consideration. This is a paid WordPress theme, which you can buy by just paying $129.95.
9. Go
At number 9, we have the Go WordPress theme. This blog theme takes a minimalist approach to design and is suitable for any type of blog. Whether you are a freelancer or a business owner, Go is for everyone.
There is a welcome message and two call-to-action buttons in the header, which makes it an easy-to-use WordPress theme. Go is intended to improve readability while still providing an excellent user experience.
It makes excellent use of crisp typography and does a fantastic job with featured photos. Additionally, any popular contact form plugin can be used to quickly and easily add a contact form to your website.
10. Foodie Pro
Foodie Pro is a WordPress theme that is specifically created for food bloggers, as the name says. It is one of the most adaptable Genesis child themes. A simple aesthetic pervades the theme while still allowing for a diverse selection of text and color options.
This lightweight theme is very responsive, and it includes appropriate places for advertising space on the page.
Foodie Pro WordPress theme can be used to provide recipes, cooking ideas, and anything else you know to establish a successful food blogging business. You can have featured photos in each of your posts. The best thing about Foodie Pro is that it features customizable grid archives. You can buy this wonderful WordPress theme for $75.
11. Bold Photography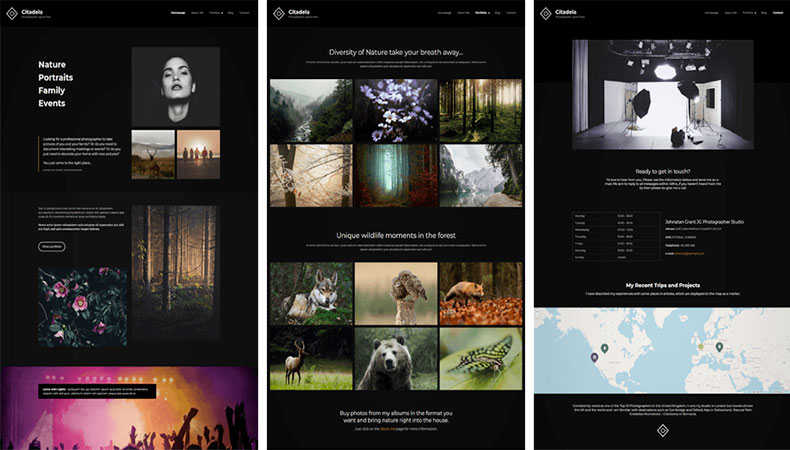 As the name implies, Bold Photography is a WordPress blog theme for photographers, writers, and authors. Bold Photography is a free tool that is both modern and easy to use.
It's a dark multipurpose photography WordPress theme that features a clean style and excellent functionality to help you express your photographic talent to its full potential.
The site includes a full-screen backdrop picture slider that you can adjust to highlight your most popular or featured photos.
It offers widgets that may be customized, color settings, and parallax portions, among other features. Bold Photography utilizes lazy load images to keep the page load time as fast as possible. Additionally, you may utilize any popular cache plugin in conjunction with it to accelerate your website even further.
12. Thrive Theme Builder
Thrive Theme Builder is an excellent WordPress theme that allows you to create a website from scratch. In addition to combining the page building components of the Thrive Architect theme with extensive theme settings and theme building capabilities, Thrive Theme Builder is a smart page building WordPress theme.
Using this theme, you may alter important theme features such as your 404, search, and archive pages and the layout of your blog pages.
You can personalize your site (s) from the bottom up without the need to know any code. This theme includes call-to-action buttons and email opt-in forms that are ready to use straight out of the package. Custom author boxes and blog entries can also be created upon request.
This beautiful and useful tool comes at a price, and you'll need to spend $97/year for a single product or $299/year for access to all Thrive Themes products.
13. Scribbler
Scribbler is a clean and straightforward personal WordPress theme created by MyThemeShop. It features a card-based design with a traditional layout. One side of it is devoted to your blog archive, while the other is dedicated to a sidebar.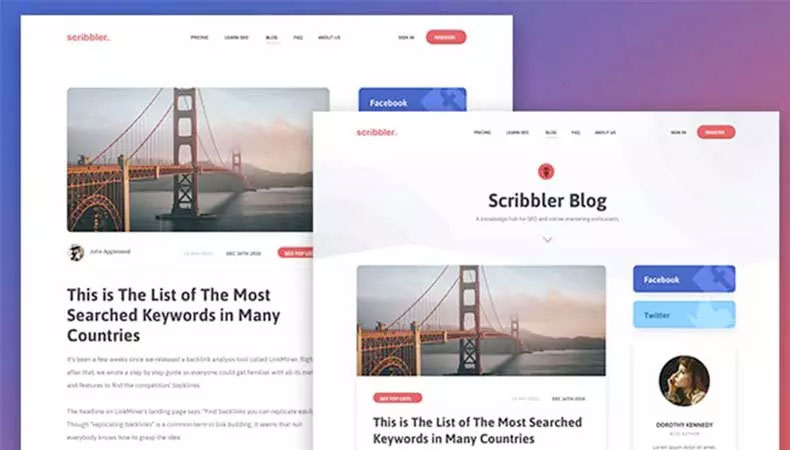 Scribbler comes with two different blog page layouts and enough theme choices to completely customize the appearance. Additionally, it features different designs for linked posts. It supports AdSense, reviews, and Elementor.
14. Sparker
Sparker is yet another free WordPress blog theme that is quite popular among bloggers. It is a WordPress theme that is lightweight and simple to use. Aside from blogging, this theme may be used to create small business websites, online stores, and a variety of other types of websites, among other things.
Sparker includes a variety of custom widgets, as well as a visually appealing slider section and a highlighted post column, among other features. It also provides a space for advertising, such as Google AdSense, to be placed on the website. It is easy to use and has been created with search engine optimization (SEO) in mind.
15. Morning Time Lite
Morning Time Lite can be used in a wide variety of ways. Blogs about family life, personal blogs, and journalism can all benefit from this platform. This is one of the best WordPress themes that makes uploading multiple blogs per day a breeze.
It is a lightning-fast theme that can be used in multiple languages. Using Morning Time Lite, you can design a custom blog logo. It offers amazing features, including unlimited color schemes, custom share buttons, and quick installation. And the best thing is that you get this excellent WordPress theme for the price of nothing. Its paid version starts at $59.
16. Kadence Theme
No other WordPress theme comes close to Kadence Theme in terms of beauty, speed, and usability. It has a drag and drop header and footer builder, as well as six starter templates to help you get your site up and operating in only a few minutes. It lets you manage pages, articles, and custom posts.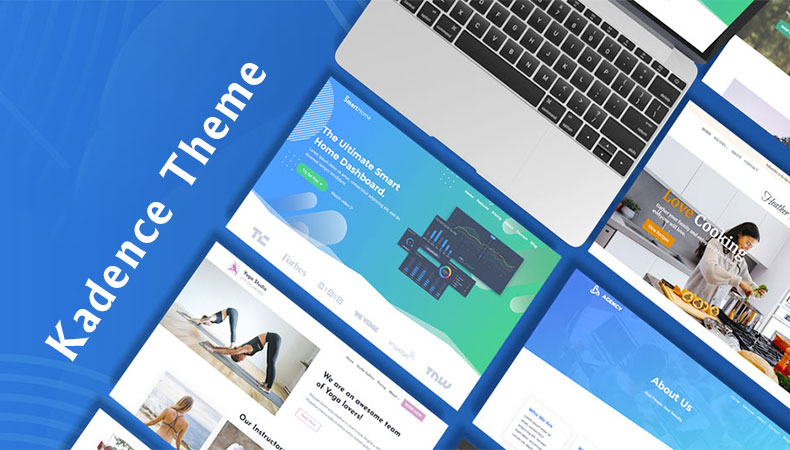 It lets you customize fonts, color, social icons, and menus. In addition, you may set your brand colors to display on elements such as buttons, links, and headers using their global color palette.
This WordPress theme is available for free and premium editions. You get 20 new header components, conditional elements, and a Woocommerce addon, along with the premium edition of their plugin. All you have to pay is $149/year for the Pro version with the Full Bundle.
17. Writing
Writing is yet another great WordPress theme for bloggers who love uncluttered blogs. It is created by ThemeForest. This theme helps you keep your blog's appearance and feel as clean as possible. So, if you want your content to be the primary focus of attention on your website, Writing is the theme to opt for.
Writing is a straightforward theme that is liked mostly for its simplicity. Since it improves readability, your visitors will surely love to stay on your page. The best part is that it is search engine optimization (SEO) friendly, fast, responsive, and simple to set up.
You can easily switch between blog layouts and formats in order to experiment with the best method to present your material to your audience. It comes at a price, which is just $49.
Also Read: 14 Best Free WordPress Plugins in 2022
18. Fury
Fury is the ideal front-end solution for e-commerce built on Bootstrap 4. Along with customizing all of the framework's default components, it offers a slew of new configurable elements that you can utilize throughout your website.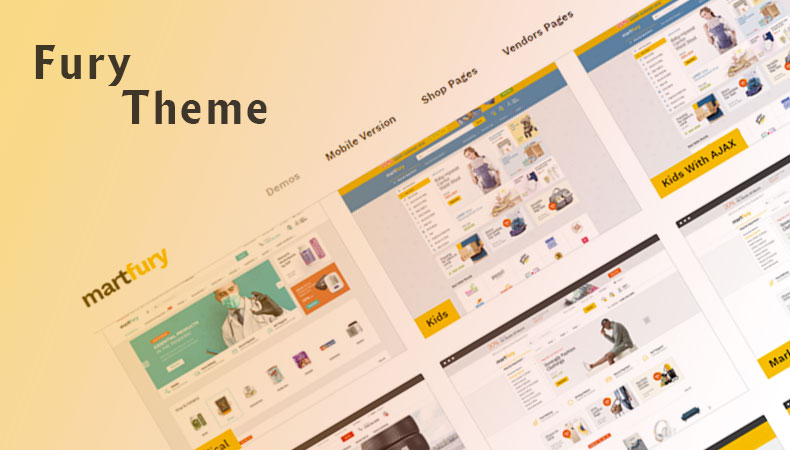 It features a straightforward design and layout. It includes a plethora of theme options that are simple to utilize. It offers responsive designs as well as quick performance.
It has a sticky header, an unlimited number of colors, a smooth scroll effect, and other useful features. It's also compatible with BuddyPress, which allows you to establish your own social network on your website or blog.
19. CityLogic
Created by Out The Box, CityLogic is an incredible free WordPress theme that looks and feels like a premium theme. It is appropriate for many types of websites, including small company websites.
CityLogic's attractive look and intuitive features make it an excellent choice for establishing any type of website, from food to business to decor, travel, lifestyle, sports, and even an online store.
On the homepage, you'll find a huge header, a transparent navigation menu, a welcome message, and the most significant material of your website. A transparent navigation menu enables the usage of bold homepage images by displaying either a static header image, a slider, or even a full-width header video.
The plugin also comes with a built-in slider and can be used in conjunction with other slide plugins. It is compatible with WooCommerce and can be used to create visually appealing online stores.
20. SmartTheme
Smartly designed by OptimizePress, SmartTheme is a premium WordPress theme that makes it simple to emphasize your content while also growing your email database.
It is both a lightweight and seamlessly interactive Theme. It's a great tool for bloggers, authors, entrepreneurs, and other professionals. If you wish to create a profitable website, this theme is one that you should take into consideration.
When you purchase OptimizePress, the premier WordPress landing page, and sales funnel builder, you will receive this Theme as a bonus. Otherwise, you will have to pay $99 for an annual subscription.
21. Blocksy
Blocksy is yet another wonderful free WordPress theme. It is fast, lightweight, and packed with features. It is meant to be fully compatible with the WordPress block editor.
It was created and developed to function in conjunction with the most popular WordPress page builders on the market. It provides hyper-intuitive choices for customizing and making changes to any aspect of your website in real-time. It gives you complete control over the layout settings, including the header, footer, sidebars, pagination, single pages, and much more besides.
Blocksy can be used to develop a variety of websites, including eCommerce stores, restaurant websites, blogs, portfolios, and other types of websites. It integrates well with major page builder plugins such as Elementor, and it also supports complete WooCommerce functionality.
22. Hemingway
Hemingway is a simple WordPress blog theme with a 2-column style and a full-width header picture area with a parallax effect. It is compatible with both WordPress and Blogger.
It allows you to submit your own logo and supports custom widgets, as well as page templates and other features, among other things.
It's also retina-ready, which means it'll look amazing on high-resolution smartphone themes as well as tablets. All of the theme choices are simple to configure.
23. GeneratePress
GeneratePress is a dynamic WordPress theme that you can use to create a wide range of different types of websites. It has numerous site demos; however, it also has dozens of dedicated demos for page builder plugins, including Elementor and Beaver Builder.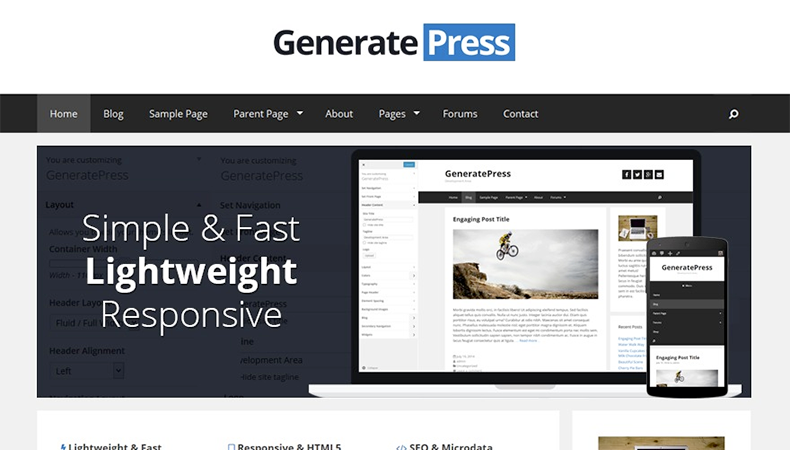 It offers a dozen of color and typography options for you to choose from, as well as numerous layouts for menus, sidebars, pages, blog entries, and other areas of your website.
In terms of customization, GeneratePress is one of the most powerful WordPress themes available on the market right now. A noteworthy feature for bloggers is the theme's blog demos and settings. These include controls for featured photos, columns and masonry layouts, endless scrolling, and other valuable features. It comes with a nominal price that is $59 per year.
24. Soledad
Soledad is marketed as a "multi-concept blog magazine" WordPress theme. There are more than 6,800 homepage demonstrations available for you to view. With a single click, you can install any of these programs.
In addition to offering multiple post templates for different types of stories, the theme is also an excellent choice for online magazines due to its versatility. Soledad has been built for search engine optimization, and it is responsive across all devices.
This amazing WordPress theme for Blogging costs $59. So, if you want your blog to stand out, spending $59 is worth it!
Also See: Best WordPress Plugins for Business Websites You Must Have
25. Neve
Neve is simple to set up, provides both free and paid alternatives, and provides excellent customer service when needed. Using the Starter Site feature, users may quickly create websites by picking a template and customizing it to meet their specific needs using the versatility of the platform. The best thing is that it is compatible with all of the most popular content editing and design tools.
It is a free WordPress blog theme that performs exceptionally well for corporate websites and online retailers. Also, it is a fantastic choice for a personal blog or website.
Neve has a clean, minimalist design that is enhanced by stunning colors and typography. It can be customized as per your liking. The best part is that this WordPress theme is compatible with major page builder plugins like the Elementor page builder, the Divi page builder, and the Beaver Builder, among others.
It comes in three paid editions, namely Personal, Business, and Agency. Personal costs $69, while Business costs you $149, and Agency is priced at $259 a year.
26. Hueman Theme
Hueman WordPress theme is a free theme compatible with WooCommerce. It is one of the most widely used free WordPress themes available today. There are multiple columns in this theme, and it can be used on any type of content-rich blog or magazine-style WordPress website with little effort on your part.
It provides you with enough room on the first page to display your material and attract visitors. Aside from that, you'll receive support for unique headers, 2-column layouts, full-width layouts, and loads of simple customization choices. Additionally, it is a fully responsive and mobile-friendly theme.
It is the seventh-most reviewed theme on wordpress.org in 2022 among more than 8500 themes, with over 668 reviews and an average rating of 4.9/5.
27. Moderne
Designed specifically for blogging and blog magazine-type websites, Moderne is a one-of-a-kind design concept that incorporates elements of the past with the present to create a bright and dynamic theme. This WordPress theme is extremely easy to use.
It offers a multitude of customization options, such as blog layouts, full post layouts, a flexible, featured post slider, dynamic width sidebars, unlimited colors, and so on, to bloggers who enjoy telling stories and expressing themselves through words. Moderne comes equipped with everything you need to quickly and effortlessly create an eye-catching blog that both you and your viewers will adore.
It's been created with readability in mind, and it places your material at the center of the page to make it stand out. Depending on your needs, it may be a fantastic choice for a magazine-style blog or perhaps a local newspaper website. It includes a highlighted content carousel slider on the homepage, as well as a 2-column style that stylishly displays your material.
It comes in free and premium editions. The paid edition of Moderne starts at $40.
28. Admiral
Admiral is yet another magazine-style WordPress theme that is well-suited for sports blogs, magazines, and news websites, among other things.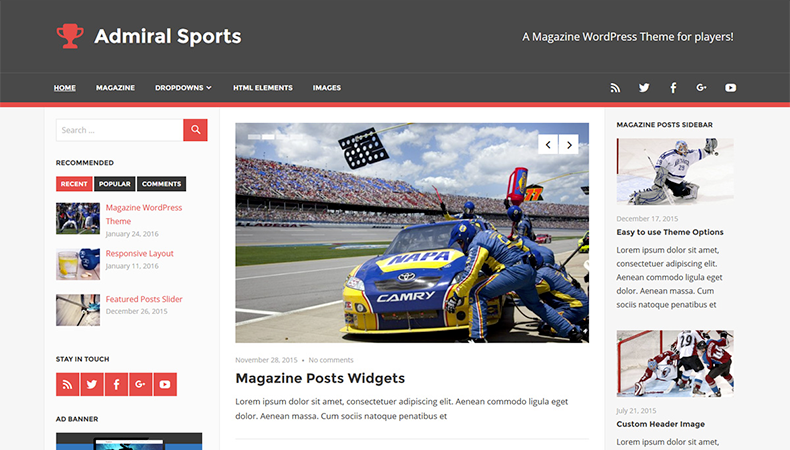 This trendy Magazine-style WordPress theme comes with a unique and responsive two-sidebar layout. It has a featured posts slideshow, a magazine-style homepage template, a widgetized header area, two distinct post layouts, and support for infinite scrolling, among other fantastic features.
Aside from that, it also includes a magazine homepage template, two distinct post layouts, and support for infinite scrolling in the content area. Admiral is a MUST WordPress theme for those who wish to have a stunning website.
29. MoneyFlow
MoneyFlow, as the name says, is the WordPress theme to make money blogging by displaying advertisements on your site. The theme has a contemporary and professional appearance.
It is a search engine optimization (SEO) friendly theme that is tuned for speed. A highlighted post area and a slider part for showing several posts in a dynamic manner can be added to your blog's home page, all from a visually appealing design.
MoneyFlow WordPress theme is fully responsive, meaning it will work on any device, including smartphones and tablets. Moreover, it is compatible with both AdSense and WooCommerce. This is an excellent option for those of you who wish to sell things through your site while also running advertisements. It is a paid theme that you can buy for $59.
30. Purple
Purple is a dynamic blog theme created by MyThemeShop. It includes an email opt-in form above the fold, followed by the normal blog archive. Despite the fact that it is a blog-heavy theme, this gives it a marketing-friendly feel.
Purple does not have the page-building or theme-building capabilities of the themes that came before it on the list. The good news is that you may choose from two prepared header layouts and six premade site components that you can drag and drop.
Custom author boxes, lightboxes, ad spaces, and custom social sharing buttons are among the advanced styling and theme options available, as are blog-centric features such as five related post layouts, picture effects, custom author boxes, lightboxes, and custom social sharing buttons.
This WordPress theme is available for buy at $59.
Also Read: 36 Essential WordPress Security Checklist in 2022 [Tips and Guide]
31. Cenote
The Cenote is one of the best WordPress themes available in the market today. This free and lightweight theme has a lot of white space and uses conventional colors, which is a plus.
The theme's one-click installation feature includes color options for your branding and logo. The header or footer, as well as the sidebars, can use the four widget spaces. In addition, the Cenote theme has a section for customizing CSS.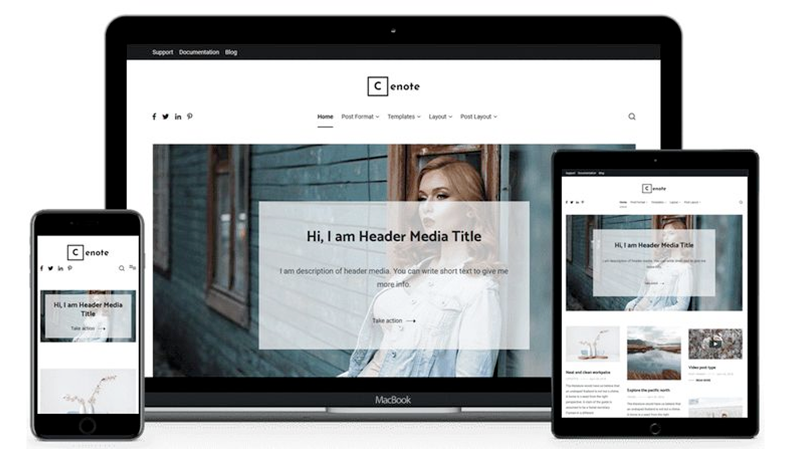 Your visitors will always be able to see the menu, thanks to the sticky menu. The social icon pack is even another reason to be enthusiastic.
You may direct people to your Facebook, Pinterest, Instagram, and other social media accounts using the buttons.
32. Revolution Pro
Revolution Pro is yet another WordPress theme developed for use with the Genesis framework. The level of customization is not as extensive as the preceding themes, but it does make use of WordPress' block editor, which is useful if you do not know how to code but want to have complete control over the appearance of your site.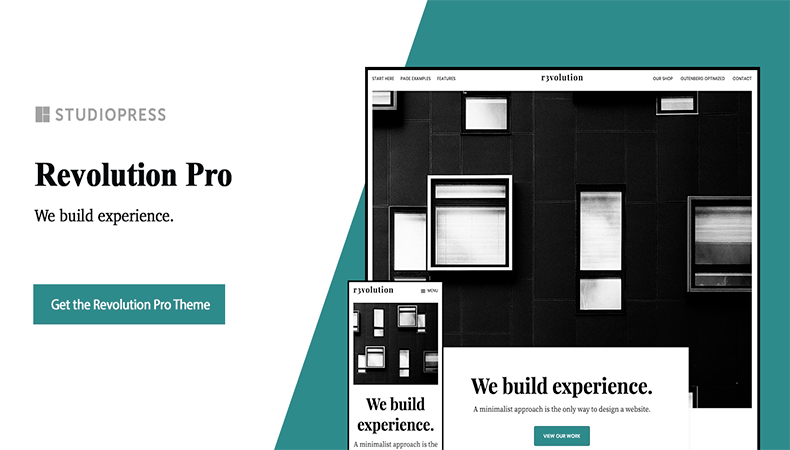 Aside from that, it offers a number of different site samples to pick from, including a Lifestyle Blogger demo that includes your blog archive and portfolio. You'll also get access to Genesis eNews Extended, which allows you to incorporate opt-in forms into your website. Also, it provides you with numerous advanced theme settings and styles to help you customize your website as you like. It's one of the priciest WordPress themes available in the market. It costs you $360 for one year.
33. Tracks
Tracks is a bold, gorgeous, and responsive WordPress theme. It is ideal for personal blogs, publications, and photography websites, among other applications.
It may be used for many purposes, including a travel blog, an online newspaper, video site, podcast, and even an eCommerce store, thanks to its WooCommerce compatibility.
It offers fantastic features, like a logo uploader, search bar, more than 50 social media icons, comment display options, and premium layouts, among others. A dark, basic, and minimal style distinguish Tracks as a fantastic platform for publishing both textual and visual content.
Tracks is an entirely free theme that you can use for as many projects as you like. The best thing is that it is fully compatible with the new Gutenberg post editor, which was released recently.
Your entries are shown in a grid format on the site, along with featured images. Your readers will save time by not having to navigate down a long list of posts to get what they are looking for.
34. Masonic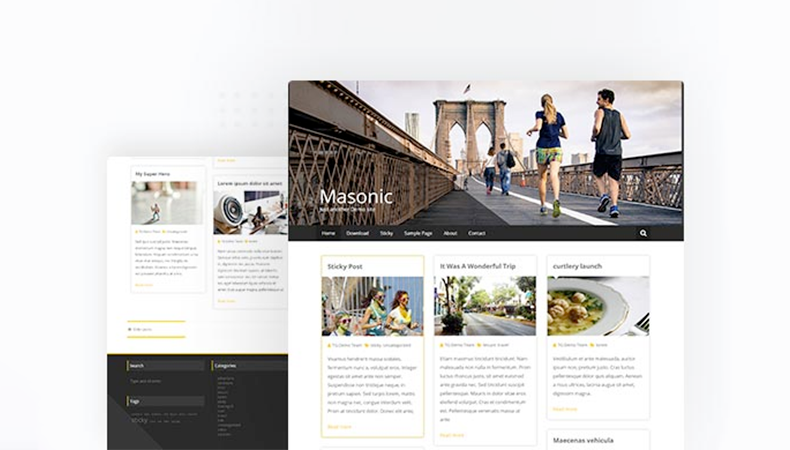 The Masonic is another excellent WordPress theme. It is ideal for any type of blog; however, it is considered best for blogs that demand a lot of photographs.
It uses the masonry layout and provides you with the most recent posts in a card-like format. Using this on a food blog or other site where you want to display a highlighted image and short description would be ideal.
The normal WordPress customizer lets you change the primary color, link color, font style, and widget style. It allows you to add custom CSS, as well as support for the Breadcrumb NavXT plugin, which is built-in.
Beginning bloggers who want photographs to take center stage on their website won't be able to find a more feature-rich blogging theme than this one.
35. Ashe
Ashe is a stunning free blog theme for the WordPress platform. It has a magazine-style layout, with a large header image and a slider displaying the most recent highlighted material. In addition to being a beautiful single and multi-author WordPress theme, the Ashe theme also includes a lovely header area that you can utilize to direct visitors to a specific page on your site.
The site likewise has a two-column design, with the normal blog post archive and sidebar in the middle. You can use the sidebar to provide a brief bio, include connections to your social media accounts, share links to your most popular posts, or link to your blog categories.
This WordPress theme is considered ideal for bloggers who write about lifestyle, fashion, travel, or food. Moreover, it interfaces with popular page builders such as Beaver Builder, Elementor, and others, allowing for quick and simple customization.
36. Mesmerize
Mesmerize is an exceptionally versatile, multipurpose WordPress theme that may assist you in creating an incredible website faster and easier than ever before. It is quite customizable, and it makes use of over 30 distinct content areas to display your blog content.
It has a predesigned home page, five different header designs, and more than 30 ready-to-use content sections that you can customize as per your liking.
The theme also has numerous customization options (video background, slideshow background, header content types, gradient overlays, and so on) that will allow you to quickly and easily construct a stunning and distinctive website.
Mesmerize is a responsive theme, which means it will operate on mobile devices right out of the box. It is also WooCommerce compatible, and it integrates seamlessly with WooCommerce plugins and themes.
37. Schema
Schema is another captivating WordPress theme made by MyThemeShop that is sure to capture your attention.
This is an excellent option for bloggers who simply want to publish content and aren't bothered with developing specific styles or leveraging the possibilities of marketing.
This theme is not compatible with Elementor, which is a good thing if you want to have more control over the design of individual pages on your website.
Schema also includes areas for adverts, as well as ad management functionality. Also, it features strong theme choices, linked posts, and custom widgets to use. It comes with a price, which is $35.00.
So, if you want to have complete control over the appearance of individual pages on your website, the Schema WordPress theme is the best choice.
Also See: Why do Businesses Develop Their Websites on WordPress?
38. Satori
Satori is a versatile WordPress theme. It is considered ideal for those who wish to create a variety of different websites, from a client restaurant website to a creative portfolio website for a photographer.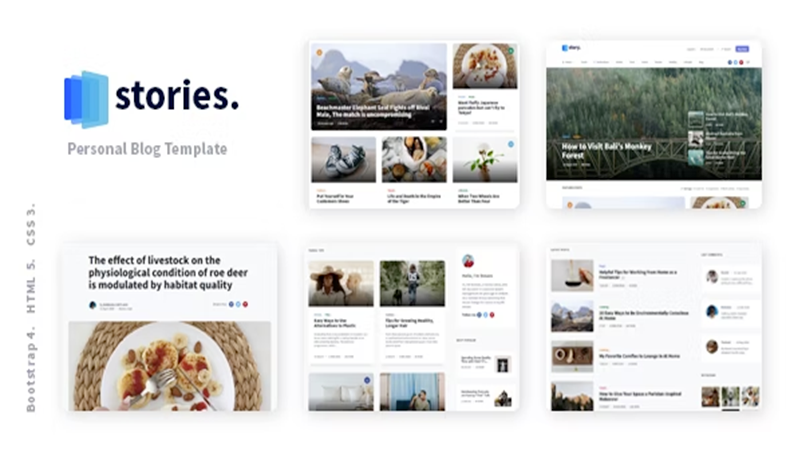 Satori is compatible with a number of popular WordPress plugins, including WooCommerce, which lets you set up an online store and make it easy for customers to browse and buy your products.
A full-width header dominates the homepage of Satori, and the theme includes several page templates. It also provides support for WooCommerce, several widget-ready regions, and a number of different post formats, among other features.
39. Author
The Author is one of the best WordPress themes designed specifically for reading and readers. The author's dual-toned design contrasts a dark sidebar with a light-toned main body section. The visual contrast between the sidebar and body sections directs your visitor's attention directly to your written and featured material.
This theme is lightweight, quick, and responsive, with conditional loading and minified scripts and stylesheets to optimize your site's loading and performance in any browser. Responsive and created with disabled viewers in mind, the theme features an adaptive layout that improves and enhances the user experience on your site.
40. Ad-Sense
Ad-Sense is a multipurpose WordPress theme that is suitable for bloggers who wish to monetize their websites through advertising. This WordPress theme detects when a visitor is visiting your site using an adblocker, thus the name.
It is the most ad-friendly WordPress theme available on the market, and it includes features such as improved ad management, ad placement, ad blocker detection, and content lockdown for those who use ad-blocking technology. Simply put, this theme assists in displaying advertisements to users who do not wish to see advertisements.
Also, this theme includes a variety of ad placement alternatives and pre-designed landing page designs.
41. Zakra
Lastly, in the list, we have Zakra. Zakra is a great WordPress theme for bloggers because it's lightweight and easy to use. Zakra is compatible with the Elementor page builder and many other popular page builder plugins if you want to make even more changes. You may also use the most common WordPress plugins with it to make your site even more functional.
It's easy to use. Moreover, it is compatible with WooCommerce, which means you can use this theme for an online store as well as a standard blog. It also includes portfolio functionality. If you love to keep things basic in terms of both design and functionality, Zakra WordPress Theme is for you!
The Bottom Line
So with that, we conclude our list of the 20 best WordPress themes for blogging websites. We hope that this list has assisted you in your search for the finest WordPress blog themes for your site.
Thanks for reading!