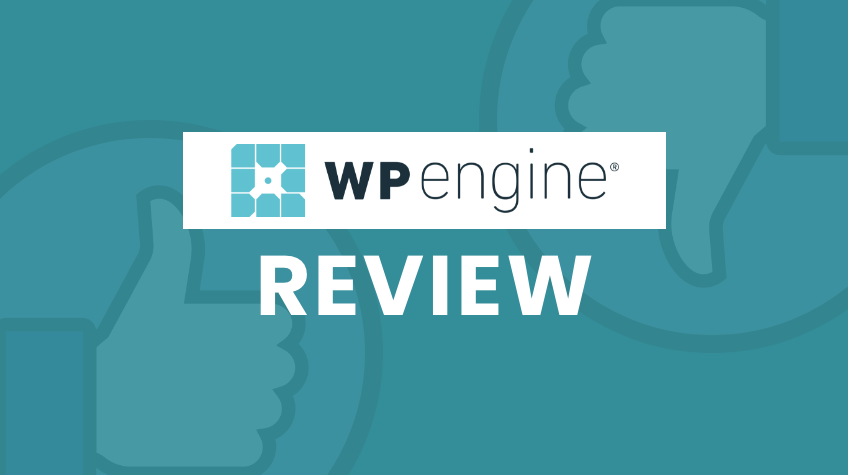 Many people confuse WP Engine with WordPress; some even use them interchangeably. However, both of them are different. So, if you want to learn more about WP Engine and know how it is different from WordPress, then read this post.
This post is a detailed review of WP Engine. This review discusses specific aspects of WP Engine for WordPress.
So, let's begin with what WP Engine is.
Here we go…
Table of Contents
What is WP Engine?
WP Engine is a high-end WordPress hosting service. This hassle-free hosting provides fast and reliable servers that are capable of handling any task. With WP Engine, your website becomes virtually hacker-proof. Aside from that, their amazing customer service is always available for you.
They include automatic security updates, daily backups, one-click restoration points, automatic caching, top-tier security, a one-click staging area, and a variety of additional features. WPEngine is similar to having an army of WordPress specialists at your disposal for support and advice.
WP Engine is the ideal alternative for businesses that do not want to deal with the technical aspects of hosting a blog. WPEngine is a service that hosts WordPress blogs.
Moreover, you get access to all 36+ premium StudioPress themes as well as the Genesis framework for free with a WP Engine account.
WP Engine Features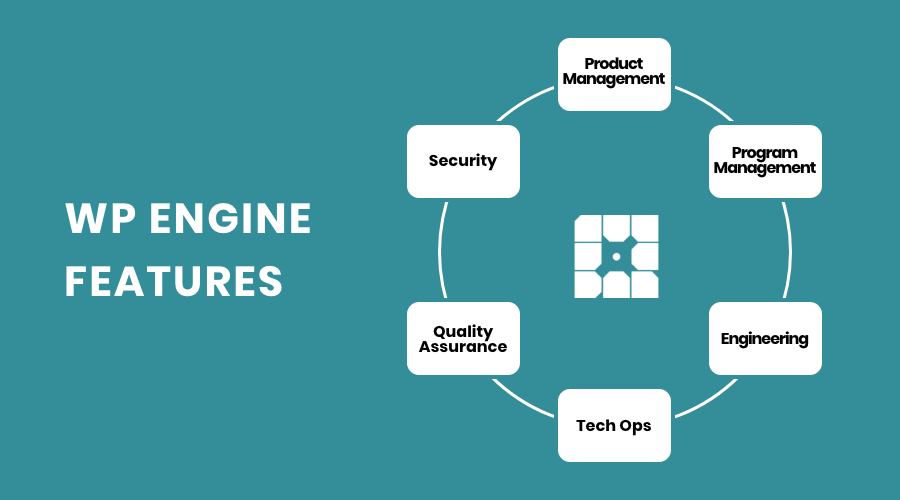 Entrepreneurs who wish to make certain that their website is optimized, safe, and fast-loading without putting a lot of effort should consider managed hosting. When it comes to managed WordPress hosting,
WP Engine tops the list.
It offers numerous benefits to its users. Some of its vastly known features include:
1. Automated Migration
WP Engine comes equipped with migration plugin tools. The Migration Plugin Tool lets you move your WordPress site from another host to WP Engine without much effort. Whether you're tech-savvy or not, you may quickly move your site in minutes by just putting in your credentials.
2. Consistent Expert Help
WP Engine's service to the WordPress community is one of its most admirable features. They have the best customer service department that is readily available to help you with your technical concerns. With their support team, you'll get fast answers to your WordPress technical concerns along with other business help.
3. WP Engine Staging Sites
More often than not, users struggle with testing sites. But that's not the case with WP Engine. WP Engine allows for staging sites. A staging site is a copy of your live website where you may test modifications before going live. Staging sites allow you to test changes or major new features in a secure environment.
It allows you to test your site without risking your live site. With WP Engine, you don't need to worry about plugins or themes. It allows you to copy specifications from live to staging or vice versa without affecting the public site.
This means that with WP Engine's Clone Site function, you can copy an existing site rather than start from scratch. All you have to do is to make required changes in text or structure or both, and that's all!
4. Transferrable Sites and Environments
Transferable sites and environments allow you to create a website without having to worry about exceeding the total number of sites allowed by your hosting package.
5. Billing Transfers
The WP Engine User Portal enables developers to easily create all of their sites. You are no longer required to handle your client's hosting account. Rather, it allows developers to hand off the site to their clients, freeing them up to create content.
Additionally, clients can receive a temporary URL in order to view a preview of the site. If users like the site, they can purchase an account, which transfers ownership of the site to them and handles all billing.
6. Regular Updates
With WP Engine, you get the finest and most secure internet experience possible. WP Engine automatically applies critical security fixes and updates to the WordPress core software.
Before the core upgrades are applied, you will be given two advance alerts (seven days and four hours prior) of their arrival. Also, you get the option to defer such updates for a period of up to 60 days if necessary. Additionally, they protect your website from other dangers such as denial-of-service (DDoS) attacks.
7. Money-Back Guarantee and Billing Information
One of the best features of WP Engine is that customers are not required to sign long-term contracts with WP Engine. They offer you to select a monthly plan that allows you to terminate your subscription at the end of each month.
In addition, they provide a 60-day money-back guarantee to new clients who sign up. It should be noted that this reimbursement is solely applicable to hosting services.
8. Securely Managed
We all know cybercriminals are becoming a huge threat to all internet users. Hence, it becomes critical for businesses to provide their customers with a 100% secure platform so that they can shop without having to worry about their data being stolen.
WP Engine will automatically update WordPress whenever a minor update is released. WordPress frequently suffers from security vulnerabilities as a result of site owners' failure to keep the program, plugins, and themes up to date. Since so many websites use WordPress, it is a popular target for hackers, and it is critical to maintaining security.
Security is taken care of by WP Engine's managed WordPress hosting platform. In order to protect you against complex exploits, they isolate customers at the kernel level. This hosting service is able to predict attacks. WP Engine provides you with several security safeguards to help protect your WordPress site.
9. Automatic and On-demand Backups
If a large website ever lost data as a result of a cyberattack or its servers being down, it would result in a significant loss of revenue.
With WP Engine, your hard work is always available to your clients. WP Engine has a reliable backup system. You have access to snapshot backups on WP Engine, which is convenient.
A snapshot is a backup of your website taken at a specified moment in time from which you can restore it as needed.
It only takes a few seconds to manually create a snapshot on your account by following the instructions below. On the other hand, WP Engine takes a picture of your site at least once per day. If you happen to break your website mistakenly, those backups come in handy; you'll be glad they're there!
Aside from that, WP Engine also does on-demand backups to ensure your data is never lost. On-demand and daily backups are stored in separate locations for maximum peace of mind. Their backups encompass your file system, database, and media collection to ensure you have all you need.
Is WP Engine reliable?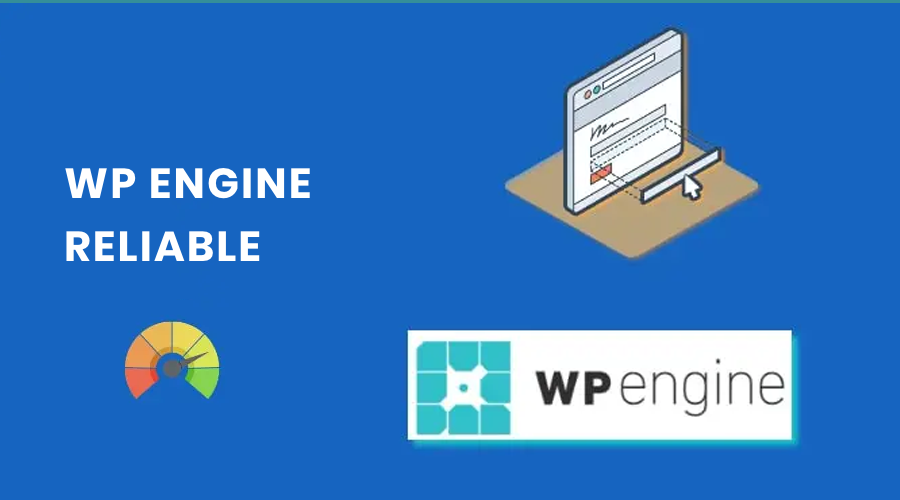 Know that WP Engine only provides shared and dedicated hosting for WordPress. WP Engine is not for you if you're seeking more standard shared, VPS, or dedicated hosting.
WP Engine is a managed WordPress hosting environment that is optimized for WordPress installations, themes, and plugins. It is one of the most reliable hosting environments. The best thing is that you don't you do not need to install WordPress; the content management system comes preinstalled with it.
WP Engine is identical to any other self-hosted WordPress installation when it comes to content creation. Creating posts, pages, and galleries is a breeze with it.
Additionally, WP Engine automates a number of functions with Managed Hosting Plus and higher plans, including daily site backups and plugin updates. Moreover, it incorporates patented Evercache technology, which combines caching and proxy servers to accelerate page load times.
If you wish to sell things through your website, you will require a Secure Sockets Layer (SSL) certificate. Fortunately, WP Engine includes one with your hosting subscription for free, unlike other site providers. Additionally, the web host runs daily malware scans and maintains a constantly updated firewall to stop the latest threats.
WP Engine provides real-time threat monitoring, enterprise-grade firewalls, and complimentary hack cleanup by WordPress-certified security specialists, making it one of the most reliable web hosts.
Is WP Engine fast?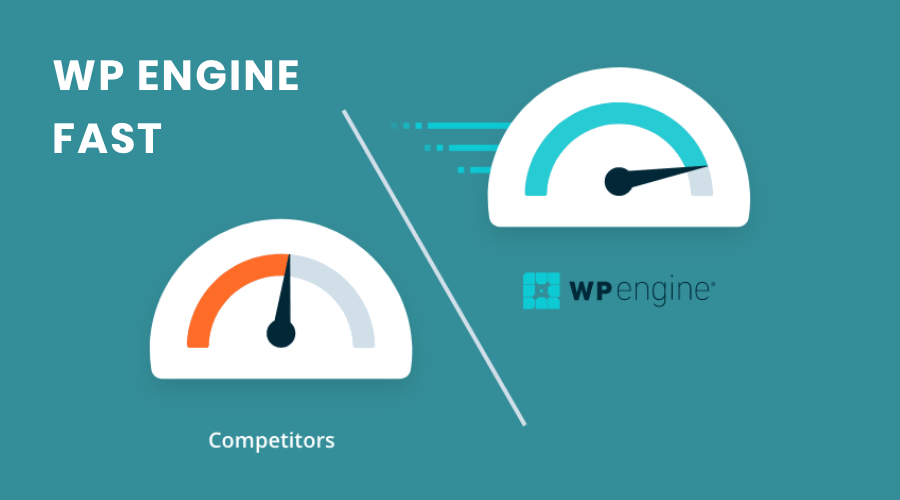 The web host claims that their websites load 4-6 times faster than those hosted by other hosts. And there is no doubt about it – WP Engine is unquestionably a lightning-fast web host. WP Engine's site speed is a significant differentiation from the competition.
It is one of the distinguishing characteristics of WP Engine that distinguishes us from other hosts in the industry. The technology that enables this includes a one-click CDN integration, their unique NGINX plugin, and solid-state drive technology.
The CDN significantly reduces the amount of time spent waiting for assets and ensures that resources are available for critical requests. By prioritizing human queries over automated system requests, the
NGINX integration improves the overall experience for your users on your website.
Furthermore, SSD technology helps to reduce RAM saturation while also improving backend rendering performance.
To provide customers with a selection of enterprise-grade solutions that are lightning-fast, scalable, highly available, and secure, the company has collaborated with Amazon Web Services and Google Cloud
Platform. They have a total of 18 data centres worldwide.
WP Engine Hosting Plans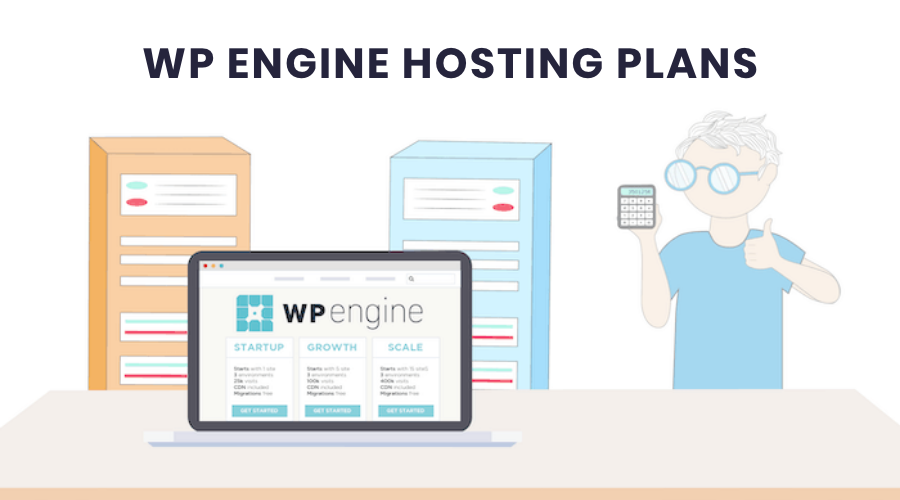 WP Engine offers a total of four predefined Managed Hosting plans: Startup, Professional, Growth, and Scale.
Here is a brief about WP Engine's plans
1. Startup Plan
Pricing: Beginning at $30 per month
Features: Their startup plan includes 25,000 monthly visitors, 50GB monthly data transfers, and 10GB of storage.
2. The Professional plan
Pricing: Beginning at $59 per month.
Features: It includes three WordPress sites, 75,000 monthly visits, 15GB of storage, and 125GB of data transfers to the list.
3. The Growth plan
Pricing: Beginning at $115 per month
Features: It includes 10 WordPress installations, 100,000 monthly visits, 20GB of storage, and 200GB of data transfers.
4. The Scale plan
Pricing: $290 per month
Features: It includes 30 WordPress sites, 400,000 monthly views, 50GB storage, and 500GB data transfers. Also, it includes a Custom Dedicated Hosting option.
This "scalable, highly performant, and hyper-secure solution" can accommodate any high-traffic website—at a cost.
WP Engine is a high-end managed WordPress host, so expect high-value custom plans to come at a hefty cost. Those seeking more security can use Secure Hosting, the priciest of WP Engine's normal hosting options.
Secure hosting offers DDoS protection and a WAF security firewall for between $53 and $350 per month.
A content delivery network (CDN) for faster page load times, staging environments to test site modifications in a non-public environment, and WP Engine's own LargeFS software for moving and storing enormous data are included in all plans.
Also, you can use Amazon Web Services or Google Cloud Platform as your site's backbone, offering scalability and security with no downtime. You can choose a cloud-based infrastructure platform from five options in Cloudways.
Small business owners and entrepreneurs can opt for A2 hosting, an enterprise-class WordPress hosting. With unlimited storage and monthly data transfers, A2 offers four outstanding WordPress hosting plans beginning at $7.99/month.
WP Engine vs. WordPress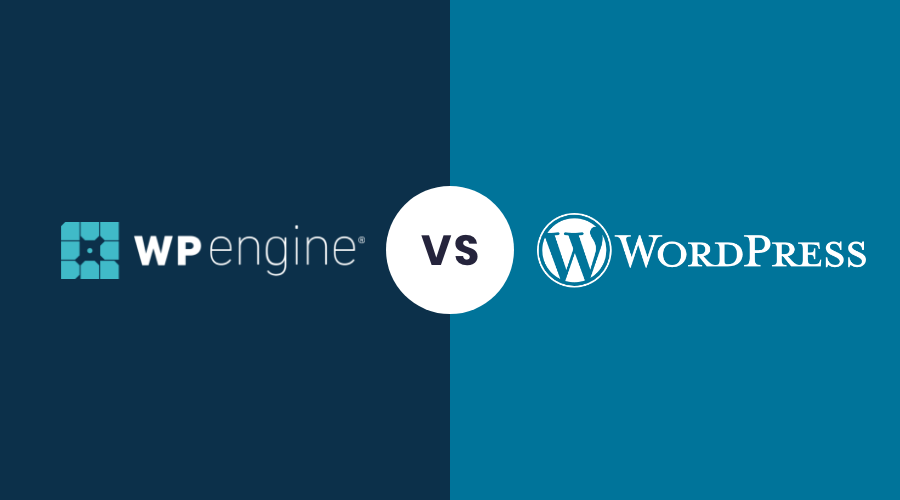 Often WP Engine and WordPress are used interchangeably; however, these are two different terms. The most significant distinction between WordPress and WP Engine is that WordPress is a website-building tool, whereas WP Engine is a service that delivers technology solutions to WordPress-specific websites.
Let's understand both the two terms in detail; here we go…
WordPress
WordPress is one of the most renowned content management systems and website-building platforms. Millions of people use this platform worldwide to increase their productivity and creativity. Web developers use it to build websites that are dynamic and appealing. According to research, WordPress is now used by over 64 million people, and roughly 400 million people visit WordPress every month.
Created by American Matt Mullenweg and English Mike Little and owned and developed by Automattic, WordPress began as a blogging platform. However, it has come a long way in the past few decades.
Renowned bloggers still use this platform for blogging. Aside from that, developers use it to create unique websites.
It is quick and easy, has many templates, has SEO tools, and has several templates to choose from. WordPress's number of themes, layouts, and plugins sets it distinct. Themes in WordPress affect the look, feel, and functionality of a website and can be changed as many times as desired. These themes are free and premium. The free themes are available to everybody; however, the premium ones require payment. Each premium theme requires a separate payment. WordPress runs on iOS, Windows, Android, WebOS, and even BlackBerry.
WP Engine
Founded in 2010, WP Engine is a WordPress-specific service that began as a hosting service for all WordPress-based websites. Today, it also provides technology solutions for these same-platform websites.
It was started to provide premium WordPress services such as platform optimization, security, and scalability.
With over 150,000 users in 150 countries, WP Engine is the world's leading Managed WordPress Hosting and WordPress technology provider. This web host was created to address typical online user issues such as website crashes due to high traffic and sluggish loading times. Also, one of its most important purposes was to safeguard websites and their data against cyber-attacks and similar incidents.
Here are the major distinctions between WordPress and WP Engine:
WordPress is a content management system. In contrast, WP Engine is a service that delivers technology solutions to websites created on the WordPress content management system.
When it comes to optimizing website performance based on platform, WordPress-provided hosting doesn't optimize website performance, while WP Engine does this.
WordPress is completely independent of WP Engine; however, WP Engine is completely dependent on WordPress because it caters to the websites that use it.
When we compare both in terms of safety and security, WordPress-provided hosting offers less protection, while WP Engine offers securely managed hosting services.
In terms of pricing, WordPress-provided hosting services are significantly less expensive than WP Engine-provided hosting services.
WP Engines Pros and Cons
Pros:
WP Engine offers a money-back guarantee for the first 60 days.
You get access to the Genesis Framework, and more than 35 StudioPress themes are provided for free.
Development, staging, and production environments are already built-in.
Free backups and EverCache caching are built-in. So, you don't need separate caching plugins.
Free SSL and CDN (with integration into MaxCDN/StackPath)
WordPress security that is fit for an enterprise.
It offers DDoS detection, hardware firewalls, and more.
WordPress professionals are available 24×7 to help you with technical issues.
Cons:
There is no provision for email hosting.
Some WordPress plugins have been blacklisted.
Support for .htaccess is no longer available.
Premium versions are quite pricey.
Is it worthwhile to spend your money on WP Engine?
Yes, WP Engine is a worthwhile investment, especially for businesses that have surpassed the constraints of shared hosting providers and shared VPS plans. It provides marketers with the tools and resources they need to build visually stunning websites and mobile applications on WordPress that help them grow their businesses more quickly.
Moreover, WP Engine offers high-quality managed hosting with exceptional uptime, WordPress-oriented security, cloud platform flexibility, daily backups, and other fantastic features. Also, it enables you to handle updates and security on your website with ease and scale your website as your business grows.
As far as email service is concerned, you can always opt for a third-party service to obtain email accounts and domain names.
Wrapping up…
So that's all there is to it for WP Engine. Hopefully, you found this post informative and that it will assist you in making an informed decision.
All in all, WP Engine is one of the most intriguing web hosting services available today. It offers you all that you need to run your website and provide your customers with an excellent experience.
The best thing about WP Engine is that it provides you complete protection from cyber-attacks, making your website entirely safe and secure for your customers or clients. You can even scale your website as your business grows.
Before you engage in any hosting service, we recommend that you think about your company's requirements. It is always beneficial to do so because it prevents you from having regrets later. You always have the option of getting your money back from WP Engine if you cancel within 60 days. WP Engine is the best option if you want to try out a hosting service before committing to one.