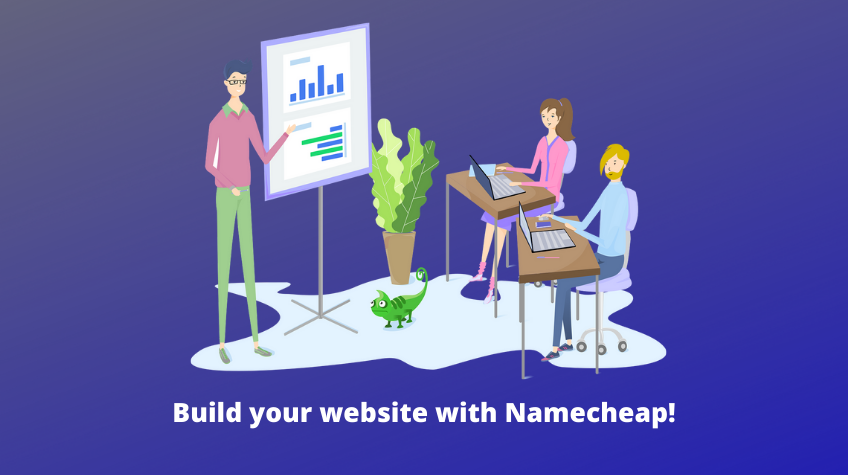 Starting your site is a big task to accomplish. You need to go through the stress of designing your website and building it. It doesn't end there. You have to obtain a domain name as well. There are main companies that provide domain names but can you afford those high prices? In this regard, Namecheap is the best option! Let's check Namecheap review.
Introduction
When we first started looking for domain providers we looked for many companies in the market.
We landed on Namecheap because of the diverse services it provides at affordable prices.
The domain it provides starts only at $0.99/₹74 for the first year with many useful add-ons. Can you believe it?
Not just that, the protection and quality Namecheap provides are also incomparable.
Here's our Namecheap Review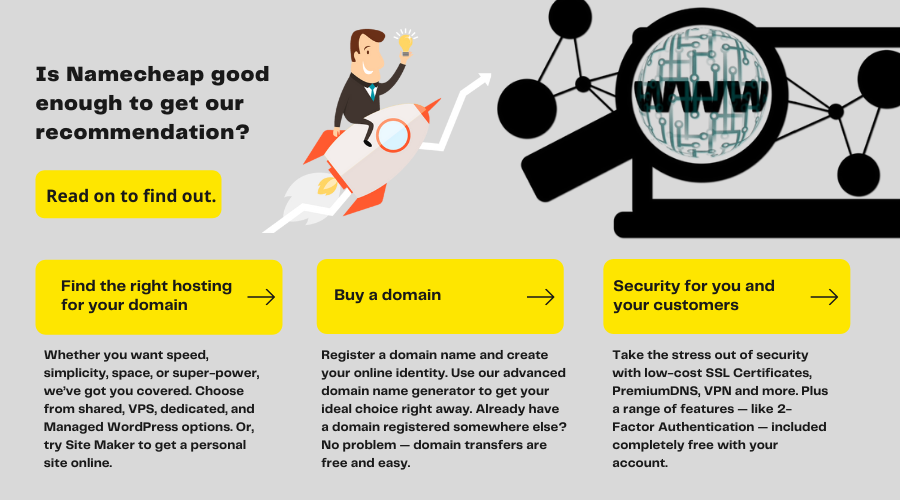 It has an upper hand over its competitors in the prices it offers. It offers budget domains and hostings.
There are currently millions of users and domain holders with Namecheap.
Namecheap ranks among the top domain registrars.
► What Are The Namecheap Offerings And Pricings?
Namecheap leads when it comes to its Pricing. It is so affordable that any small business owner could use its services.
It also offers a wide variety of options in hostings that you can choose from.
► Domain Registration
Namecheap started as a Domain registrar in the beginning and then expanded and introduced a wide spectrum of services.
You will find almost every extension for your domain registration. Namecheap also offers you an option to transfer your domain to Namecheap.


♦ Hosting Plans
Namecheap has extended to providing hosting services. It has a wide range of hosting plans that you can choose from according to your requirement.
♦ Shared Hosting
Shared Hosting is a very economical web hosting service. It is a very flexible and self-manageable web hosting that hosts multiple domains and websites.
Does Namecheap offer affordable shared web hosting plans? The answer is yes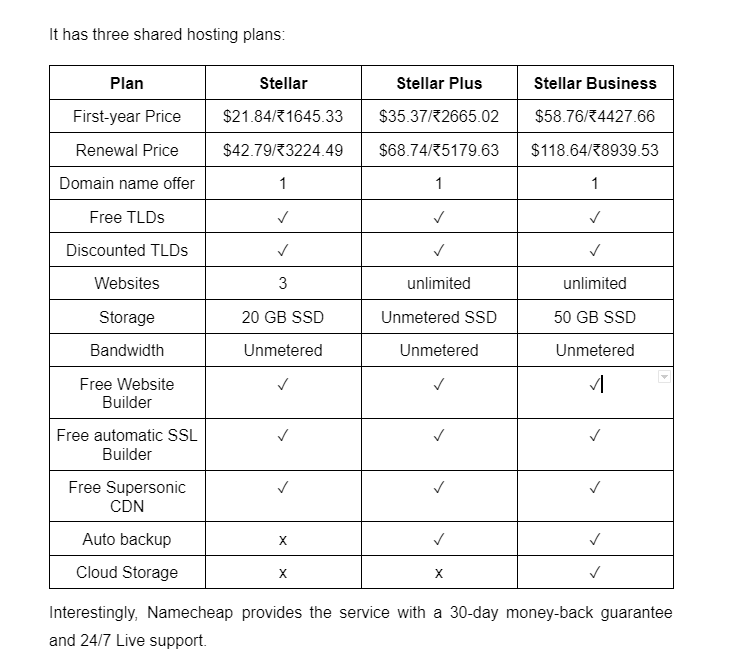 Interestingly, Namecheap provides the service with a 30-day money-back guarantee and 24/7 Live support.
♦ WordPress Hosting
Namecheap's EasyWP provides a very well-managed and affordable WordPress hosting solution. One good thing about it is that it gives a 30-day free trial.
This can be used to test whether you require WordPress hosting or can work with shared hosting.
Normally, We have seen companies giving WordPress hosting which is the same as their shared web hosting.
Namecheap's WordPress hosting is very different from its shared web hosting. It has cloud-based storage and the features included in this one are specially customized for WordPress.
It is also the fastest WordPress hosting among all the competitors.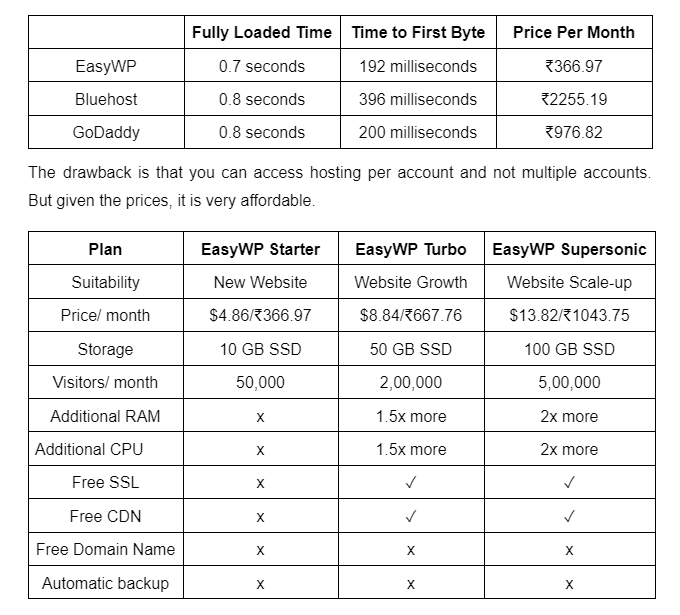 These are the main hosting plans that you need to have for your website.If your requirements go beyond these hostings then Namecheap has a wide variety of hosting plans:
♦ Reseller Hosting
♦ VPS Hosting
♦ Dedicated Hosting
There are many security services that Namecheap provides like
Domain Privacy
Cyber Insurance
SSL Certificate
Antispam Protection
ID Validation

► What Are The Pros of Namecheap?
These are some good things about using Namecheap:
♦ Trustable and Authentic Company
Nowadays, many companies come up and provide domain and hosting services but they are not very trustable. Namecheap is a very well-known company and stands at the top among the domain registrars.
The company has been delivering its services for more than 21 years now and has managed to convert 11 million traffic into registered users. It has also registered more than 10 million domain names.
Namecheap has upgraded the products continuously and now their services are flawless.
The company's brand values also reflect transparency, security, and a customer-based approach. This makes Namecheap trustable and authentic.
Don't you want to give your website into safe hands?
♦ One-Stop Solution
Namecheap gives a wide spectrum of services ranging from domain registration, web hosting, web building to social media marketing and cyber security.
This makes it a one-stop solution for all your Web needs.
♦ Very Affordable – Value for money
The USP of Namecheap is its affordability. The plans it offers are very cheap and you can easily opt for the services without compromising your budget. The best thing is that you get a great quality of service with many free add-ons at such low prices. It is definitely value for money!
♦ Excellent Help Center Support
It gives you 24/7 live support with a chat and ticketing system. You can connect with them at any given point for any kind of query and troubleshooting.
If you are a DIYer then there are limitless products for your help. You will find knowledgebase, how-to videos, summit masterclasses, guides, and blogs to help you with your services.
♦ Loads of Free services
Namecheap gives many free features and services in any plan you choose. If you are big for security then it might interest you that Namecheap provides fee domains security with no limit. You also have
other free services at your benefit like free logo makers, migration, cloud storage, TLDs, web builder, SSL certificates, and whatnot…
♦ Great Uptime
Uptime is very important for your website to grow. You lose many customers for the time your site has downtime and stays offline.
Namecheap gives 100% uptime promise to its users. In case the uptime is not as promised and the performance is affected then it gives back the money.
Normally the uptime goes as low as 99.97% which is still an excellent uptime percentage.
♦ Convenient and User-Friendly for First-Timers
Namecheap is perfect for first-timers as it has plans that are very affordable for any first-timer to afford.
Plus, the basic plans come with many automatic features so the user need not worry about setting up everything manually.
Plus, the help centre gives many materials to make the user aware of the working of all the services.
► What Are The Cons Of Namecheap?
♦ Lack of 24/7 Call Support
Namecheap provides customer support through many ways like videos, knowledgebase, 24/7 live chat, etc. The drawback is that there is no phone call support on Name.
If anything goes wrong and you are stuck in a serious situation you might have to bear with the live chat and waiting period.
You cannot contact them in a second during emergencies. Still, you can be safe by going through all the helpful support materials available to you from the very beginning of availing of the service.
♦ Slabs in Hosting Plans
The hosting plans come with slabs and limitations. You only get 1 website per plan so if you have multiple websites then this might be an issue.
However, the shared hosting gives you 3 websites on the basic plan and unlimited websites on the other two plans.
It also caps the number of visitors per month but the visitor limit is quite high so it does not block your site's growth.
The basic plans have some limitations like no cloud storage, no automatic backup, limited SSD, but the basic plan is sufficient for the first-timers.
It gives unmetered bandwidth, a free website builder, a generous number of visitors per month, and all that at very affordable prices.
♦ Limited Data Centers
Namecheap stays back in the race when it comes to Data Centers. Other competitors have around 20 data centres across the globe.
Namecheap, unfortunately, only has data centres in the US and UK. Additionally, if you choose the UK data centre then you have to pay a dollar more every month.

Frequently Asked Questions
a. Is Namecheap Good For Domains?
Namecheap started as a domain registrar and has been very successful in that.
So Namecheap is excellent for domains, especially for budget domains.
Does it also give Free TLDs and discounted TLDs and a free WHOIS Lookup? YES!
b. Is Namecheap Good For WordPress?
Namecheap is a good option for WordPress hosting if you are on a budget and do not require hosting for multiple websites. It also gives limited add-ons so that is a point again to consider as per your needs.
c. Is Namecheap Good For Hosting?
Yes, Namecheap has a variety of options for hosting like shared web hosting, WordPress hosting, VPN hosting, Reseller hosting, and many more. There are also many services that you can combine with your web hosting.
d. Who owns Namecheap?
This question is included as many people have asked Is Namecheap a Russian company? No. It is an American company founded by Richard Kirkendall.
e. Is Namecheap E-mail Safe?
Namecheap Email is comparatively a new service that it offers. Currently, its email service is pretty basic. But it is trustable and safe due to the brand image and its value for protection and security.
Namecheap surely works on these principles and makes sure to create services that are safe.
f. So, Is Namecheap Trustworthy?
We have given the full review of Namecheap now.
Concluding it, we can say that Namecheap is completely trustworthy due to its success in the field of domain and hosting, its security and transparency measures, its affordability with quality, and excellent customer support.
The company has been around for more than two decades and has retained millions of customers which shows its growth and customer satisfaction.