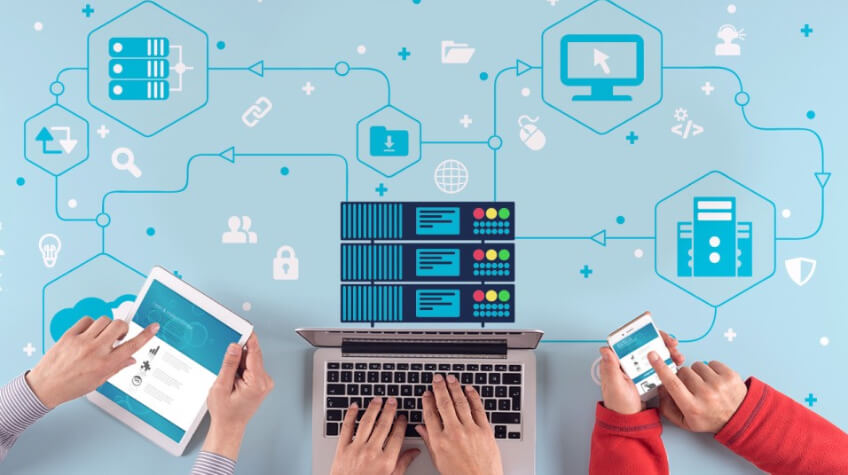 Are you planning to expand your business beyond the confines of your shop or starting a new one?
Whatever be the case. You're on the right track! Websites are the quickest and most convenient way to reach a larger audience.
But do you know that you'll need a web hosting company to help you get started and maintain your website?
Yes, you read that right! You'll need to contact a business web hosting company. Here in this post, we shall discuss how to choose web hosting for your new business website.
So, without further ado, let's get started.
Before we talk about the ways to choose web hosting, we want to shed some light on the basics of web hosting.
Take a look…
Table of Contents
Whether you own a big company or a small one, having an online presence is of utmost importance. Especially after the COVID-19 pandemic, everything in the world of business has changed. Even customers' preferences have changed tremendously. Today, most shoppers prefer to shop at home to have their needs delivered to their door.
As a result, the website is critical to the growth of your business, and you need someone to maintain it if you want to achieve high levels of customer satisfaction. And that someone is a company that provides business web hosting.
What is web hosting?
Web hosting is a service provider that stores and maintains your website's files, documents, and so on. There are myriads of options available when it comes to selecting a web hosting provider for your company. However, the most important thing to consider while choosing the web hosting is the type of business you own.
Types of Web Hosting
There are mainly four types of web hosting, namely
Shared Hosting
Dedicated Hosting
VPS Hosting; and
Cloud Hosting
Each hosting has its own upsides. Every company should opt for web hosting according to its needs. There are many factors that you should consider before selecting one. However, the most important ones are your company's requirements and the pricing of the service provider. Let's understand the different types of web hosting.
1. Shared hosting
2. Dedicated Servers
A dedicated server is the one that is dedicated to your company. In this type, web hosting provides a single server for your website. There is no doubt that you get more disc space with dedicated servers; but, they're costly affairs. Dedicated hosting can handle more customers, so this is the solution for you if you're sure of having more customer traffic.
3. VPS Hosting
VPS stands for a virtual private server, a type of hosting that simulates dedicated server environments on a shared server. It is basically a hybrid of shared and dedicated hosting. VPS hosting has gained immense popularity in the past few years because it is less expensive than dedicated hosting while it provides better reliability, security, and performance than shared hosting. VPS is a great option for game developers, programmers, SaaS providers, and so on.
4. Cloud Hosting
Cloud hosting, like VPS, is a hybrid of shared and dedicated hosting. It balances the load and maximizes uptime by using multiple servers. Rather than relying on a single server, your website can make use of a "cluster" that draws resources from a centralized pool. This implies that if one server fails, another takes over to keep things running.
So, the type of hosting you should choose totally depends on the needs of your business.
Let's now take a look at the ways to choose web hosting for a new business website.
Here we go…
A good web hosting service should have three main characteristics: security, support, and speed. As your audience expands, you must scale your website as well. This is critical if you want to handle high traffic without negatively impacting the user experience.
Related: How does Cloud Hosting differentiate from Shared Hosting?
Important Considerations to Choose Web Hosting for New Business Website
Below are some crucial features that a web hosting service provider have for sure:
#1. Reliable and compatible
The first and foremost thing to look for in best web hosting is how reliable and compatible it is. Your web hosting service provider should have a high availability rate, also known as uptime. Of course, having irritated customers is the last thing you want when starting a business. However, if your website is unavailable at times, they may become irritated. So make sure you do not ignore this very important aspect of choosing a web host. It's vital to opt for a reputable web hosting company.
#2. Security
Your website's security is of the utmost importance. Of course, you never want your customers' information to be stolen. So, take a look at the level of security they offer. It is also necessary to prevent malware and viruses from infiltrating your website.
#3. Bandwidth and Disc Space
Another important consideration while choosing web hosting is the bandwidth and disc space. Web hosting service providers typically charge for their services based on the amount of bandwidth and storage required. The amount of data uploaded to or downloaded from the server in a specific time period is referred to as bandwidth.
Everything, from your documents, to website pages and the number of customers who approach your website depends on the space provided by your host. If your website only receives a few visitors per day, your bandwidth requirements will be much lower. But, if your website is ranked on Google's first page, your bandwidth requirements will surely be high.
In this case, you will need to upgrade from shared hosting to a dedicated or cloud-based service. So choose a web host who is able to upgrade your website as you scale your business.
#4. The Pricing
Pricing for hosting services varies. If you go with a less expensive option, you might only have to pay a small monthly fee for web hosting.
However, if you choose a dedicated or cloud server, you may end up spending a lot of money on web hosting each month. All you have to do is make sure you're getting enough bandwidth and disc space for your budget.
#5. 24×7 Customer Care Support
A reputable business web hosting company must offer customer service 24 hours a day, seven days a week. You cannot impose a time limit on your customers. They may even look for their needs late at night. As a result, it is preferable if your website is accessible to your customers 24×7.
Wrapping up…
So these are some of the fundamental considerations when choosing a web hosting provider for a new website. If your web hosting company provides all of the above, you're good to go!
Keep in mind that your choice of business web hosting will not only make a first impression on your customers but will also have an impact on your company's bottom line. So, choose wisely!
Cheers,