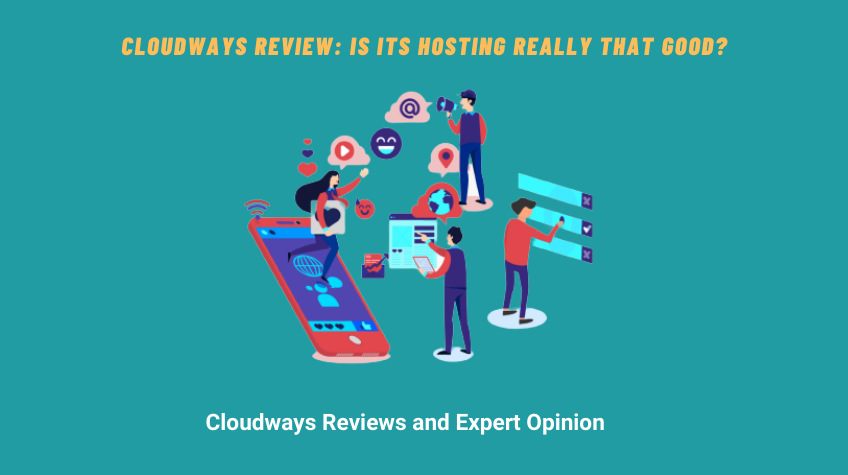 Starting a new business requires first and foremost setting up your website. This website needs a domain name and web hosting.
Web hosting is required to store the web files and make your website available on the internet.
You can also go for a private dedicated server but it is very time-consuming and expensive. Web Hosting allows web hosts to host your website on their servers.
This is cheap, effortless, and convenient.
Talking about effortless and convenient, the web hosting company that comes to mind is Cloudways.
Cloudways assures simplicity and performance and lets you think about the other important matters of your business.
► What Is Cloudways?
Cloudways is a managed cloud web hosting service provider with an office in Malta and Pakistan.
The uniqueness of this web hosting service provider is that it believes in greater simplicity and higher performance.
The company takes an innovative approach towards its hosting services and uses the best tools and technology to render its services.
What Are The Offerings And Pricing Of Cloudways?
Cloudways is one of the pioneers in hosting services. You can get Web Hosting, Managed Hosting, WordPress Hosting, and Managed WordPress Hosting.
► Cloudways has 5 cloud servers providers:
DigitalOcean – From $10/month
Linode – From $12/month
Vultr – From $11/month
Amazon Web Services (AWS) – From $34.91/month
Google Cloud Platform – Starting at $33.30/month
► All these cloud server providers have different plans mainly divided into three main types:
Standard
Premium
High Frequency
The plans are mainly categorized based on different RAM, Processor, Bandwidth, and storage.
The basic plan comes at a very affordable price of $10/month.
One of the greatest perks of using Cloudways hosting is that there are a lot of free offerings that come with the hosting plans like:
Cloudways provides a WordPress Hosting service that helps you build your website, replicate it through all data centres you choose, and grow your website.
It ensures the high performance and growth of your content and site.
The features of Cloudways are very accessible and easy to use. It also gives free trials to you which is a great benefit to test the product and see if it is suitable for you.
Want to see the offerings and prices for yourself? Visit CLOUDWAYS now!
► What Are The Pros Of Cloudways?
♦ Promising Uptime
Website Uptime is the most essential element for the success of your website. The uptime results of Cloudways are pretty promising.
The uptime is excellent and it promises 99% Uptime at all times. Till now there is no complaint about downtime.
♦ Free Website Migration
Already have your website hosted and want to switch? Cloudways allows free and hassle-free website migration. You also get automated backup, free SSL and CDN, and other many benefits.
♦ High Security
You will find high-end network security by Cloudways. It is managed cloud hosting and you'll always get more security in such cloud hosting than the traditional hosting. It processes your WordPress
websites with several security techniques and ensures complete security to your site. In addition, you get automated backups that secure your site and you can go back to the earlier version of your site easily
when everything is backed up. You also get free SSL certificates that use HTTPS protocol.
♦ 24/7/365 Support
Cloudways gives 24/7/365 customer support. You can reach out through live chat and the ticketing system.
You can even connect with them over the phone by requesting a phone call.
It is great for beginners as they can get 27/7 support and get well-aware of the whole hosting process.
For DIY it has a knowledge base, blogs, community forums, case studies, and FAQs.
These materials cover everything you need to know about the features, application, and operations of the services.
You can even learn to troubleshoot.
If this does not work then you can also ask for chargeable premium support. However, you might not require it.
♦ Speed And Overall Experience
Cloudways uses the best tools and technology available out there. It has the best infrastructure for its hosting.
In addition, there are huge numbers of data centers all over the world. This means that you can expect top speed and performance.
The overall experience of Cloudways is very satisfying. Even the prices are very fair as it only charges you for the time you have used the servers.
♦ What Are The Cons Of Cloudways?
Lack Of Domain Registration service
Cloudways only gives hosting services and does not help you with domain registration. You can go to Namecheap for the most affordable and wide variety of domain name registration.
It also offers free and discounted TLDs.
♦ No CPanel
There is no CPanel in Cloudways which can be a drawback for many users. But it does have its server management application called Click&Go.
Click&Go supports many applications like WordPress, WooCommerce, etc.
This application has efficient tools to allow the web administrators to monitor the server resources, perform configuration in basic settings, etc.
Related Post: How to Migrate Your Website to a cPanel VPS Hosting Account
♦ Offsite Backups Are Chargeable
Cloudways is a cloud-based hosting provider. Due to this, the offsite backups are chargeable.
Although it is not a major concern considering that it provides automated backup on the cloud and even the offsite backup charge is as minimal as $0.033/GB.
It is more like a forewarning if you consider offsite backups.
♦ Cloudways vs Siteground
We compared Cloudways with Siteground to determine which provider has a greater hand in providing which feature and see which is the overall better provider.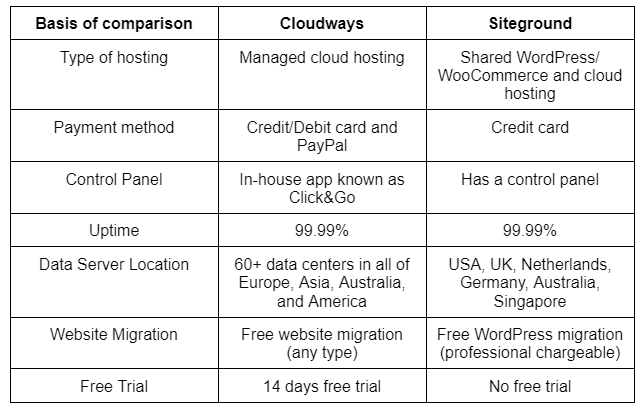 Cloudways has 5 server providers to choose from and each service provider has various plans that you can choose according to your requirement.
You will not find this kind of variety in any other hosting service provider. Siteground also has 3 server providers but the plans are very limited in number.
The Uptime, security, performance, scalability, and diverse pricing range give Clouways the upper hand.
If you are looking for the overall best experience and transparency then Cloudways is an ideal choice for you.
► Frequently Asked Questions
♦ Is Cloudways Good For Beginners?
Cloudways is very good for beginners due to its simplicity and performance. The WordPress hosting comes with a beginners guide and explains step-by-step everything that you need to know.
Cloudways provides 24/7/365 support and the DIY support also includes varied materials that can be very helpful to beginners.
♦ What Type Of Hosting Is Cloudways?
Cloudways is a Managed Cloud Hosting. It is not like traditional hosting. It uses your chosen data centres to host your website and balances your server load.
Also, all your data is automatically backed up to ensure high protection.
♦ How Secure Is Cloudways?
Cloudways is a very secure option as its plans come with inbuilt security features which give high-end security to your websites.
With automated backups and free SSL certificates, you get an extra layer of security to your website.
♦ Can I Use CPanel On Cloudways?
No, You cannot use CPanel on Cloudways. It has its server management application. Refer to the blog above to know more.
♦ Should I Use Cloudways?
You should use Cloudways for the following reasons
Simple and easy to use
High speed and performance
High-end security
24/7/365 support
Limitless scalability
Numerous data centers around the world
► What Is A Good Alternative Of Cloudways?
While Cloudways is an exceptional web hosting service provider, you can also opt for Namecheap if you are looking for a budget-friendly hosting service provider with great performance
To sum up the Cloudways review, here are some of the reasons why you should opt for Cloudways as your website hosting provider:
Only pay for what you use
Wide range of prices and plans
Great Uptime, speed, and performance
Enhanced security and transparency
Free website migration, SSL certificates, CDN, automated backups.
Install unlimited applications
Exclusive alternative of the control panel